MLB
More Like Min Scherzer
10:40 AM EDT on October 19, 2023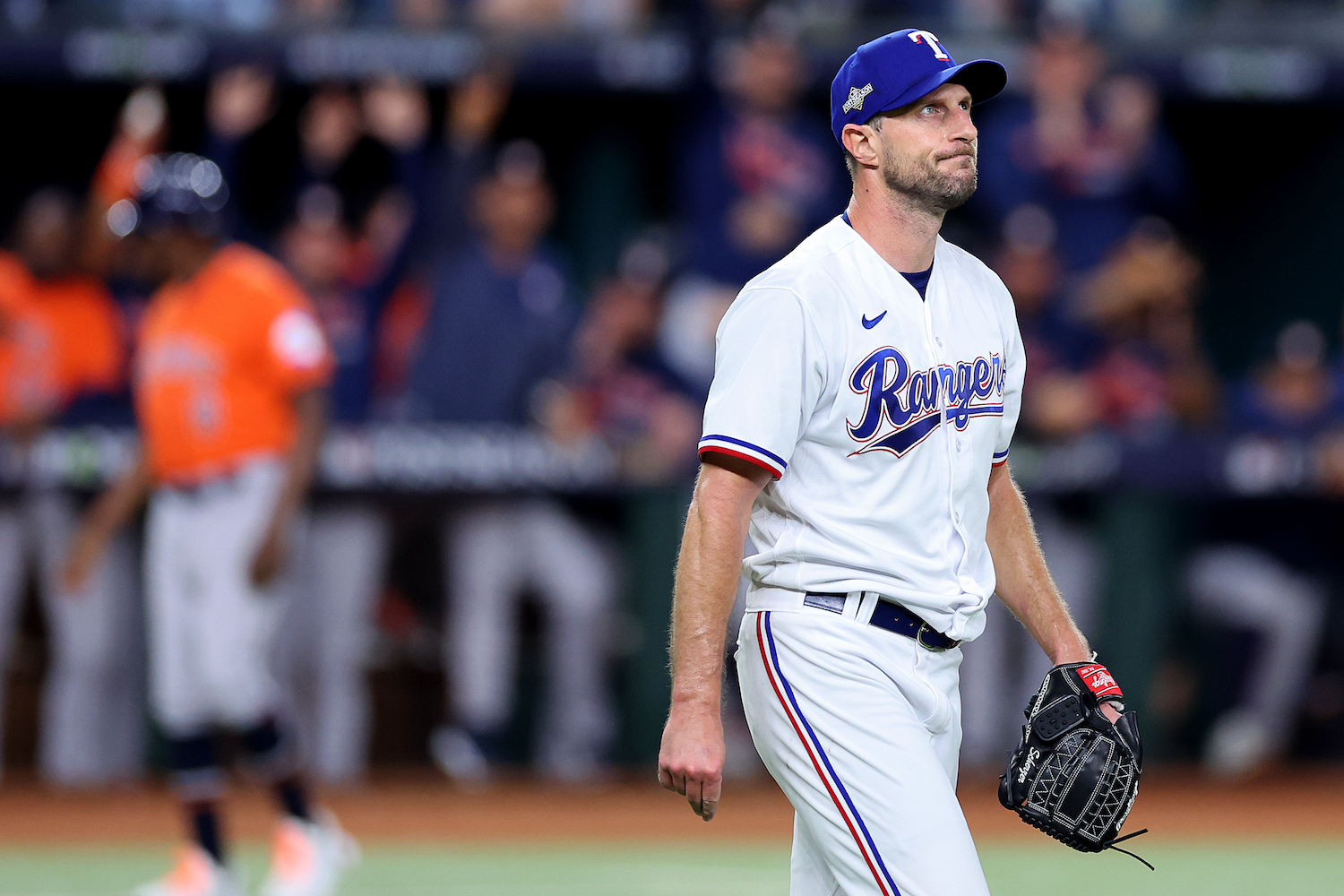 Max Scherzer had not pitched an actual by-God big-league ballgame in more than a month. That is not ideal. Still, he is Max Scherzer, and the Rangers had a 2-0 series lead to work with, and if that is still pretty far away from a Hey, what the hell, why not? type of situation, it's probably about as close as you can get in the ALCS. If he held things together for four innings, that would be a success.
The first was clean enough. The fastball looked lively, and he struck out Michael Brantley with a devastating curve, in between two long fly-ball outs. Scherzer threw one maybe-slider in the inning, a mess of a pitch that came in near Alex Bregman's chin, but it didn't look all that much like an omen in the moment. Then again it didn't look all that much like a slider, either. (The broadcast widget called it a cutter; John Smoltz called it a slider.)
In the second, Scherzer got to 0-2 (with help from a bad called strike on a first-pitch curve below the zone) against the invincible Yordan Alvarez, then lost control of a cut fastball and hit Alvarez in the foot. This, also, did not look too obviously like an omen—sometimes ol' Max gets revved up and starts flinging that sucker around!—especially after Scherzer made the very next Astro, José Abreu, look real bad, getting a swinging strike on a low slider and then freezing him to death with a 1-2 fastball in the zone.
When Scherzer started the next hitter, Kyle Tucker, with a nice low fastball in the zone for strike one, reader, I will confess: I thought he was cooking. I am rooting for the Rangers in this series, because they are playing against the Astros, who can go to hell. Also, I like Max Scherzer: He is a weird intense guy with mismatched eyeballs, one of the great right-handers of my lifetime, and he was a hero for the Nationals during the period when they were not too embarrassing to root for. Maybe I was seeing what I wanted to see! But he looked good, dammit.
Everything sorta went to hell after that. The 0-1 fastball missed outside, by feet. The 1-1 cutter missed the glove by like two feet. The 2-1 fastball only missed the outside corner by a couple of inches, but it did miss. And then Scherzer spiked a 3-1 slider into the ground in front of him like he was trying to kill a gopher. This one felt like an omen!
On 0-1 against the next hitter, Scherzer dropped a nice polite slider right into the strike zone, and Mauricio Dubón smoked it into left field. Yordan Alvarez, running with the foot recently pulped by Scherzer's wayward cutter, held up at third. Now everything looked bad. Now I did not think Scherzer was cooking. He started Jeremy Peña with a slider and it came in like 10 inches below the strike zone. Scherzer's eight most recent pitches had combined to miss the strike zone by, in aggregate, Victor Wembanyama; the one he'd put in the zone had gotten drilled.
He got through Peña: A friendly call on an inside 1-0 fastball put Peña in Swing Mode, and he popped out to center. Another very friendly call on an inside fastball got him to 0-1 against Martín Maldonado. Then it was time for another slider, or anyway somebody thought so. No! Why! This one made it nearly all the way to catcher Jonah Heim, which is not nothing but rather worse than nothing, because it bounced where he could not grab it, and rolled away, and Yordan Alvarez scored from third.
Nobody had to be afraid of Scherzer's slider now. OK, well, that is not exactly true. Heim had to be afraid of it. Also any Astro had to be afraid of being hit by it. But nobody had to be afraid of it in the "figuring out an approach to this at-bat" sense. Scherzer could throw it into the dirt, or he could slide it right down the middle of the strike zone to be socked far away.
A baseball pitch does not really have an ass to speak of. But Scherzer's slider not showing up to the ballpark really put his fastball's ass in the jackpot: The threat of the one could not provide cover for the other. On the very next pitch, Maldonado pounced on a high heater and roped it into left, and two more runs came in. In the third inning, José Altuve did the same thing, and sent that sucker to hell (the stands in left) for Houston's fourth run. Neither of these were bad pitches. They were just fastballs totally unaided by any threat of the slider.
As if to underline this, Abreu jumped on a first-pitch slider (whyyy???) to start the fourth, and drilled it into the left-center gap for a double. Two batters later, Dubón calmly watched three sliders hit the dirt, then equally calmly punched a full-count fastball into right center to drive Abreu home. Scherzer struck out the next two to end the inning and his own night, with the Rangers down 5-0. They did eventually scrounge together five runs of their own, but still lost, 8-5.
Sometimes it just goes like that! One pitch falls apart, and takes the others with it. A fastball doesn't look like maybe-a-slider anymore; nor does a curve. They both look like themselves, and thus, to good hitters, like dead meat. The loss doesn't hurt the Rangers too bad, all things considered—they're still up 2-1 in the series, which is about what anybody realistically could have hoped for a few days ago—though it might've been nice if Texas could've avoided using a further five pitchers on the night. The takeaway for both teams is, uh, sometimes it do be like that.
Was this blog primarily an excuse to call him "Min Scherzer"? You bet your ass it was.
Stay in touch
Sign up for our free newsletter