Soccer
Mohamed Salah Is Worth Whatever He Wants
1:57 PM EDT on October 18, 2021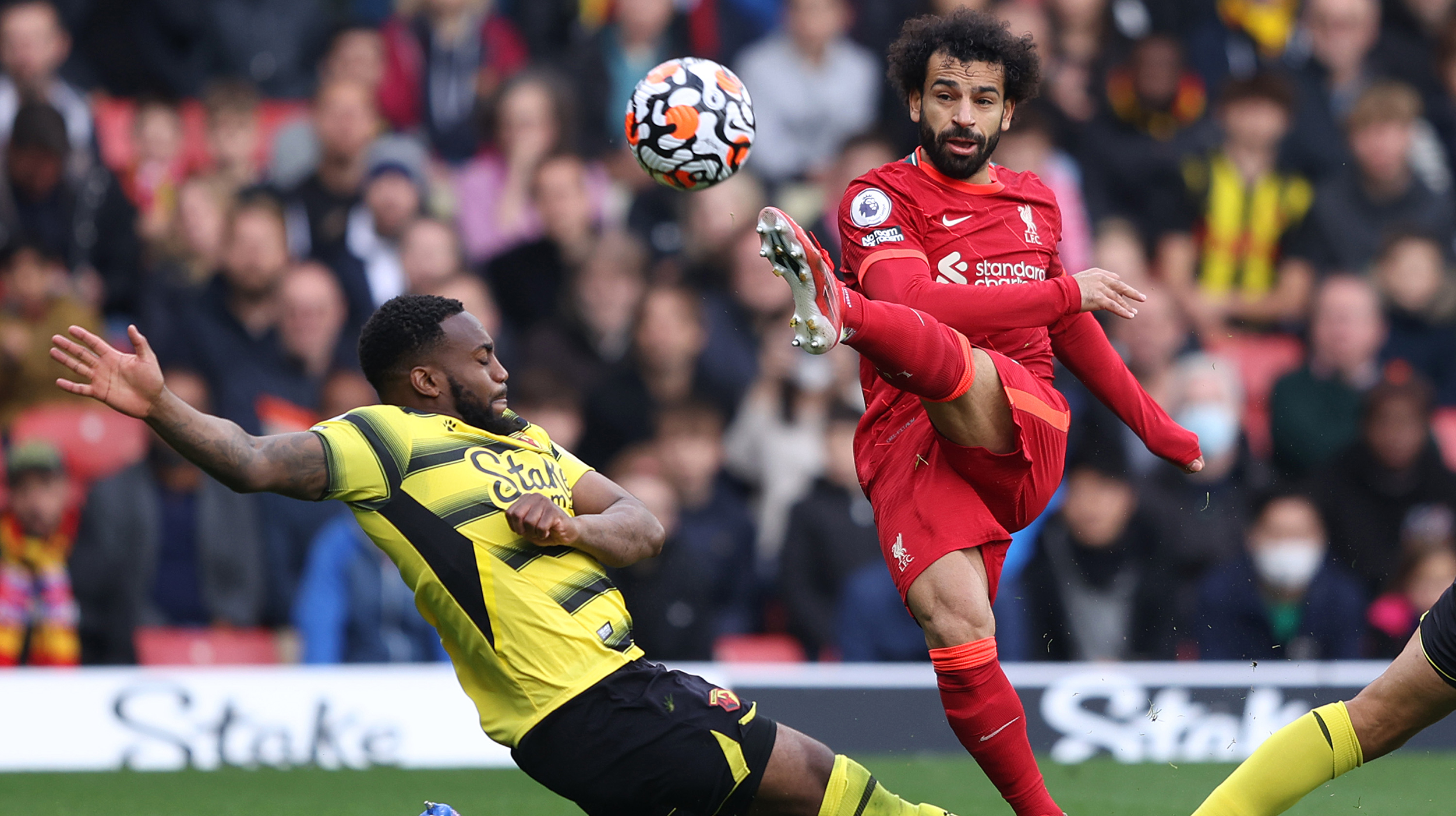 Arguing about who the best soccer player in the world is at any given moment is a lost cause. Everyone has their own biases, tastes, and judging criteria, so it's almost impossible for two people to find enough common ground to even begin a sensible discussion of the topic. Often the debate devolves into both participants accusing the other of gerrymandering the terms and cherry-picking facts and stats to suit their own purposes, and the only thing anyone can agree on is that those who think differently are morons. The conversation is usually tedious, over-heated, exhausting, and unsatisfying for all involved.
All of that being said, it sure feels like Mohamed Salah is, as of right now, the best player in the world.
This weekend, in the first Premier League game following the dreaded international break, Liverpool did what Liverpool should do to relegation candidate Watford, whomping the Hornets by the tune of five goals to zero. Though Roberto Firmino's name was most prominent on the scoresheet thanks to his hat trick, it was Salah who both kicked things off and put a tidy exclamation point on proceedings.
Though he's predominantly a goalscorer, Salah's ability as a creator can oftentimes be just as deadly. In the eighth minute of Saturday's match, he showed that talent off once again, bending a perfect outside-foot pass directly onto Sadio Mané's foot for what became the Senegalese forward's 100th Premier League goal:
Not content with just the one unreal highlight, Salah one-upped himself by replicating his wonderful goal against Manchester City from two weekends ago. In the 54th minute, the Egyptian found himself surrounded by three Watford defenders, only to use his chaotic close touches—it never really looks like he has full control of the ball, and that's just the way he likes it—to clear enough space to blast a perfect curler into the back of the net:
Let's watch it again in slow motion:
That goal put him into a tie with former Chelsea legend Didier Drogba with 104 goals, the joint-most for an African player in Premier League history. The goal also kept him level with Leicester City's Jamie Vardy at the top of the league's scoring chart, with seven. Salah has added three goals in the Champions League this season, helping the Pool Boys get two wins from two at the top of a tough group. What about assists? Well, he has four of those in the league as well. Liverpool's system under Jürgen Klopp has always been built for the rest of the team to liberate the front three to work their magic, and so far this season it has Salah playing the best soccer of his life.
Herein lies the problem for Liverpool, though. Salah's current contract is set to expire in the summer of 2023, when he will turn 31. Though he is undoubtedly Liverpool's best player right now—particularly as Virgil van Dijk keeps working to get his rhythm back after last year's long injury absence—it's hard to project how a winger so reliant on quickness will age into his 30s. That uncertainty has to loom large in the minds of Liverpool's brass, who must decide how to weigh his present sterling performances against his potential future value.
That's a doomed equation, though. Liverpool ascended to its current spot as title contenders at home and in Europe for a variety of reasons, but nabbing Salah from Roma in the summer of 2017 has to rank at the very top, alongside the signing of Klopp. On the field, no one has provided more value than the Egyptian, who's already a club legend after only four-plus years. Though Liverpool has been exceedingly strict about keeping its wage budget in line—this is why Gini Wijnaldum is no longer at Merseyside—it's frankly mind-boggling that Salah isn't currently the squad's top earner (that's van Dijk, who out-earns the Egyptian by a reported £20,000 per week), never mind that there is a question of whether he'll get a new contract at the club.
Liverpool's relatively frugal approach to transfers and contracts has proven very effective in the club's efforts to put an end to its lost years and at long last return to the top of the sport's elite. But if ever there was a time for an exception, surely it would be this. More than any other player, Salah deserves the most credit for getting the Reds back to the top, and as he continues to show, he's currently at the peak of his powers. Maybe the last couple years of, say, a big new three-year extension might wind up expensive, when Salah has lost a step and is no longer the one-man wrecking crew he is at present, but is that worth losing an iconic player of an iconic era right when that player is playing his best?
The question isn't whether or not Salah will soon be rewarded with a fat new contract; it's whether that contract will be paid by Liverpool or someone else. If the Reds fail to extend his contract soon, it will probably mean Salah will be sold in the coming summer. If Liverpool wants to stay where they are right now, where they've struggled so mightily to get back to, then they'll need one of the best forwards in the game to keep firing them into contention. If I'm Liverpool, I'd be trying to do everything I could to keep dancing with the one who brought me.
Stay in touch
Sign up for our free newsletter