MLB
MLB Prospects Are Getting Promoted Faster Than Ever. Why?
12:02 PM EDT on September 20, 2023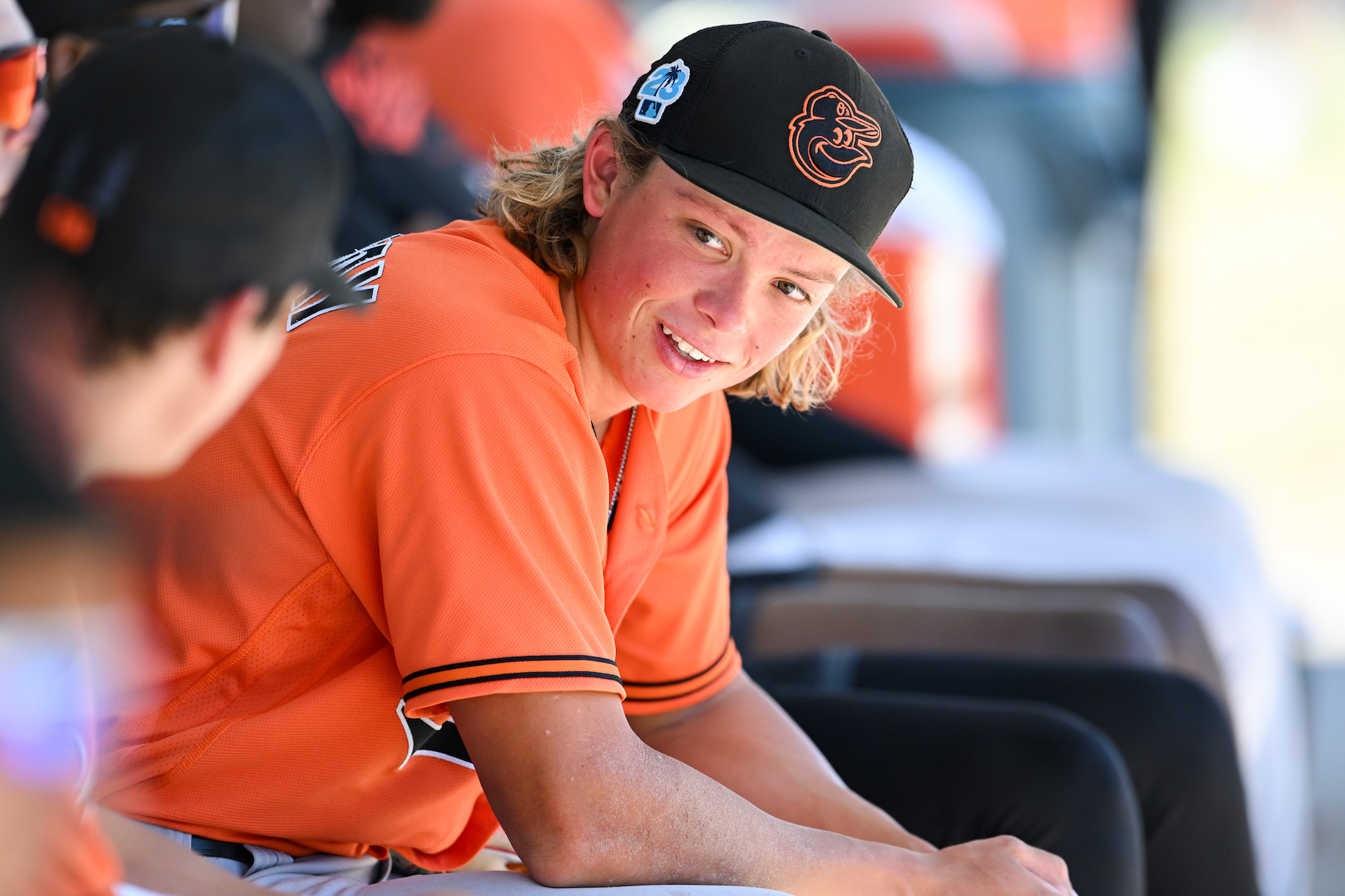 This season, Jackson Holliday has recorded two plate appearances against a pitcher younger than he is. Years may pass before he has a third.
After being drafted No. 1 overall out of high school last year, Holliday, the Baltimore Orioles' top prospect, began this season at Low-A Delmarva. Earlier this month, the 19-year-old made his Triple-A debut, touching his fourth minor-league level in five months. At nearly two years younger than the average Low-A player, he'd already started his career ahead of the curve. He's seven years younger than the average Triple-A player. It will be a while before the curve catches up.
To folks in the game, Holliday's lightspeed ascent through the minors is surprising but not shocking. "I don't think anybody would have bet on him making Triple-A in his first full season," Orioles farm director Matt Blood said, "but it was also not out of the question." The young shortstop is not a true outlier but merely an extreme example of a recent trend in player development: The best prospects in the game appear to be sprinting through the minors faster and faster.
That's what farm directors and general managers believe, anyway. "It does seem to be the case," said Kevin Reese, the vice president of player development for the Yankees, who recently promoted 20-year-old prospect Jasson Dominguez to the majors after just nine Triple-A games. "I've certainly noticed it," said a farm director from a National League team who requested to speak on background. It's a difficult phenomenon to quantify—the average age at most minor-league levels has remained fairly consistent over the last 10 years—but anecdotal evidence abounds.
Last year, Diamondbacks top prospect Corbin Carroll went from Double-A to the majors at 21 years old, only for fellow Arizona prospect Jordan Lawlar to repeat the feat this year. Top Brewers prospect Jackson Chourio, 19, started the year as the youngest player in Double-A. The Rangers have aggressively placed prospects like Jack Leiter and Wyatt Langford—both were promoted to Triple-A this weekend—and 20-year-old Cardinals prospect Jordan Walker made the Opening Day roster without ever playing at Triple-A.
There have been rapid risers before—see Bryce Harper and Juan Soto debuting in the majors at 19—but never have they seemed so commonplace. When Alex Bregman cracked the majors with Houston a year after being drafted, one NL executive remembers thinking it was crazy. "Now if that happened," he said, "it's almost second nature."
---
What is going on here? Several things. Technology and data collection have helped teams improve at developing players. More than ever, they prize youth over experience, to such an extent that the subject of fair compensation for young players was one of the key bones of contention in the last lockout. Then, as the industry was learning to train those young players even faster, it hit a patch of road so slick that farm directors worry they might lose control of the car: the contraction of the minors.
When MLB seized and purged the minors in 2020, it eliminated two transitional levels filled primarily with young players new to pro ball—Short Season A and Rookie Advanced. Without them, many teams came to the same conclusion: The young kids would have to move up, ready or not. The 17- and 18-year-olds too good for rookie ball but not quite ready for Low-A would just have to adapt, because there was nowhere else to send them. As a result, the average age at the level (especially among hitters) has trended steadily downward the last several years.
Teams have reacted this way—pushing instead of holding back, aggressive rather than conservative—because they are afraid to let their top prospects stagnate. The conventional wisdom used to be that players needed a certain number of innings or plate appearances in the minors to consider themselves ready, a baseball-specific version of Malcolm Gladwell's debunked "10,000 hours" theory. If a player was performing well at a level, teams might leave him there to build his confidence. These days, though, comfort is considered the enemy of growth.
The best way to learn to swim, player development types now believe, is not wading in the kiddie pool or diving into the deep end. It's entering the water at a depth just beyond the reach of your toes. "The industry has moved so much more toward competitive training, where you're keeping guys on the precipice of failure," said a player development staffer with an NL club. Holliday moved up so quickly because he quickly proved himself to be better than each level he reached. Only now at Triple-A, where he's hit .224 through his first 12 games, has the 19-year-old been an average-looking player for the first time in his life.
"Ideally," said Blood, "you're playing against players who are better than you and older than you and who are challenging you, and that's what forces you to learn and grow. Every time a player shows that he's no longer in that realm and he's one of the better players, then we move him."
To a certain extent, that's always been the case: If a guy is pacing the league, it's probably time to promote him. But the modern tools of the game allow teams to come to those conclusions more quickly. Before Statcast, it was much harder to separate luck from skill. Today, with the movement of every pitch and batted ball tracked to an insane degree of accuracy, promotions are far less the product of educated guesswork.
Just about every club leans heavily on proprietary statistical modeling systems to determine when a player needs a bump. They can answer not only how well-suited a High-A player is for Double-A, but also how suited he is for the big leagues. How does this hitter handle pitches with high spin? What kind of movement is this pitcher getting on his four-seam, and can he locate it? If the data says a player isn't ready, he can be trained. Hitters can hone their skills against pitching machines that throw big-league stuff, tracking the movement, speed, and power of their swings with Blast Motion Sensors and force plates. Throwing in front of portable Trackman units and hyper-slow-motion Edgertronic cameras, pitchers can chase the specific pitch movement metrics that equate to getting major-league outs. It's still far from an exact science—teams must weigh factors like a player's maturity and whether there's even an open spot the next level up—but few prospects are promoted unless the underlying numbers suggest they're ready.
One of the biggest data points is age. Prospects who perform well against older competition increase their likelihood of success and even stardom. It's no surprise that Baltimore, one of MLB's most data-heavy organizations, consistently fields some of the youngest rosters across the minors, both before and after minor-league contraction. The Guardians, who heavily factor age into their draft models, also famously go young. The Diamondbacks, Rays and Red Sox also regularly construct youthful minor-league squads—and, not coincidentally, boast some of the strongest farm systems.
The Padres were also at the forefront of the youth movement—sometimes recklessly so, some rival evaluators think. San Diego promotes so many young players so aggressively that one high-level executive speculated they might be trying to hack their way to trade value, knowing that a brief run of success at a higher level will boost their stocks. (For example: Tucupita Marcano and Luis Patiño, traded after wunderkind seasons—for Adam Frazier and Blake Snell, respectively—only to fall short of the hype so far.) That's why rivals are suspicious of how San Diego has handled catcher prospect Ethan Salas this year. Salas is well regarded, but no one is surprised that a 17-year-old who reached Double-A—where, after hitting poorly in a brief High-A stop, he unsurprisingly struggled with a .179 average and .517 OPS in nine games—did so as a Padre.
"That's their organizational M.O.," said one NL team staffer, "to take a smart concept and push it too far."
Salas is without question particularly advanced for his age, but we probably need to reconsider what "for his age" means these days. Front-office types universally agree that players are entering pro ball better than ever. The elite amateur prospects, domestic and international, enjoy access to the same training tools and expertise MLB clubs use. The top college programs are arguably ahead of some MLB teams when it comes to modern player development. The best high schoolers play on elite travel ball teams and receive specialized coaching. Jackson Holliday is extremely talented—and he also had Matt Holliday for a coach his entire life.
If the top prospects are moving at warp speed, how important are the minors anymore? MLB removed a few rungs of the minor-league ladder only to immediately produce a host of young stars like Carroll, Elly De La Cruz, and Gunnar Henderson. In the future, will the best prospects spend any time in the minors at all?
The Angels seem intent on finding out. This year, Los Angeles has promoted four prospects—hitters Zach Neto and Nolan Schanuel and pitchers Sam Bachman and Ben Joyce—who had spent less than a year in the minor leagues before making their debut. Schanuel, drafted 11th overall earlier this summer, was in the minors for only 22 games. Then again, the Angels don't make for a good bellwether. "They're off on their own weird planet," said one NL staffer. If the Angels were desperately trying to make the most of their last months with Shohei Ohtani, as many in the game assume, they stand to regret that lost development time when Ohtani is gone.
---
The path to the majors may not ever be quite as short as today's top prospects make it seem, but teams are no longer making it artificially long by manipulating service time. That's due in large part to the latest collective bargaining agreement, which rewards teams with draft picks when Top 100 prospects win awards after spending the entire year in the majors. [CORRECTION: An earlier version of this post misstated the rewards.] Last year, the Mariners promoted Julio Rodriguez for Opening Day and got a pick estimated by one executive to be worth from $20 million to $50 million in value. After Rodriguez claimed AL Rookie of the Year, the Cardinals jumped Walker straight to the majors this year hoping for the same. It's also partially why the Diamondbacks and Orioles brought up Carroll and Henderson, respectively, late last season instead of at the start of this one: It gave their can't-miss prospects a taste of the majors while preserving their rookie eligibility for what now look like no-brainer ROY wins this season.
Such a measure was necessary because teams had become so covetous of young players. Until the current CBA, teams routinely held down their best prospects for the first several weeks of each season, not because they weren't ready but because doing so would net the club a seventh year of team control. Only by dangling draft-pick rewards were they incentivized enough to cut it out. Of course, most prospects are not so elite that they hit the majors and stardom at the same time, but MLB's service-time shenanigans were symptomatic of a bigger youthward lean. Teams aren't afraid of playing guys in their 30s, but they are afraid of paying all but the most exceptional of them. That can be chalked up to an awareness of aging curves—physical ability, and thus performance, tends to drop precipitously for players of that vintage—as well as an understanding of the game's financial incentives. It takes six years of service time to reach free agency, meaning players reach that milestone only for wary teams to bid on their declining years. 
Rather than spend heavily on anything but top-tier players in free agency, teams over the last decade have opted to give playing time to talented youngsters whose skills are ascendant and whose earning power is limited. The young players are cheaper, better, and ready more quickly than in the past. They also are more likely to figure into a team's long-term future. When a club has a sudden opening, it's more likely now to look a prospect's way than in the direction of the minor-league veteran with a few MLB seasons under his belt. Ceilings routinely beat out floors. Said one AL exec: "The industry is leaning into giving those guys opportunity—versus blocking them out by signing that Four-A player—and giving up a little certainty."
In the name of saving even more dollars, owners would probably leap at a faster developmental pathway to the majors, but baseball operations folks wouldn't. Even as they've gotten used to pushing younger players to higher levels, many in player development miss those not-so-long-gone intermediary leagues between rookie ball and Low-A. They also brace for further cuts. When the minors were trimmed in 2020, MLB instituted the Domestic Reserve List, which limits teams to 180 players on minor-league contracts outside the Dominican Summer League. Next year, the limit will be 165, which player development folks feel is pushing it.
"I don't think it's feasible to trim down any more stateside," said one farm director. "There are times this year, with the 180, that we've been barely able to piece it together just to field teams."
They need those spots for all the other minor-leaguers who don't speed through the system but nonetheless wind up in the majors. Around 260 players crack the majors each year, most not on the fast track. They spend entire years at one level or even repeat them. They stall out at Triple-A or go years before making it to a full-season affiliate. They need the longer runway.
But, increasingly, the best prospects don't. Guys like Holliday and Chourio, who rank first and second on MLB Pipeline's Top 100, are just that talented. When it comes to speeding development, their teams are that good. Next year, when they'll likely break into the big leagues, they'll be baby-faced 20-year-olds. But they won't be flukes.
Zach Buchanan has covered Major League Baseball for more than a decade, for the Arizona Republic, Cincinnati Enquirer, and most recently The Athletic. He also has been published in The New York Times, Washington Post, FanGraphs and Baseball America. He lives in Phoenix, where he prepares for the inevitable water crisis by living off Dr Pepper instead.
Stay in touch
Sign up for our free newsletter