MLB
Minor League Baseball's New CBA Still Won't Solve All Its Transportation Woes
2:49 PM EDT on April 3, 2023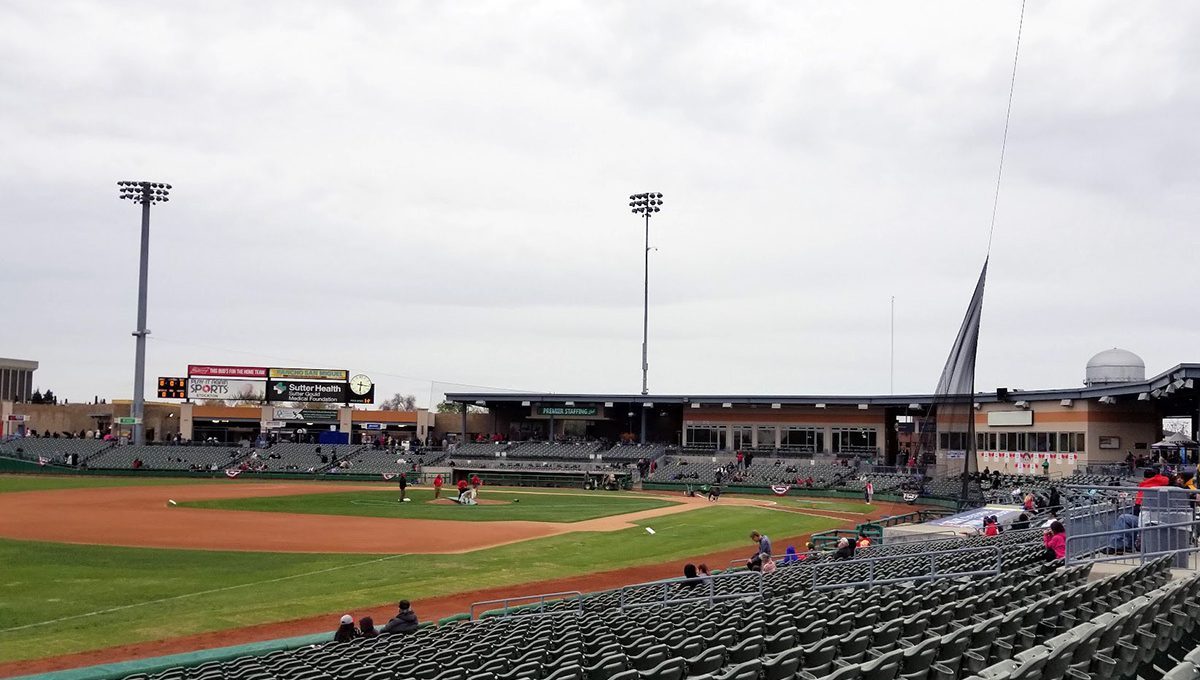 Carpooling with teammates after a game—after a win, after a loss—can go a lot of ways. Minor league pitcher Blake Beers said that time in the car is often used to reflect. You can laugh about things that happened in the game, or you can be fired up about something that did not go your way.
Beers can easily rattle off the little traditions and nicknames that started this way. Like nicknaming one teammate "Big Taste" and "Taster," Beers recalled, for all the big games he had because he was "tasting himself."
"He's smiling up in the front seat driving," Beers said, "because he knows that he's tasting himself after a big game."
Carpooling, he said, has the benefit of allowing for time to bond with teammates like this. For players in the minor leagues, there is a lot of carpooling.
Beers is currently a pitcher in the Oakland Athletics' minor league system. He's a righty with a low-to-mid-90s fastball, a slider, and a changeup that can hit the upper 80s. He started out the season with Low-A Stockton. Because Stockton is in California, the state where he grew up and one state over from the Athletics' spring training home in Arizona, Beers brought his car with him. At a minor league affiliate, having a car with you usually means you end up being the carpool driver for the guys who don't.
Beers, who spoke to Defector Media before the announcement of the new minor league collective bargaining agreement, said he never felt obligated to carpool with his teammates, and he enjoyed spending time with them away from the field. He explained it as an understood thing: If you have a car, you help out. He didn't have any problems with that.
Yet this is one of the unintended side effects of minor league baseball's new housing requirements for players. Following reporting about how most minor league salaries paid less than the cost of typical rent in their areas, which led to many players living in squalor when they had stable housing at all, MLB's leaders announced a new policy that would require teams to provide adequate housing for minor league players starting with the 2022 season. Unless, that is, a player made a specific amount per week or had an existing Major League Uniform Player Contract (UPC). The policy included requirements for things such as sleeping arrangements, specific appliances, and utilities.
That momentum carried over into the first-ever collective bargaining agreement between the owners and the new minor league player union, reached late last week. Naturally, the most attention was paid to the minimum salaries it set, as well as further changes to the housing policy. But the decades of woeful working and living conditions for thousands of minor leaguers can't be undone in one fell swoop, and one way this manifests is transportation.
The new CBA, per various reports, is set to include transportation for players from where they live to their workplace, in this case the baseball field, and back home, but only for specific levels. That also doesn't cover transportation for anything else, like getting food outside of work, buying groceries, or running any sort of errands. In some of the smaller cities and towns that are home to minor league baseball teams, which often don't have much public transportation, life without a car can be difficult.
Defector Media spoke with 14 minor league baseball players across California. Many asked for anonymity due to their concern about how their teams would respond to their comments. All had either been the person willing to drive the carpool or the person asking for a ride, and some were both in the same year. To them, their experience showed that—as significant as the housing policy and the CBA remain—much work still needs to be done to make chasing their baseball dreams a reality for everyone.
---
Beers began the 2022 season with the Stockton Ports in California's Central Valley. Players began the season in the Waterfront Hotel, then later moved next door into the University Lofts apartments for the rest of the season after the American Hockey League's Stockton Heat finished up a playoff run. That team also had been using the lofts.
Beers said that he really liked the lofts, and he felt like the Athletics did a good job with housing. He wasn't familiar with what housing was like at affiliates prior to the policy, as he was drafted in 2021 and spent that season in the Arizona Complex League, where he stayed at the team hotel. He said that the hotel was cheap and the Athletics covered most of it, at least for newly drafted players.
An ordinary day would start with him and some teammates venturing out for breakfast. Maybe they drove to a strip mall about 10 minutes away to grab something like a bagel or a smoothie, or they would head to a local diner.
Guys who woke up later, at maybe 10 or 11 a.m., might be able to run out for food quickly, or they would end up having something delivered through a service, like DoorDash, since a DashPass subscription (typically $9.99 a month) lets minor leaguers save in fees where they can. (The 2022 average salary in the California League was $500 a week and is expected to go up in 2023 under the new CBA.)
Between noon and 1 p.m., everyone would head to the baseball field, which was close enough that the players could walk from the lofts. Lunch and dinner weren't as much of a concern, as those meals were catered by the team at the stadium. But a player who needed to get around town on a day off could be in a bit of a jam if a teammate couldn't help out.
"There wasn't any vehicle in Stockton that was a team vehicle that somebody could take us places on an off day or if you need to go eat somewhere, things like that," Beers said.
Because of a six-series schedule that goes from Tuesday to Sunday in Minor League Baseball, Mondays were the designated off day for players. On those days, Beers said they would try to have fun away from the field. Sometimes they would get together Sunday nights after a game to watch Game of Thrones. In Stockton, they would use the pool and jacuzzi at the lofts, along with pool tables.
Another player who also had a car in Stockton had a similar experience. He didn't mind driving his teammates around, but he did feel bad that they had to rely on someone else if they wanted to go somewhere without forking out money for a round-trip ride share on their meager salaries.
"The last thing you want was for a player to miss a workout or a game or something because they couldn't get to the field," the Stockton player said.
He added: "I was able to drive to places I needed to go and then also bring teammates that didn't have a car. So it kind of came down to: You had to either walk, or find someone that had a car if you didn't, or kind of just line it up."
This Stockton player added that the dynamic was amplified when they were in the hotels, before the lofts, because those rooms didn't have kitchens.
Defector Media reached out to the Oakland Athletics for comment. The team initially said that due to ongoing bargaining with the minor league union, they would not comment. After the CBA was announced, Defector Media reached out again and the Athletics did not respond to comment.
---
Transportation issues are present throughout minor league baseball. The current housing policy outlines what is allowed as acceptable housing: apartments, rental homes, and host families. Options at Spring Training complexes and International Academies also allow for dormitory-style housing and hotel rooms. All housing is required to be "located at a reasonable, commutable distance from the ballpark." Teams have fulfilled this requirement in various ways. Some teams have utilized apartment complexes close to the ballpark, while others rely on Airbnb rentals, nearby host families, or apartments in different towns altogether from the affiliate.
The latter is what happened with the Modesto Nuts, a Low-A affiliate of the Seattle Mariners that plays about 30 miles south of Stockton. Players told us that the team has players split between apartments in nearby Manteca, about 18 miles from their ballpark, and host families, which was the result of some players requesting to stay with one instead of being in the apartments.
One Modesto player said that the apartments were great, but they didn't change the stark differences between players who had more financial security going into playing baseball and those who did not.
"I wish there was a little bit more to the paycheck for those guys just to be able to get a little bit more of what they need," the Modesto player said. "Thank God we have enough guys on the team for the carpool thing, but there are some times where they'll have to Uber and they do that. You know, that's like a week's pay out here sometimes."
The Modesto player acknowledged his own financial stability and recognized that it was not something that every player had. But they still hoped that more is done so that all players have that stability.
"I think there's always room to make things better and just help make life a little bit easier," the Modesto player said. "I don't know what the grand total at the end of the year is, as [to] what we make, but—especially for the minor leaguers I would say in California—you're losing a lot of the money you're making just due to the gas, the tax[es], and everything else like that."
Another Modesto player, in his second stint with the team, said that he had the same host family as he did the previous season. That family helped him get to the field since he didn't have a car.
Defector Media reached out to the Seattle Mariners, who declined to comment.
The situation is similar for the Inland Empire 66ers, a Low-A affiliate of the Los Angeles Angels. Players with the team said the 66ers housed players in an apartment complex in nearby Rancho Cucamonga, which is about 18 miles away from San Manuel Stadium in San Bernardino.
With the distance between the apartment complex and San Manuel Stadium, 66ers pitcher Chase Chaney said that the Angels offered rides to players at the beginning of the season. According to Chaney, his roommate has a truck and each apartment has at least one player with a car, so transportation has not been an issue. Infielder Quentin Selma, also with the 66ers, said that players usually carpool.
The team that does play in Rancho Cucamonga, the Los Angeles Dodgers Low-A affiliate Quakes, has players living in an apartment complex about a mile from the ballpark, according to Quakes infielder Austin Gauthier. This was a vast difference from those players being housed in a Best Western in 2021, according to a Quakes employee.
Gauthier said that the apartments are "very nice" and walkable. He brought his car with him and carpools with teammates if needed. He said he usually only goes to the grocery store for things like water and Gatorade, and that they don't need to worry about food because of catered meals. Multiple Cal League teams have caterers traveling with the team.
For the Visalia Rawhide, the Low-A affiliate of the Arizona Diamondbacks, players are spread through the city in Airbnbs, according to a source with the team. A low local vacancy rate for the second half of the 2022 season meant that houses could be rented starting at $2,700 to $22,000 a month on the booking site. Jacen Roberson, a Rawhide outfielder, said that there are usually two to three players in a house.
"We get our own space," Roberson said. "It keeps money in our pockets. I feel like that was one of the big hassles of last year. We only get so much money, [so] we have to save every dollar we get. So it's truly amazing for them to take care of all utilities and all the expenses and put us in a nice house to live in every night."
And yet, the players still have to carpool. According to Roberson, some guys who live farther away from Valley Strong Ballpark and have cars will pick up their teammates who are closer on their way to the park.
---
After more than a month and a half in Stockton, Beers was promoted to High-A Lansing. The housing there was different. Instead of lofts, he was placed in an extended-stay hotel. It was still really nice, and he liked living there. But he was now farther from the field; it wasn't a short walk away, like in Stockton.
A team interpreter helped players for whom he interpreted get to the field in Lansing on game days and, according to Beers, they had some room left over in his car. That turned into helping multiple players from the extended-stay hotel get to the field and back. Beers didn't bring his car with him from Stockton because shipping his car out to Lansing would've cost him $1,500—what he said was about a month's pay.
The extended-stay hotel is about a five-minute drive to a lot of places, according to Beers, including a shopping area with food options like a pizza place and a Jimmy John's. For fun in Lansing, players would go golfing and barbecue at night on the patio. "A lot of golfing for sure," Beers said of their off days. "Which was great."
Because he didn't have a car, Beers got to know the stores around that extended-stay hotel very well. "A lot of the kids brought cars," Beers said. "And moving forward, the best thing to do is just to bring your car. That's what I've realized."
Beers noted that he understands that it's difficult to accommodate 35 people and their various schedules and needs when it comes to transportation. But even for players with cars, getting it across the country isn't always an option, especially given that players are expected to be able to change locations over a long distance very quickly. A position player will be expected to be in the lineup the day after moving affiliates, even when those teams—as many do—play their games across the country from each other. Where a player stays through the season isn't predictable for many reasons inherent to the job, such as performance level and injuries.
"If you move a kid down or if you move a kid up, sometimes you need them to play the next day, so then they can't drive their car," Beers said. "Pitchers are a little different, but I wouldn't want to drive from Stockton to Lansing in the middle of the season then go have to pitch a couple days later."
As of publication, Beers is at spring training with the Athletics' minor league camp. Minor league players do not get assigned to an affiliate until a few days before the season begins. This is just how the business works.
---
Many players view the housing policy as a victory for minor leaguers, but it's still only a start.
"I think it's a trial and error thing," Roberson said. "This year is the first year that they're doing this, it's a huge step in the right direction. I feel like the fact that they're taking care of our housing is the first step. Now, second step is, how can we be able to commute to the field all equally? How can we make it work for the Latin[x] kids? How can we make it work for the Americans who have cars, stuff like that."
Roberson also suggested having housing all in the same area so that players could be shuttled to the park together.
Beers suggested that minor league teams, or their parent MLB teams, should look into what is done by summer collegiate teams in Alaska, where there are teams that sometimes have transportation options available to players if that service is not provided by host/billet families. The Alaska Goldpanners of Fairbanks are one of those teams. If their host families aren't able to help out players with a car, they'll look into working with local car dealers and rental places to make sure a car is available for players to be able to get around town.
Beers said his experience in the minor leagues has been a good one, and knows that he's lucky in that regard.
"It's really special to be able to do this," Beers said. "A lot of guys aren't playing anymore because the team just didn't value them anymore. Some guys get forced out because they can't afford to play, and that's unfortunate."
He said that the housing policy and the nascent minor league union are moving baseball in the right direction, especially so that more players get chances to play without having to worry about things such as the cost of being able to play.
"[If] you provide a better environment for your minor leaguers, they're going to play better," Beers said. "That's super, super important."

Jen Ramos Eisen is a freelance Central California-based minor league baseball writer.
Read More:
Stay in touch
Sign up for our free newsletter