NBA
Mike Budenholzer Blew It Again
10:36 AM EDT on April 27, 2023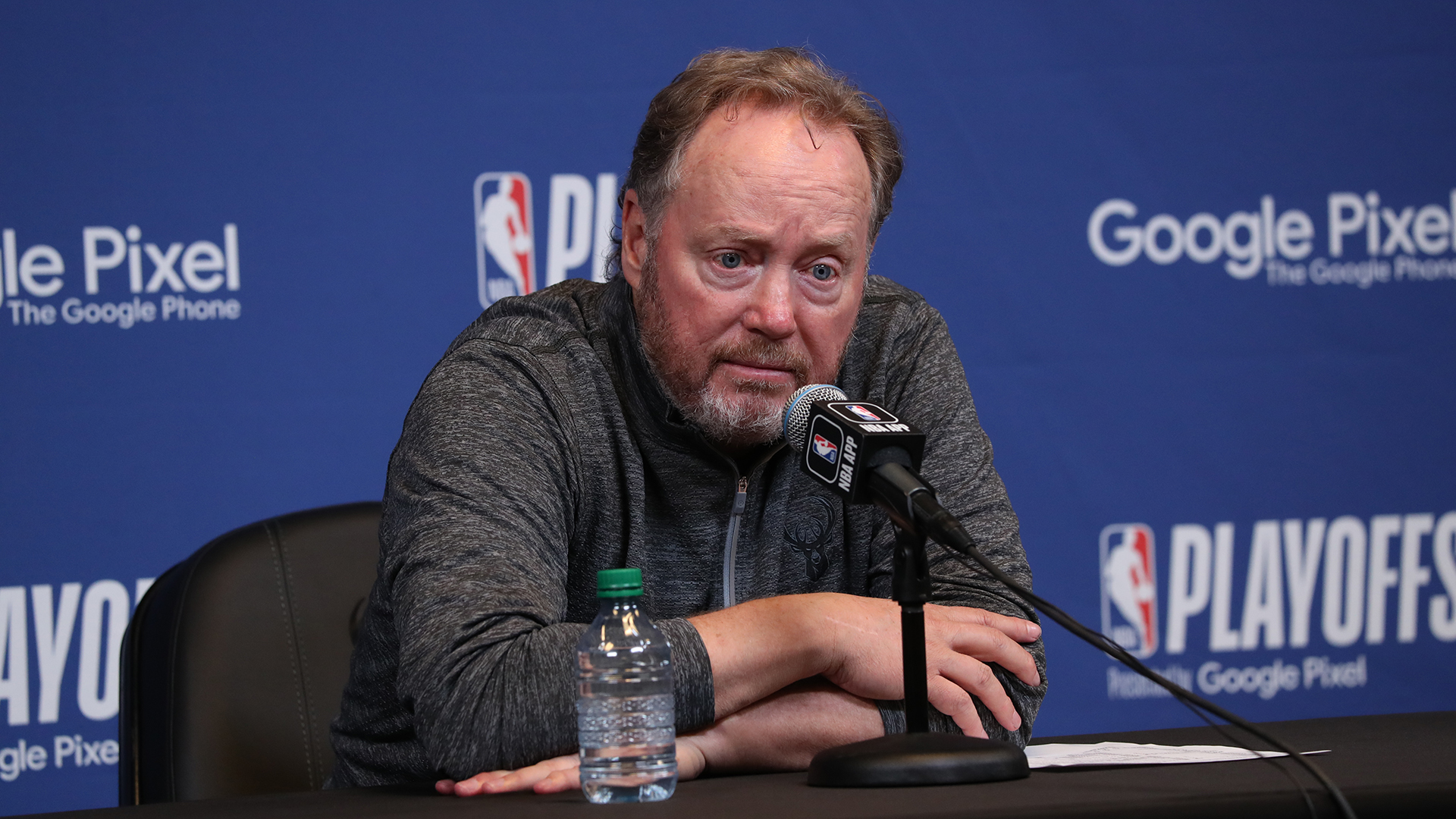 There are plenty of reasons—or excuses, depending on how you want to look at it—for why the Milwaukee Bucks became the first one seed to lose a series in five games to an eight seed. Giannis Antetokounmpo got hurt in Game 1 and never recovered enough to reach his normal levels of dominance. He also missed 13 free throws in the crucial Game 5. On the other end, Jimmy Butler averaged 37/6/5 on 60 percent shooting for the series, and how do you beat that? Jrue Holiday turned into a pumpkin. There are good reasons to make this historic embarrassment sting somewhat less than it should, but there is one guy who is not in line to enjoy any excuses: Bucks head coach Mike Budenholzer.
On Wednesday night, with his team facing elimination at the hands of the Heat, Budenholzer had three moments where he could have helped swing this series back to Miami for a Game 6. I'll remove the suspense right away: He failed all three times, and though his players did a lot of failing of their own, it's hard to get past how badly Budenholzer both over- and under-thought the end of Game 5.
The first of these crucial moments came with 2.1 seconds left, and Milwaukee up 118-116. Miami had an inbound at half-court, and enough time to run a variety of plays to get two points and send the game to overtime. With the stakes involved for Milwaukee (win or go home), you would expect that Budenholzer would put his best players out on the floor, and most specifically, that he would put Brook Lopez, who finished second in the Defensive Player of the Year race, in to prevent anything easy by the basket.
You would also be wrong. Heat coach Erik Spoelstra subbed out Bam Adebayo at the last second, leaving the Heat with five small players out on the court, and that was enough for Budenholzer to similarly remove his own big man, despite him being the biggest person to see gametime this series, and despite the situation, which, it must be repeated, was that Milwaukee absolutely needed to protect the rim.
Let's see how that went:
As a Miami Heat fan with a very strong memory for pretty much everything that happened during the Big Three era, this immediately reminded me of Spurs coach Gregg Popovich removing Tim Duncan from the court right before the Ray Allen shot. It's safe to wonder if Chris Bosh gets that crucial offensive rebound with Duncan in, just as Bucks fans will be tormented about whether their giant defensive star could have stopped Playoff Jimmy from adding another ridiculous clutch shot to his resume.
But, fine. Budenholzer overthought that. It happens to many coaches, particularly against someone of Spoelstra's caliber. The Bucks still had 0.5 seconds to play with after Butler's heroics, and a timeout to advance the ball and try for a quick catch-and-shoot of their own. That is not what happened, though, as Budenholzer failed to use said timeout, the rough equivalent of an NFL team kneeling to go to overtime instead of trying a 70-yard field goal. Sure, it's not going to work most of the time ... but don't you want to give it a free shot anyway?
Budenholzer would get one more chance to redeem himself. In the dying seconds of overtime, with the Heat up 128-126, Gabe Vincent chucked up a long three that was easily rebounded by the Bucks. At the moment of Antetokounmpo's board, Milwaukee had about nine seconds to play with and not one but two timeouts. The Bucks could have called one here to advance the ball, seen what the Heat were planning to do on defense, then called another timeout if they wanted to adjust their play. There was so much time, and there were so many options here to get a good look for either a tie or a win.
You know where this is going by now: the Bucks did not call either timeout, preferring instead to jog the ball up the court. By the time Antetokounmpo crossed half-court, there were only six seconds left and everyone started panicking. First, Antetokounmpo ran into Butler and passed it off to Khris Middleton, who then also ran into traffic and dished it out to Grayson Allen, of all people. To Allen's credit, he actually got deep and close to the basket. Less to his credit: he tried a Eurostep with about three-tenths of a second remaining and the buzzer went off before he even got a shot in the air.
Can you blame Budenholzer for the world's most ill-advised Eurostep? Yeah, probably! Allen might have been subbed out if a timeout had been called there, but even if he were on the court, one has to assume that a drawn-up play would not result in that debacle. Even though Antetokounmpo wasn't fully himself, most Bucks fans would probably have preferred the ball in his hands charging into the paint while down two; sure, he did have it in his hands before passing it off to Middleton, but the Heat had everyone back on defense and there was no transition opportunity for Antetokounmpo to exploit. By not calling a timeout to figure out a plan, Budenholzer doomed his players into an out-of-control ending.
Does Budenholzer leading the Bucks to the 2021 title cancel out what has been a string of disappointing early exits from the playoffs in the years surrounding that run? It might, at least enough to save his job, but perhaps it shouldn't. Even in that 2021 run, the plan, such as it was, was to give Antetokounmpo the ball and let him use his otherworldly talent and athleticism to create offense, rather than actually having a varied attack. It worked, because Antetokounmpo is very good, and because Kevin Durant's toe was on the line, but at some point, the Bucks probably need a coach who doesn't regularly get pantsed in the playoffs. Game 5 on Wednesday was Budenholzer's most recent disasterclass, but it is far from his first. Will it be his last for the Bucks? Well, Nick Nurse is available, so it just might be.
Stay in touch
Sign up for our free newsletter