NHL
Manslaughter Arrest Made In Death Of Adam Johnson
9:38 AM EST on November 15, 2023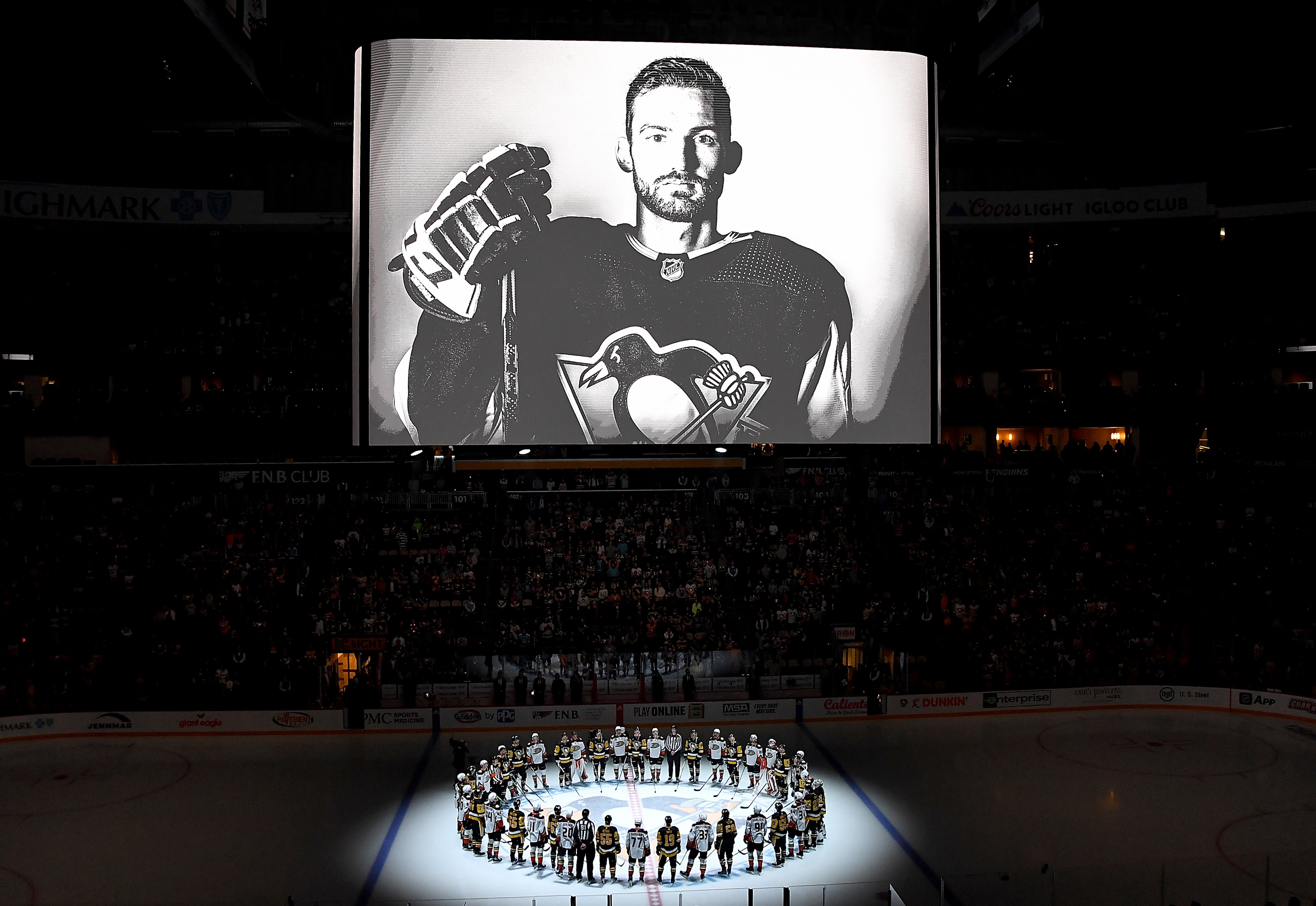 During an Oct. 28 game in the U.K.'s Elite Ice Hockey League, former NHLer Adam Johnson was killed when his neck was cut by a skate blade. The 29-year-old Johnson was playing for the Nottingham Panthers when the Sheffield Steelers defenseman Matt Petgrave collided with another Panthers player, his skate rising as he tumbled, slashing Johnson. The game was stopped, the arena cleared, and Johnson was given emergency treatment on the ice. He was pronounced dead at the hospital. It was an awful tragedy of the sort that lurks in the back of every hockey player's darkest fears, but thankfully a type of accident that happens only very, very rarely.
But it was just that, according to witnesses and players on both teams who spoke publicly: an accident. The EIHL called it a "freak accident." Which makes it utterly shocking that on Tuesday a man was arrested on suspicion of manslaughter in connection with Johnson's death. U.K. laws mean the suspect wasn't named, but it's assumed to be Petgrave.
Here's the statement from South Yorkshire Police, who today announced that the arrested person has been released on bail:
Detective Chief Superintendent Becs Horsfall said: "Our investigation launched immediately following this tragedy and we have been carrying out extensive enquiries ever since to piece together the events which led to the loss of Adam in these unprecedented circumstances.

"We have been speaking to highly specialised experts in their field to assist in our enquiries and continue to work closely with the health and safety department at Sheffield City Council, which is supporting our ongoing investigation.

"Adam's death has sent shockwaves through many communities, from our local residents here in Sheffield to ice hockey fans across the world. We know these communities will expect us to handle this investigation with the same professionalism, fairness and sensitivity as any other and request that members of the public refrain from comment and speculation which could hinder this process. Our thoughts remain with all affected by this devastating incident as enquiries continue."
While the decision to arrest Petgrave has delighted social media's loudest and most committed racists (take a damn guess of the races of the players involved), it's baffled just about everyone who's ever watched a hockey game and understood there was no reason to think there was anything malicious involved, let alone criminal. I've watched the video—I wish I hadn't—and it was the sort of collision that happens regularly, especially in a lower-skill league like the EIHL. In fact, historically in incidents like this (Malarchuk, Zednik, et al.) the hockey fraternity circles the wagons around the player whose skate blade caused the injury, attempting to absolve them of any guilt they might naturally feel for their role in the accident.
In this case, Johnson's teammates have firmly spoken on Petgrave's behalf, with one, Victor Bjorkung, saying, "What Matt has experienced is unimaginable. I don't understand how some people can behave, it's inhuman. ... No one in our team thinks it's his fault, quite the opposite. We stand behind him." On Sunday, in Sheffield's first home game since the incident, Petgrave received a standing ovation:
Johnson's aunt had previously called Petgrave's action "reckless and unnecessary" but said it appeared unintentional. Upon Petgrave's arrest, Kari Johnson said, "We're just going to have to let it play out and see what happens. Whatever they'd decided, I would have had to live with it."
Criminal charges for hockey incidents are rare. In 1988, Dino Ciccarelli was convicted of assault in Canada for repeatedly striking Luke Richardson with his stick. Jim Boni pleaded guilty in Italy to unintentional manslaughter for a 1982 incident in which he slashed Miran Schrott across the chest with his stick, causing cardiac arrest. In 2000, Marty McSorley was found guilty of assault in Canada for swinging his stick at Donald Brashear's head. In 2004, Todd Bertuzzi pleaded guilty to assault in Canada for sucker-punching Steve Moore. In all four incidents, however, intent to injure was never in question.
One constructive result of Johnson's death has been a push for players to wear neck protection, which many eschew for comfort reasons. But the EIHL is making neck guards mandatory for next year, as are leagues in Germany and Canada, and the NHL and NHLPA have tabled it to discuss in the near future. The Pittsburgh Penguins, for whom Johnson played 13 games, are making neck and wrist protection mandatory for their minor leaguers. Said Penguins coach Mike Sullivan, "Hopefully there'll be an initiative here moving forward, and I think that could be one of the positive things that might come out of this terrible, terrible tragedy."
Stay in touch
Sign up for our free newsletter