NBA
LeBron James Still Rules
10:11 AM EST on January 18, 2023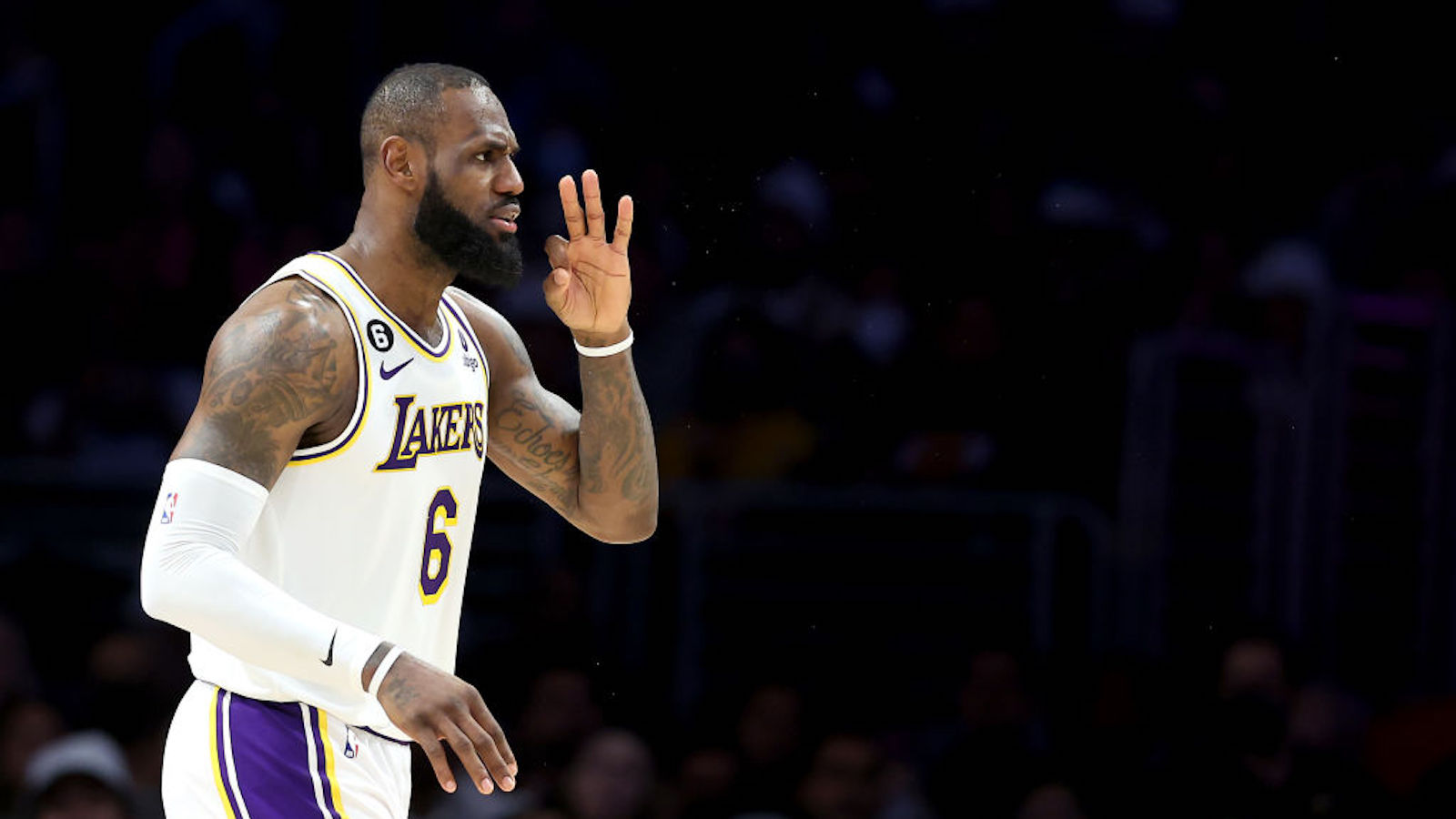 This current 2022-23 NBA season has been a banner year for the passage of time. While veteran-laden teams like the Warriors, Bulls, Heat, and Clippers have struggled, a group of youngsters have willed their teams into prime championship contention. Chris Paul is the only player left in the league from the 2005 draft, and he's finally, grimly declining. The best player on the best team in the Western Conference is a 23-year-old who fears nothing and serves as a reminder that the theory of gravitational force is just a theory; his counterpart in the East is 24. Russell Westbrook is a sixth man now. The best player in the league is a 23-year-old from Slovenia, while the pair of veteran stars who bounced him from his first two payoff runs have slogged their way through gummy, mediocre seasons. As the NBA braces for the impact of Victor Wembanyama, it feels like something of a generational shift has finally happened.
And through it all, LeBron James remains. James just turned 38 years old, and there are no contemporaries left from his NBA draft class. While so many of them have moved on to second careers as NBA assistants, front office guys, college and NBA head coaches, TV pundits, and even one GM, James is getting ready to start yet another all-star game. Because he is A) on the brink of becoming the NBA's all-time leading scorer, B) sitting with his perpetually melting-down Lakers at 13th in the Western Conference (for reasons that are and are not his fault), and C) always talking about playing in the NBA with his teenage son, it's easy, logical even, to consider James primarily through the historical lens. Hell, his nominal peers are so much younger than him that their fathers played against him, as Jabari Smith Jr. reminded James on Monday night.
Like Jabari Smith Sr., I was also at LeBron James's first NBA game. I was 10 years old then, and now I'm getting a few grey hairs and my back hurts when I sit down at the computer for too long. Two decades after his debut, James is still doing incredible things on the basketball court and playing as well as anyone in the league. In the same game Smith Jr. stood there and marveled at the passage of time, James dropped 48 points, eight boards, and nine assists on the youngest team in the NBA, a team whose average age (22.5) is close to half his. LeBron James: Historical Basketball Demigod is a figure worth appreciating in both the present and near-future terms, though I would argue the best way to do so is to consider how spectacular LeBron James: Basketball Player has been.
James's aforementioned team is kinda-sorta turning things around after a tragic start to the season, though they are still 20-24 and their roster is hilariously misshapen without Anthony Davis. The Lakers are plagued by unresolvable contradictions—the team can only score effectively in transition, yet they can't afford to give Westbrook that much autonomy; seemingly over half of their playable guys are some genus of point guard—and they have wrenched their way back into the play-in race not because they've solved any of them, but because James has been going off. His 48-piece against Houston was his season high, and over the course of a five-game win streak that earned him a player of the week nod, he averaged basically a 38-point triple-double.
James has gone through a few distinct shifts in his playing style through his career, and what's perhaps most impressive about this current version of LeBron James is that he's maybe as physically dominant as he's ever been, here in Year 20. When James first joined the Heat, he bricked up and got huge and played a ton of power forward, before morphing back into a point guard with the first few Lakers teams he played on. James is still big and huge and fast, and as the majority of the league has shifted towards smaller lineups, James's physicality has become a more difficult issue for opposing teams. He's taking the fewest threes of his Laker tenure and hitting at the worst rate since his rookie year, yet he's getting into the paint at will and shooting as well as he has in his career at the rim and within 10 feet. He spent the game against the Rockets nailing jumpers, though I think the more illustrative reel was his 35-point game against the Sixers, who have the fourth-best defense in the NBA and couldn't do a thing to keep James from the rim. I should stress that he's doing all this with the worst spacing in the league.
Even if he's not shooting well from deep, it should be no surprise that James is thriving in an NBA that's undergone such an offensive revolution in the past eight years. As much credit as Steph Curry gets for popularizing the three-pointer, James also deserves to be recognized as one of the key players who pushed the game away from slow, post-centric isolation basketball (his rookie year stands out as perhaps the slowest and least offensively effective season in modern NBA history) and towards what it is today. He's going to be crowned the NBA's all-time leading scorer within a month, though I always think of him less as a score-first player and more as someone who has spent his career making the right play. Of course, the "right play" is usually for him to go score, yet his work as a passer shouldn't go underappreciated. Each of the best ball-handlers in the league throws some version of the classic LeBron corner fastball now, and none of them can do so as effectively as the originator.
James has already ceded the title of Best Player in the League, and at some point in this decade, he will play his final NBA game. His oldest son is about to enter the league, and next year's draft class will be the first featuring players who were not even born when James made his NBA debut. Everything he's doing on the court now is pushing him further into uncharted territory for longevity and achievement. That's impressive, but what's most impressive is he isn't limping into the history books; he's still barreling forward, the same unstoppable force he's always been.
Stay in touch
Sign up for our free newsletter