Racing
Lando Norris Is Tantalizingly Close To A Win
2:34 PM EST on November 6, 2023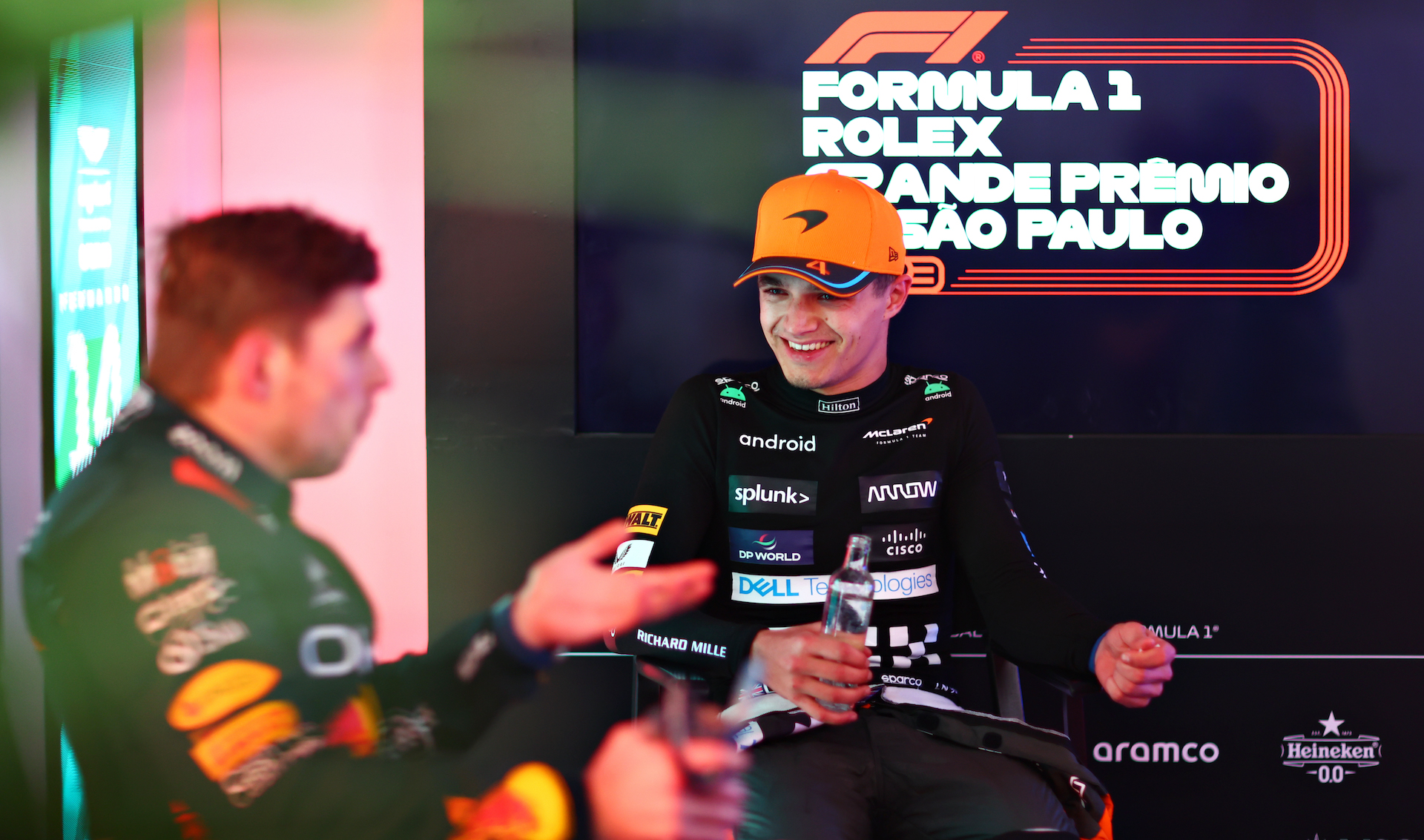 Shortly after finishing his final sprint shootout lap at the Brazilian Grand Prix, Lando Norris asked over the radio, "Why am I so shit in qualifying?" Both McLarens ran early in the session—Norris was almost to the pits before his race engineer said, "That's P1, P1, well done, great job." To which Norris responded, "How?"—a pause—"Uh, well done, I guess? I dunno. It feels so bad, but so good."
Fair enough. The lap had been scrappy, the first two turns especially shaky. In the first sector alone, Norris was down two tenths on the Red Bulls. At the very least, he'd gone faster than his teammate, rookie Oscar Piastri, in one of the few spots where Piastri could outshine him. But as it turned out, everyone had even scrappier laps than him. Norris made up most of the time in the second sector and eked out six hundredths of a second over Max Verstappen overall, which was all he needed. Of course, this is still Verstappen we're talking about—after he passed Norris on the opening turn of the actual sprint race, Norris was doomed to a P2 finish.
The primary horror of the sprint race is that even when the sprint shootout results in a drastically different grid from Sunday's race—like in Qatar, when Piastri won from sprint pole—it still spoils the race ahead. Mercedes qualified decently but botched their race set-up, resulting in horrific race pace during the sprint. They had similarly horrific race pace during the race proper, such that Lewis Hamilton finished between an Alpine and AlphaTauri. In the sprint race, Norris dropped four seconds behind Verstappen and finished P2. Accordingly, despite being on Verstappen's tail for almost all of the feature race, Norris ultimately finished eight seconds behind him.
But Norris made it interesting, especially at the race start. Despite qualifying P7, Norris started P5 thanks to a George Russell grid penalty and a Charles Leclerc hydraulics failure (a brief digression into another distraught radio message: "Why am I so unlucky?") on the formation lap, before the race even started. Norris had a brilliant start and managed to pass both Aston Martins and Hamilton before entering the opening corner. Seven laps later, with no regard for tire life and the handy aid of DRS, Norris threatened to go around the outside of Verstappen at turn 4. Verstappen defended well, parking his car in the middle of the road and tightening the gap, and Norris backed out, eventually dropping a couple seconds back.
The remainder of the race was nowhere near as romantic as Fernando Alonso's last-lap overtake—or, rather, reclamation after Sergio Pérez had just overtaken him the lap before—and subsequent drag race at the finish line for the final podium spot, but Norris managed what few cars could this season: He kept pace with Verstappen even as he lost time on pit stops, and this time, both of them, not just Verstappen, finished over twenty-five seconds clear of the Alonso coming in P3.
Now Norris has 13 podiums without seeing the top step, tying him with Nick Heidfeld for most career podiums without a race win. Before the end of the season, he may very well break that record. This season alone, Norris has six second-place finishes. If he—or, really, any one of us—had been told that fact before the Austrian Grand Prix, it would've been thrilling that the McLaren could compete for podiums at all. But now that he's had those second-place finishes, even gone toe-to-toe with Verstappen several laps into a race, the win has become a carrot on a stick. He's just so close. In 2021, he followed team orders and didn't try overtaking race leader Daniel Ricciardo at Monza despite feeling like he had the pace; Norris may have very well bought Ricciardo a couple extra years in F1 on the back of that race alone, but now he's still looking for a win himself.
After the Qatar Grand Prix, which featured lap limits issues for Norris in qualifying and Piastri's first P2, Norris was not shy about being publicly harsh to himself. The language is even a little familiar—in Qatar, he said, "I'm so shit sometimes." The easy line to draw is that the statement came as a result of Piastri's improved performance. Even if there is some small ring of truth there, Norris has been faster than Piastri in race pace in almost every other contest. That's no knock on Piastri, who is often one upgrade package behind his teammate and still putting together a stellar rookie season after a long stretch of middling to tragic debuts. But if there's anything to find in Norris's pattern of rigorous self-critique, it's that he knows exactly when a race win is within grasp and holds that as his expectation.
Norris made his debut in Formula 1 with the benefit of not having a Hamilton or Verstappen as his peer, and when he did face a veteran in Daniel Ricciardo, he beat him soundly. When compared to his fellow 2019 rookies, he's managed to exceed George Russell's podium count while maintaining Alex Albon's likability, and that's even factoring in when he accidentally destroyed Verstappen's trophy. The only thing he's short of is a win, which, barring catastrophe, is an inevitability. He just needs the proper circuit and a little bit of luck. Forget breaking Heidfeld's podiums record—if there's anything to hope for, it'll be Norris disappearing from that list entirely.
Stay in touch
Sign up for our free newsletter