MLB
Jordan Montgomery Won The First Three Rounds Against Yordan Álvarez
10:44 AM EDT on October 16, 2023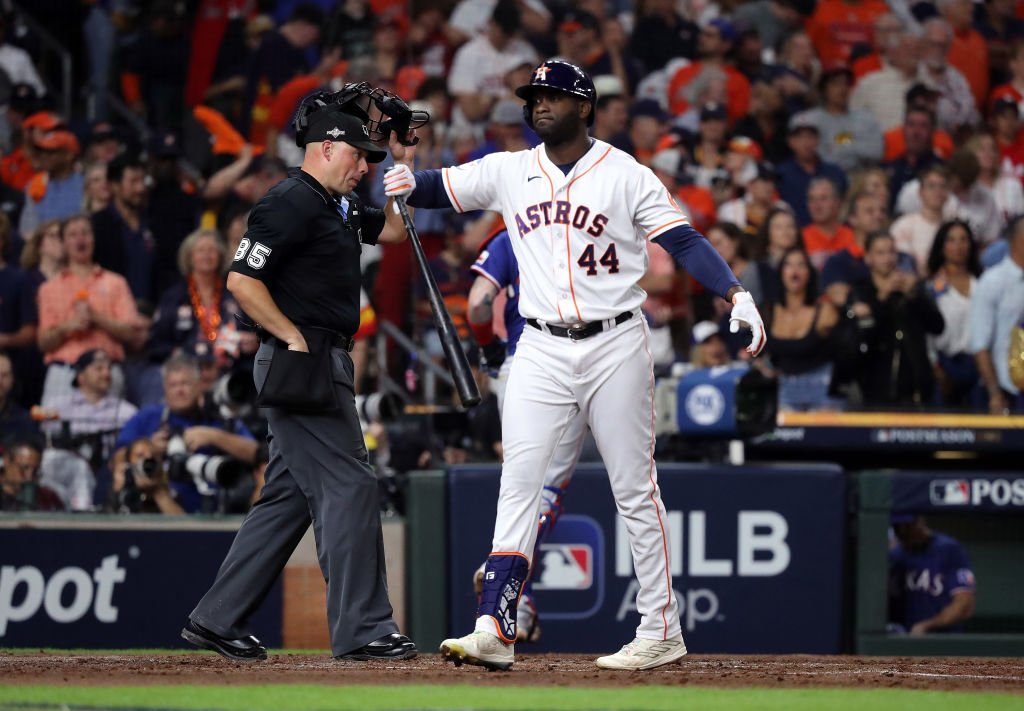 Game 1 of the ALCS provided a better pitching duel than we'd seen through all of the playoffs up to this point, but there was still an undisputed winner. Justin Verlander, taking the mound for Houston, threw 6.2 solid innings with the only blemishes being a double-single combo in the second and a solo shot in the fifth. Jordan Montgomery, meanwhile, earned his Rangers the 2-0 victory with 6.1 scoreless, but his night wasn't without a couple of heart-in-mouth moments.
In the third and the fourth Montgomery pitched himself into tight spots with two outs and then struck his way out of it. In the second of those two jams, the Texas starter had the blessing of facing the relatively harmless Martín Maldonado with the bases packed, and with just four pitches he sent away the career .207 hitter. But the third inning was especially scary. A walk and a single put two on for none other than Yordan Álvarez, who he'd struck out once already but who'd also made a reputation on making baseballs disappear into the night sky in situations like these.
Álvarez's three straight 30-plus dinger seasons look hefty enough on a résumé, but those are nothing compared to how he swings in the playoffs. There's still a local ordinance against wearing his jersey in Seattle after what he did to the Mariners last year, and against the Twins last series, he smashed four home runs and a couple of doubles in four games, including a pair of critical long balls in the Astros' 6-4 Game 1 win.
An Álvarez three-run blast that gave the Astros a permanent lead was easy to imagine here. But Montgomery's stuff turned the slugger into a puddle. First he threw a sinker low and inside, then induced Álvarez to whiff at a pitch that cut away. At 1-1 he forced a foul ball high and tight, but Álvarez had the patience to lay off two pitches at different speeds to bring the count full. He got his bat on another to ding it foul, and then Montgomery brought out his strongest weapon: a curve that his training buddies refer to as the death ball. By yo-yoing it below Álvarez's knees, Montgomery got the fearsome Astro to swing and miss at the last strike for the second of what would be three Ks on Sunday night, all with the curve.
Jeff Passan wrote up a postgame piece on the Rangers' deadline acquisition and his infuriating strikeout pitch, which charges forward like a fastball and then, remembering gravity, slowly plummets out of reach. This at-bat in particular was a remarkable show of restraint by Montgomery and his catcher Jonah Heim, who called six pitches to condition Álvarez to expect one thing out of the hand and then finally on the seventh unleashed the back-breaking curve.
"I wanted to make him swing," Montgomery said. "I was going to make him beat me with my best pitch there. And usually when you don't miss middle, it's a good day."
No pitcher had struck out Álvarez thrice in single game before, and now the Rangers have the upper hand in the series. But since it's likely that Montgomery will get another start against these Astros in the ALCS, I do wonder about celebrating the efficacy of the death ball too early, or writing a story headlined "How Jordan Montgomery finally beat Yordan Álvarez." The Houston hero has proven before that he can make adjustments, and in thinking about how many times he's seen Montgomery so far my mind goes back to Game 6 of last year's World Series. That night, the Phillies called upon José Alvarado to protect a 1-0 lead with two men on. Previously, he'd hit Álvarez with a pitch but otherwise gotten him to pop out twice. This fourth time, however, Yordan clobbered a 450-foot championship-winning dong to a place I didn't know a baseball could reach.
The moral, or at least the threat: It may not be possible to permanently solve Yordan Álvarez. Montgomery may have won this battle, but if and when we get to Game 5 he'd better be ready for war.
Stay in touch
Sign up for our free newsletter