NHL
Jonathan Toews's Silence Wasn't Always A Virtue
11:47 AM EDT on April 14, 2023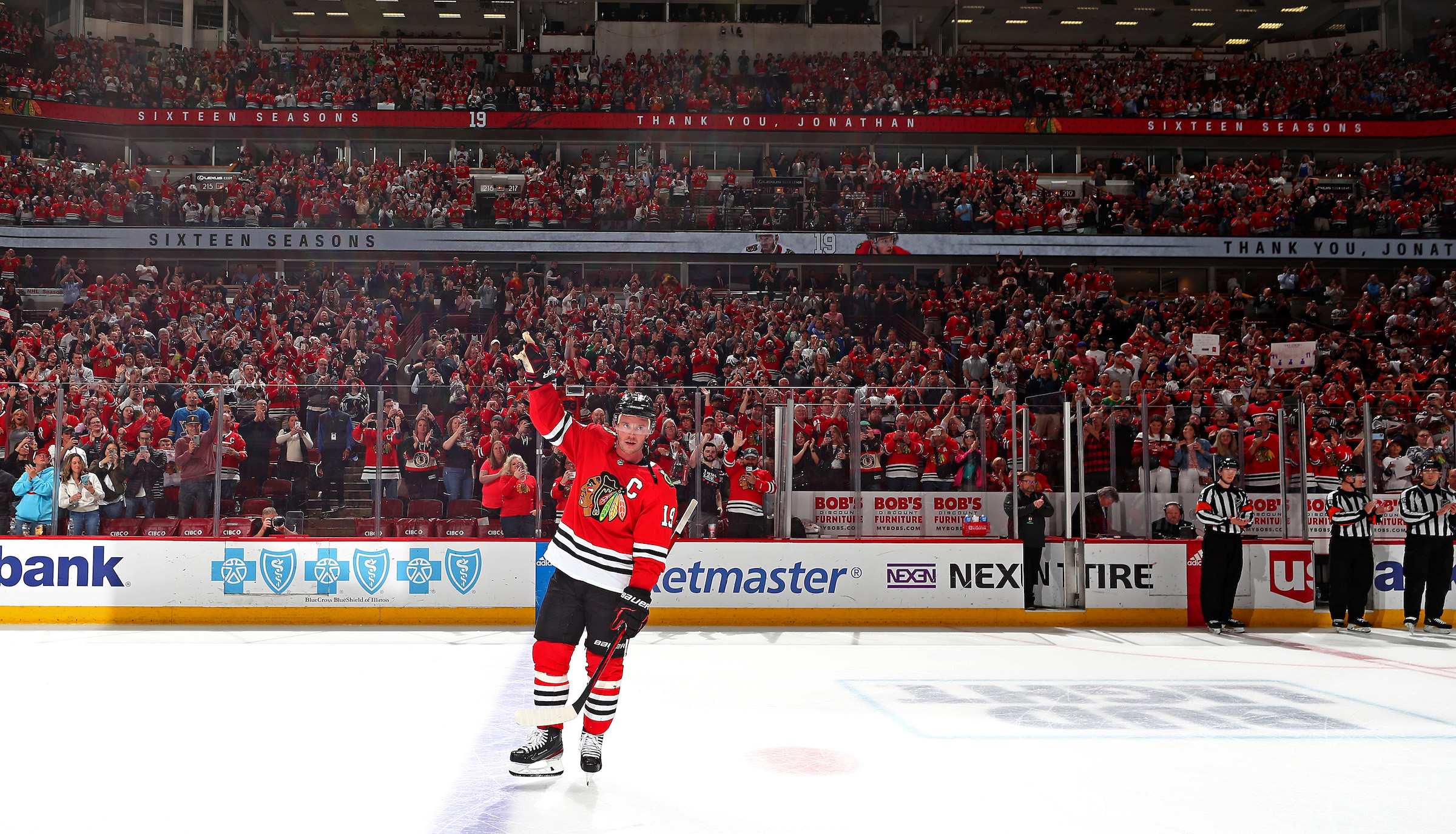 Jonathan Toews's goodbye couldn't help but pale in comparison to what it represented in Chicago: the end of an era, the last to depart of a core four players that brought three Cups to town, the sudden rise and inevitable decline of a franchise's fortunes and the uncovering of a shameful cover-up at the height of their success. If it's time to turn the page on this chapter of the Blackhawks, there is plenty to look back fondly upon—and even more to regret.
Toews and the Hawks announced earlier in the day that Thursday would be his last game in Chicago, in this, the 15th season of his career, all of them in red. Everyone involved was a shadow of themselves. The Hawks, by salvaging a loser point against the Flyers, "clinched," at worst, the third-worst record in the league and at least an 11.5 percent chance of winning the Connor Bedard lottery. Toews skated in just his 53rd game; he missed a large chunk of the season—and all of 2020–21—with what he described as symptoms of long COVID-19 and chronic immune response syndrome. He'll turn 35 later this month, and he's not sure if this is it or not, though he sure sounded like it was. "The thought of playing for another team right now is so far in the back of my mind right now," Toews said. "I always thought I'd retire a Blackhawk and part of me still believes in that."
Injuries forced Brent Seabrook to call it a career a few years ago. Duncan Keith, after one year in Edmonton, retired last summer. Patrick Kane went to New York at the deadline. That leaves only Toews from the Blackhawks' glory days, and he was fitting as a remainder, quiet and steady as he was during the prime of Chicago's run. He always got perhaps a little too much praise as the silent figurehead of a dynasty, and, even as a four-time Selke finalist, not enough praise for his defensive play. Goals win games, and all that, and goals were not really ever his thing, but the value of a lockdown top-line center was never so clear. So, sure, why wouldn't he score in this final game, meaningless for every reason save him?
And then, after the Flyers finished off the 5-4 OT victory, it was time for the salute from fans and both teams, and the tribute video. One more chance to live in the past, when things were better and seemed simpler. But that's the whole point of winning, I suppose: the memories are yours forever.
Toews was nicknamed "Captain Serious," which could have just as accurately been Captain Boring, and that gets at the divide between how he'll be remembered in Chicago and by unaffiliated fans. He was not a highlight-reel player, nor an engaging enough personality for anyone who didn't follow him closely to have particularly fond memories of him. But at home, where he was the sober captain of three Cup-winners, and where his strong, sound, fundamentally flawless two-play comes into better focus with more frequent viewing, he was the touchstone.
So if Toews was shorthand for an era, that was for better and for worse. His leadership was tested early in his career and again late, and for the same reason, and found wanting both times. It stretches some belief that the team captain did not hear about a coach's sexual assault of a teammate, as he later insisted, and once he did, did not inquire further. If Toews represents winning, what happened to Kyle Beach represents winning at any cost. Toews also failed utterly as a leader when the awful story came to light: His comments seemed more about clearing his own name (or perhaps his conscience), and he had no words of praise or comfort for Beach, but plenty of praise for the character of the executives who covered up Beach's assault. When Patrick Kane gives more mature and more appropriate comments on sexual assault, you've fucked up. It was a rare wrong foot forward, but such a misstep as to become part of Toews's legacy, too. Don't make heroes of men.
The Blackhawks, I think, are too deeply tainted to ever truly turn the page unless and until the name and logo are changed and a Wirtz is no longer in charge. The book on the franchise is an ugly read. But for a stretch there, the hockey was something special, and Jonathan Toews was at the heart of it. Go ahead and celebrate it, and remember it. Just remember all of it.
Stay in touch
Sign up for our free newsletter