College Basketball
I Am Transfixed By The Tall, Skinny Young Man Playing Basketball For Florida State
11:49 AM EST on January 19, 2022
Florida State's basketball roster lists a small handful of players who weigh less than their freshman center John Butler. Three of them are fringe guys who have never scored more than four points in a game. One of them is starting point guard Caleb Mills. All of them stand at least eight inches shorter than Butler, who in a coming-out performance against No. 6 Duke on Tuesday established himself as one of college basketball's most intriguing outliers.
Butler has the kind of dimensions that can only be found in a teenager on a college basketball bench. Even at Florida State, where seven-footers have consistently dotted the landscape like palm trees, Butler's physical slightness and his unique skillset both mark him as different from his predecessors at the school. FSU lists him at 7-foot-1, 190 pounds, a fact that had me googling BMI charts, fearful for his health. Here he is in all his glory, in an image unavailable to Defector's non-premium Getty subscription. While Butler's stretched physique's not quite as striking as, for example, the 7-foot-7 former LaMelo Ball teammate Robert Bobroczky, the sheer lankiness of this overwhelmingly tall man is a formula for a mold-breaking basketball player, and Butler absolutely has the potential to be just that.
The measurables will always be the first thing any basketball fan notices about Butler. But in a game like Tuesday's, the shooting ability won't be far behind. Butler's first three shots of the Duke game on Tuesday were all three-pointers. And they all went in! It was no fluke, either. In limited attempts, Butler has shown himself to be one of the better outside shooters in the entire ACC, making 17 of his first 37 shots at the college level. (That's seven more shots than he's taken inside the arc.) Florida State has certainly enjoyed its fair share of tall people, but never one who's this comfortable from so far away.
And yes, he can also score like a big man should, if you're into, you know, alley-oops and stuff. Check this out: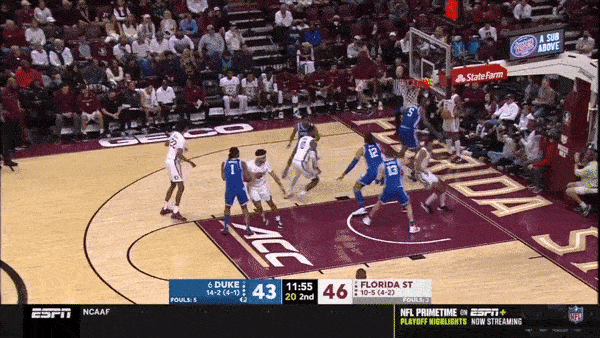 Butler's been competing for minutes in the early part of his FSU career with the likes of senior leader Malik Osborne and 7-foot-4 JUCO transfer Naheem McLeod. (There are four seven-footers on the squad overall.) In his team's previous win over Syracuse, he only saw the floor for nine minutes and scored two points. But after the hot start, coach Leonard Hamilton trusted Butler to keep contributing, and he did so efficiently. In a career-high 27 minutes Butler earned a career-high 14 points on five-of-eight shooting, helping pilot Florida State to the upset and an astonishing Division I-record 13th-straight overtime victory. And in the closing seconds, after two free throws gave FSU a one-point lead to protect, Butler picked up Duke star Wendell Moore as he crossed half court, tracking him into the paint and then standing tall for a game-sealing block.
This young man needs to eat some more pasta. But if he's got weapons like these already, imagine what he could be with just a little bit of muscle and experience tacked on.
Stay in touch
Sign up for our free newsletter