NHL
It's Safe To Say That's Not The Start Edmonton Wanted
11:39 AM EDT on October 12, 2023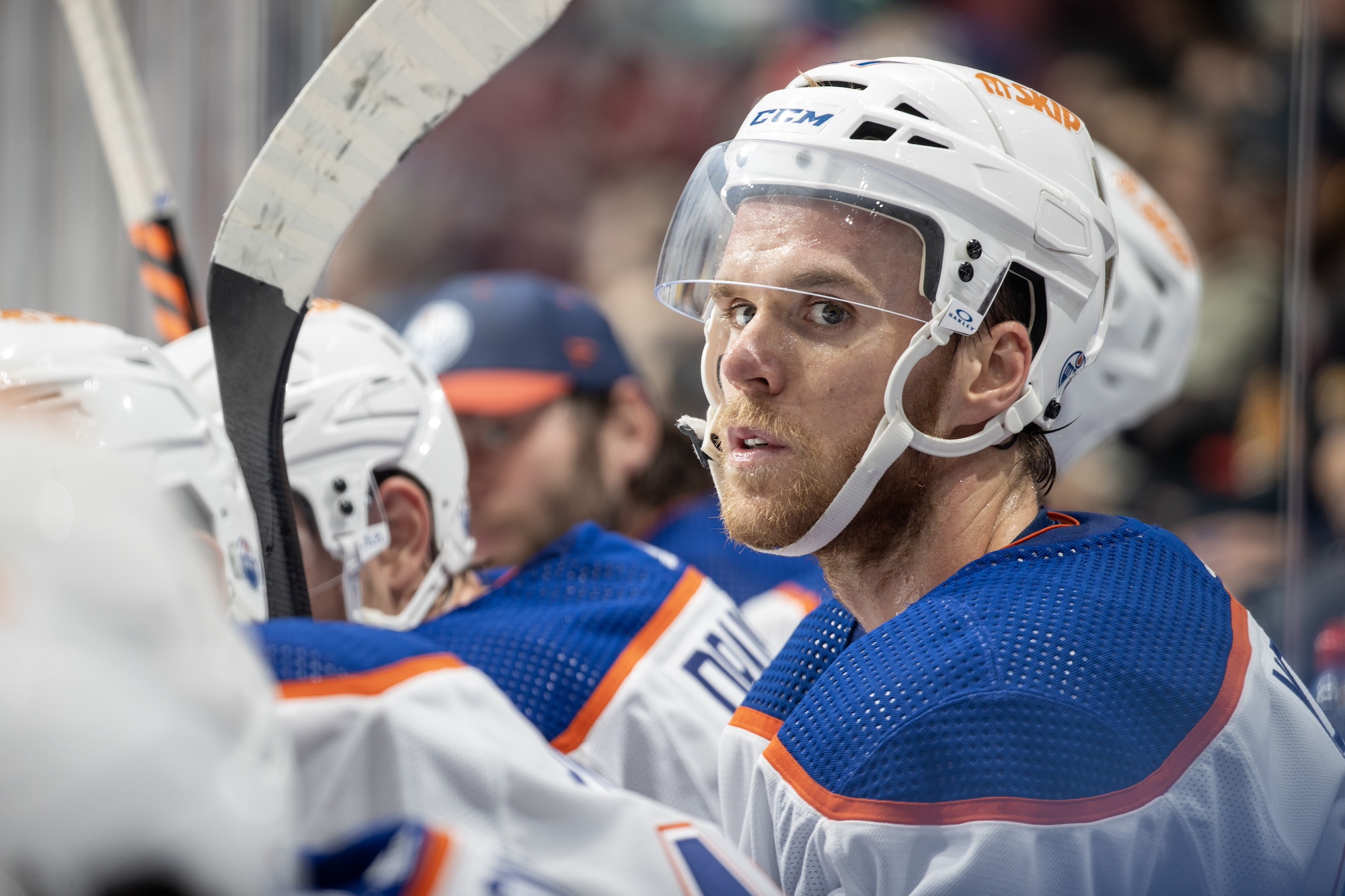 You know opening night didn't go great when the next day's headline in the local paper starts with the word(?) "Gaak!" But that is the sort of onomatopoeic ejaculation that follows an 8-1 drubbing in the season opener after a summer of hype like the Edmonton Oilers just enjoyed, and for no real apparent reason. The Oilers are what the Oilers always seem to be—some killer forward lines backed up by precisely three useful defensemen and two question marks in net—and for cap reasons weren't really able to address either issue. And yet a jarring number of experts are picking Edmonton to finally break through and win a Cup. I get it. There are no true dominant rosters out there, and it's easy to fall under the spell of this offense when it's rolling. Hell, I fell for it last year. But what possesses smart people to look at a team with glaring holes in half its game, and which didn't get better, and say, Yes, this is the year?
Sixty minutes into the prove-it part of the hype cycle, and the Oilers have proven that they've had practice at telling reporters they weren't good enough on a given night. They had to do it a bunch on Wednesday: Edmonton fell to Vancouver—to Vancouver!—in their season opener while putting together their worst scoreline since Connor McDavid's rookie year. Brock Boeser scored four goals. J.T. Miller and Elias Pettersson each chipped in four points. Thatcher Demko literally barfed inside his mask and that gave him only the third-worst night of any goalie on the ice: Jack Campbell got yanked after allowing four on 16 shots, and then Stuart Skinner put up the exact same line in relief. There's going to be a lot of goals in Oilers games this season; the Oilers hope to be responsible for more than 11 percent of them.
"A lot went wrong," deadpanned McDavid. But there's no reason to panic, or to try to take too much from this one game, starting from the observation that it is in fact just one game, and ending somewhere with, It's October. In between is a defensive corps in flux, and that should eventually resemble this not very much at all. Mattias Ekholm proved a blue-line anchor after his acquisition at the deadline, improving the top two pairings; he missed the entire preseason with a hip flexor injury that refuses to go away, and wasn't ready for opening night. Even bigger, the Oilers are in the middle of a sweeping change to their defensive system, going from playing man-to-man to a zone. "We've been playing that system for over a month now, you're still ironing out kinks," Darnell Nurse said. Growing pains aside, that structural overhaul is probably responsible for a lot of the optimism around a mostly unchanged team, which thus relies on pretty large assumptions about the ease of transition and the players' effectiveness within a new system.
Campbell was a surprise Game 1 starter; his paycheck probably has much to do with the Oilers giving him the first chance to claim or squander the top job, rather than Skinner, who last year came out of nowhere to be quite good in his first full season. Campbell had an absurd preseason, but I feel like we know his deal by now (and it's not a .971 save percentage). Skinner is the man with whom the Oilers' fortunes are likely to rise and fall.
"We were at a preseason level of work ethic and a preseason level of execution," said head coach Jay Woodcroft, and functionally, given who didn't start this game and the bugs being worked out, it's probably helpful to view it as extended preseason. But it counts in the standings as much as games in early April will, and for a team has real dreams of winning the West, it could only have been a worse start to the season if the jumbotron had fallen on Connor McDavid.
Stay in touch
Sign up for our free newsletter