NBA
It All Comes Down To Anthony Davis
9:38 AM EDT on May 5, 2023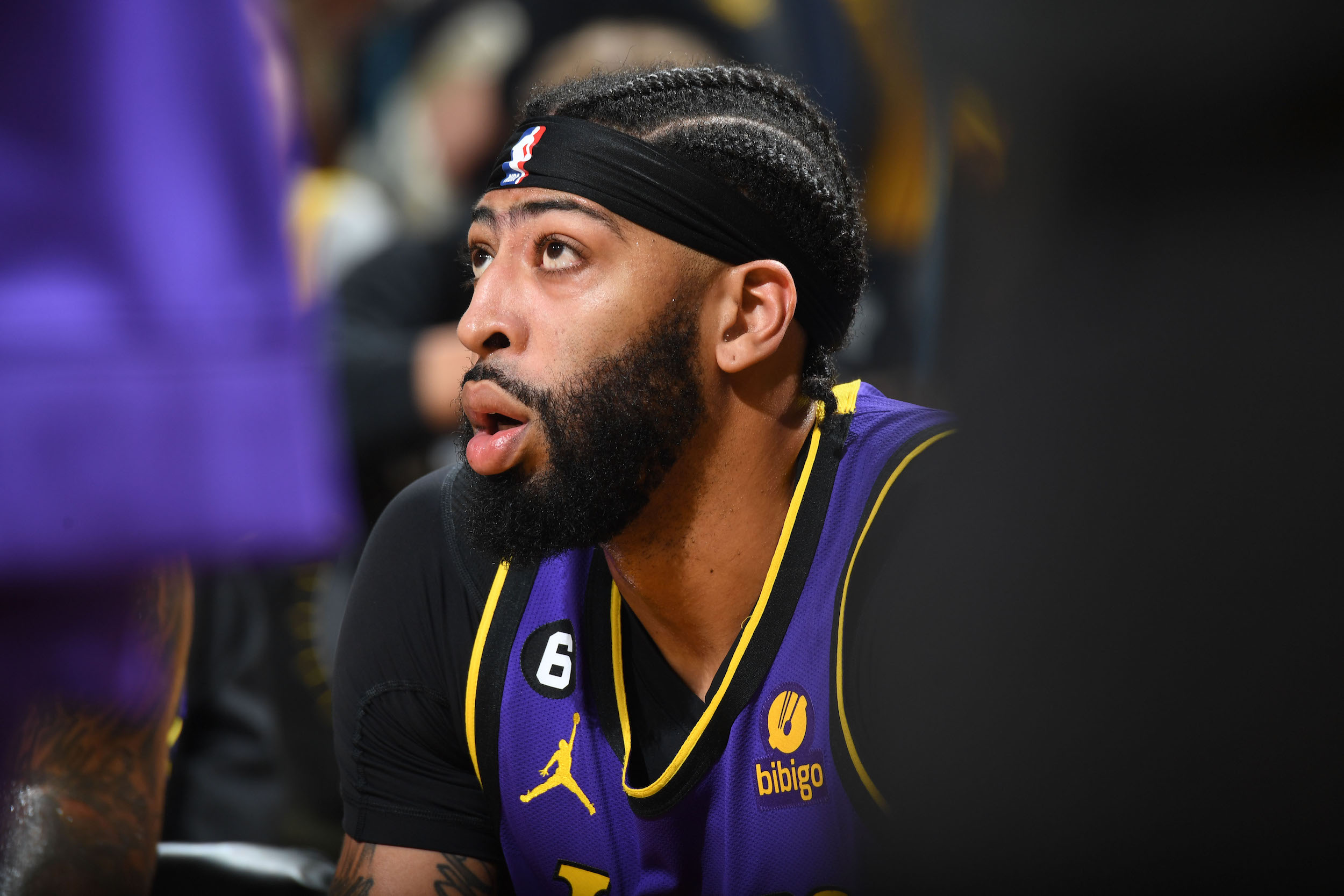 Through two games of their second-round playoff series, the Golden State Warriors have outscored the Los Angeles Lakers from the three-point arc by almost 80 points, 126–48. In Game 1 the three-point margin was 45 points. In Thursday's Game 2 the Lakers improved their accuracy and output from deep, and worked the margin down to a still-appalling 33 points. Los Angeles won Game 1 by five points; the Warriors won Game 2 by 27, 127–100, to earn a split on their home floor. Sooner or later the Lakers are probably going to need to close the three-point scoring gap, whether by making some more threes or by more successfully chasing the Warriors off of their spots. But how do you chase a team off its spots when very often its spots look like this?
To beat a team that outscores you by 45 points just on three-pointers, as the Lakers narrowly managed in Game 1, some things have to go incredibly right. For example: It helps tremendously if you can gain an eye-popping, downright historic advantage in free-throw points. The Lakers made 25 of 29 free throws in Game 1; the Warriors attempted just six total free throws as a team. This kind of free-throw disparity is not the sort of thing that is very likely to occur in an NBA game, ever. There have been just five playoff games in history where one team attempted 29 or more free throws and the other attempted six or fewer; Game 1 of this series was the very first time in playoff history that a free-throw advantage of this type was gained by the road team. Here is a mild spoiler: That will not happen again in this series. The cosmos will not permit such a thing.
This is not to say that Warriors head coach Steve Kerr was wrong to tinker with his rotation before Game 2. The tinkering clearly worked—Kerr replaced Kevon Looney in the starting lineup with JaMychal Green, who started for just the second time as a member of the Warriors—at least in the sense that the Warriors beat the hell out of the Lakers Thursday night, going nuts at both ends across the middle quarters and making the game into a laugher for most of the second half. But it would be hard to make the case that the lineup change was decisive: Green played 5:35 of the first half, all at one stretch of the first quarter, and the Warriors lost those minutes by two points. He came out again with the starters after halftime, played a solid stretch of just about seven minutes, and the Warriors won those minutes by seven points. Looney, who was reportedly on a minutes restriction due to illness, wound up playing just 12 minutes, with Kerr yanking most of his valuable players off the court for the pointless, non-competitive fourth quarter.
Defending the way the Lakers defended in their improbable Game 1 win—holding the Warriors to 41 percent shooting on two-pointers while only sending them to the line for six free throws, at home—requires something the Lakers did not have in Game 2: the absolute best version of Anthony Davis. Davis was otherworldly at both ends in Game 1, scoring 30 points on 19 shots, pulling down 23 rebounds, blocking four shots, and altering or discouraging several times that many. Davis scored 11 points on 11 shots Thursday night, was far less nimble and intimidating a rim protector, and grabbed a lower percentage of available rebounds than the comprehensively brain-boomed Jordan Poole. Foolishly, I kept expecting the Davis of Game 1 to start dominating the action, until suddenly the Warriors were up 21 points midway through the third quarter and playing invincible, celebratory basketball, and the game was functionally over.
NBA fans by now are used to Davis's difficulty stringing together stretches of consistent excellence. Here is a funny statistic, courtesy of ESPN's Dave McMenamin: Every time that Davis has scored 20 or more points in a playoff game this postseason, he has scored 16 or fewer points in the following game. You can often gauge Davis's engagement level by how hungry he is for the ball and how willing he is to throw his body around underneath. Thursday night he opened the game with some half-hearted floaters and didn't attempt a layup or free throw in the entire first half. It won't do. When Davis is feasting, the Lakers offense suffers far less from their general lack of knockdown shooters; as a result they get to do more half-court defending, with Davis socked right in the middle, challenging everything at the rim and making the job of the opposing offense feel impossible. "That's tough. That's a great defensive team," explained Draymond Green Thursday night, of playing against a set Los Angeles defense. "You're playing against that defense every time down the floor, just set waiting on you to come down, it's a lot tougher to score."
I think the victory in Kerr's lineup rejiggering Thursday night is that it did not make the Warriors much worse. They mostly did what they do: Curry zipped around moving screens and yanked the Lakers' defense into new shapes and orientations; Klay Thompson took and made a good number of insanely quick and deep three-pointers; Draymond Green kept the ball moving and the offense flowing despite being ignored almost entirely by Los Angeles's defenders; Jordan Poole barfed down his shirt-front, over and over again. They made 21 three-pointers in Game 1 and lost; they made 21 three-pointers in Game 2 and rampaged. JaMychal Green mostly stood in the corner, but not entirely uselessly, which was nice. What happened in this game was not a Kevon Looney head cold or The JaMychal Green Game; what happened is Other Anthony Davis turned up—the recognizably human guy who very often drives basketball fans insane—and the Lakers were never going to win a game with that guy anchored in the middle, not without Draymond Green freaking out and attacking someone's groin and the Warriors having some sort of collective meltdown.
As they showed in Game 1, when the Lakers have the best version of Anthony Davis, they can do extraordinary things and they can beat any team in any building, even when being outscored by an absurd 45 points just in three-pointers. You would not be crazy at all to pick that team to win the title. And as they showed in Game 2, when they have the other Anthony Davis, they look an awful lot like the slouching, wayward bozos who required a midseason roster overhaul in order to make the dang play-in. Game 3 should be fun: If recent trends hold, the Good Davis will be back in the middle of everything, and the Warriors will need every three-pointer they can manage, and more.
Stay in touch
Sign up for our free newsletter