NFL
If Sam Howell Is The Answer, Maybe The Question Is Wrong
11:41 AM EST on January 4, 2023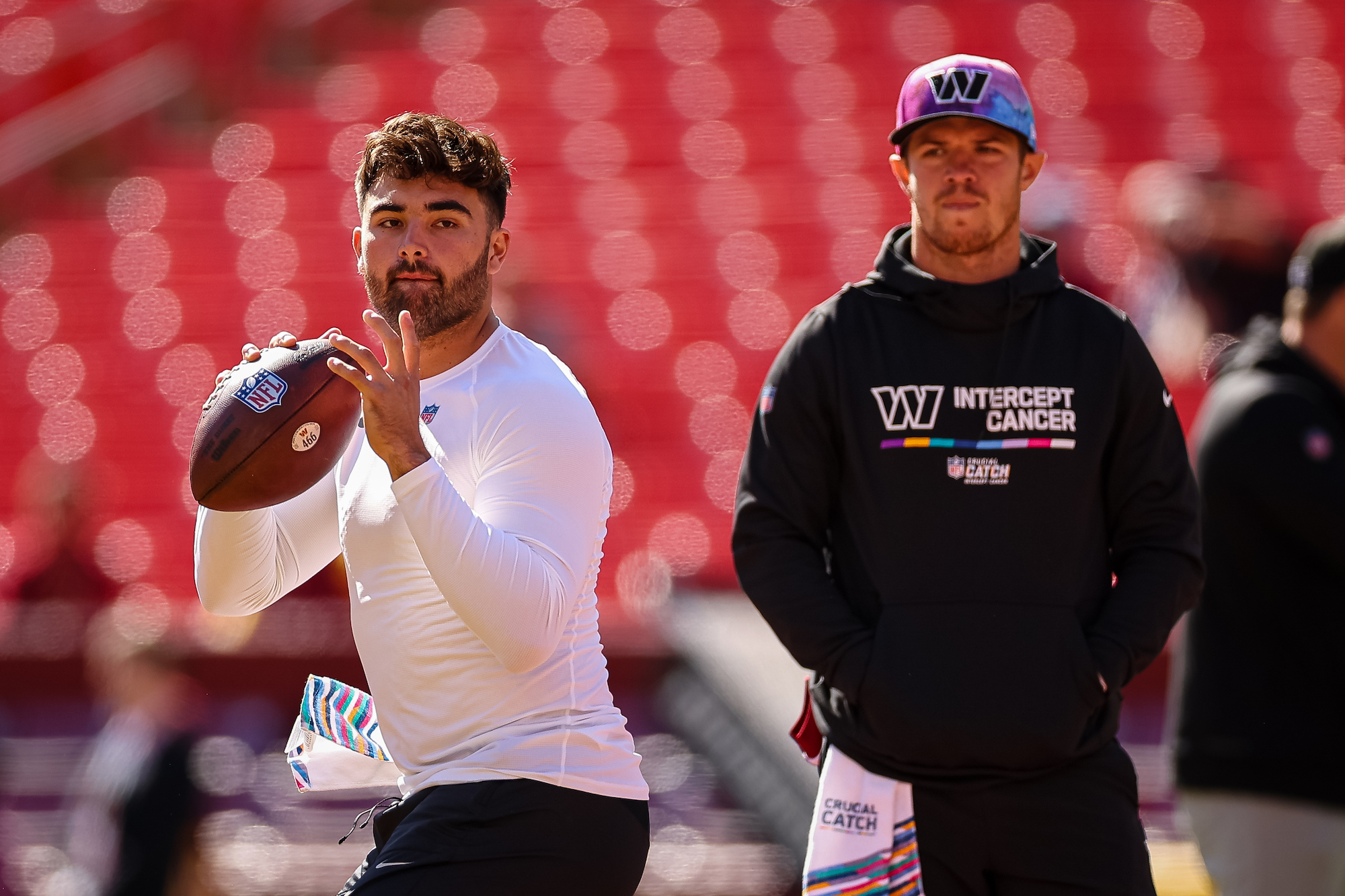 Because we are your go-to source for all things Washington Commanders quarterback, we must inform you that Riverboat Ron Rivera is going back to Taylor Heinicke this Sunday, although snaps will be found for Sam Howell, their fifth-round draft pick (which had been traded twice before his selection, so you know he was greatly desired). Howell did his underpro work at North Carolina, so it's not like he got found at the bus station, but the idea that suddenly the Commanders need to see him in a game so meaningless that Rivera didn't even know it was meaningless until well after everyone else—well, let's just say this is rank Purdyism in its most blatant form.
Purdyism is, as we know from our reading, the religion that all quarterbacks deserve a chance no matter who or why they are, because seventh-round pick Brock Purdy has found happiness and stardom in San Francisco as Christian McCaffrey's loyal sidekick. Evidently the new orthodoxy is that all backups are equal in the eyes of Zog, even second and third backups.
So Sam Howell becomes the 46th reserve quarterback (as in non–Week 1 starter) used this season after:
Colt McCoy
Trace McSorley
David Blough
Desmond Ridder
Tyler Huntley
Anthony Brown
Case Keenum
Sam Darnold
P.J. Walker
Jacob Eason
Trevor Siemian
Nathan Peterman
Brandon Allen
Deshaun Watson
Cooper Rush
Brett Rypien
Jordan Love
Kyle Allen
Jeff Driskel
Sam Ehlinger
Nick Foles
C.J. Beathard
Jarrett Stidham
Chase Daniel
Baker Mayfield
John Wolford
Bryce Perkins
Teddy Bridgewater
Skylar Thompson
Nick Mullens
Bailey Zappe
Brian Hoyer
Andy Dalton
Tyrod Taylor
Zach Wilson
Mike White
Chris Streveler
Gardner Minshew
Kenny Pickett
Jim Garoppolo
THE PURD
Malik Willis
Josh Dobbs
Taylor Heinicke
We did not include Nate Sudfeld in Detroit because he has only taken a knee, making Jared Goff one of only three quarterbacks who have thrown all the passes for his team. The others are Seattle's godsend Geno Smith, and Tampa Bay's Tom Brady, a sixth-round nobody from when the game had papier-mache helmets who is seven throws away from breaking the single season record for balls thrown on purpose and has thrown 1,435 passes in the last two years. We also did not list Chad Henne, who is 0-for-2 as Patrick Mahomes's backup. But we mention their names here because typing this many names makes Comrade Roth ovulate.
Some of them just killed time at the end of games long won or lost, like B. Allen, Love, or Daniel. Some of them filled in for injured starters, like McSorley, Huntley, and Wolford. Some were brought in for a look because the starter was too dreadful, too pricey, or both, like Heinicke, Ehlinger, and Stidham. One, like Watson, was a starter who had to wait 11 weeks to start and got off easy. And some, like Sam Howell, are supposed to make their teams' scouts look bad by playing well. But only one, Brock Purdy, is who Sam Howell aspires to be, and Howell is who Rivera hopes can save his job from the perpetually embattled Washington front office.
Only Purdy is the outliest of outliers because he plays for a guy who has figured out how to de-emphasize the position that vexes all his contemporaries. Kyle Shanahan has beaten the system by tweaking it everywhere else, starting with McCaffrey, who is a Super Bowl away from being one of the greatest in-season acquisitions in the history of the game, and ending with a defense that took Sunday off against Stidham and the Raiders but otherwise has been among the game's most feared.
Not that Shanahan is a genius here. He dismissed Garoppolo for Trey Lance, who is even less proven now than he was when he left North Dakota State with one full season of Missouri Valley Conference football as his resume, brought back Garoppolo when Lance didn't hit the ground running, then played Garoppolo when Lance did hit the ground running, and now falls upon Purdy as an afterthought because Garoppolo hit the ground running, too. So there's a lot of blind-pig guesswork and sprinting into walls going on there, made more palatable by Shanahan's decision to concentrate resources everywhere else. 
There are, you see, plenty of ways not to have an imposing starting quarterback, but only one way to not have to worry about it. Everything else is, well, Sam Howell, who was Sam Ehlinger, who was Mike White, who was Bailey Zappe, who was Desmond Ridder. And all of them are hoping to be Brock Purdy, whom they never never heard of, and their new employers are groping around for their own Purdies, even though they never heard of him either.
So maybe the market inefficiency isn't Sam Howell, but Christian McCaffrey, hiding in plain sight on a team that had to get rid of him to figure out that what they really want in the end is Jim Harbaugh. And yes, my head hurts thinking about that logic too.
Stay in touch
Sign up for our free newsletter