NHL
How Bad Can The Sharks Get?
11:06 AM EDT on November 3, 2023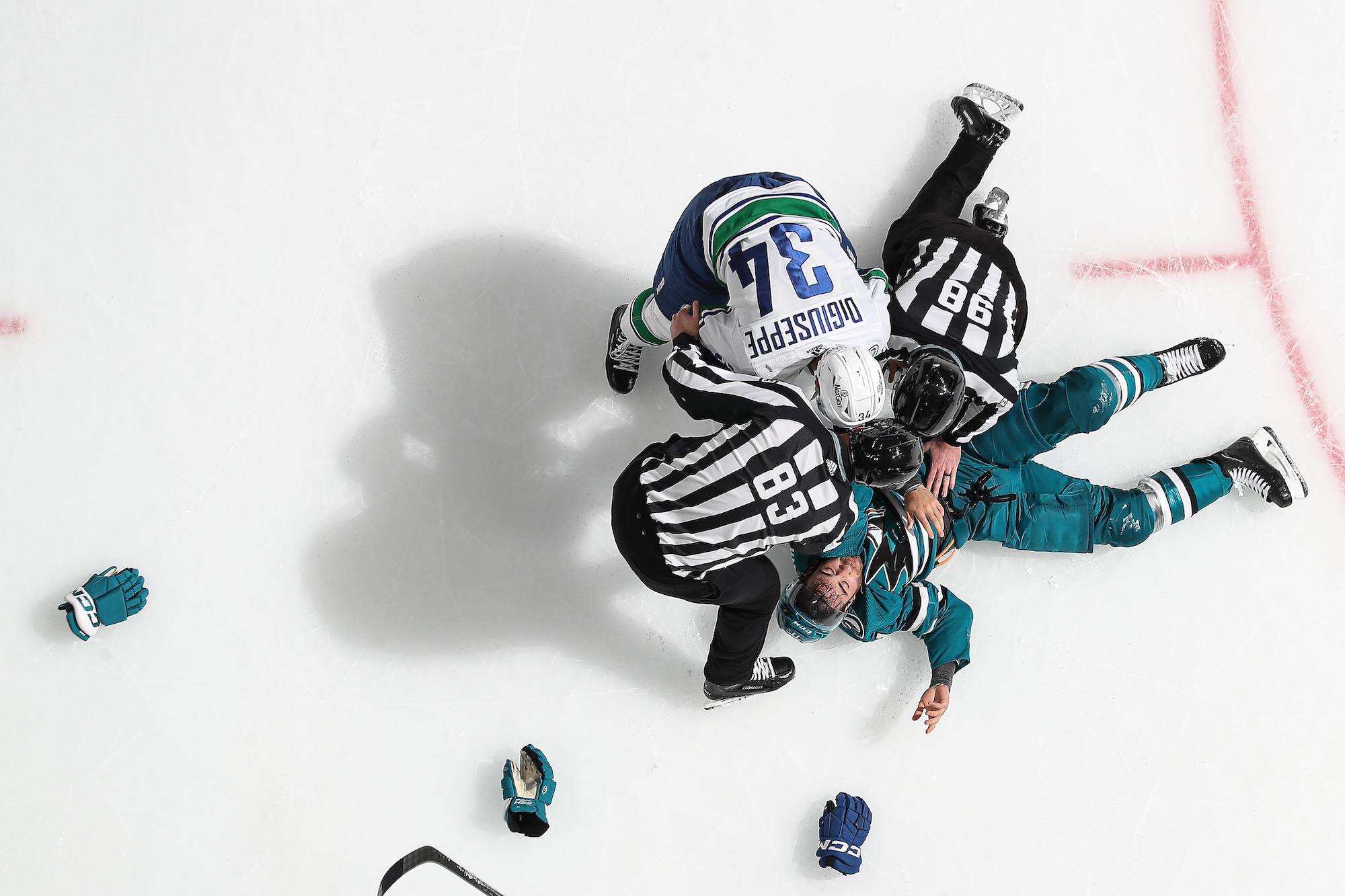 We have tried to wait for the right moment to introduce you to the decoupled freight elevator that is the San Jose Sharks, but we have run out of time to see how it turns out. We know how it turns out, and it is an absolute and irredeemable mudslide. We are 10 games into the season, and the only measurement we have to hold your interest is whether they can be the worst team in hockey history.
That's right. After 10 games.
Thursday ended the debate on whether they were the worst team in current North American sports when they were just barely edged by Vancouver, 10-1. They were expectedly hopeless, and that was after one period; things broke down precipitously after that. Starting goalie Kaapo Kahkonen wasn't pulled for performance; he left after taking an accidental knee to the hat from Andrei Kuzmenko on what turned out to be the Canucks' sixth goal. They couldn't even find anyone to engage Kuzmenko in a performative fight, which hockey players are taught to do even for accidents to try and fool the boss into thinking they still care. That happened anyway two minutes later when Luke Kunin got into a scraplet with Vancouver's Phillip Di Giuseppe, one of the five Canucks not to have a point on the night.
But for the most part, nobody was fooled by Kunin's attempt at engagement. San Jose entered the night as the NHL's last winless team and left it spectacularly more so, allowing as many goals in 60 minutes as they have scored all season. Their goal differential of minus-35 after 10 games is the fourth-worst in league history behind the first-year Quebec Athletic Club Bulldogs, the first-year Boston Bruins, and the first-year Ottawa Senators, and at this pace would shatter the all-time record of minus-265 set by the first-year Washington Capitals. They are one of 10 teams ever to win none of their first 10 games (only the 1943 New York Rangers went 0-10), and only three teams, two of them Arizona, have done it this century. The only game the Sharks haven't lost by at least two goals was their Game 2 shootout loss to Colorado.
Put another way, Joe Thornton had to announce his retirement two years after it was obvious he already had retired, and in true Thorntonian style he implored Sharks fans to stop asking him. 
This is failure on an extraordinary level even at this larval stage of what is going to be a hideously protracted year, and last night's loss happened in head coach David Quinn's 300th career game. He has been gifted (saddled? Laden? Crushed?) with two of the worst rosters in franchise history, last year's and this one, and last year's team would sweep a head-to-head battle. Quinn's analysis after last night included this bleak and ominous quote:
"We're not a team yet. That was part of the problem tonight. Felt like we didn't play like a team. We're letting our results get in the way of playing like a team. That's going to change."
OK, we give up. How?
San Jose has been trending in this direction for four years now, after a run of 19 playoff appearances in 21 seasons, saddling itself with long and painful contracts and now trying to shed the final few of them before the teardown it has needed since the COVID year is complete. But that's an every-team problem eventually; what this is, on the other hand, is epochally eye-searing. You don't even need to search through any analytic thickets to figure out this reason or that. They don't score and they don't keep the other guy from scoring, ever. Indeed, goalies Kahkonen and Mackenzie Blackwood are praised for their work, because the offense is historically hideous by comparison (only the 1927 and '28 Pittsburgh Pirates and '35 Bruins had scored fewer at this point in their seasons). With November barely out of the box, San Jose's shortcomings seem already to be the stuff of legend.
But self-awareness is not among those shortcomings, as they are already disgusted with themselves. Tomas Hertl, one of their few holdovers from the increasingly distant good old days, condemned the evening by saying it was the worst loss of his career (yeah, stands to reason), adding, "Nobody sleep for our team, for sure, tonight. We didn't deserve a good sleep." Yes, because enforced insomnia is a time-honored restorative to get out of a horrific slump.
In the end, of course, the law of big numbers will get them, as it always does. They won't continue to lose at a pace that would give them the 0-74-8 record they deserve, with 82 goals scored (the lowest for a full 82-game season is 150) and 369 allowed, which wouldn't be a record (most of the teams in the 1980s allowed more as a general condition of the defense-is-for-weaklings era). In sum, the Sharks have some serious work not to do, and it seems unlikely they will even manage that. 
In the meantime, though, it will be mildly interesting to see how long it takes for them to even get the car into drive, how much longer Quinn will be allowed (forced?) to watch this ongoing nightmare, and how many more opponents will find joy in scoring double-digit goals against a team that even the team itself is growing to actively hate. There are records for futility to be had, but it already feels like the Sharks don't have the fortitude to chase them. They are now embarking on the self-pity stretch of their season in which they wonder just what bottom actually looks like, and how long they have to wallow before teams start overlooking them entirely and forget to throttle them. Think Wile E. Coyote, only without the Acme corporate credit card. When "how bad can this get?" is still an open question, the earth's crust is the limit. The only point of interest even at this early stage is how close to it this team is willing to dig.
Stay in touch
Sign up for our free newsletter