Soccer
How A Fan Community United To Send Indie Women's Soccer Media To The World Cup
12:08 PM EDT on July 17, 2023
Most of the USWNT's most exciting young players are Black. Trinity Rodman, Sophia Smith, Naomi Girma, Alana Cook, and Alyssa Thompson will be vital pieces as the team strives for a third title in as many tournaments. Outside the national team, young Black players like Jaedyn Shaw, Amirah Ali, and Michelle Cooper are making waves in the NWSL. But being a young star is no glamorous thing, especially when the media landscape around women's soccer has had a troubling track record covering non-white players.
A few years ago, André Carlisle and Courtney Stith foresaw this rush of young Black and brown players into the pro game, and worried that the players would find themselves in, as Carlisle put it, "a harsh media space." Those concerns led to the launch of Carlisle and Stith's podcast, Diaspora United, in January 2021. The podcast is fueled by their desire to see women's soccer covered adequately and passionately in the years between World Cups, and to center Black athletes within the game. 
"The level of football right now is really high, especially in the women's game, and it's not really being talked about, it's not really being promoted," says Carlisle. For him, consistent coverage is important "not only for the bad shit that happens, but also for the good shit that happens, the soccer shit that happens."
Shea Butter FC, another podcast, launched shortly thereafter in April 2021. Hosts SkyE Jordan and Sylvs Bullock share Diaspora United's desire to focus on Black players and to offer informative, in-depth analysis of women's soccer to its listeners. "Part of how we even connected is like, 'Are we watching the same soccer?'" says Jordan. "We were seeing how we see soccer different from what we were seeing in the media." Jordan says she and Bullock focus on "actually breaking down the game from our different perspectives, and then add a little culture." 
Highlighting excellent Black and brown players—as well as racist incidents and systems—is a critical part of accurate analysis, especially as more and more such players join the NWSL and USWNT. As Bullock says, people covering women's soccer will have to consider that "the kids are here, and there's more coming. And a lot of them are not white. And so what does it look like to cover this team who for the entirety of its existence has been a predominantly white team?" 
Carlisle thinks that intentional inclusion is key. "There are only certain players that a lot of national media feels like they need to know about, talk about, elevate. We don't do that," Carlisle says. "We look at everybody, we try to be right in our analysis and everything that we do." 
Seeing gaps in coverage, then asking Why don't we just make something ourselves? is a sequence that has helped grow a lively ecosystem of independent media outlets covering women's soccer. A couple years before the creation of Diaspora United and Shea Butter FC, Lesley Ryder and Emily Anderson set out on their own project. Ryder and Anderson were in France during the 2019 World Cup, and found themselves disappointed by how little coverage the games seemed to be getting. And what coverage they did see left them cold. "The coverage that we were getting was a lot of like, 'Look at her go! She's so strong!'" says Ryder, well aware that the tone of women's sports coverage often and too easily tips over from empowering to patronizing. 
So the pair—who are now married but had just moved in together at the time—thought, as Anderson puts it, "What if we have a silly time and make some stuff ourselves?" Now, four years later, Gal Pal Sports produces a steady stream of tweets, videos, and podcast episodes that aim to, in Ryder's words, "fill that space between the super serious on-the-ground journalism and being totally uninformed." Gal Pal just wants to be a nice space where all kinds of people can celebrate, gripe about, and laugh at women's sports.
What's grown around Diaspora United, Shea Butter FC, and Gal Pal over the last few years is a community of passionate soccer fans with a voracious appetite for dedicated coverage of the women's game. The creators of these outlets see that passion in their daily engagement with fans. All of them recently were presented with, and shocked by, another example of just how much the community values their coverage: The sudden arrival of a fully funded trip to Australia and New Zealand to cover the 2023 World Cup.
For months the three podcasts' hosts had—sometimes separately, often together—had talks with bigger companies about securing funding to travel to Australia and New Zealand to cover this year's World Cup. These discussions ultimately went nowhere. "They were all like, 'This is so cool. Love the idea of a group of journalists going to cover the World Cup. But unfortunately, we don't have the budget,'" says Ryder. 
Frustrated and tired, most of the group had resigned themselves to covering the tournament remotely and hoping the 2027 edition would be in a more convenient host country. On June 21, Ryder and Anderson sent a series of tweets outlining what their plans had been for on-the-ground World Cup coverage, and detailing the frustrating process through which they'd been unable to secure the funding necessary fulfill those plans. 
Morgan Lavan, a self-professed "very online person," soccer fan, and original supporter of both Diaspora United and Shea Butter FC, saw Gal Pal's thread and asked if it would be OK for her to set up a fundraiser to send Diaspora United and Shea Butter FC down under. "It was just like, why not?" Lavan says. "Because, you know, it couldn't hurt if it didn't pan out. I definitely knew the women's soccer community was going to support them. But the amount of support in the short amount of time was just wild. It was so cool to see."
Lavan posted a tweet announcing the fundraiser at 9:17 p.m. on June 21. She says it raised $2,500 within an hour. "That's when I was like, OK, I'm going to broaden it to $10,000," she says. "I was like, $10,000 is so wild, but we hit $10,000 by midnight." As of this writing, the fundraiser has reached $29,580.
It's no surprise that the fundraiser took off on Twitter. The platform has long been the connective tissue of the women's soccer community, allowing fans, journalists, and players to interact and share stories. Ryder notes that Gal Pal has "built up to a space where we're making millions of impressions, which is awesome." Anderson adds that she finds it useful while she's photographing Chicago Red Stars games: "I'll check Twitter to see who folks are talking about and make sure I get photos of that person, so it is like a lovely live feedback loop." Bullock shares the same sentiment, calling the platform "gold" for Shea Butter FC. Diaspora United uses Twitter to share clips and highlights. "We can share, spread things when players do impressive things: great saves, nutmegs, disrespectful things, goals, whatever," Carlisle says. "It's just knowing that you're a hub for things to celebrate what the players are doing."
The podcasters were blown away by the fundraiser's success. Frequent collaborators, a few of them were actually on a call coordinating coverage plans when Lavan tweeted the initial announcement. As the numbers soared, so too did their emotions. "There was a lot of crying, or like, 'I need to get off the phone so I can cry,'" says Bullock. "I called my parents. It was genuinely overwhelming in the best way. And it kept going and going and going." 
Carlisle wasn't on the call, and he wasn't aware of the fundraiser before it was posted: Lavan had reached out to Stith, his Diaspora United partner. "I saw it like a couple hours later, when the numbers were already getting out of control," he says. "And I was like, What did y'all do? What's going on right now? Are y'all serious?" 
Anderson and Ryder were thrilled to see the success of Lavan's fundraiser. "They've built such a tremendous following," Ryder says, of Diaspora United and Shea Butter FC. "And like they're covering the game; they're real about it. They're giving great informed commentary. It's a no-brainer to me that they should be going to the World Cup … It was really awesome seeing their GoFundMe go up and get funded so quickly." 
Of course, the success of Lavan's fundraiser planted a seed: What if Gal Pal could do the same? On the morning of June 23, they tried it. "I wasn't sure if we would get the support to at least get on a plane because you know, we haven't been as consistent with our podcast nearly as much as they have," Ryder says. "So I was just kind of a little more worried that maybe we won't get the funding if we put it up—Oh my god, am I gonna look stupid? … I'm just blown away. Within two days we passed $10,000, and that was a very my-heart-is-full moment. This is unexpected and so wonderful." As of this writing, Gal Pal's fundraiser has reached $13,894. 
The beneficiaries of this crowdfunding see it as a testament to the women's soccer community as much as to their own work. "I think we've already kind of seen as a result of this, what the community is all about, how connected it is, what it's willing to do for this coverage," Carlisle says. "I knew that there was a void, and I knew that there would be something that would be welcome. I did not expect this." 
"I didn't have any idea just how far our reach was and that we mattered to that many people," Bullock says. "I think seeing that, not just the dollar amount, but how many people gave, who supported us, players retweeting; it was overwhelming and humbling and I don't take it lightly."
Jordan notes that people did more than donate: "[People] reached out and were like, 'Do you need help planning trips?' 'Do you need help doing XYZ?' 'We got free tickets!'" 
For Lavan, having Diaspora United, Shea Butter FC, and Gal Pal on the ground at the World Cup opens up new possibilities for how the tournament can be covered. "Do you really want the story [of the World Cup] to be told only by specific, big media outlets who don't seem very invested in women's soccer, quite frankly?" Lavan asks. "I would rather be told by the people we know are invested and doing the work and really care about the players, and also have a diverse point of view." 
It's not just fans that appreciate quality, Black-centered coverage. "You'd be amazed at the players that show up in our inbox and thank us," Bullock says. "They want that coverage. They want it, and they want it from Black media. Like straight up, they want it from Black media, and they want it from Black women in particular."
So, there were two successful fundraisers: yay! But now—oh, they actually have to go to the World Cup and cover it. Carlisle sums up his feelings about the whole thing: "Y'all are putting a lot of faith in me, and wow, that feels amazing. I'm also terrified." For Diaspora United's coverage, he will be based in New Zealand, and Stith will be in Australia. They'll be doing a variety of things: some soccer writing, some fun travel blogs, and, of course, recording lots of podcast episodes. 
Carlisle says he's "very much interested in each country, how it views the World Cup, what the experience is, what the vibe is, how it's going to uplift things, how it's going to impact people who live there, how it's going to impact the grassroots game there." As always, Diaspora United will be focusing on Black players. Carlisle thinks that the tournament, given its expanded field, will be one of the most diverse in history. "You have plenty of players who I don't think have been introduced yet to the global media soccer landscape," he says.
From Australia, Bullock and a few other friends of the Shea Butter podcast are excited to cover Group F—France, Brazil, Jamaica, Panama—which Bullock says "might be the Blackest group ever." Jordan can't make the trip herself, but is more than happy that her co-host can. She thinks it's of utmost importance for diverse media to be on the ground at the tournament, to give different perspectives on events. The other option? "You're stuck with whatever Fox, or whoever is running the show, speaks," she says.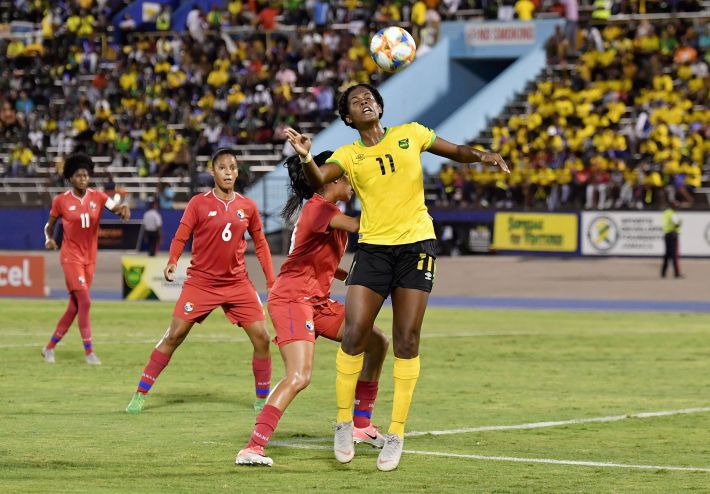 Bullock doesn't have FIFA press credentials, which are difficult to get. As Jordan puts it, "This is the thing we talk about when we talk about access, and structures" that hamper independent media. But lack of access is something that Jordan and Bullock are used to, and generally, they embrace it. Jordan says their independence frees them up to say things others won't. "I'm seeing with a lot of media, they try to maintain their access, and so they try to walk the line of critique. Well, we keep it real all the time." In fact, having editorial freedom is a non-negotiable for Shea Butter FC. "To dismantle oppressive structures, you don't have to figure out how to get in there and do it," Jordan says. "In this case, getting over there to do whitewashed versions of stories would be bullshit, particularly covering a super Black group." 
While at the World Cup, Bullock says she's excited to spend time with fans rather than other journalists in the press box. She wants to talk to fans of diaspora teams making their World Cup debuts, such as Haiti and Morocco, about what it means to see their teams play. This goes along with one of Shea Butter FC's core missions: to build community among Black fans. They try to help NWSL teams "reach back out into the community, and particularly connecting with your Black community, your Black fans, making sure that it's a safe space for them," Bullock says.
Gal Pal understands the struggle with obtaining press passes. "We looked at the numbers for our sponsorship solicitation," Ryder says. "There were 18,000 credentials issued for the men's World Cup last December. And there were like 3,500 distributed [at the Women's World Cup] in 2019. How are we supposed to get any kind of equity when we have one-fifth the men's coverage?"
Despite these hindrances, the Gal Pal pair will be unleashing all sorts of content during their trip. They promise a wrap-up show after USWNT games, podcast episodes twice a week, TikToks and Reels, and will continue tweeting as ever. 
Running an independent media outlet focused on women's soccer is not easy. It requires a lot of what Bullock calls "sweat equity," and a lot of often thankless hours poured into an industry where sustainability is hard to come by. The people behind each of the three outlets spend an absurd amount of time on their projects. One estimates that they spend up to 30 hours a week for their site, another calls it a second full-time job, and another avoids assigning a number of hours to their efforts so that colleagues from their day job don't see this blog and get mathematically suspicious. 
But in the absence of financial security and sustainability, there is the power of community. Even before the success of the fundraiser, these hosts and writers benefited from being a part of a strong network of women's soccer fans and commentators. "I don't think there's anyone [in this community] who you would text or message and say, 'Hey, can I pick your brain about something for a minute?' who wouldn't immediately be like, 'Yeah, let's figure it out.'" says Anderson. "And that's been imperative for us to get to where we are." Bullock mentions other media members who have "absolutely sent us information to make our lives easier." 
Nobody in this group ever anticipated that the support of their community would manifest itself in tens of thousands of dollars, raised practically overnight, and they don't take lightly the opportunity they've been given. Carlisle sees it as a mandate to continue providing the kind of in-depth coverage women's soccer fans are hungry for. "When you're kind of daily covering leagues and players on multiple continents, it's a very different level and a very different depth of coverage," he says. "And it just doesn't exist in most places."
Anderson says she feels "a sense of duty" in the wake of the fundraiser. "OK, I guess we're doing this. We better deliver," she says. "It's a privilege to get to go and we'll make the most of it." 
Stay in touch
Sign up for our free newsletter