College Basketball
Everyone Has An Opinion On The NCAA Tournament's Bright Orange Basketball
3:19 PM EDT on April 3, 2023
Her team was 10 minutes from the Final Four, and LSU coach Kim Mulkey was upset. "If I was watching this game, I'd turn it off," she said during a TV interview after the third quarter. "Look at that score, would you? That's some bad offensive basketball. Might be something to these balls being too bouncy."
After the game, Mulkey said that Tigers star Alexis Morris was a constant critic of the ball used for the NCAA tournament, which is called the Wilson Evo NXT. "She complained every time-out about too much air in the balls," Mulkey said. "Isn't that funny? But it all seriousness, we need to check those balls out, because it's not even fun for me to watch [the men] play. I mean, knockdown shots is normal for the men, and they're just rattling all over the rim." It is not necessarily news when something makes Kim Mulkey angry, but the basketballs were so bouncy that they killed her enthusiasm for her favorite thing about men's hoops ("knockdown shots").
This wasn't Mulkey's first swipe at the Wilson Evo NXT, which the NCAA began using for last year's tournament. Before the game, she brought it up unprompted at the end of her response to the question, "Your guards, offensively, is it a matter of [telling] them, hey, relax, keep shooting, it's going to fall? What do you tell them?"
Clearly Morris was getting into Mulkey's head about the basketballs. Given that LSU scored a record 102 points in the final and won the national title, the players probably could not care less about the basketball now. But Morris and Mulkey were not the only ones talking about it. I was hearing it, too—from fans and players and coaches and even my wife, who wondered why the ball was so bright. "I like it," she said.
Not everyone agrees. Over the last month, I've asked everyone I could about the Wilson Evo NXT basketball.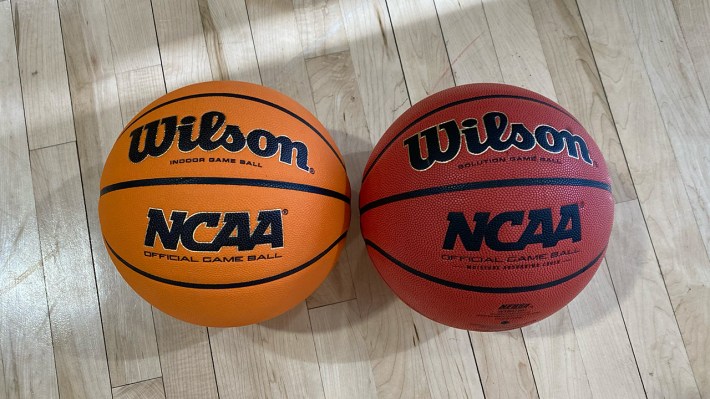 This started at home. My wife does not usually comment on whatever atrocious A-10 game I'm watching while she's in the room. But during the tournament the new basketball really caught her eye, which makes sense. Basketballs have been orange since the 1950s, but none used in a real game have ever been quite this orange. It is significantly brighter than the old Wilson basketball, the Solution, that was used in the tournament between 2003 and 2021. That's by design.
"The Electric Orange color allows players to track the flow of play from anywhere on the court more easily," Wilson's Annie Intrabartola told me in an email. "This is a technology built to improve the visibility of the ball in dark backgrounds." The ball was first launched in 2019, and first used in the 2021 NIT. Last year it became the ball used in every NCAA Tournament game. This is part of why players and coaches are—or testily are not—still getting used to it. But it's not the whole story.
There is no one ball for NCAA basketball games. As with much else about college basketball, it's stubbornly regional and ad hoc. Home teams supply balls for regular season games; teams and conferences enter into their own contracts with manufacturers. Both San Diego State and UConn used the Nike Elite MM in home games and in their conference tournament. All the rims are at 10 feet and all the courts are the same dimensions, but the ball can come from a variety of manufacturers.
There's not a ton of difference—all basketballs used in NCAA play are made of synthetic material that mimics the feel of a leather ball but is cheaper and easier to produce. (Also, nobody has to kill a cow.) But basketballs can be more different than you might expect, to the point where teams prep for it. It's usually a manager's job to call up road opponents for next season and find out what brand of basketball they play with. Teams then keep different brands of basketballs on hand so they can practice with them before games.
The main thing about the Evo NXT is that it's new. The Wilson Solution was used in the NCAA tournament from 2003 to 2021. Players had used the Solution for a long time. The past two years have been an adjustment. I wanted to talk with people who were really experienced with the Evo NXT—that is, teams that had used it sometime before March began—to see what they thought about it.
This led me to Rosemont College, a Division III school in the Philadelphia suburbs. Their entire Colonial States Athletic Conference uses the Evo NXT basketball, so the Ravens have played with the ball for two full years now. Coach Bobby Hughes was nice enough to let me come to his gym. I met a few players shooting around.
"They're good basketballs," said Rosemont forward Mike Herrin. "When I'm playing with one that's a little bit more beat in, a little more used—it's just better, all-around better. It feels better in your hands dribbling. I feel more comfortable with it. With the new ones, fresh out the box, it's a little bit slippery, it feels a little hard. I just feel more comfortable with a used one."
Hughes said this was a common refrain: "I think there's a discernible difference between this ball and one that comes right out of the box," he said. "When I worked as a site rep for the Division III tournament, the schools all asked to use a broken-in one for the games, even though the NCAA provides brand new basketballs."
When I asked the same questions at the Division I Final Four in Houston, I heard the same things. People like the ball, but they have notes. "It's actually a really good ball broken in," San Diego State's Matt Bradley said. "But them bringing it out brand-new, I'm thinking out the bag, fully pumped—it makes it tough on us."
"I love the Wilson Evo, it has a good grip," Florida Atlantic's Giancarlo Rosado said. "When it's brand-new, maybe it's a little thin. But when it's really broken in, the grip you get is nice."
Wilson's Intrabartola told Defector that the balls are ready to use out of the box. "Our basketballs are ready to be used in play once they come out of the box – but as a standard, the longer the break-in time (approximately 2 weeks)," she wrote, "the more adaptable the ball becomes." The tournament uses new basketballs.
"The last thing we should be doing is playing with brand-new, slick basketballs," Mark Few told Jeff Goodman. "We need to have ball inflated less and we'd see better shooting and less fumbling with the ball."
The primary complaint about the new balls is that they're bouncy. "The ball's been good—sometimes it can vary and be a little bouncy," Miami's Nijel Pack said. "I have some anxiety with a different type of ball," the Hurricanes' Isaiah Wong said. "Sometimes it bounces a different way." FAU's Michael Forrest talked retail: "Most of the Wilson balls that they sell at Walmart are kind of cushioned," he told me, "but the NCAA balls are so firm, and they're kind of slippery, too." SDSU's Adam Seiko: "People have been saying it's pretty pumped up, it's pretty bouncy. But it has a really good grip." People like the ball, on balance. They just don't like this version of the ball.
Some coaches are fans. ESPN's John Gasaway quoted several coaches who liked the Evo NXT. Lots of power schools use the ball for their home games: Kansas, Auburn, South Carolina, Wisconsin, Maryland, Northwestern, Notre Dame, Louisville, Boston College, UCLA, and Utah. And some coaches just don't like it at all. Greg Kampe, inbounds innovator and Oakland University head coach, is in the second camp. He says he would use basically whatever ball his school was being paid to use. "Nike gives me 24 balls—it's part of our package," he said. "And so of course I'm going to use it, because why would I spend $2,000 on somebody else's balls?"
Kampe likes the Nike Elite MM and is not a fan of the Evo NXT. "We use that Wilson ball, and it sucks," Kampe says. "It's so much different. It looks different. It feels different. It doesn't have the tackiness a ball should have."
Mulkey expanded upon her feelings about the ball before the Final Four. "I'm sure it's the best that Wilson has, but it's different," she said. "The old Wilsons that we've seen have the darker leather and you can just grip them really good and they just kind of flow. These remind me, for lack of a better description, of if you went outside and you needed basketballs to last for a long period of time but yet good balls, not rubber balls, it kind of just reminds me of that." (Though LSU won the national championship, Alexis Morris did shoot just 4-for-27 on threes in the tournament.)
A bunch of people brought up "the old Wilsons" when I talked to them about the Evo NXT. Last year I chatted on Twitter with fellow A-10 sickos West Pine Bills—they're Saint Louis Billikens basketball backers—about the quality of different brands of basketballs. Recreational players use a greater variety of balls than anyone, so I talked with a person behind the account about the Evo NXT. He thinks Wilson makes the best basketballs, but he prefers the Wilson Solution—"the ball of my childhood and high school basketball days"—to the Evo NXT.
"My main point of distinction is that it's just a little more slick, which probably can be attributed to it picking up more dust than the original," he said. "It isn't egregious by any means, and probably easy to overlook. But if you take a few shots with each ball back to back, there is definitely just enough of a different sensation coming off of the fingers."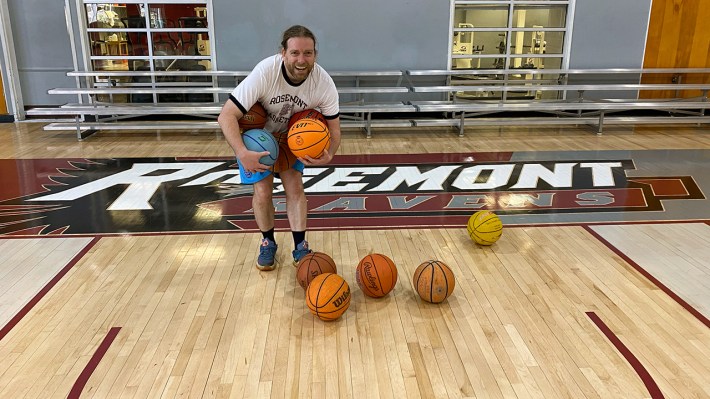 I had to try the ball myself. I bought a new Evo NXT and played around with it. Rosemont's Hughes let me shoot around at the their gym with my new ball, as well as with a broken in Evo NXT, the old Wilson Solution, and a few other basketballs I bought new and others I got used at a store called Play It Again Sports. It had been a while since I'd shot a basketball, so I wanted to get a feel for what a crap one is like, too.
One of the used balls had a child's name written on it and leaked air. One of the new balls was bright blue and was visibly coming apart after one use. I had a great old Wilson ball where the grip was completely worn out, but it felt great off the hands. I played with an old yellow ball from a brand called Sportime, which was better than I expected.
In the end, I decided that I liked the Evo NXT better than the Wilson Solution. The Solution seemed to be a magnet for my sweat—and since it had been more than a year since I'd shot a basketball, there was a lot of it. To me the NXT did not actually get as slick as the old ball. And I agreed with basically every player I talked to: The broken-in ball really is significantly superior. Players want to use this one for good reason.
At Rosemont, Herrin told me he'll try to get the refs to use a particular ball before the game. SDSU's Matt Bradley wanted more player input, too. "This is my last week of college basketball," he said. "I hope from this way forward they kinda let us in on what's going on, and maybe let us give some pointers. We're the ones shooting it. Maybe we want some some air let out of it, maybe we want to use this particular ball." (Wilson says it conducted "an extensive review and feedback period for member institutions" before putting the ball into the tournament last year.)
There is one major issue with using broken in balls, though. Because of its bright color, a broken-in ball does not look as pretty. Oh no, it does not look nearly as pretty.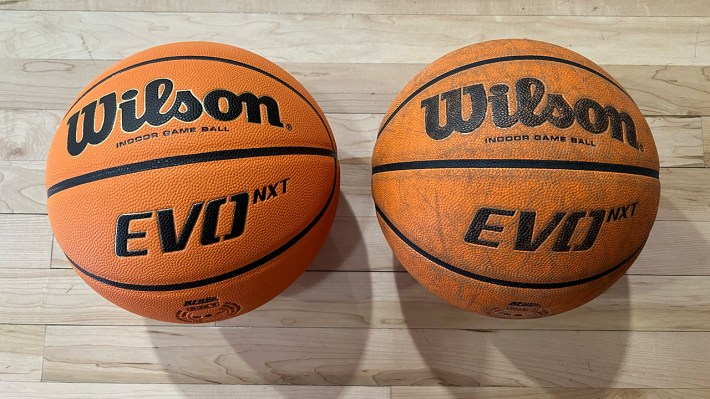 It's not that the new ball is necessarily bad, or unfair to any certain teams. People may not like the ball, but free throw percentage is consistent compared to previous tournaments, and the WNBA has not seen a dip in three-point percentage since the introduction of this ball into the league. Michigan State's A.J. Hoggard was asked about the ball after Kansas State beat MSU in the Sweet 16. "Both teams have to use the same ball," he said. "Good answer," a scoffing Tom Izzo said.
Other players said the same: You figure it out. "We've gotten accustomed to it, since we've been playing with it for so long," FAU's Michael Forrest said. "They're kind of weird. But you get used to anything." SDSU's Adam Seiko noted that, however strange the ball was when the tournament began, "we're pretty used to it at this point."
"At the end of the day, when you're a scorer," Bradley said, "if they give you a bowling ball, you've gotta make it."
Stay in touch
Sign up for our free newsletter