MLB
Every Orioles Game Is An Adventure
12:08 PM EDT on April 13, 2023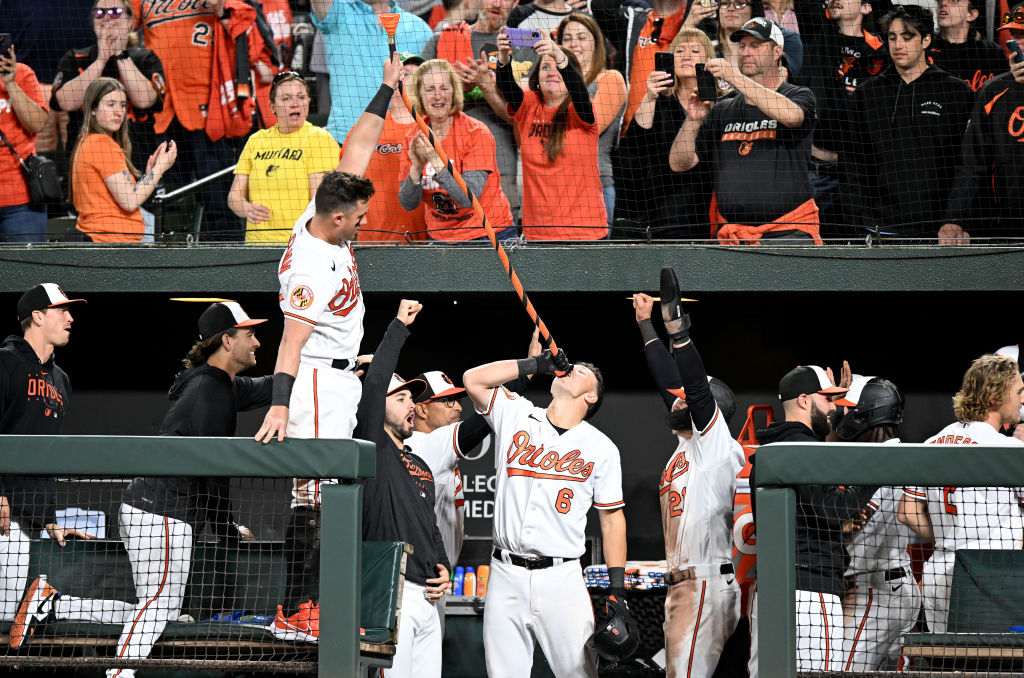 I really like watching the Baltimore Orioles so far this year. To be clear, this is a completely different statement than saying "I like the Baltimore Orioles." What I mean is, the O's make for some fantastic television, because you never know what you're going to see when you tune in. They have a group of talented young hitters with some pop, who even if they aren't especially consistent have put up a .445 slugging percentage that's fifth in MLB. But with the possible exception of 35-year-old Kyle Gibson, one of just four guys on this roster with five years of service time, this pitching rotation has a big wrench stuck in the middle. The Orioles' team ERA is 5.37, 27th in baseball, and these two factors combine to create entertaining, unpredictable games. For a while you'll think, "Whoa, the O's might really have something here" and then an inning later you'll wonder if they just learned the rules of baseball nine days ago.
The last two nights against Oakland, the easiest difficulty setting in the majors, showed the full spectrum. On Tuesday, with the highly touted Grayson Rodriguez making his second career start, the O's emerged from the roller coaster in one piece. Their young pitcher couldn't close out his at-bats, and the A's built up a 7-3 lead halfway through the game, but through the work of Ryan Mountcastle, Baltimore battled back and took a 12-8 victory. The fourth-year first baseman, generally a second-tier slugger, drove in nine of those 12 runs, mostly off a pair of dingers that included this emphatic grand slam.
You'll see in the lead image for this post that the Orioles have a home run celebration that involves a beer funnel. They're a little particular about what you call it, though:
"We want to make sure that it's rebranded a little bit. It's a homer hose, not a, uh, a dong bong," Gibson said with a smile after allowing one run in 6 1/3 innings. "So it's a homer hose, just like as a kid, you go out back, you take a drink from the water hose after you play outside playing whiffle ball. So we've got a turn the water faucet on celebration when you hit a single, we've got a sprinkler when you hit an extra-base hit and then it's a homer hose when you hit a homer, just so we know that we get that straight."

The Baltimore Sun
The O's were not so celebratory on Wednesday, and nobody got a taste of the ... homer hose. The encouraging part came in the bottom of the seventh. With the O's down 4-2, they maneuvered themselves into a tie with some small ball: a single, a passed ball, a single, a productive groundout, and a single. Earning the two RBIs were a couple of guys who form the foundation of this team in different ways. Cedric Mullins, who pinch-hit after a cold start to the season, is the rare familiar face for these fans, with an Orioles career that dates all the way back to 2018. Blue-chip catcher Adley Rutschman, meanwhile, is the club's desperate hope for proof that their years of tanking will have some kind of payoff, even if some of the talk is already centered on how empty-suit failson John Angelos will inevitably cheap out and let him go to another team.
But in this moment, the O's tied it! They looked good! Then the bad part happened: They still had to pitch two more innings. Keegan Akin immediately surrendered two singles, and then Cionel Pérez entered to allow an unstoppable bunt. The play-by-play soundtrack to this moment—"He's gonna try for it ... annnnnnd, ohhh boy"—might end up defining this whole weird Orioles season.
A sacrifice fly came next, with another man advancing to third when O's left fielder Austin Hays made the odd choice of throwing to second. Another bunt scored that run, and eventually the A's won this game, 8-4.
The Orioles are now an even 6-6 on the year, with a run differential of zero. That feels about right. They can win when their pitchers keep the roof from caving in—or when one of their hitters knocks in nine runs—but the nature of this roster means that few leads they build will ever feel safe. It'll be a heart-attack kind of year for O's fans, even as the Mike Elias promise that a contender would rise from the ashes of burned-up seasons remains unfulfilled. If you don't really care if the Orioles ever win a World Series again, however, their games can be a thrill ride with more twists and turns than John Angelos's broken promises.
Stay in touch
Sign up for our free newsletter