NHL
Enough With The Blowouts!
1:58 PM EDT on May 10, 2023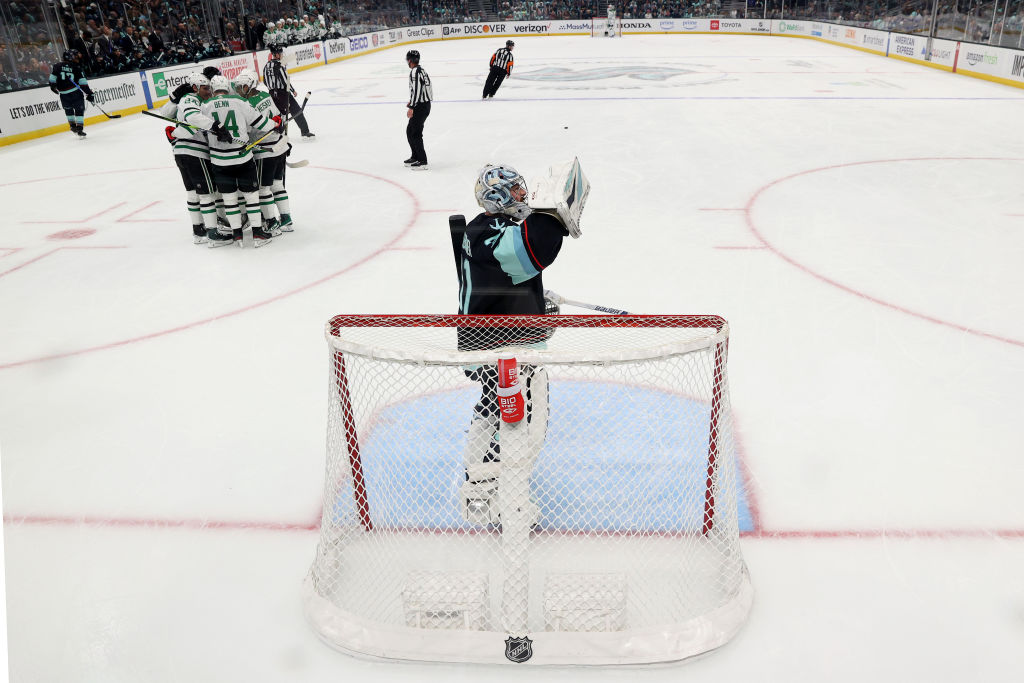 What an unfortunate stretch of playoff hockey this has been. In a tournament that at its best is defined by edge-of-your-seat tension, panic-inducing empty-net sequences, and marathon overtimes, fans have been subjected since Friday to a lopsided stretch of so-called contests where the outcome's been clear before the second intermission. In these last few days, the playoffs have devolved from a parade of heart-stopping spectacle into a six o'clock line at the drug store, and Tuesday's games were especially notable offenders.
But let's recap the past, before we get there. The trouble started on Friday, in the lone game of the night, as the Hurricanes scored four unanswered against the Devils in the second period to eventually win 6-1. The Oilers and Golden Knights, tasked with providing the sole entertainment on Saturday, couldn't even hold the suspense until the first intermission, as Edmonton opened with a furious quartet of goals and took a 5-1 win. Sunday had New Jersey get revenge with an 8-4 pounding, while the Kraken and Stars returned to action with a bedtime-hastening 7-2 Seattle victory. The Panthers did beat the Leafs in overtime that same day, but only to put Toronto in a three games to none hole. That's a series blowout—even worse!
I hoped for a course correction after that lost weekend, but the Knights made the third period irrelevant as they dismantled the Oilers 5-1. And now, finally back to Tuesday night, where the Canes and Devs refused to restore the drama. After a tight 20 where each team scored once (good!) the Canes unloaded with five goals in the second (bad).
Surely both of the night's games couldn't be duds, though. Right? Wrong. The Stars enjoyed the thrill of accurate finishing (and a goalie-interference non-call) as they held a 5-1 stranglehold on the game after two. They only momentarily had to sweat what eventually became a 6-3 win that knotted the series on the way back to Texas for Game 5.
Goalies are switching places faster than a game of three-card monte. Intermission analysts are struggling to convince viewers to stay away from the basketball. What gives?
The first answer is unsatisfying: Hockey is a random game. The puck is tiny and bounces weird. The men in the crease are unreliable and easily spooked. Ice is slippery. While teams put themselves into position for opportunities, the actual difference between a goal and a wide shot or no shot at all occurs on a scale the puny human mind can't process. Check out the Canes' first goal of Game 4, where a Jordan Martinook pass popcorned through Damon Severson and onto the waiting stick of Marty Nečas. Of course there's skill to having the puck and being in a right spot at the right time, but you could spend all week trying to practice this and still not come up with a similar highlight.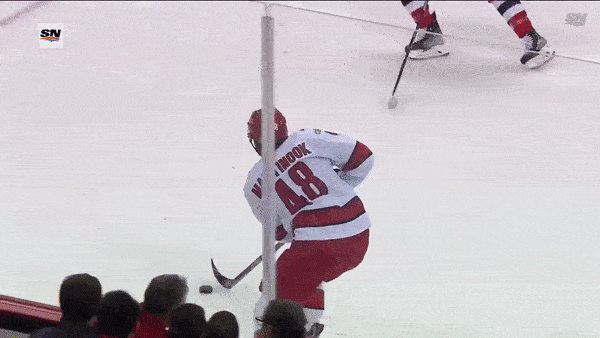 As much as I love solving puzzles of stickhandling and possession and defensive movement to explain final results, sometimes the best reason for why a hockey game ended the way it did is, That's how it happened.
But there are other factors playing into the rash of blowouts. Most simply, scoring is up across the board. The 3.18 goals per game averaged by each team this season was the highest since '93–94. Shots are up a tick, too, though not at the same rate, leading to a save percentage of .904 that's the lowest since the post-lockout year of '05–'06.
There's also something about these eight teams. Of the top 10 goalies by save percentage this year, only two—Jake Oettinger and Ilya Samsonov, tied for sixth—are still competing for the Cup. On the other end, however, these rosters abound in cool scorers, from Jack Hughes to Roope Hintz to Auston Matthews to Connor McDavid to many more on down. As a result, the second-round competitors are averaging a median 3.65 goals per game in these playoffs, significantly up from the same point in prior years, like a 3.27 in 2022.
You don't need some blogger to tell you that a game with 11 goals in it is more likely to be lopsided and therefore boring than a game with three. And yet, there's not much that can be done except wait for the scales to balance. I'll stay antsy until they do, though. I don't mind blowouts in small quantities as a story device for long series, when they serve to establish dominance or to see if the loser has the fortitude to muster a response. But I'm feeling the drop in intensity as all these results blur together. If close games are rare, so too is the most acute form of heartbreak that barges in when a tie disintegrates in the final 30 seconds. And if there's no heartbreak, is it even the playoffs?
Stay in touch
Sign up for our free newsletter