MLB
El Niño Is Approaching
8:54 AM EDT on April 14, 2023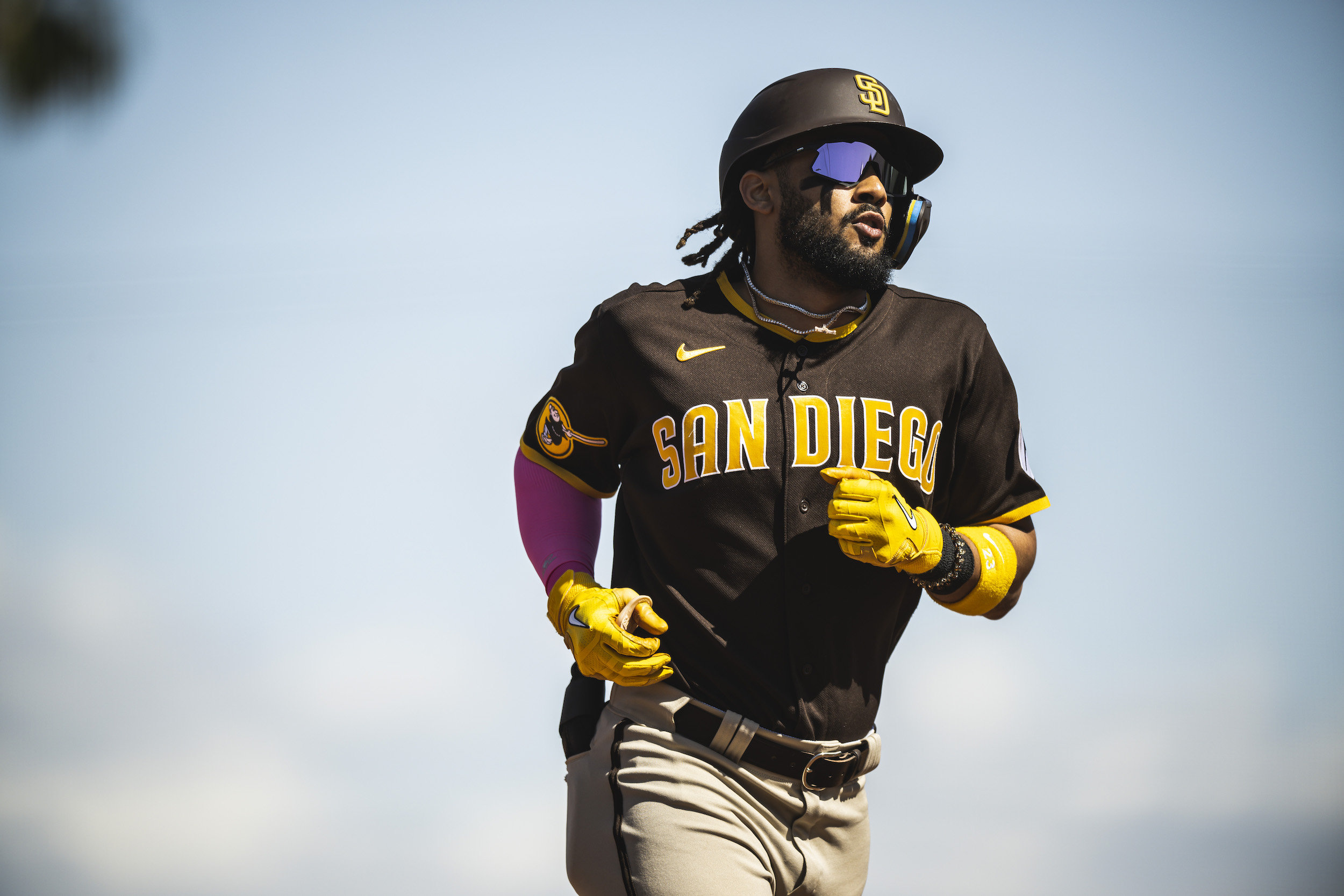 The San Diego Padres lost Thursday night, 4–3, in a series opener against the visiting Milwaukee Brewers. It is illegal and morally reprehensible to take any big-picture meaning from one loss in April, and only slightly less disturbing of general social order to cock an eyebrow at a team's record after just 14 games. I will simply mention here that the Padres are 7–7, with a plus-1 run differential, and are currently 25th in baseball in batting average. Think nothing of this! Besides, the Padres took three of four off the mighty Braves last weekend, in their first real series-length test of the season; they're fine. Everything's fine!
But that deep rumble building over the horizon to the east is getting harder to ignore. It is the sound of Fernando Tatis Jr. pounding the absolute bejeezus out of Triple-A pitching as he runs off the final week of an 80-game suspension handed down in August, after Tatis tested positive for an anabolic steroid considered by MLB to be performance-enhancing. Tatis is on a rehab assignment with the El Paso Chihuahuas, and while the big-league team struggles in the early going to live up to its billing, their exiled $340 million man is hitting the dang cover off the baseball. Thursday night Tatis collected five hits, four of which went for extra bases, and three of which cleared the outfield wall. The first of these was a 115-mph rocket that would've been the sixth-hardest hit ball in the majors so far this season:
Tatis's big night lifted his OPS at El Paso to a delightful 1.673, indicating that he just might be a little too good for minor-league pitching. His reinstatement is set for April 20; Tatis is scheduled to sit Friday and then play the final two games of the weekend series against Albuquerque, before joining the big-league club next week in preparation for his return. The Padres will finish this series with the Brewers and then host the Braves for three games early next week, before traveling to Arizona. Tatis is expected to participate in that four-game series against the Diamondbacks. Almost nothing that could conceivably happen between now and then will matter to the Padres as much as finally, for the first time in more than a full season, adding Tatis back into the heart of their lineup.
Tatis, who has played all but a smattering of games in the majors as a shortstop, is expected to take over in right field upon his return. San Diego signed shortstop Xander Bogaerts to a $280 million mega-deal in December; incidentally, Bogaerts and 900-million-year-old fossil Nelson Cruz are the only batters currently hitting worth a crap for the Padres. The situation in right field, meanwhile, is pretty grim: Rougned Odor, repurposed as an outfielder for the first time in his 10-year MLB career, has been platooning with second-year fellow José Azocar, holding down both the fort and the team's offensive production as fill-ins out in right. As pointed out by Darnay Tripp of NBC San Diego, Tatis's big Thursday night produced more dingers and more than twice as many runs batted in as San Diego's right fielders have produced all season. Odor, the poor man, is batting a clean .100, with an OPS of .450. This simply will not do. Someone must please rescue this man from the indignity of having to play baseball every other day.
The Padres are being very chill about their slow-ish start to the season, in part because of federal statutes prohibiting the having of feelings about anything that happens on a baseball diamond in the month of April, and in part because they know what is coming. "It's still early in the season," explained manager Bob Melvin, after a limp offensive performance Thursday that ended with San Diego's third low-wattage loss in four games. "We have a deep lineup. We're going to score runs. We have the ability at times to blow teams out. We also have Fernando Tatis coming as well. So pretty soon it's going to lengthen our lineup some, but I think we expect to do a little bit more offensively."
You can be mad at Tatis for being a knucklehead—it was during one of multiple motorcycle accidents involving Tatis that he suffered the wrist fracture that cost him the first four months of the 2022 season—and you can be disappointed and/or grossed out by his use of steroids during his recovery. Certainly there are those in baseball who will take some convincing. Padres general manager A.J. Preller alluded to "a pattern" of immaturity after Tatis's suspension was announced, and described his organization's lack of trust in a player in whom they've invested one of the five largest contracts in the history of the sport. Career minor-leaguer Kade McClure, who gave up a large dinger to Tatis on April 5, hopped on Twitter later that night to call his opponent a "cheater." Tatis has eaten some shit over the past year, and is going to have to eat some more on his climb back to superstardom.
But baseball will become much more fun next week, the very instant that Tatis steps into the batter's box for his first plate appearance since 2021. An impressive-looking Padres lineup will suddenly become terrifying; one of the few teams in the majors willing to spend money to build a contender will return to something like full strength; and one of the most electrifying talents anywhere in the sport will once again play in games that count. Judging by the holes his dingers have torn in the atmosphere over the past seven games, Tatis is extremely ready for the promotion.
Stay in touch
Sign up for our free newsletter