Jamboroo
C.J. Stroud Proves That You Are Right To Be Batshit Over The Draft
12:52 PM EST on November 16, 2023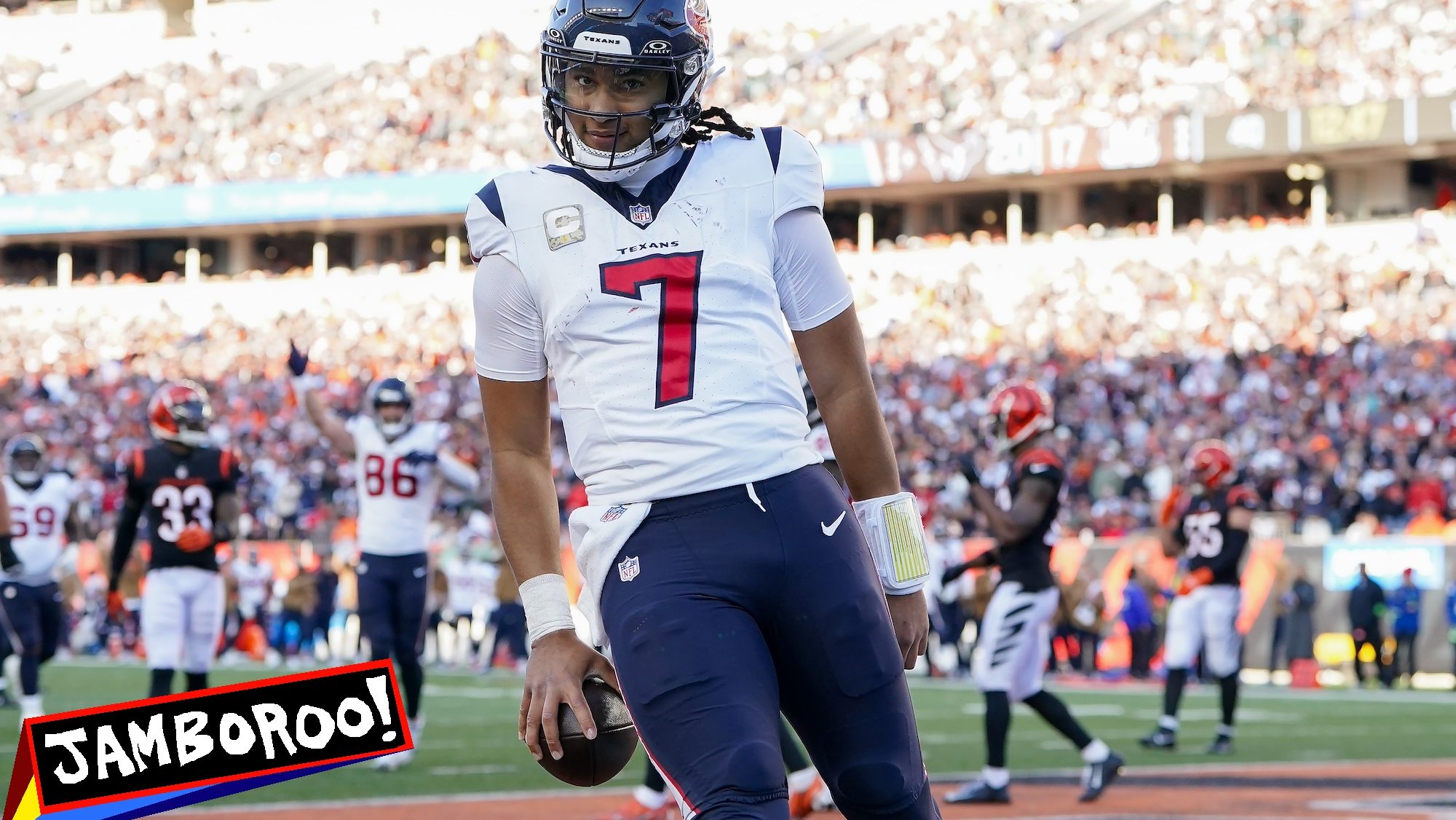 Drew Magary's Thursday Afternoon NFL Dick Joke Jamboroo runs every Thursday at Defector during the NFL season. Got something you wanna contribute? Email the Roo. And buy Drew's book, The Night The Lights Went Out, through here.
Consider the Houston Texans, a heretofore abominable organization. The Texans were founded by an open racist who christened them with the stupidest nickname in North American sports. Their best years as a franchise arguably came with Matt Schaub as their centerpiece. The best quarterback they've ever employed refused to play for them, then was outed as the most terrifying client a massage therapist could ever encounter, and then was traded to Cleveland before watching his shoulder turn to fine ash. They were briefly ruled by an aspiring 700 Club guest host. They blew a 24-0 lead in the playoffs and no one was surprised. From 2021–22, their starting quarterbacks were Davis Mills, Tyrod Taylor, Kyle Allen, and Jeff Driskel. At their absolute best, these Texans were merely forgettable, and there was nothing to indicate that would change anytime soon.
All of that has changed in three months.
That's rookie quarterback C.J. Stroud, who dropped to No. 2 overall—"dropped" is now a fair word to use—in April's draft for all of the nebulous reasons that legit prospects drop. Stroud scored poorly on a new cognitive test that is almost certainly a scam. He came from an OSU program that routinely mints busts at the position. He couldn't beat Michigan. He lacked the processing abilities of No. 1 pick Bryce Young, who is half his size. And he could run, but not like a LOT. You know the risks of drafting a QB high, and you could find those risks in Stroud anywhere you chose to look.
None of that armchair scouting ended up mattering. Stroud is now the top passer in the entire league by DVOA. He has 15 touchdown passes to two picks. He's led the Texans to five wins, already more wins than they've had in a single season since 2019. He's done it all, and without a single pass-catcher on his team that was drafted before the third round. Already, this man is rare kind of passer who makes everyone around him better by his sheer presence. A perpetual MVP candidate.
So consider the Houston Texans now. If the playoffs started today, they'd be in. If they were matched up against the Jaguars on Thursday Night Football, they'd be WORTH watching. They have a cool head coach, and now an even cooler offense. Yes, they handed the lowly Panthers, and poor Young, their only victory of the season. But they also just smothered the Bengals with a fire blanket in Cincinnati, and they play five of their last eight games at home, with only two of those remaining games left against winning teams (one of which, Cleveland, is now without a functioning quarterback). This is what Stroud has made them into. This is the guy you dream about when your team needs a great player and doesn't have one.
And you can spend more of your time, by multiples that soar into the hundreds, dreaming about his kind than you can actually watching your team play. If you're a fan of the Giants right now—or the Patriots, or the Raiders, or the Falcons, or the Bears—you don't need to wait for the offseason to start jerking off to the draft. You're almost certainly ogling the Caleb Williamses and Jayden Danielses right now, because it sure as shit beats watching Tommy DeVito getting sent out onto the field to bash his head against the wall. And it's players like Stroud who validate you in dreaming, and hoping, and praying. Because they're real, and because you can see, in real time, what they can do for an organization like the Texans: one that has spent its lifespan with its dick tied in a knot.
I have done my fair share of this dreaming, praying, and hoping. An unreasonable amount of it, if I were to consult a mental health expert about it (I have not). Once my team is out of playoff contention, and sometimes a little bit before then, I will begin salivating over the draft prospects. And then, when the NFL's interminable offseason commences, I go into overdrive. I did just that this past offseason, when my team still HAD a quarterback (albeit one that no one really liked). I thought about Stroud, and Young, and Anthony Richardson, and even Hendon Hooker a little. Thought about them when I got up in the morning, and thought about them when I lay down to bed at night. Conducted imaginary combine interviews with them in my head. Watched YouTube scouting breakdowns of them. If I could have gained access to their Ring cameras, I probably would've glanced at that footage, too. You might consider this "weird," or "unhealthy," or "grounds for prosecution." Lord knows the Wilbons of this world have dismissed draftniks as losers and basement dwellers, but fuck him and fuck you. I'm a football fan, and emotionally over-investing in player acquisition is my divine right.
More important, I am an American. We Americans have been preconditioned by our industrial overlords to have excessively high expectations for everything, and to throw a shitfit in the Genius Bar whenever those expectations go unmet. Sports are a reflection of this, perhaps THE reflection of it. So me going batshit over the draft isn't terribly different from whatever absurd expectations you might have for a movie, for a political candidate, for a fancy restaurant, or for a car, or for your sex life. You expect the BEST because you're a spoiled asshole. That is me. I am spoiled, and I demand satisfaction.
And in football, I know that satisfaction is possible, and have even experienced it myself in fleeting moments. My team has never drafted a Stroud in my lifetime, but it has drafted a Randy Moss and an Adrian Peterson. Those picks paid off instantly, and when they did … well now, you know that feeling if you're a Niners fan and watched them draft Nick Bosa. Ditto the Titans and Jevon Kearse, the Panthers and Cam Newton, the Chargers and Justin Herbert, the Cowboys and Micah Parsons, and on and on.
The NFL offseason is very long, and you can spend that time talking yourself out of prospects for reasons that prove imbecilic. But you can also spend a lot more time talking yourself into those same players, watching your team draft them, and then convincing yourself that everything will be different now. Most of the time, those hopes are dashed. But sometimes, as with Stroud, they're fulfilled. And when that happens, all of the time you wasted daydreaming gets validated, win after win after win. Dreams come true for certain sports fans on an annual basis. C.J. Stroud is proof that you could be one of those fans. When a draft pick hits, everything suddenly feels different. The atmosphere around your team becomes ionized. Hope becomes justified rather than foolish. It. Fucking. Rocks. And that's true no matter which team you root for, even if it's the Houston goddamn Texans.
The Games
All games in the Jamboroo are evaluated for sheer watchability on a scale of 1 to 5 Throwgasms.

Five Throwgasms
Bengals at Ravens: This is tonight's game, and it's good! My friend Al Michaels must be in sheer disbelief that he's not calling a low-end MACtion affair for once this year. Will this game end up with a 9-6 final score anyway? Yes, because everyone is hurt. But let's enjoy the mild hype for it while we can.
Speaking of enjoyment, let's all look at Joe Burrow's gross, bloody fingernail from last week:
GAHHHHHHHHHHHH!!! This is worse than that one scene in Syriana.
Eagles at Chiefs: I currently have a standing $5 bet with our own Diana Moskovitz that Taylor Swift will not marry Travis Kelce. If I win that bet, it'll be for Diana's own good, because look at what hell has been unleashed upon us already from this nascent union:
By the end of Saturday night, I was at a birthday party, with bad cell service, standing in a corner and refreshing TikTok with unreasonable intensity to see additional angles of Swift running toward and kissing her new beau, Kansas City Chiefs tight end Travis Kelce, who had traveled to Argentina on his off weekend from football and watched the second of Swift's three shows from the VIP tent with her dad. That long weekend in Buenos Aires will go down as one of the most truly chaotic stretches in Swiftie history.
Imagine if these two fuckers actually get married. Imagine the RIVER of dogshit copy it would produce. Is that worth your five dollars, Diana, hmm? In your heart, you know the answer.

Four Throwgasms
Vikings at Broncos: It pains me, pains me, that Sean Payton has gotten the Broncos' shit together. I was looking forward to a whole season of him trying to motivate his charges with videos of baby iguanas fleeing in terror while they gave up 70 points a game. But how can I shit on him now when he's taken the Broncos from laughingstock to Certified Fresh in a single month? This is awful. I didn't want this man to SUCCEED. I certainly didn't want Russell Wilson to succeed. This whole thing makes me wanna puke.
Also, I fear them. Keep your filthy mitts off of my Josh Dobbs, Broncos. He is America's Quarterback now.

Three Throwgasms
Steelers at Browns: I have no idea why I put this game in the three 'gasm slot. Yes, both of these teams are 6-3, and yet I'd rather watch Zach Wilson play checkers instead.
Also, all that shit I wrote about C.J. Stroud up top? Kenny Pickett represents the opposite of that.

Two Throwgasms
Bucs at 49ers: In case you missed it, Washington Huskies DB Alphonzo Tuputala committed the most egregious premature goal-line ball drop of all time last weekend:
You have seen this fuckup in the past, most famously when DeSean Jackson did it … twice. But even DeSean waited until he got to the one before being a moron. Not Tuputala. Tuputala dropped that shit MILES away from the end zone. I'm not sure I'll ever see another mic drop that poorly executed.
Seahawks at Rams: Let's talk Andrew Whitworth for a moment. Former Ram. Former Bengal. Super Bowl champion. Bald. After 16 years playing in the league, Whitworth retired to become a designated yakker on Amazon's Thursday night pregame show. I have never actively listened to Whitworth's analysis—or that of any other pregame analyst, really—because I have better things to do with my time. But I am fascinated by the hoodie/sport coat combo that Whitworth rocks every time he's on the air. One day I'll write about my hoodie addiction, likely because I have no better ideas. But for now, let me just say that I'm curious to see if hoodies and sport coats can really work for average dipshits like myself. If so, I know what I'm wearing to my daughter's wedding.
Jets at Bills: We have reached the "finding coordinators to brand as scapegoats" phase of the Sean McDermott tenure. It will get no better from here.
Raiders at Dolphins
Titans at Jaguars
Chargers at Packers
Bears at Lions

One Throwgasm
Giants at Commanders: The Giants are getting the No. 1 pick. I'm calling it now. I know that, thanks to their trade down with Carolina, the Bears have not one, but two fat ping pong balls in the hopper. But I've seen these Giants in action. They're disgusting. Not only did they regress to the mean, they threw up on it.
Cardinals at Texans
Cowboys at Panthers
Pregame Song That Makes Me Wanna Run Through A Goddamn Brick Wall
"Scapegoat," by the now on hiatus but forever immortal Kylesa! From Sean:
I kinda slept on this album when it came out. But noticed that it got remastered this year and holy shit! It's all I've listened to this week.
I've had this song on my workout playlist for years now and haven't gotten tired of it; it's just that sturdy. Listen for yourself and you'll understand right away. FUN FACT: Kylesa has not one, but two drummers. And you might think, "Well that's pointless." WRONG. More drummers means more power.
Eric Adams's Lock Of The Week: Raiders (+12.5) over Dolphins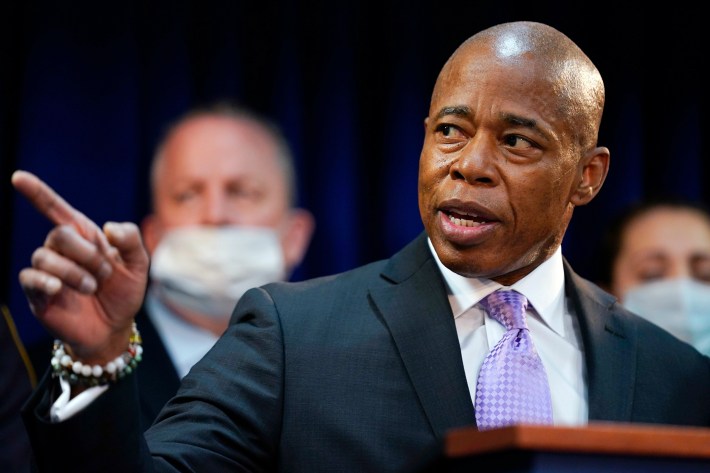 "Now I've lived in Las Vegas my whole life, President Erdoğan, and lemme tell you: What happens here, stays here. I actually was the man who invented that credo. Thought of it when I saw an Elvis impersonator marry two other Elvis impersonators. So when you leave $50,000 in poker chips in my suite at Binion's, you can trust that word of those chips won't make it in inch outside of city limits."
[FBI has wiretapped entire conversation]
2023 Record: 6-4
Fire This Asshole!
Is there anything more exciting than a coach losing his job? All year long, we'll keep track of which coaches will almost certainly get fired at year's end or sooner. And now, your potential 2023 chopping block:
Josh McDaniels – FIRED!
Sean McDermott
Matt Eberflus
Arthur Smith*
Robert Saleh
Mike Vrabel
Todd Bowles
Ron Rivera*
Brandon Staley
Brian Daboll
Matt LaFleur
Bill Belichick*
(*potential midseason firing)
I don't actually believe that Bill Belichick will be fired midseason (they're on the bye this week, so this is when it would've happened if it was going to), but lord knows he deserves it! From Chad Graff:
The team has now gone 17 straight possessions without a touchdown—and amazingly, that's not even its worst stretch this season. 
Imagine watching the Patriots, Giants, and Jets offenses play each other in a single game. The federal government would shut down five seconds after the opening whistle.
Great Moments In Poop History
Reader Joe sends in this story I call MY SHITTER WITH ANDRE:
One day at work, I felt a particularly loose shit brewing. I rushed to the bathroom and noticed that my wiener got really small and my sack got nice and tight, probably from holding back the torrent of poo or something. I don't know, I'm not a scientist. So I decide to snap a picture of my junk in its least intimidating glory and send it to my girlfriend, first asking, "You wanna see a picture of my dick lookin' real real small?"

She enthusiastically agrees (sunglasses emoji) and I snap it. Only at the exact moment I do, I somehow lose control of everything and start peeing. My dick is not pointed at the bowl, because I was focused on taking the picture. I piss all over the edge of the toilet and on the back of my pants.

Horrified, before I start sobbing in the men's room, I start shitting with the same unexpected force that I just peed on my pants with. I don't get poop any on my clothes, but it makes a loud mess and I know the corporate toilet paper is going to fail me as I clean my ass out by getting chocolate all over my fucking hand. Seriously, picture a guy at Baskin Robbins scooping your ice cream, only when the tub looks like it's going to be empty, it just refills itself and he just keeps scooping. I start clean that up and pull my wet pants up when I realize that I must've sent the picture anyway, because my girlfriends responds with laughter. She finds it so hilarious that she saves it. She still has it and threatens to show it to people every time I get lippy in front of our friends/her sister.

She even made it her phone background for a very short period of time, and I'd rather have shit my pants and sat in it all day than have had any of this happen. Sometimes when you think it's gonna be about the poo, it's about the pee instead.
PSA: Do NOT photograph your dick in this manner. I know I'm from a generation before dick pics became routine, but I think even our younger readers would still agree with me.
Gametime Cheap Beer Of The Week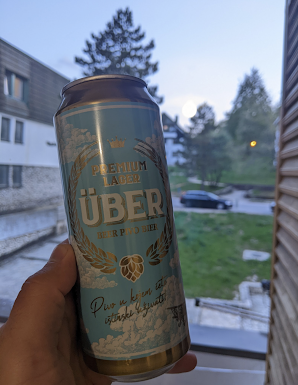 Über! No not the app, but it WILL take you on a ride … of sorts. From Brett:
This is the Über beer I had at the Plitvice National Park in Croatia. This was like .20€ cheaper than the regular light beer we were drinking, so I had to give it a rip. Can't say it lived up to its translation.
OK, but did you expect it to? When I drink a strange, affordable malt beverage east of the Adriatic, I expect that beer to destroy me. I want it to. For me the pain is the allure.
Gameday Movie Of The Week For Panthers Fans
The Death Of Dick Long. If you liked Everything Everywhere All At Once, why not check out this earlier entry from one half of the duo that directed it? This one is about two rednecks in the Deep South who party too hard one night and accidentally let a horse fuck their best friend to death. Somehow all of this is handled much more tastefully than how I just put it. Hand to my heart, you will NOT see a horse fuck a man in this film. This was kind of a letdown for me. I was on the edge of my seat waiting for some horse-on-man action. But I imagine you won't feel likewise. Three stars.
Gratuitous Simpsons Quote
"Anyway, about my washtub... I just used it that morning to wash my turkey, which in those days was known as a walking bird. We'd always have walking bird on Thanksgiving with all the trimmings: cranberries, injun eyes, yams stuffed with gunpowder. Then we'd all watch football, which in those days was called 'baseball.'"
Enjoy the games, everyone.
Stay in touch
Sign up for our free newsletter