MLB
Better Reds Than Dead
11:52 AM EDT on September 6, 2023
The Cincinnati Reds, as a franchise, have given their fans very little over the last few decades. It's been 28 years since their most recent playoff series win. And things were not exactly looking up. The team plummeted to a generational nadir of 62-100 last year, 21 fewer wins than they'd earned the season before. At the start of that campaign, team president Phil Castellini—part of a storied local history of nasty leadership—taunted fans who wanted the team to try. "Well, where are you going to go?" he sneered. Even the relative successes had an off-putting taint. The Reds' only Cy Young winner, ever, is Trevor Bauer in the plague year. Their most important recent contribution to baseball was "a drive into deep left field by Castellanos," brought on by their old announcer abruptly dropping a slur in the middle of a broadcast. The Reds were an embarrassment and a joke just a few months ago. But if you had the guts to root for them this year, you're regretting nothing.
This week's been a tricky one for the Cincinnati roster, which is dealing with several injuries and a dash of COVID. But even with a makeshift lineup and a handful of starting pitchers on the shelf, on Monday they bullpenned their way to a 6-3 win to kickstart a key series against the Mariners. And then Tuesday, just when all looked lost, they produced their MLB-best 44th comeback win with a combination of expected and surprising heroes.
Julio Rodríguez carried the Mariners with two dingers, the first staking them to a 5-1 lead and then a 6-3 advantage that held until the bottom of the eighth. There, the Reds got a couple of guys on for the pinch-hitting Nick Martini, a.k.a. the hand that shakes the drink. Martini's exactly the kind of player the Reds have been forced to turn to as they've lost so many regulars. He's played in just 127 MLB games across four seasons. He's 33 years old, spent last year in Korea, and just got called up from Triple-A a couple weeks ago. The lefty has some pop, though, and he'd hit a ninth-inning game-tying dong last week. This time around, Martini waited on an 83-mph slider and managed to pull it over the right-center fence for a three-run shot.
With the score 6-6 in the bottom of the ninth, the Reds enjoyed the luxury of Elly De La Cruz leading off. Their most irrepressible talent has thankfully been able to stay on the field through this wave of misfortune, and he'd narrowly missed a chance to make a huge contribution back in the fifth, when a hard lineout to left with two outs and the bases loaded nearly pretzeled M's outfielder Dominic Canzone. His contact in this spot was far worse, but the result was better. De La Cruz hit a grounder nearly straight down, and he used his camera-blurring speed to make it to first safely. Then, though he'd been caught stealing earlier, he took off again benefited from an off-target throw.
"I think everybody is thinking the same thing: 'He's going to create some havoc here,'" Martini said after the game. "We were just kind of waiting for him to go. He's unbelievable."
All that was left was for another rookie, Christian Encarnacion-Strand, to find a hole between first and second, and De La Cruz was home free.
This was the Reds' third walk-off in the last five days, which does not in fact water them down but only makes them more magical. I particularly love this photo of De La Cruz, well off the ground, bumping mid-air with Encarnacion-Strand.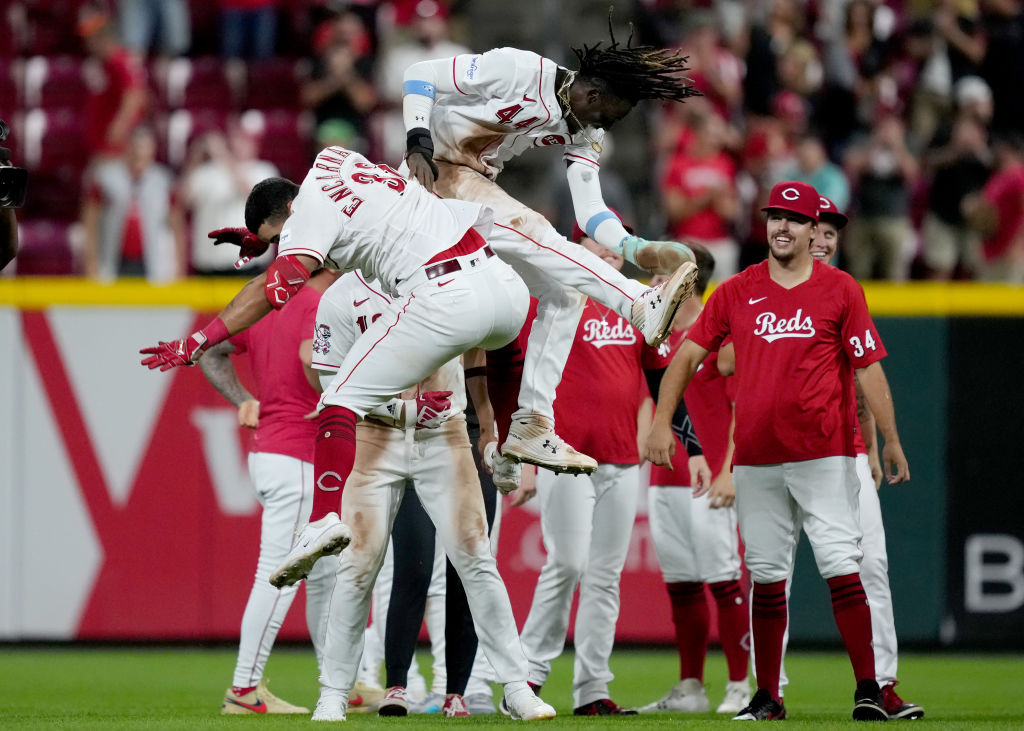 "We miss them so much," De La Cruz said of his recuperating teammates, who include Joey Votto, Jonathan India, and OPS leader Matt McLain. "They're an essential part of this team, but the rest of the team that's here, we're going out and competing and trying to get a victory every day. That's why I love this team so much."
To be clear, Phil Castellini deserves no credit. The Reds, as fun as they've been, still sit with a 73-68 record that feels pretty lucky when paired with a -33 run differential. They're third in the NL Central, and after a bummer of an August they're barely hanging on to a last wild card slot that didn't exist for most of their playoff drought. And when the success or failure of the season may come down to just a game or two, it's fine to point the finger at the front office for the delayed call-ups that kept critical rookies from helping the team until well after Opening Day. McLain debuted in the middle of May. De La Cruz and top starter Andrew Abbott arrived in June. A couple of extra wins in Cincy's 12-15 April could have helped out a lot right now.
But Castellini was at least right when he asserted that Reds fans would stick by this team, even if he meant it as an insult. They're still here, as attendance has leaped much closer to league average while rising over 7,000 per game from last year. And as they've supported this unpredictable, high-ceiling bunch, they've been rewarded, finally, with—at the very least—meaningful September baseball and a lot of good memories. The Reds can be stressful and inconsistent, but the line between the postseason and an early vacation can be pretty thin. Sometimes about as wide a ninth-inning gap on the right side of the infield.
Stay in touch
Sign up for our free newsletter