College Basketball
Antoine Davis Is Denied His Record-Book Ending
2:12 PM EST on March 3, 2023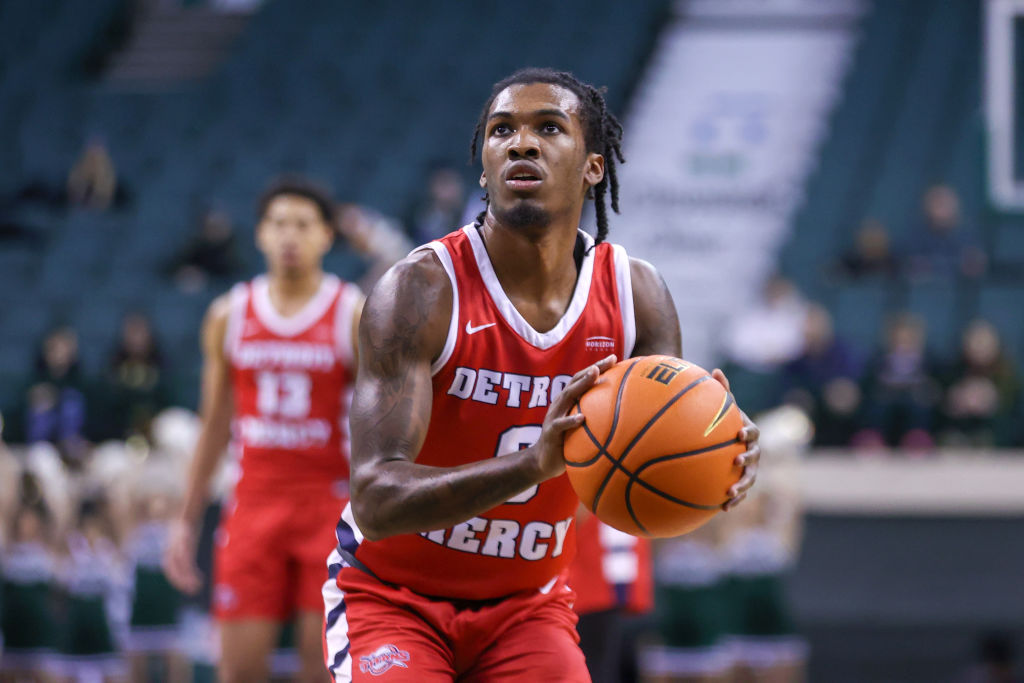 Antoine Davis, a fifth-year grad senior at the University of Detroit Mercy, spent a season in pursuit of the NCAA career scoring record set by Pete Maravich at LSU in 1970. A raft of analysts affixed asterisks to his chase: Maravich played in an era with no three-point line or shot clock, and he set the record in just three years, back when freshmen couldn't play varsity. The asterisks weren't needed anyway.
Davis entered Thursday night's Horizon League tournament game against Youngstown State needing 26 points to break the record. In a 71-66 loss—an existential stat-padding drama—he finished with 22 points, going 7-of-26 from the field and 4-of-16 from three. A last-second clank off the back rim served as the closing bell.
Breaking basketball scoring records may be all the rage now, but this was a quiet affair. The game wasn't broadcast on linear television, only streamed on ESPN+. Dan Gliot, an assistant commissioner of the Horizon League, told me in an email Thursday that there were no plans to stop the game to celebrate if Davis broke the record. Instead, they had planned a "recognition during the game."
If no one paid Davis's chase much attention, his story remains a funny artifact of college sports in the 2020s. He neared the record in a fifth year allowed by the pandemic. This summer, he mulled his options in the transfer portal—BYU, Georgetown, Kansas State, and Maryland—but stayed at Detroit Mercy when an NIL deal came through, one with a Chinese basketball manufacturer called GlowBalls. The basketballs glow in the dark.
So the record long thought unbreakable stays unbroken. Even approaching it required a tricky blend of time, opportunity, and actual scoring talent (but not so much scoring talent that the pros became a better option). At Detroit Mercy, Davis had no trouble earning minutes from the team's head coach, who is also his father, Mike. The same was true of Pistol Pete, a coach's son and a bit of a chucker himself; in college, Maravich averaged about 38 field goal attempts a game.
Maravich died of heart failure in 1988, so he wasn't courtside watching his record threatened, nor did he have to process his emotions on Substack. But Maravich's son Jaeson told ESPN he thought his dad wouldn't have minded:
"I was thinking about this the other day: 'What would my dad say?'" Maravich said. "I think he'd be cheering the kid on. I really do. I don't think the records meant that much to him, to be honest. I know later in his life, they definitely didn't mean anything to him. Maybe earlier when he was playing, he took pride in it. But I don't think he'd be bitter about it."
Both Mike and Antoine genuflected to Pistol Pete in the closing weeks of the season. Mike pointed out that he taught Antoine to play basketball using Maravich's instructional videos. "I wish they had records for then, and records for now, because I'm torn by it," Mike told The Athletic. Antoine leaves a mark in other ways: He set the NCAA record for career three-pointers, and he meant enough to the program that Detroit Mercy retired his jersey a week ago, while he was still active.
Double- and triple-teamed by a bunch of Youngstown State Penguins, determined to keep him from the thing he wants most in the world, is a grim way to end a season. "He gets everybody's best shot, every single night. That's a big part of the gameplan," Youngstown State head coach Jerrod Calhoun said afterward. Davis missed some early shots but stayed involved as a facilitator and a defender, helping his team take a narrow lead early. He and his teammates seemed to grow desperate for the record as the game tightened late. Ironically, Detroit Mercy forcing everything through Davis on a bad shooting night probably cost him another guaranteed chance to break it.
He could still be bailed out by the College Basketball Invitational, a pay-to-play postseason tournament for teams without invites to the NCAA tournament or NIT. Mike Davis said after the game that he would accept any invitation. A CBI invite wouldn't be much more than a publicity stunt—the Titans are 14-19 and finished ninth in their 11-team conference. But Rick Giles, the CBI's president, told the Sporting News that the tournament was considering the idea. "This isn't the national championship," he said. "It is an invitational. We are trying to put together an interesting and competitive tournament." For what it's worth, Pistol Pete never made the big dance either.
Stay in touch
Sign up for our free newsletter