Racing
Your Guide To The 2023 NASCAR Season, Which Will Claim Your Mortal Soul
2:11 PM EST on February 17, 2023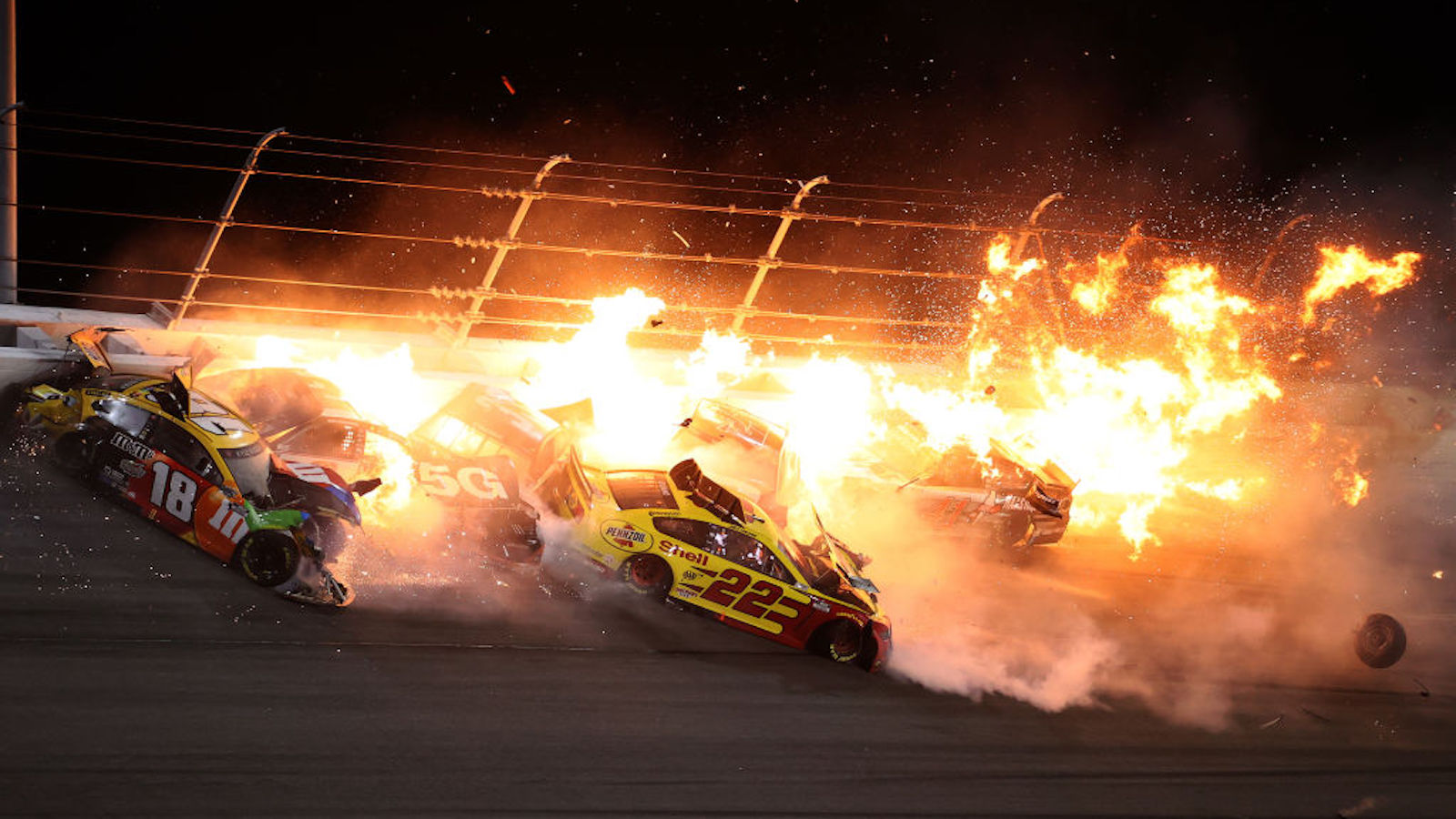 For NASCAR fans, the outdated tradition of the pre-race prayer is still very much alive. Do we pray for safety? No, we pray to sacrifice these cars in the name of destruction, and we pray that some higher power renders the sacrifice beautiful. We pray because NASCAR, more than any other sport, is decided by acts of both God and Satan. 
The priests who run the church of NASCAR routinely come up with new gimmicks and tricks to encourage this unpredictability. No other major racing series has playoffs, and NASCAR's relentlessly varied schedule is made up of 2.5-mile mega-tracks, dirt tracks, and road courses. For all the gimmickry, it's still easy to make the case that NASCAR has the most exciting racing product across all major motorsports. 
Here are some cherry-picked stats that help my case: 
Number of race-winning drivers in 2022: Formula 1: 5. NASCAR: 19.
Total lead changes in 2022: Formula 1: 70. NASCAR: 703.
One-third of all NASCAR races in 2022 had a caution with less than five laps to go, or went to overtime. We do overtime here. Racing purists hate this. Our sport kisses chaos on the mouth. It shifts between transcendent racing and a 36-car pileup, often minutes apart.
The original formula was chaotic, too: Big cars that turn poorly were crammed into short oval race tracks. This led to constant traffic, with plenty of beating and banging. Then came bigger ovals, meaning speeds over 190 mph, and constant equipment failure. Man was not meant to go this fast, and 36 men were not meant to go this fast next to each other. The drivers and crews are out there not to praise God, but to spite Him. And anything you do in spite of God invites the Devil in.
The 2023 NASCAR Cup series season is about to get underway, and new converts are always welcome. To make things easier for anyone interested in joining us, I've highlighted a few races on the calendar that are most likely to offer up the beautiful, deranged spectacles that make NASCAR what it is. 
Races To Watch
Daytona 500, Feb. 19: It's like a championship in reverse. The 500 is the biggest race, and it's the first race. In the biggest games in other sports, there's usually an understanding that you're watching the best athletes who have proven they're the best in the biz over a long year. Not Daytona. Far from being a championship bout, you don't even know who's good. Rookies can win the Daytona 500, like Austin Cindric did in 2022, or like in 2011 when Trevor Bayne did it in his second-ever start. It took Dale Earnhardt 20 years to win one. All-time greats like Tony Stewart go their whole careers without winning one because they get caught up in fender benders. They turn into Ahab at a race where, as the commentators will remind you, anyone can win. 
The Daytona 500 breeds stories. Sometimes it's Brad Keselowski, a Hall-of-Famer without a Daytona 500 win, trying a last-lap pass on his teammate that ends in a fiery explosion, clearing a way for Michael McDowell to score his only victory.
Sometimes, it's 50-year-old legend Mark Martin (he never won one) losing by a foot, followed in the same shot by a last-second crash that causes Clint Bowyer to finish the race on his roof and on fire. And sometimes, a former Indy 500 winner crashes into a track-drying truck full of jet fuel, creating a wall of fire.
You all know the biggest story. It's been 22 years, and I'm still not over the death of Dale Senior. I think it's because of the way it happened. We had the most popular driver ever die on the last corner of the last lap of the biggest race of the year while trying to help his son win. That sounds like a Kevin Costner movie I'd watch with my family on Thanksgiving—I would have jumped off the couch, furious at the cheesiness, and my mother would have said something about how good Kevin looks in a fire suit. Moms go feral for that guy.
Pala Casino 400, Feb. 26: God and Satan work in cataclysmic ways, but they often have a sense of humor. At least once a season, a car's engine suffers fatal overheating after the grill gets blocked by a hot dog wrapper. Sometimes the driver can shake the wrapper off by grinding up on the car in front of them all sexy like—but often, the damage is done. These cars cost half a million dollars, require dozens of engineers, and yet, they're at the mercy of Deenis Mudd from Columbia, S.C. and his Big Buford bag from Checkers. He might as well be throwing tomatoes at a space shuttle. No other sport is like this. Imagine if the Texas Rangers lost a playoff game because a fan hucked a full can of Miller Lite that hit Jacob deGrom's head and knocked him out cold. That fan would go straight to Gitmo or something. In NASCAR, trash explosions are just part of the game.
At the 2022 Pala Casino 400, every Toyota in the field suffered engine overheating issues with their new grills. Yet this was just a footnote in a race that had crashes galore, and saw masterful showcases of driving talent at the front between an array of leaders: Chase Elliott, Tyler Reddick, Erik Jones, and eventual winner Kyle Larson. Feb. 26 will be the last race on the wonderful, speedy, two-mile oval before it's reconfigured to a short track. Why did I even mention the hot dog wrappers? Well, your humble columnist is going to be attending this race, and I have a couple of scores to settle. You hear me, Kyle Larson? I ride a pale horse, and its name is Wienerschnitzel.
Coca Cola 600, May 28: Park your ass on the couch for 10-ish hours and experience Racing Christmas. The day starts with the F1 Monaco Grand Prix, followed by the Indy 500, before finishing up with the behemoth Coca Cola 600. At 600 miles, this is the longest race in NASCAR, a test of man, machine, and your patience. The 600 has been very boring for long stretches of its history, but in 2011—thanks to another act of God—it did produce the funniest finish in NASCAR history.  
2022's Coke 600 was a five-and-a-half-hour masterpiece. Every driver spun at one point or another, and most of them worked their way back to fight for the win. Every seven or eight years, NASCAR changes the model of stock car used for racing, and the Next-Gen car that debuted in 2022 was a ballerina on these intermediate-length track races. Passing was easy, but cars were constantly on the edge of control. It made for some of the best racing NASCAR has seen in a decade. Previously long for long's sake, the Coke 600 used to be like listening to the "Free Bird" solo. But now, it's like listening to the "Free Bird" solo in a good way.
Shitshow Races, Of The Good And Bad Variety
Chicago Street Race, July 2: This is the first time NASCAR has ever raced on a street course; credit to the nefarious wizards in the league office. For cars that make a lot of contact and use up a lot of space, street courses are extremely unforgiving. The course layout looks like this. That's a lot of right angles that turn into narrow streets with concrete barriers. If one car bumps another car out of the racing groove, there's a good chance it will go straight into the concrete. It's impossible to predict exactly what will go wrong, but there will almost certainly be carnage.
Verizon 200 At The Brickyard, Aug. 13: Oh yeah, NASCAR. My college friends used to go to that and take a bunch of molly that was actually pressed with Nescafé and melatonin, but they wouldn't watch the race. They would just go to a David Guetta concert and then puke into a recycling bin, and they called it a 21-Gum Salute. That's the Indy 500 right? 
WRONG. The Indy 500 is an elegant, perfect race with open-wheel cars and Indianapolis's iconic 2.5-mile rectangular mega-track. Stock cars on the 2.5-mile oval didn't produce enough excitement, so the Verizon 200 at the Brickyard sees those stock cars on the Indy Course. This "road course" winds through the middle of the infield, then turns right onto the front stretch. And at the end of this front stretch, there's a 90-degree right turn where the cars have to go from 170 mph to 45 mph, and at least five cars crash every single lap. But not before they drive backward across the most holy start-finish line in racing history. This is the Devil that's summoned when you play a Judas Priest album in reverse. The first time they tried this sacrilege in 2021, the Dark Lord Himself reached up from Hell and made one of the curbs explode. Twelve cars were sacrificed. 
There were no curb explosions in 2022, but there was enough random, rampant violence that you felt the Evil One's presence anyway. Chris Buescher caught on fire for no reason, yet so much destruction happened that he was still able to finish 10th. It wasn't great racing, but there was excitement every lap. The ghosts who have won at Indianapolis shake their head in dismay—that's OK, I'll still keep drinking that garbage.
Coke Zero Sugar 400, Aug. 26: Stuff just happens at Daytona. The track is so big and the horsepower of the cars is limited (going 250 mph here is too unsafe, even for NASCAR), so all cars can only make speed by riding directly behind the leading car in a draft, meaning all cars are usually inches apart. They'll tempt fate for 399 miles until inevitably two guys try to take the same spot in the moving parking lot, and it's on. Usually, the drivers don't need help to start their own colossal wrecks, but last year—out of nowhere—a rain cloud materialized over Turn 1 while the field was in Turn 4. Have you ever seen 25 guys hydroplane?
Not one car finished the race without damage. Every driver bore the unholy mark of the Coke Zero Sugar Hell Rite.
The High Priests weren't content with this level of bedlam, so they made the Coke Zero 400 the yearly cut-off race, determining which drivers qualify for the NASCAR Cup playoffs. According to NASCAR playoff rules, any driver who wins a race that season qualifies for the playoffs, and this race will be the last chance for any driver still searching for a W. What happens when 20 drivers who need a win come to a race where anyone can wreck everyone?
Autotrader EchoPark Automotive 400, Sept. 24: If the high shitshow quotient of this part of the schedule is any indicator, there is a good amount of suck in NASCAR. Any racing fan can tell you that, and will do so often. Texas Motor Speedway is everything we yankees correctly associate with Texas—oversized, brutal, mismanaged, and an infrastructural disaster. Six years ago, in an effort to improve the boring races at this track, the speedway's owners mimicked the local government's traffic solution: road widening!  Turns 1 and 2 had their banking reduced to be notably flatter than Turns 3 and 4, and were expanded by 20 feet. Take a guess about whether or not this worked.
To create multiple racing lanes in the new turns, NASCAR added PJ1 across the middle lanes. PJ1 is a black sludge used to help cars grip the track and therefore go faster. However, in life, it is generally recommended not to blindly trust black sludges. The Lord did not like this hubris, and He saw fit to bake the PJ1 with Texas heat into the racing surface—the extreme heat retention led to less grip, not more. What this means is that there is now a black strip of death across the turns at Texas; stay in it too long, and a driver will slip then crash.
In an effort to make speed through the bottom lane of the flat, unnavigable Turns 1 and 2, last year's teams were forced to set their tire pressures at a level unsuited for the full-throttle speed of Turns 3 and 4. Kyle Busch blew a tire very early on. Then, it was Christopher Bell's turn. Then, Chase Elliott. Kevin Harvick and Martin Truex Jr. both blew tires while leading the race. Alex Bowman blew a tire and got a concussion. 
Xfinity 500, Oct. 29: We have to go back to the beginning, to Martinsville—one of the oldest and shortest short tracks. A half-mile of two U-turns connected by drag strips; the beating and banging here is at its most savage. It's a playoff elimination race; only four drivers qualify to compete for the championship at Phoenix the following week. Small tangles and big crashes are equally common. Passing a single car at Martinsville usually takes a lot of elbow grease and crushed bumpers. Unless you're Ross Chastain. 
Very few of us in the NASCAR cult predicted that upstart young driver Chastain would win his first race in 2022. Two race wins and a spot in the final four? That was unconscionable to every single one of us except for Chastain's team owner, Pitbull. 
A quick Pitbull tangent: Before the season began, your humble columnist attended the inaugural Clash at the Coliseum (a preseason exhibition race inside the Los Angeles Coliseum; it was electric), where Pitbull performed a pre-race concert. Pitbull and his priestesses, high on ancient fumes, danced like the Oracles of Delphi. In between songs, possibly after "Fireball," I heard Pitbull say something like Without Pitbull, there is no NASCAR. I cackled at the absurd declaration of an owner whose team was 1 year old.
Like King Croesus, I failed to hear what the Oracle predicted. And then there was Ross Chastain at Martinsville, coming to the end of the most surprising breakout season in a long time. On the final lap of the Xfinity 500, Chastain found himself two points short, needing to pass two cars in the final lap to qualify for the championship race. He passed six. He pulled off the greatest racing move of the last decade, possibly ever.
In subsequent interviews, Chastain said that in order to not break his wrists going flat-out against the wall, he had to take his hands off the wheel and hold them to his chest. He nearly blacked out from the G-force of the turn. In this sport, where so much is determined by divine intervention, we take the drivers for granted. But this is still the real world. Go to a NASCAR race, and there is always a chance you will see an unprecedented event, like what Ross Chastain pulled off. Well, not that particular move. NASCAR banned it. You can still see it in all the advertisements NASCAR puts out, though. Thank you, Pitbull.
---
These are just a few of what I think will be this year's most notable races. Some will be more conventional than others, but every week holds the possibility of the unknown. The evil race-heads of America will meet in the woods to perform our twisted sacrament 36 Sundays a year—pretty much the whole year, minus football season. Why does NASCAR avoid football season? Maybe it's for ratings. I like to think it's because, in comparison to the bacchanal of fire and rubber that is NASCAR, the NFL looks like everything virtuous, moral, and pure about America. To join us racing fans is to leave civility and order behind. You can find us two hours outside of any major city, dancing in a circle, ready to embrace the apocalypse. Come to the clearing, and spite God with us. 

You can follow Nate Fisher on twitter @BozoMode. He also does 80 voices on the the A Closer Look Podcast.
Read More:
Stay in touch
Sign up for our free newsletter