Jamboroo
"Wow": Tony Romo Breaks Down The Super Bowl For Defector
1:57 PM EST on February 9, 2023
Drew Magary's Thursday Afternoon NFL Dick Joke Jamboroo runs every Thursday at Defector during the NFL season. Got something you wanna contribute? Email the Roo. And buy Drew's book, The Night The Lights Went Out, through here.
---
With FOX broadcasting this year's Super Bowl, embattled CBS lead analyst Tony Romo is free this week and has kindly offered to break down the matchup for Defector. Take it away, sir.
QUARTERBACKS
"Oh my God, this is such a great matchup between quarterbacks. But they're both hurt! Ugh I wish they weren't hurt. With Jalen Hurts, it's a shoulder. So you ask yourself, 'Is he gonna be all right throwing with that shoulder?' Because he looked a little off with that shoulder against San Francisco, so OOF OHHHH I DUNNO, JIM! So hard to know how he's gonna do back there!
"And then you have Patrick Mahomes on the other side, and really what more do you need to say about that guy? We watched him win TWO playoff games with that ankle, and that was incredible. That last run against the Bengals! And I've had that ankle before; that's a real injury. You try to run with it and right as you take off you're going OOOOOH THIS IS GONNA HURT! So, so hard to run on that thing. And so impressive, what Mahomes's been able to do with that injury. But I'm still a little worried there, because you know these Eagles will come after Mahomes. Or maybe they won't? Might be too much a gamble to do that! I'm just not sure."
RUNNING BACKS
"Really, really interesting group of backs both teams have back there. Now Kansas City has Clyde Edwards-Helaire returning for this game and you ask yourself OK, maybe that's good. But I do REALLY wanna mess with what my backfield has going on right now? I've got Jerick McKinnon turning those little swing passes into big gains, and then I've got Isiah Pacheco and holy smokes, this kid is a house! I mean, you can see it in those legs and shoulders, Jim. Just a lot of power. Tough to sit him down, especially [laughs] if you're trying to tackle him. Not something I'd wanna try to do.
"Now the Eagles? They're relying on all that power coming from the O-line up front so that Miles Sanders and Boston Scott can scoot around in open spaces and break free. So I'm looking at these backfields and they almost kinda mirror each other and that's like wow. You see these kinds of backfields going on maybe a little more than you used to, but it's still pretty wild."
RECEIVERS
"Potentially big mismatch right here, Jim. I don't wanna say REALLY big, but the chance is there. KC put Mecole Hardman on IR for this game, which means he can't play. But you've got Kadarius Toney back for this game, and you know that guy can fly. I know he only had one catch against the Bengals but it was a BIG catch. Really fast guy. Really smart. Really powerful. And I'm not sure any of those wideout injuries matters for Kansas City because of Travis Kelce. Guy's obviously a difference-maker. He and Mahomes, they just know where the other is gonna be on any given down. I want you to watch this one replay…
[Kelce runs a standard route but is somehow left uncovered]
"This right here! That's not even in the playbook. That's just 100 percent a great relationship between a quarterback and his tight end. But then I look over on the other side of the ball and OH MY GOODNESS, JIM. The Eagles have not just one outstanding wideout, but two! I mean if you're Steve Spagnuolo, good luck trying to scheme against that. So hard."
O-LINE
"Jason Kelce is so funny. When we were in the pregame meeting, he just walks right up to us and goes, 'Just so you know, I farted.' And I was like that is such a Jason Kelce thing to do. These fans in Philadelphia love that guy, and I can see why."
D-LINE
"This is really where the game will be won, Jim. Because KC has Chris Jones and it's like URRRGHHH AHHHH HOW DO I STOP THIS GUY?! He's just a monster! And I know that the Eagles have as good an interior O-line as any in the league, but we're talking about an All-Pro in Jones. Just an absolute wrecker on defense. Meanwhile, I'm looking at the Eagles and they're just so DEEP at that spot. They've got Ndamukong Suh—potentially a borderline Hall of Famer—as the third string guy, that's how deep they are. You gotta get that ball out fast, because otherwise LOOK OUT! I'll be interested to see how that factors into Mahomes's ankle."
LINEBACKERS
"Haason Reddick came over from Carolina, and what a signing that was. You HAVE to give credit to Eagles GM Howie Roseman for how he built this roster. Think back to where this Eagles team was just a couple of years ago, Jim: coming off 4-11-1 season, sticking Nate Sudfeld into that last game against Washington when everyone was like NO DON'T DO THAT!, firing their head coach Doug Pederson, trading their franchise QB Carson Wentz out of town, rolling the dice with a new coach in Nick Sirianni who had everyone going WAIT WHO'S THIS GUY? when they hired him. There were reports that these guys didn't really get along with one another, which is tough on winning. Fast forward to now and the Eagles are not only in the Super Bowl, but they have a darn good chance to win it! I mean, that's crazy. Just an incredible job by Howie to rebuild this depth chart so quickly. I wanna pick that guy's brain."
SECONDARY
"This is so, so tough with L'Jarius Sneed playing just two weeks after he got a concussion. Now he cleared the league's protocols, which is what you always want to see. But still: You worry that he might suffer another one in this game, and if that happens, that's not good. You hope he makes it through this game safe and sound, which is lot to ask when you're playing a team as physical as these Eagles. Gotta be a little worried there, Jim!
"Darius Slay is all swagger. I love that."
SPECIAL TEAMS
"Both these teams are so, so disciplined on special teams. They're not necessarily explosive, although they can make explosive plays if you let your guard down against them. But Harrison Butker and Jake Elliott have both been so money this season. If this game comes down to either of those two having to make a kick, [laughs] I think I know which way I'm betting. Betting's legal now, too! Wouldn't have to see a bookie to make that bet."
COACHING
"This is the big story of the game, right? You've got Andy Reid, who used to COACH the Eagles, Jim. Coached them for what, 10 years? Long time! They fire him, he goes to Kansas City and finally wins a Super Bowl there. Just an incredible story in his own right. Super smart, super fun to be around. Then Philly goes out, hires Doug Pederson, wins a Super Bowl with him but not Reid, and then they fire Pederson and bring in this guy Nick Sirianni, who's just this absolute mystery to everybody. I can't even remember where he coached before he got here! And then he comes in and changes the whole culture. You see it in these Eagles. They're confident, they're cocky, they're unapologetic. So you wonder if Andy Reid can get his revenge on these guys, or even if it really IS a revenge game for him. Because you know Andy: always keeps his cool. Always. And think about what he's been through."
PREDICTION
"AHHHHHHHHHH I JUST DON'T KNOW, JIM! THIS IS SUCH A BIG GAME FOR BOTH OF THESE TEAMS! I CAN'T LOOK!"
The Games
All games in the Jamboroo are evaluated for sheer watchability on a scale of 1 to 5 Throwgasms. And for the playoffs, I pick the games, because then you can hold them against me after the fact and I absolutely won't take the derision personally no way.

Five Throwgasms
Eagles (-2) 38, Chiefs 21. The best arguments you can make against the Eagles are that Jalen Hurts still isn't throwing the ball right since he got hurt, and that THEY AIN'T PLAYED NOBODY. But for now, I'll stand by my assertion that they're one of the best teams I've ever seen, right up until the moment they blow this game when Haason Reddick draws a roughing-the-passer call for grazing Patrick Mahomes's elbow with his pinky finger. After that, I'll be like LOL EAGLES FUCKING FRAUDS. It's fun to be a sports hypocrite. Very freeing.

Four Throwgasms
None. Time for the random crap!
• I cut the cord this week. It was very dramatic. I went over to my DirecTV receiver with a pair of garden shears and bravely severed the cord running out of the back of it, as if I were freeing a newborn child from its mother's placenta. Then I realized, far too late, that I was pretty much the only person in my house who was watching live TV to begin with, and that I only watch it for sports. No one else in my family, save for the middle child, watches sports. None of us watch the news. None of us watch network shows. My wife doesn't even stick with real estate porn shows for longer than one episode. And the DirecTV signal still gets fucked up by the RAIN.
So, like millions of other Americans, we cut the cord as a matter of both practicality and economics (I got YouTube TV for like a third of the price, and oddly the picture quality is better too). I wish it had been more dramatic. I wish I could tell people, "Actually, I prefer a good book to the wasteland of television," while sniffing my own farts. None of that is true. This is just where shit is going. Bill Simmons knows what's up:
If Simmons died tomorrow and was replaced by his own ChatGPT, you'd never know.
Yeah but Drew, the same thing could be said about y—
No I'm special. NO ONE DENIES THIS.
• It's been a relatively light head coaching carousel this offseason, but the NFL has more than made up for it by making the COORDINATOR carousel its own, big-ass thing:
This is typical now. If you're a random coordinator like Tim Kelly—a man who looks like he believes that the Funky Cold Medina actually exists—you get the big WELCOME graphic in a tweet when you're hired. Media outlets milk page views out of candidate listicles. The NFL's own coaching tracker now accounts for coordinator positions as well, and other sites like FOX have followed suit. My own team is gonna have a special presser just to introduce their new defensive coordinator. There's a theoretical dollar value that can be placed on the PR generated by coaching changes, and I promise you that the NFL knows what that number is. That's why you can't avoid the news anymore when the Rams decide to hire the guy who couldn't scheme the Jets' offense past midfield more than four times all season. The churn is good for business, even when your team gets a shit coach in the exchange.
Last week: 1-1
Overall: 8-4
Pregame Song That Makes Me Wanna Run Through A Goddamn Brick Wall
"Ingimar," by HAM. You are not ready for riffs this thick and lustrous, I tell you. From Lucas:
Whoever's reading this—internet surveillance fucks, whatever—you need this in your life. TURNED UP TO 11. The dude in the mustard suit is like the minister of health for Iceland. He introduces this song by saying "This is a song about Ingimar, THE BASTARD... and the murder... the murder behind the herring factory." I listen to it once a month or whenever I get through some period of my corporate overlords staring at me disapprovingly. Like right now. I have no clue what these dudes are saying, but they sing songs, "about LOVE... AND HATE.... and this is a song about TRUCKING," so I love them.
And now I do too. Bonus points to HAM for performing this song live at a hostel. When I Eurailed around that continent, I was just happy if my hostel was devoid of serial killers. Imagine my delight had I gotten my balls rocked off as an added bonus. I clearly live on the wrong side of the Atlantic. People in Europe LIKE rock! It's a whole different vibe than sorry, Pitchfork-ass America.
Drew's Chili Recipe
My youngest actually asked me to make chili for the Super Bowl this weekend. That never happens in this house. Normally, I make chili for my family only because I want it, and then I force it on the wife and kids and they resent me for it until the next time I make chili. A beautiful cycle.
But the 10-year-old fell in love with Taco Night this year, and so he wants me to make him an entire pot of de facto taco meat. Wish granted, young man. He also asked for no beans, mostly because he's a child and not because he's a purist. So I'm debating whether or not to have a bowl of drained kidney beans on the side to add to my own chili if I'm really horny for legumes. The MGM Grand is offering a scant 1/5 payout if I bail. NOW LET'S GET COOKIN'.
FOR THE CHILI:
2 pounds ground beef or chicken, at least 20% fat
1 onion, chopped
4 cloves garlic, chopped
1 shallot, chopped
1 jalapeno, chopped
1 large can crushed tomatoes
1 small can tomato paste
1 can tall red kidney beans, drained
1 can corn, drained
1 can beer
1 can chicken broth
1 tsp liquid smoke
1 tsp sugar
1 tbsp fennel seed
2 tbsp cumin (add more at end if necessary)
2 tbsp chili powder (add more at end if necessary)
1/4 cup white vinegar
Salt & Pepper to taste
Ashes from a joint (optional)
Lotta Frank's Hot Sauce
2 glugs olive oil
FOR THE SIDES:
Shredded cheese
Tortilla chips
Sour cream
Frank's hot sauce
1 bunch scallions, chopped
Beer (near beer if you're me)
Put a big pot on the stove on medium. Pour in the oil. When it's hot, toss in the onions, garlic, jalapeno, and shallots and stir them around until soft. Toss in the ground meat. Salt and pepper the ground meat in the pot. Sautee the meat until it's good and brown. Add the tomatoes, beans, corn, beer, broth, liquid smoke, sugar, cumin, chili powder, fennel seed, joint ashes, vinegar, and Frank's. Bring it to a simmer. Half cover the pot and leave it on low medium heat for 3–4 hours, stirring occasionally and always tasting. The liquid in the pot should reduce into a nice, thick stew. Dip in a chip to see if the chili sticks to it. If it does, it's ready to serve.
Great Moments In Poop History
Reader Martin sends in this story I call RUNNYMOON IN VEGAS:
About 10 years ago we were in Vegas for my friend's birthday for Wild Card weekend. We gambled Friday, then had the early Saturday Buffet, and then camped at a random lounge in the Excalibur for the games. After a drink, I felt the urge to shit and knew it was going to be massive, so I ran to the bathroom. As I entered the men's room, I saw a little girl and thought, "Damn, I hate it when guys bring their daughters into the men's room!" I rushed to the last stall for privacy and proceeded to destroy the toilet. 

I was recovering and collecting my thoughts when I heard something strange. It sounded like heels on tile. I thought, "No way" and peeked through the gap to see a woman entering the stall across the way. In my rush, I had entered the women's bathroom. I started freaking out. what the fuck was I going to do? No way I could get out without being seen. There were cameras all over the casino. I thought I would get arrested, banned for life, put on a sex offender list, etc. I eventually calmed down, waited until it had been quiet for a minute or two and rushed out with my head down ready to mutter "sorry" if I bumped into anyone.

I made it out without incident. My girlfriend (now wife) went in right after I came out. When I eventually told the story she said she originally had been impressed by whatever woman caused the bathroom to smell that horrible.
You got lucky. I accidentally once used the women's restroom before a job interview, AND I got caught. The woman coming out with me asked me, point blank, why I'd gone into the women's room to begin with. She did NOT believe me when I said it was an accident and that I wasn't a creep. I didn't get the job.
Which Idiot GM Is This?
You know your team is in good hands when the man in charge of the roster is a professionally sweaty guy who MEANS BUSINESS. Which team does the man below hold in his meaty paws?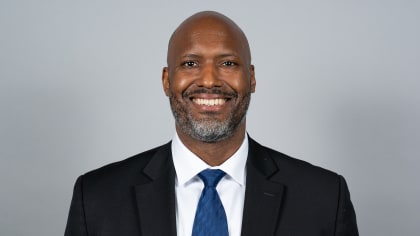 That's Lions GM Brad Holmes, who looks like that rare car dealer who actually leaves you feeling GOOD about your transaction. Then, three hours after you bring your Ford Flex home, you realize that he probably gives that $2,000 off to every other customer. But he was so, so nice about it. Didn't even reek of cologne! Can't ask for more than that when you buy a car.
Gametime Cheap Beer Of The Week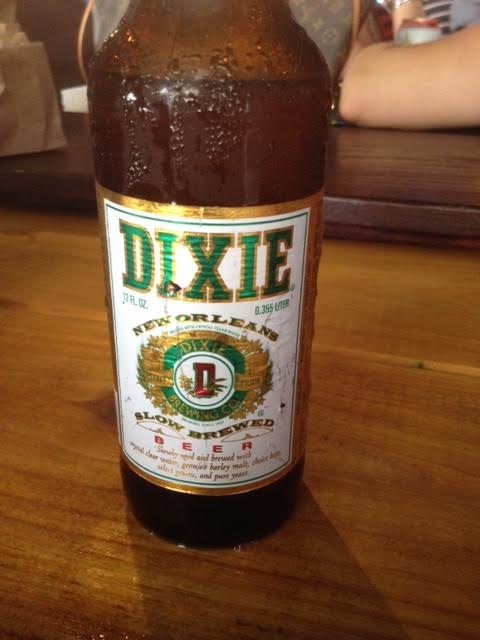 Dixie Beer! I wish I'd barf some Dixie… HOORAY! HOORAY! From Craig:
"Slow brewed" in the heart of Monroe, Wisconsin. To be fair, I think it was made in New Orleans riiiiight up until 'round August 2005. Nevertheless, I got a bucket of these for $10 at an Ole Miss alumni bar, at which I should be able to meet well-intentioned racist women.
Southerners? Doing things slowly? Well that's not the Dixie I know, sir. Anyway I'm with Craig: I could easily see myself down in Oxford chugging these bad boys and having mixed feelings about all of the hot racist women I see at the nearby tables. That'd be a fun afternoon.
Gameday Movie Of The Week For Colts Fans
Tar, which is one of the most boring movies I've ever watched. This movie is the cinematic equivalent of someone reading the New Yorker out loud for two-and-a-half hours. Indeed, the New Yorker's Adam Gopnik appears as himself in an extended sequence at the beginning of the movie, all so that he can read off Lydia Tar's resume to you. That resume will be all you have go on for the rest of your endless, endless journey with the main character. I kept hearing all the other characters in Tar allude to a plot, but I never actually got one. Where was the fucking plot? It sure as shit wasn't on the screen. Did they leave the plot in the fucking orchestra pit? Was I supposed to cobble the plot together in my mind based solely off of veiled comments people make about Lydia Tar, because that's our society now? Fuck off. There's a difference between subtlety and insulting my intelligence. I couldn't wait for this movie to be over, and it never was. One-and-a-half stars. Read Vince Mancini's review if you need more heat on this subject.
Gratuitous Simpsons Quote
"What do you say to the accusation that your group has been causing more crimes than it's been preventing?"

"Oh Kent, I'd be lying if I said my men weren't committing CRIMES."

"Well, touché."
Enjoy the Super Bowl, everyone.
Stay in touch
Sign up for our free newsletter