Some people are fans of the Los Angeles Rams. But many, many more people are NOT fans of the Los Angeles Rams. This 2020 Defector NFL team preview is for those in the latter group. Read all the previews so far here.
Your team: Los Angeles Rams. It's highly amusing the Rams were more relevant in St. Louis than they are in L.A. That's the exact opposite dynamic of what every other American who has made that move ever experienced.
Your 2019 record: 9-7. Remember when the Rams' offense got annihilated in the Super Bowl two years ago and everyone said that Bill Belichick had exposed them to the entire league? And that Jared Goff was permanently solved? TURNS OUT THEY WERE RIGHT!

The 2019 Rams started out 3-0, lost three in a row after that, and promptly went into a hilarious panic. They traded away Marcus Peters to the Ravens and then traded two first-rounders to replace Peters with Jalen Ramsey, presuming Ramsey to be the mythical Final Piece Of The Puzzle. In my lifetime, the guy signed to be the Final Piece Of The Puzzle NEVER ends up being the final piece of the puzzle. That's always primo Dan Snyder shit. The Ravens ended up beating the Rams 45-6 later that season. In L.A. Peters picked off Goff. Lamar Jackson threw for three touchdowns. Always a rough moment when you find out that you USED to be the future.
Jameis Winston hung 50 on these poseurs.
Your coach: Sean McVay, who can memorize your entire grocery list but can't remember that his running game is a lake of piss. The shine came off of McVay's goatee so quickly that he can see it on tape.
"I just know the way that I'm going at it, you're like, realistically, this isn't the right way to do it, but you're such a grinder and it's kind of being able to step back, being still is going to be a key thing."
Sean McVay is 34 years old and he's talking like Joe Biden here. "If anything I grind TOO hard but you watch me this season, jack. This season I'm gonna not move at all and that's gonna change everything, buddy. I told the coach who's in charge of holding me back that it's time I held MYSELF back, sweetlips." Meanwhile, he made his job twice as hard by letting go of defensive coordinating god Wade Phillips. Wade Phillips won Denver a title when Peyton Manning was coated in sea algae. He's the reason the Rams still could have beaten New England in that awful Super Bowl. Five players have won Defensive Player of the Year playing for Phillips, including the immortal Bryce Paup. WHY THE FUCK WOULD YOU FIRE HIM? The only good nepotism case in history and you leave him at the fucking airport.
When Wade was in charge of this defense, Aaron Donald turned into Eater Of Worlds and McVay could spend every defensive possession literally sitting on the bench to give Jared Goff all the pop quiz answers in advance. Now Brandon Staley is the DC and McVay is gonna have to, like, pay attention. Let's see what Donald has to say about the new scheme!
"There's things that I love about the defense, there's things that, you know, I'm not too big of a fan of, but I've just got to adjust to it and try to play up to the best of my abilities so I can still put my little twist in there."
Always a good sign when your best player is like, "I think I can succeed despite our terrible defensive playbook." That shit works against Mike McCarthy, but pretty soon you guys are gonna have to defend an an actual offense.
Your quarterback: MORE LIKE JARED GOOF AMIRITE?! The good news for Goff this season is that neither he nor McVay will be taken by surprise by the presence of, like, noisy crowds on the road. That really fucked with their calculus. Goff led two game-winning fourth quarter comebacks last season. One was against the Browns, which doesn't count. The other one was in Week 17 against the Cardinals, when both teams were already out of playoff contention. Just one season in close proximity with Blake Bortles was enough to render Goff a professional garbage timer.
Bortles is gone. Your backup is John Wolford. I had to look that up just now. I have no fucking idea who John Wolford is. Says here that he went to Wake Forest and is the all-time leader in touchdown passes... for the AAF. John Wolford is the kinda dude who'll be working at a law firm 10 years from now. Some people in the office will know Wolford was once in the NFL, but when they try to tell their colleagues NONE of them will believe it.
What's new that sucks: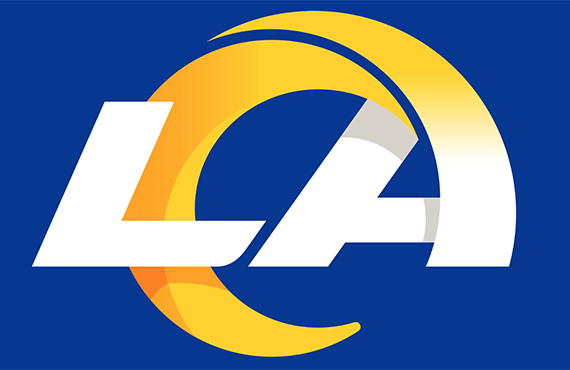 This was the masterplan all along. Move to L.A. Watch Jeff Fisher go 4-12. Hire a wunderkind. Let him lose the worst Super Bowl anyone has ever had to endure. Move into a COVID-addled stadium two years later when that coach has already watched the best years of his career go flying past. It's almost TOO clever. Join me, won't you, for a suicidal tour of the Rams' re-brandvisioning.
"We were planning to do a large public launch this past Saturday night, to coincide with the start of zodiac sign ARIES, the month of the ram."
Whoa hey, did Marianne Williamson just nut all over the floor?
"Before we turn the page to tomorrow, we wanted to make sure all Rams fans an Angelenos could see our new marks, and especially our new colors, which represent the vibrant, sunny optimism of Southern California."
Everyone in L.A. is either dead of COVID or can't get an audition right now. I know a lot of depressed people in L.A. Know why? Because L.A. treats everyone like disposable chum and then has the balls to say they should be happy because the weather is nice and there are beaches locals never go to. These new logos should be fucking dead gray. The uniforms should be too, but instead you got new threads "Inspired by the color of a ram horn and the sands of L.A…"
That shit looks like a new Butterfinger wrapper. Crispety, crunchety, but also socially aware-ety. I spend all of Sunday night angry at those shitass getups.
This season was meant to be the final realization of Stan Kroenke swiping the L.A. market out from underneath Mark Davis and Dean Spanos, making Spanos his dog, and then chasing all the black people out of Inglewood with a stadium that looks like Trump's Space Force headquarters. Lord knows the SNF crew tried their best to make this abomination's opening come off as WELCOME news.
On the field, the Rams got rid of Todd Gurley, which means they no longer have to pretend he's healthy. Replacing Gurley is Malcolm Brown. Behind Brown is second rounder Cam Akers, who fumbled 10 times in college and only piles up good yardage against shit competition. Good thing he's not playing in the same division as the best defense in the NFC! The Rams also started filling in the gaping hole the Ramsey trade bored into their future by sending Brandin Cooks to eternal sucker Bill O'Brien for a second rounder. Which they then burned on WR Van Jefferson from Florida. WHO SAYS NO TO A WIDEOUT FROM FLORIDA? Ike Hilliard, Riedel Anthony, Jacquez Green, Chris Doering, Jabar Gaffney, Riley Cooper… these guys never miss in the pros! I'd rather throw the ball to Steve Gleason.
Dante Fowler left. Legatron left. Andrew Whitworth got the rona (but played nicely against Dallas, I must say). The new midfield logo looks like a peener.
What has always sucked: It's wildly appropriate that the Rams have to open a $5 billion neighborhood replacement facility—which Kroenke paid over $1.5 billion of his own money for—to the sound of crickets. This team was never necessary to L.A., even when it managed to steal an NFC title away from New Orleans, but you've heard that jab before. What I'm talking about here is a much deeper form of inessential-ness. This year, Americans learned how much of their societal bedrock was a complete fucking waste: the police, motor vehicles being allowed in major cities, in-person meetings, etc. But the waste extends so far beyond that. Stan Kroenke married into the Walmart fortune, and even if you find Walmart useful (I do), Kroenke didn't build that shit. He built a company that specializes in suburban real estate development (useless), owns Arsenal (useless), owns the Colorado Avalanche (useless), and owns the Denver Nuggets (useless minus Jokic and Murray). He is a living testament to how much money and power you can amass in this country by doing absolutely nothing of value to anyone.
And now, this: an already fading team playing in a $5 billion reboot of Anaheim, sold to you as a reflection of the "vibrant, sunny optimism of California." Why should I feel vibrant or sunny about any of this? Why is this GOOD? California is fucking paradise. It's like someone handed you an aged ribeye cut from a cow that has been fed nothing but the finest ale and locally sourced pearl barley. You don't fuck with this steak. You give it some salt and pepper, grill it, and take in all of its loving flavor. OR, you can be 2020 America and cut that ribeye into 57 unequally sized parts, imprison a third of those scraps, boil the other third, and then coat the only big piece in fucking Kool Aid mix. This country ruins everything by trying to improve it, and the Rams are among the priciest examples. They want to represent all of the shit they've ruined. Fuck them. I'm gonna inject spider eggs in Kroenke's ballsack.
What might not suck: Actually, the logo looking like a penis isn't a bad thing.
Ratto says: "Being part of Hard Knocks is never a good thing (hell, the Raiders tried to kill it altogether), but in the world of there's no such thing as attention so stupid that it isn't monetizable, it is still considered less than horrible. Until, of course, you find out that you have to share it with a team that invented the entire concept of social distancing. These, then, are the Rams, who have a stadium to show off to hide the fact that their team's window is lowering, has minimal cap room and maximal dead money. That, plus the charm-phobic owner Stan Kroenke, makes for minimal entertainment value. And no, Sean McVay's prodigious memory and willingness to remove his shirt for strangers does not make up for it. They are likely to go from the Super Bowl to last place in a division that includes the Cardinals, which is not uncommon but often causes coaches to consider ESPN gigs."
HEAR IT FROM RAMS FANS!
Jon:
Goff is the system-est system quarterback to ever system at quarterback.
Mike:
Now that Stan Kroenke has his stadium location this team will never do better than 6-10.
Brandon:
The most popular LA football team plays in Nevada and the new uniforms make them look like knockoffs of the new Chargers kit.
Carl:
We extended our dim bulb, blank faced, doesn't know what direction the sun rises QB with a massive new contract right after one of the most disappointing Super Bowl performances of all time, just in time to watch him regress way below the mean the next season in a fall that everyone except Les Snead saw coming.St Louis probably cursed us and we certainly deserve it.
Kevin:
First this sun-bleached franchise decided to blow up its defense and cut everyone but Aaron Donald and Jalen Ramsey. Then they decided it wasn't enough to give up 60 points a game so Jared Goff would have to throw nine touchdowns a game, they wanted him to look, like, SO EPIC doing it. Now the helmet design looks like a banana dangling off an oryx horn.
Alex:
Sure, Jalen Ramsey is a shutdown corner, but he's also a super crazy person. He's like if Revis Island was ran by Jeffrey Epstein.
Mike:
I couldn't be more happy that is over-bloated, twice-as-expensive-crater-in-the-approach-to-LAX will probably be sitting empty this year after screwing over another fan base of season tickets holders. I would sell my soul if I can somehow John Cusack Runaway Jury my way into the panel for the upcoming trial between the City of St. Louis and the NFL over the broken lease with the dome just to get a front row seat to watch the wombat on top of Stan's head squirm. Remember we're the city that had a jury rule against Johnson and Johnson for $2.1 BILLION. That was just for baby powder....can you imagine what a jury would do if we decided we really don't like you?
Alex:
Four years ago we elected a mental invalid as president. Three years ago the Chargers announced a move to LA. Two years ago I had a single line of an incredibly eloquently written slam piece of the Chargers and Spanos dynasty published by you guys. Close to a year ago my favorite sports website fell apart and now here I am writing you again, ALL IN as a newly-anointed Rams dating back all the way to their second first season in Los Angeles.

I gave Defector.com(tm) my Pal money hoping for some quality content, which is a ton more than I can say for Jared Goof and the Funky Bunch, who will no doubt underperform in a division that leaves only about a 25% room for error only to stumblefuck their way into one of the NEW AND IMPROVED wildcard slots and absolutely crumble under the pressure of like a .500 Washington Team. Cooper Kupp will get hit with coronavirus and a concussion on the same play in week 2.
Neill:
After one of the most exciting offenses in the NFL blatted a wet fart in the Super Bowl, we thought 2019 held the promise of a reinvigorated team and lessons learned, even if some regression was inevitable. Instead, Snead decided the best--nay, the only possible--move was mortgaging approximately the next century on: (1) a jumpy quarterback who achieved a few competent performances by taking dictation from the coach, and (2) pulling a Gettleman with an injured and injury-prone Gurley, at the expense of any investment in the offensive line and (3) dismantling the defense in the process. The predictable result was Goff running for his life, Gurley not running for anything, and no ability to hang around in games and buy chances. At least we have no more first-round picks until Snead's retirement.
Tyler:
They're gonna squander the career of the single greatest defensive player the NFL has ever seen. Without a single fucking doubt. This team has consistently, through time, been good for 3-4 seasons at a time, then they crash and burn for the rest of the decade, despite having some legitimately awesome players. Time to crash.

Also, McVay is a flash in the pan, Goff is gonna throw 15-20 interceptions, Kupp's knee will explode midway through the season, and Jalen Ramsey will never live up to the hype and will inevitably cause a scene on the way out. Fuck the Patriots.
Dave:
The joke everyone tells you is that the Rams' ratings went up in STL after they left, because everyone was hate-watching the team.

It's not wrong.

For that precise reason, the XFL's St. Louis BattleHawks became, for a hot second, the most popular team in the league. The name was a perfect mix of absurd and yet faintly badass, in a way that only our scarred and abused fanbase could love, coming out of our ever-fucked up city. You could legitimately feel intimidating yelling "KA KAW!!!" after a touchdown at some hapless fuck who had zero clue what unholy bird of prey was currently disrupting his mental peace.

We had something to be proud of again. The team came out to a 3-2 start, and it was the most believable 3-2 we'd seen in 20 years. Our QB had a cool Hawaiian name, and he was a great example of one of those newfangled "run pass option" quarterbacks that we always wished we could be cool enough to have. Two solid running backs, a good star receiver with some decent enough backups to make it all work, and a defense that doesn't shit the bed. Our coach wasn't "just another jackass football guy," he came across like just some dude off the street who was good at coaching.

Tailgating became a thing again. The fans wore absurd eagle-like costumes and flapped their arms in the air like nutjobs - this was viewed as not only acceptable behavior, but a laudable display of dedication to our glorious 3-2 team. KAW is LAW, after all. My girlfriend bought me a fucking official hoodie - and you really gotta hand it to the XFL here, their merch was top quality; I love that hoodie. The team was the first in the XFL to open its stadium's upper deck due to sheer demand for tickets. I was organizing coworkers to see the away game in NY.

You know what happened next.

You wanna know why my team sucks? It's not my team. It's my whole fucking city. We're fucking CURSED. The best fucking half season of football in 20 years, and a GOT DAMN PLAGUE DESCENDED UPON THE LAND TO ROB US OF IT ALL.

It's not fair, man. It's not FAIR. Haven't we fucking suffered ENOUGH?

Fuck the coronavirus for ending our season (oh yeah, and killing god knows how many people... yeah I have my priorities right). Fuck the XFL for its shitty timing. Fuck Donald Trump for his shitty leadership, and fuck Chuck Schumer and Nancy Pelosi for constantly doing the Republicans' homework for them instead of letting their abject failures of leadership lay bare for all the land to see. Fuck St. Louis for being such a shitty has-been town where even the supposed BLM supporters are too racist to let a supposed mob go without getting guns pointed at them - it's no wonder we can never get our shit back together as a city. Fuck Vince McMahon for declaring bankruptcy to fuck all his employees over, even if it might be the only thing that saves my beloved BattleHawks for next season. Fuck this entire shithole planet.

Oh yeah, and fuck the Vipers and their vertically-defecating fans. Maybe if Florida wasn't full of crazy racist assholes who voted for Trump, we wouldn't be in this mess in the first place.
Grippy:
They suck ALL the balls.

Do they suck as a result of cutting Gurley two years after extending him and having to eat $20MM in dead cap as a result? Nope. RB knees are a treacherous and mercurial mistress, and have the expiration date of Trader Joe's produce.

Do they suck for getting rid of Blake Bortles (as of this writing)? Hardly. Sure, we loved Bortlemania but he truly did suck for the few reps he took last year.

Do they suck for building an egregious middle finger of a stadium as an enshrined Fuck You to Jerry Jones? They do not, because Fuck Jerry Jones is never wrong.

They suck because Stan Kroenke can't even be excel at being the best piece of shit. Clearly the GOATs of human trash sitting in luxury boxes consist of Jones, Snyder and Haslam (Woody Johnson making a surprisingly agile jump up the rankings for a man of his years). Kroenke is absolutely a terrible smear of dogshit across our collective sidewalks for a litany of reasons: marrying his WalMart wealth yet preening as a self-made man, sticking St Louis with a tax bill on their old stadium that they'll be paying into 2021, and working LA for $100MM in tax breaks on his new cock ring of a stadium despite promising "no public money." Yeah, our teachers are underpaid but you go ahead and skim the tax money you don't even need.

Did I mention the $1MM he gave to Trump's inaugural committee? Fuck you, Stan. In a town full of whores, the stink coming off you is uniquely unwelcome and vile. Kroenke too lazy to engender pure evil the way Snyder does. He's passively odious and a weak pervert in a rumpled raincoat. He sports a pederast's mustache and mirrored shades because his hatchet face drives people to hateful acts of madness. His soccer club actively derides and loathes him. He does not want the headlines nor the spotlight, because he has enough instinct to know that roaches should fear the light. He eats and breaths and counts his money in the dark like one of those cave-dwelling fish with no eyes. Fuck that scrawny twerp and fuck his team. I hope the San Andreas fault opens up under the 50-yard line and swallows your shitty little stadium. And I hope you go 7-9 forever.
Submissions for the NFL previews are closed. Next up: Philadelphia Eagles.
Stay in touch
Sign up for our free newsletter