Soccer
When Your Coach Sucks, Everybody Loses
5:47 PM EDT on August 14, 2023
At this point in the World Cup, when only four teams remain, chances are your favorite team has been eliminated. Perhaps you, like me, are disappointed that three of the squads that have made it to the semifinals are European, and none of them came into the tournament being particularly under-appreciated, such as Colombia and Japan. Thankfully, the Matildas have provided a clear rooting interest to those of us who feel uninspired by the rest of the field; the Australian squad has inspired a nation with a genuinely once-in-a-blue-moon confluence of great form and even better vibes. But there's no guarantee that they will make it to the final, and there's an entire other semifinal to watch before Australia's. So the question remains for tomorrow morning's game between Sweden and Spain: Whom should you begrudgingly choose to want to lose less than the other one? 
In this matchup, like so many in women's football, a head coach has forcefully inserted himself into the conversation. Jorge Vilda manages the Spanish side, and as we wrote about before the tournament, he sucks. In fact he is so shitty that many of the best players in the world boycotted call-ups to their very own national team in an attempt to get him sacked. (It didn't work.) How can we root for the team of a man who is detested by his own players, and has only kept his job because his federation couldn't give a flying fuck about their female players? 
Unfortunately, as it is so often the case with women's football, the answer is far more complicated than I want it to be. After Spain defeated the Netherlands on Aug. 10, photos emerged of Spanish players sobbing.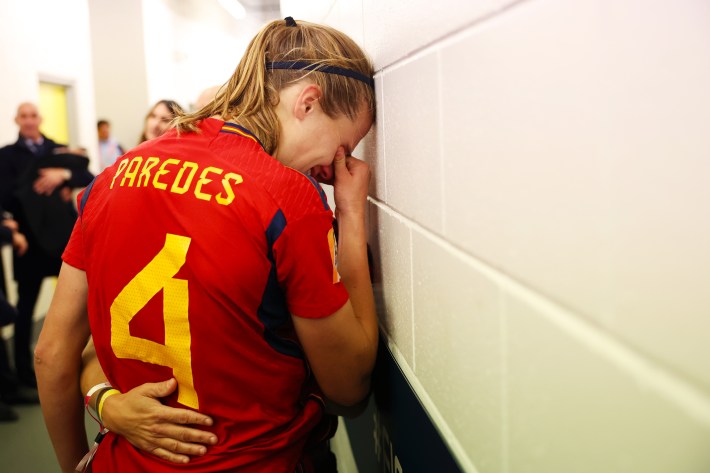 Irene Paredes is one of the captains of the Spanish squad, and she was one of the leaders of the 15's protest against Vilda. Her release of emotions, similar to that of Jennifer Hermoso and Alexia Putellas, suggested that this group of players has had a remarkably difficult year, one that still weighing on them. In the mixed zone after the game, someone asked Paredes what she was feeling, and she said, "That question makes me cry." It seemed to me that even the wins under a toxic coach can feel unbearably heavy.
This is the crux of the issue. I should not be holding their shitty coach against them. None of these players asked for him to coach them, and they certainly didn't hire him. But, soccer being a sport, the players cannot win the World Cup without Vilda also winning it. He will stand on the same field as them and, if they win, hoist the same trophy as them and drink the same champagne. 
As this is women's football, this is not just one isolated incident of a terrible coach who has been given way too many chances. France might have gotten rid of theirs, but plenty remain. Bruce Mwape was accused of sexual coercion by many Zambian players, yet continued to coach their team. Vera Pauw, who has been accused by multiple players of abusive remarks and behavior, coaches the Ireland team; her losing was the only silver lining to their group-stage elimination. Even USWNT coach Vlatko Andonovski, who is generally regarded as inept but well-meaning, threatened Alex Morgan's spot on the squad when she took time off for her mental health after the incredibly isolated 2021 Tokyo Olympics.  
There also are all the league and youth coaches around the world who have harassed and abused players, like Diego Guacci in Argentina and plenty of others in the NWSL. And you don't have to be a coach to terrorize soccer players; Yves Jean-Bart, the president of Haiti's federation, was removed from his role for being abusive, but he has since had his lifetime ban from FIFA lifted and has sworn he will return to his powerful position.
In the newest episode of the RE—CAP Show, released today, New Zealand captain Ali Riley described her own experience suffering under Andreas Heraf, who coached the Ferns in 2017 and 2018. Riley said in addition to being withheld treatment for an injury, "I wasn't allowed to speak to certain staff of the national team, and I was threatened to get my captaincy taken away and to be kicked off the team for things I was not doing and had nothing to do with." She said that she and another player were punished to show the other players what would happen if they didn't "fall into line." At one point, Riley was so defeated that she actually believed she was the problem and decided to quit the national team. "I couldn't eat. I couldn't sleep," she recalled. "I was green, and wasting away." Thankfully, the New Zealand federation conducted a proper investigation when players complained about Heraf and eventually fired him. 
More and more players are speaking publicly about their harrowing traumas under abusive coaches, and hopefully that's the kick in the ass these federations and FIFA need to totally change how they hire and fire personnel. Indeed, the vast array of examples in this very blog point to the issue being as systemic as it is personal; when a federation and league care more about money and power than their female players, abuse is an inevitable consequence.
So as we proceed into the upcoming matchup of Spain vs. Sweden, I'll be rooting for everyone to have a good time, except for Jorge Vilda and the Real Federación Española de Fútbol. As for the Swedes? Their coach is a through-and-through silly goose, and I thank him for this press conference being the most newsworthy thing he's done:  
Stay in touch
Sign up for our free newsletter