Arts And Culture
When Exiting Through The Gift Shop Is The Best Part Of The Exhibit
10:33 AM EST on January 27, 2023
When I finally got a chance to attend the Brooklyn Museum's Figures of Speech, a posthumous exhibition dedicated to Virgil Abloh's career, I was initially underwhelmed. I didn't expect this; Abloh, the Off-White founder who died last year of cardiac angiosarcoma at age 41, was my favorite fashion designer. I enjoyed his clothing line's playfulness, its mixing of high and low culture, and its broader vibe. Much of his gear had the feel of a high-end bootleg; I still don't quite know the extent to which this either shaped or just aligned with my own tastes. Abloh was not particularly beloved among all fashion designers—Raf Simons said "not Off-White" when asked if a young designer like Abloh inspired him. (Abloh later commented on the line by naming a new collection "Nothing New.")
Abloh was someone who I admired from afar, for a while. But then a combination of factors—quitting drinking, moving to higher-paying jobs, my now-wife moving in with me—led to me having a lot more money. In the fall of 2018, I wrote: "I am always on the precipice of becoming a streetwear Buzz Bissinger," who wrote about his "Gucci addiction" for GQ in 2013. Less than five years later, this has basically come true. I own a lot of ridiculously expensive sweatshirts, sweatpants, mesh shorts (expensive mesh shorts!), and sneakers. I own multiple Off-White crewnecks and hoodies. Some, and arguably most, of this consumption over the last few years has been disgusting. I own too many sneakers, too many sweatshirts, too much of too many things. I have slowly started to rein myself in. I think it's working. Maybe.
Perhaps I will get my habit in check, but I hope that I never stop enjoying clothes and what they can mean. I treasure finds for Ross Dress For Less and the stuff I bought at Barney's on clearance before it closed; they are different, but they share a real meaning for me. Virgil Abloh's clothing really opened my eyes to that realization, and getting to know it has helped me see the ways in which it has inspired countless other designers. The Virgilfication of streetwear is undeniable, but undeniably a mixed bag. Nike is now obsessed with text on shirts to a degree that it sells tourist crap that is literally copied and pasted from Wikipedia. This is how these sorts of things work. An artist can put a new idea out into the world, but what happens after that is out of their hands.
---
"Figures of Speech" made several stops before arriving at the Brooklyn Museum, where its run goes through Sunday. The show originated at the Museum of Contemporary Art in Chicago in 2019, then hit Boston's Institute for Contemporary Art in 2021, and then arrived in Brooklyn over the summer. (Yes, I turn in articles a bit late sometimes.) Each exhibition has been different; without Abloh to guide things, the Brooklyn Museum worked with ALASKA ALASKA, Abloh's design studio, and his longtime collaborator Mahfuz Sultan.
In that exhibition I got to see never-released Nike shoes Abloh designed, the cease-and-desist letter he received from the United Nations, a bunch of works I'd only previously seen on TV (the tennis dress he made for Serena Williams) and others I that I hadn't heard about at all and ended up loving (his Sunoco sign). It was a retrospective of work by an artist I liked and admired; of course I was going to love it.
And while I did, part of me also thought it didn't quite work. Rows of Abloh's clothing were lined up on industrial-looking closet rods. Since museum patrons viewed the clothes perpendicular to the racks, this meant the clothing was impossible to see. Some of these clothes seemed great, but I never really got a look at them. I ended up a little disappointed in the visit as a result. (I also learned the Brooklyn Museum has a replica Statue of Liberty in its parking lot. Isn't New York the one place you don't need one of those?)
But then I visited the gift shop. The museum gift shop, just as a concept, has long fascinated me, and not in "a personal anticapitalist critique of the way museums commercialize their exhibitions" kind of way. (I did enjoy the Banksy mockumentary Exit Through The Gift Shop, but I also own several bootleg Banksy t-shirts. It's complicated.) My fascination has more to do with the eternal question of "who buys this crap?" This is not a rhetorical question. I want to know who buys the marked-up pencils and books and tchotchkes at these gift shops, and I want to know why. I think I bought a discounted mug at the Philadelphia Museum of Art once, but that's about it. But in exiting the Brooklyn Museum through the pop-up store pegged to this exhibit, I learned that one can make a museum gift shop that is part of the exhibit. You probably won't be surprised that I became one of those people who buys this crap.
---
The store, which is currently offering some discounted (and some not discounted) products online, featured various shirts in the Virgil Abloh aesthetic, including a weird licensed collab with Disney on a Mickey Mouse shirt. Unlike the work in the exhibit, these things could be touched. They could be tried on. It was exactly how I've interacted with Abloh's work previously. Even if I couldn't afford that Off-White shirt at Saks Fifth Avenue before my finances got better, I could still feel it. I could touch it. I could even try it on. The gift shop was both the most familiar and the most satisfying part of the Abloh exhibit, even though (or just because) it took my money.
One of the oft-quoted maxims of Abloh is that one only needs to change something by three percent in order to create a new work. "Indeed, Abloh has declared that 'Duchamp is my lawyer' and is keenly interested in pushing the boundaries of intellectual property ownership and what should or could be in the open-sourced hands of the public domain," Michael Darling wrote in the introduction to the book accompanying the Chicago "Figures of Speech" exhibit.
Just as Abloh used Duchamp as inspiration, I love using Abloh as inspiration. Here's an example: In 2013 Abloh released a capsule collection called Pyrex Vision. He screenprinted PYREX 23 onto the backs of $39 Ralph Lauren Rugby flannels and sold them for a markup of 700 percent.
Not everyone liked that bit. "People who pay attention to the goings-on around Kanye West's crew know that much of Abloh's current pursuits—#BEEN #TRILL and Pyrex among them—started off as inside jokes with other cool guy creatives like Matthew Williams," Jian DeLeon wrote for Complex after they dropped. "But what happens when consumers become the butt of it? Is this act to be despised or congratulated?"
I settled for imitating it. At last year's inaugural Defector Ideas Festival, I screenprinted DEFECTOR 23 onto the backs of various Wildwood boardwalk tank tops. Cognizant of that (totally valid) criticism of Abloh from DeLeon, who is now the fashion/editorial director at Nordstrom, I just gave the shirts away at the event—a markup of ERROR // DIVIDE BY ZERO. (Much of the gear at the Abloh exhibit is printed on Champion t-shirts, with its recognizable 'C' logo on the sleeve. I also appreciated how transparent this was.)
Philadelphia is rich with Duchamp relics, as the New York Times put it; maybe he can be my lawyer too. I should just spell it out: Defector Media is looking to develop new revenue streams, and I'm inventing (?) a type of article where you exit through the gift shop. I turned an essay about the fashion of Hackers into a t-shirt with my cat on it. Now you can buy a winky reference to Virgil Abloh's work that doubles as a training shirt for your next marathon. Is this art? A tasteful tribute, or tasteless marketing? Both?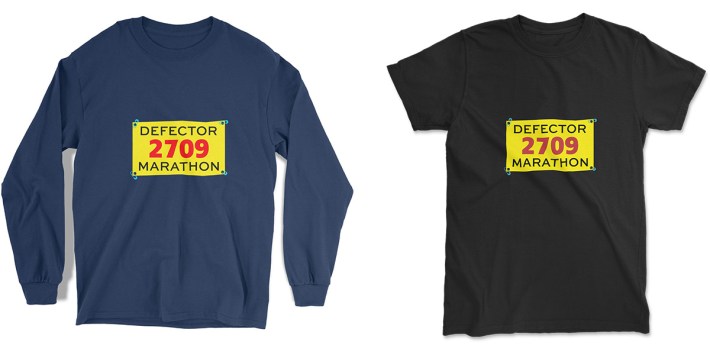 Anyway, you can get it here. There's a black short sleeve t-shirt (unisex and femme) and a navy long-sleeve t-shirt. It's union made and printed on a 100% cotton t-shirt, usually Royal Apparel (sometimes the shop prints on Bayside or Bella+Canvas). The markup is not 700 percent. It's $32 (or $35 for long sleeve) for what I think is a high quality t-shirt that supports Defector.
Or, you know, you can just leave the gift shop without buying anything.
Stay in touch
Sign up for our free newsletter