The Fights
UFC Fave Volkanovski Takes Bad And Unnecessary Beating In Abu Dhabi
11:43 AM EDT on October 22, 2023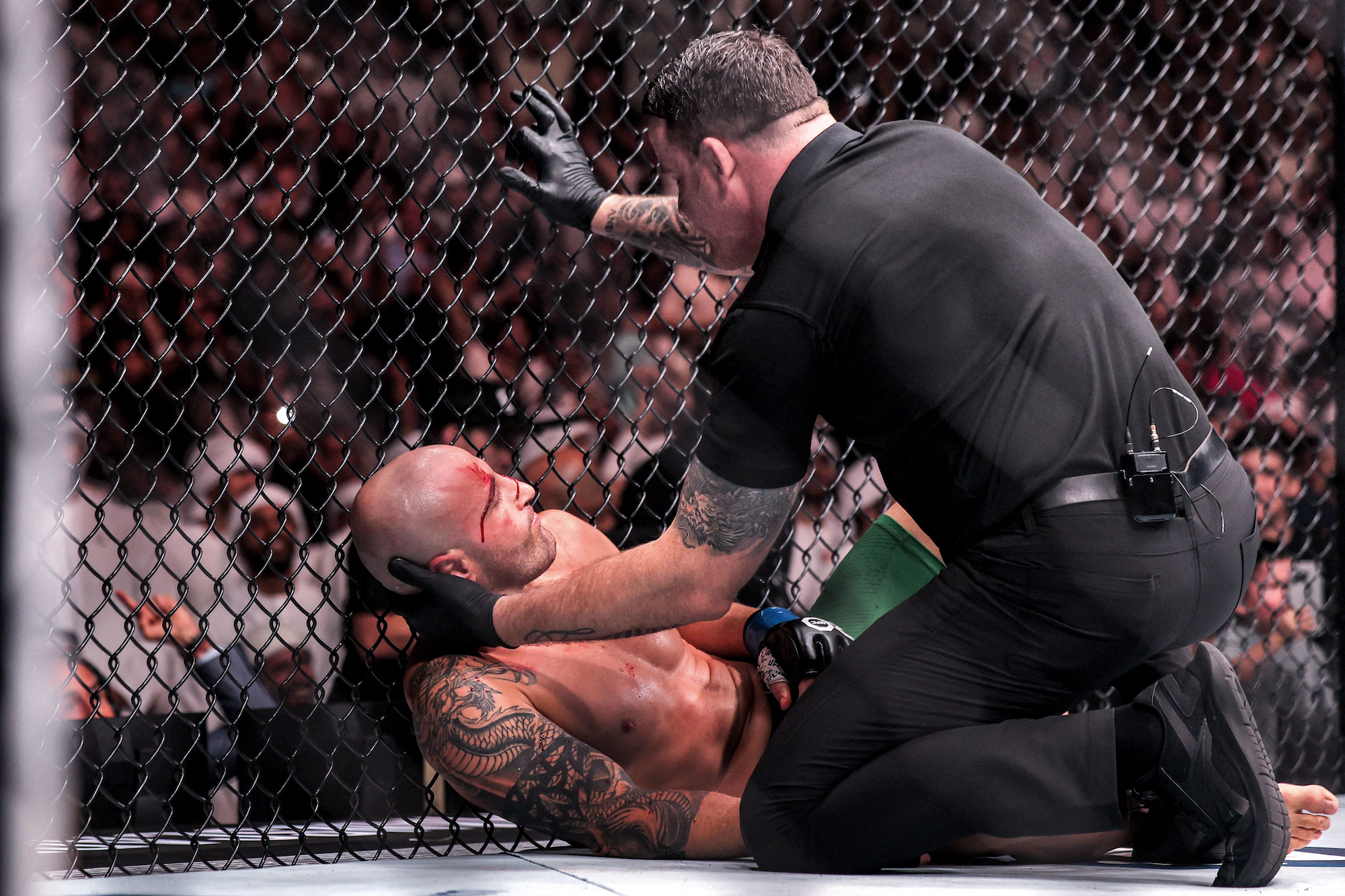 A good case can be made that the Alexander Volkanovski–Islam Makhachev UFC lightweight title fight Saturday night in Abu Dhabi never should have happened. The finish was scary. The loser's post-fight comments were scarier.
The fight ended just three minutes into the first round when Volkanovski, the undersized Australian challenger and longtime UFC fan favorite, took a brutal kick to the side of his head followed by several savage hammerfists from Makhachev, the reigning UFC Lightweight champ. The blows left Volkanovski, the UFC featherweight champ and a guy who's been atop the pound-for-pound rankings for years, on the canvas with blood spurting out of bad gashes on his chin and above both eyes.
Volkanovski had been offered the fight when scheduled lightweight (weight limit 155 pounds) challenger Charles Oliveira backed out after suffering an eye cut in training. Volkanovski has been one of the UFC's most entertaining and beloved fighters for years as a featherweight (145 pounds), so his stepping up filled Dana White's short-term need for big names atop the UFC 294 card, to please the pay-per-view audience and the legendarily worker-unfriendly organization's UAE suitors. 
But it came at a great risk, and ultimately great cost, to both employee and employer. This arrangement meant Volkanovski had essentially no time to prepare for the much bigger Russian, who hasn't lost a fight since 2015. Makhachev's size was the most obvious factor in defeating Volkanovski by unanimous decision in February, the last time the Aussie tried to step up in class. That defeat sent Volkanovski back to the featherweights. On Saturday night, Volkanovski looked small and slow and out of shape compared to his foe, in the few minutes he lasted before the ferocious knockout. And now a UFC star shines far less brightly.
On paper the move to accept a rematch against a bigger guy who had already vanquished him once—let alone at a time when Volkanovski was not even in training—seems borderline crazy, even for the brain-busting business of mixed martial arts. And in interviews after the horrific knockout, Volkanovski specifically referenced his mental state while trying to explain how he came to be beaten up and disfigured. 
"I needed to take this fight because I'm doing my head in when I'm not fighting," the historically lighthearted and positive Volkanovski told UFC commentator Daniel Cormier in the octagon, with dead seriousness. And he begged the UFC to "please keep me busy" multiple times. 
The sad, desperate spectacle continued at the post-fight press conference. Volkanovski further described feeling lost when not in training, and admitted being unable to understand what was causing the mental confusion other than the lack of a fight to look forward to.
"I ask the UFC to just keep me busy," he said. "I need to keep busy. I need to be in camp, or otherwise I'm going to do my head in." 
The forthright confession spurred a reporter to ask if, by repeatedly saying he feared that he would "do my head in," Volkanovski was referring to finding himself in the same "dark places" described by Tyson Fury, the heavyweight boxing champion who has spoken often of his bouts with severe depression and mental illness. 
"It's weird," said Volkanovski, who with his jaw quivering appeared both utterly overwhelmed by the discussion of his mental health and desperate to get his thoughts out. "I've never believed, not believed in that stuff," he said. "I never got it. It was something that maybe the more and more I learn, the more I understand. I don't know ... I just needed to get in camp, and this fight come up, and I thought it needed to be."
Volkanovski admitted he learned the hard way that taking the fight was a "silly decision."
Yet when asked if his addiction to ring activity meant he would indeed make official a rumored January match against up-and-coming featherweight KO specialist and Ilia Topuria, Volkanovski ignored the physical trauma he'd just suffered and mental anguish that so obviously needs to be dealt with, and said bring it on.
"I need it," he said. "When I'm not fighting I feel like I'm not ticking all the boxes. I need to be ticking the boxes."
Stay in touch
Sign up for our free newsletter