Soccer
Title And Relegation: A Preview Of The 2023-24 Premier League Season
12:44 PM EDT on August 11, 2023
Though the Women's World Cup is still in the knockout rounds, the club season on the men's side starts soon. Real soon. As in, on Friday at 3 p.m. Eastern, when newly promoted Burnley will be welcomed back into the top flight by defending champion Manchester City to kick off the new campaign.
Heading into each Premier League season, every club has different goals in mind. For some, the trophy is the ultimate prize, and every move they have made this summer has been in pursuit of that dream. For others, avoiding relegation and the attendant financial catastrophe is the only measure for success. For the clubs in between those two poles, a comfortable place in the middle of the table would be acceptable while a push for one of the European spots would be grand. For Crystal Palace, apparently, the goal is to finish as close to 11th place as possible.
These contrasting aspirations are why we here at Defector have created the totally foolproof and mathematically exact Title Contender Index and its much-reviled brother, the Relegation Candidate Index. Each of the 20 clubs—17 holdovers and the three sides promoted from the Championship—has been assigned a number in each rating, ranging from Manchester City's status as the title favorites all the way to Bournemouth's potentially doomed struggle to avoid the drop. As a note, all three promoted sides have been assigned a 0.0 chance to win the title. As another note, the transfer window is still open and there are big moves hanging around in the ether; if something happens after this preview goes up, well, that's not my business and you can't point to this in April to remind me how wrong I was.
With all that said, let's cut this intro off and get right to the good stuff, starting with last year's runners-up. And yes, the headline of this article is a Death Cab For Cutie reference, so let's warm up with that:
Arsenal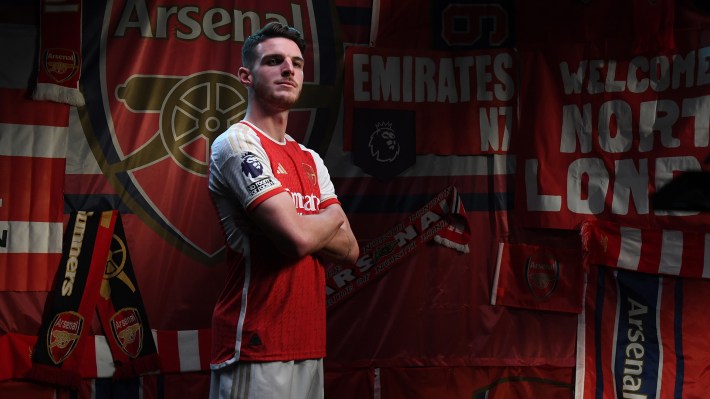 Credit to the Gunners: They made everyone believe for far longer than they had any right to. Coming out of the gates on fire last season, Arsenal was in prime position to end Manchester City's dream of a post-pandemic three-peat, having picked up a five-point lead by early March. Unfortunately, the wheels came off soon thereafter; three straight draws in April, including one to relegated Southampton, and a 4-1 thrashing at the hands of City meant Arsenal gagged up its advantage in a flash. By the end of the season, the Gunners slipped to a comfortable but somewhat distant second, five points and a big goal difference behind the winners.
This summer, Arsenal has done its best to address some of the weaknesses that caused that slide. The biggest move was splurging almost €120 million to pry Declan Rice from West Ham. Rice is exactly the type of defense-minded midfielder Arsenal needed to control games and exert pressure on better opponents, and though the price tag is huge, it's not my money. In addition, Arsenal also dropped €75 million on Chelsea's Kai Havertz, who mostly flopped with the Blues but could find new life in North London as both a primary attacking piece and as much-needed forward depth. Finally, Jurrien Timber moved from Ajax for €40 million, making this one of the most expensive summers in Premier League history for Arsenal. The 22-year-old center back should see himself in the starting lineup sooner than later, whether in the middle or at right back.
What does this all mean for Arsenal's renewed quest to topple City? A good amount, actually. With Mikel Arteta at the helm, Arsenal has mostly improved in each season, and the high-quality reinforcements this summer should only accelerate that progress. If Rice is as good at Arsenal as he was at West Ham, even in a new system that will have him playing in possession more often, Arsenal's midfield could rival City's for the best in the league. Add in some Havertz goals and more consistency against poor opposition, and there's no reason that this club can't be there right at the end once more. Whether Arsenal is able to hang on in 2023-24 will be up to both how the team performs under pressure now that this core group has been near the mountaintop, and how City performs after winning the treble last season.
Title Contender Index: 81.8
Relegation Candidate Index: 0.1
Aston Villa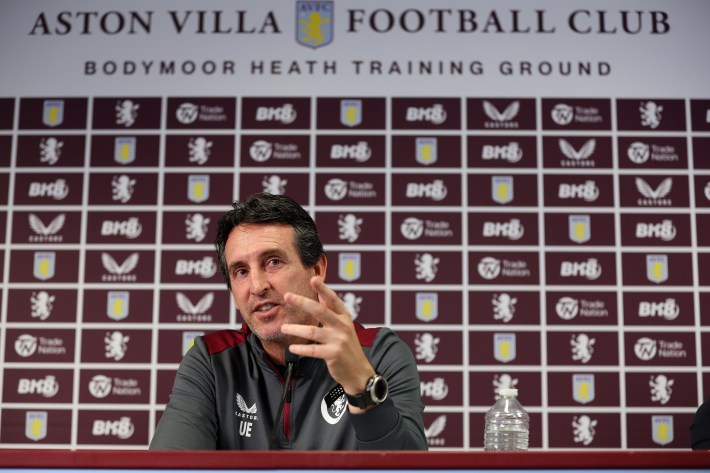 Unai Emery didn't make the best first impression in the Premier League. After a rocky tenure at Arsenal, it looked like the Spaniard just wasn't made for these times. However, a return to Spain with a successful stint at Villarreal rejuvenated Emery, and Aston Villa paid a €6 million buyout to the Spanish side in order to lure Emery to Birmingham mid-season, replacing Steven Gerrard. Despite sitting in 16th at the time of his appointment, Emery turned the ship around, riding Douglas Luiz, Emiliano Martínez, Tyrone Mings, and Ollie Watkins all the way to seventh. With that type of charge up the table comes expectations, but the side seems ready for what's next.
Perhaps the best news for Villa ahead of the upcoming season is how good this summer has been in terms of transfers. Without losing any truly important players—some offense meant to Ashley Young—Villa brought in three players who should all play huge roles this coming season. Youri Tielemans has been on the cusp of breaking out for most of his career, but he's still plenty good now as a possession-style midfielder. Pau Torres had been sought after by bigger clubs than the Lions, but €33 million got the business done with Villarreal, and now the 26-year-old Spaniard should earn a spot in the backline.
The biggest move of all, though, and the one with the most potential to be transformative is the €55 million purchase of Moussa Diaby, Leverkusen's star winger. Having been linked to Arsenal and Newcastle in January, Diaby instead will join the Premier League a bit lower down the table, but the fit could be perfect. Emery had been wanting Diaby all summer, and his ability to play on the wing or at the forward spot should give the manager a fun strategic challenge. Though he's a bit small and might struggle with Premier League physicality, there's a good chance that Diaby hits the ground running and makes Emery look like a genius from the start.
As for where that leaves Villa, it's hard to say. Did those three purchases make up enough ground on Brighton for sixth? Or on the Manchester United-Newcastle-Liverpool trio, all of which will likely to be fighting for top four spots? Given how good Villa was under Emery last season, it's certainly possible to see the team climb a little further up the table, but no one will complain if another seventh-place finish is all that happens this time around.
Title Contender Index: 23.8
Relegation Candidate Index: 23.8
Bournemouth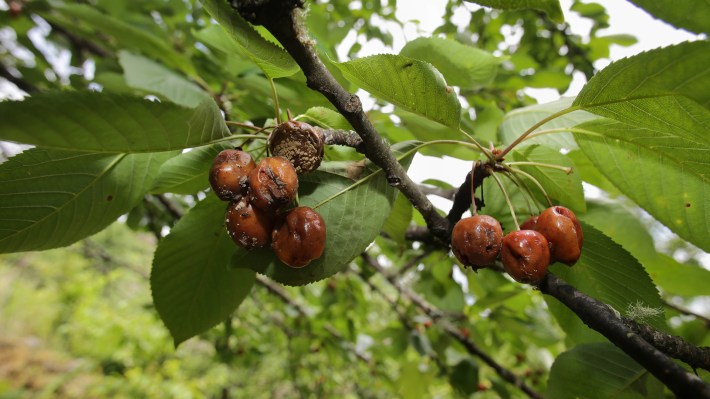 Title Contender Index: 0.1
Relegation Candidate Index: 96.6
Brentford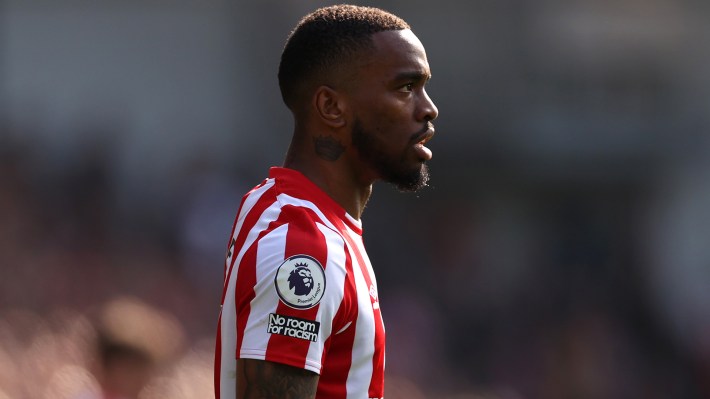 Yes, the Bees!
Brentford is like if someone who is very good at the Football Manager video games took over a club, and that rocks. Eschewing its youth academy for years, Brentford instead made wise moves in the transfer market, prioritizing unheralded players who shined according to the club's analytics, to make it into the Premier League and now to grab a foothold in the top flight. A big part of that is that manager Thomas Frank is probably too good for a club of this stature, and the other part is that the club hit on a few stars-in-the-making.
Chief among them is Ivan Toney, their star striker who ... received an eight-month ban for gambling back in May. Oops! Toney will be back for the second half of the season, and Brentford should have enough firepower to stay afloat until then, particularly with the purchase of Freiburg winger Kevin Schade this summer. The team plays an exciting style of counter-attacking soccer, with a high press that replaced its possession-heavy gameplan from when they played in the Championship. Credit to Frank, who wisely shifted the team into a style that would have better luck in the top flight. Last season, Brentford was the most prolific team in the league at scoring goals after turnovers close to the opponent's box (nine), and while that number will go down with Toney's absence, the system works.
Really, though, Brentford has settled into a nice rhythm ahead of its third season in the Premier League. It would be a shame to see them drop from their ninth-place finish last season, though it would not be surprising. What would be surprising is if they stumbled enough to land in a relegation battle during Toney's ban. Given the success the club has had under Frank, that's unlikely, but the Premier League punishes any flaws, and there are few flaws more glaring than "star striker is out for half of the season."
Title Contender Index: 2.1
Relegation Candidate Index: 23.3
Brighton & Hove Albion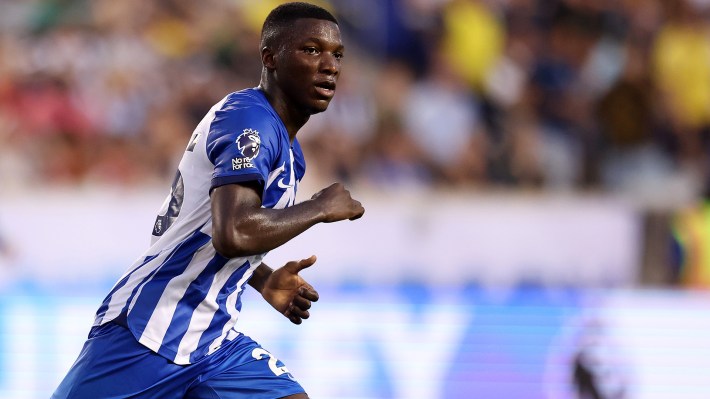 Before the late hours of Thursday night, the biggest question for Brighton heading into this final half month of the transfer window was a simple one: What is happening with Moisés Caicedo? The Ecuadorian made a name for himself during Brighton's historic season last year, in which a club many picked to be solidly mid-table at best surged forward and into the Europa League spot that comes with finishing sixth. That made Caicedo the most sought-after midfielder in the Premier League this offseason, with both Liverpool and Chelsea hot for his signature.
A day later, the question ... still remains "What is happening with Moisés Caicedo?" but the plot has considerably thickened. For a minute there, it looked like Liverpool would pay an English record fee of €127 million for the 21-year-old midfielder.
Following a last-minute bidding war between Liverpool and Chelsea, it was the Pool Boys who came out ahead, completing its summer midfield rebuild by simply raiding Brighton's own (Alexis Mac Allister had already moved to Anfield back in June). Or so everyone thought, because early on Friday, reports came out that, actually, Caicedo only wanted to go to Chelsea, having agreed with the club on personal terms back in May:
While there's uncertainty all over the place on where Caicedo will end up, as Chelsea looks to scrounge up the money to match Brighton's valuation and Liverpool, I guess, tries to convince him to come to Merseyside, one thing does seem clear: Caicedo will be leaving Brighton this summer. As for where that leaves his soon-to-be former club, it's harder to say, but given the amount of money that will soon be at the club's disposal, as well as its history of spending wisely on burgeoning talent, the answer might just be that the Seagulls are still in a good place.
Part of the reason for this belief is the existence of manager Roberto De Zerbi, who took over after Graham Potter left to Chelsea not even a month into the season. Brighton fans who might have been sad to see Potter go at the time are probably rejoicing that De Zerbi is the one to lead this club after its best season yet. The Italian was linked to some bigger clubs this off-season, but remained at Brighton, and brought in some reinforcements headlined by Watford striker João Pedro.
With a full strength side, Brighton could easily contend for Europa League qualification again, were one of the big clubs ahead of them slip in form. That's really the best spot for this team to be, even after losing Caicedo. There should be no fear of slipping into the bottom half of the table, and instead, Brighton can build on that magical season to provide something even rarer for clubs that are outside of the ultra-rich elite of England: consistent success. And if it spends this incoming windfall wisely? Well, the club already showed what it can do in the Premier League, and it might just do it again this season.
Title Contender Index: 11.1
Relegation Candidate Index: 7.7
Burnley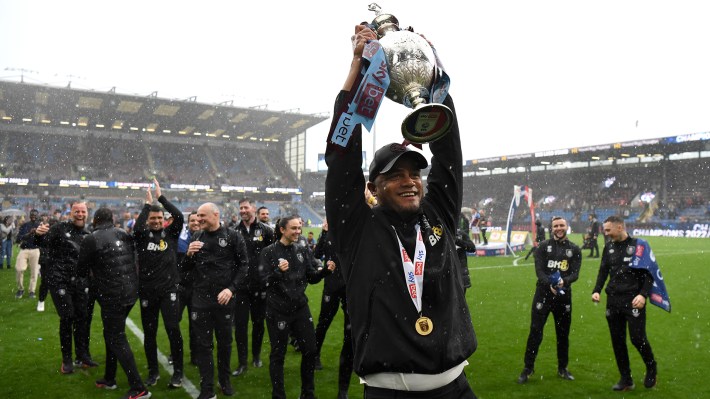 Welcome back to the Premier League, Vincent Kompany! After an underwhelming stint as a player-manager at Anderlecht, followed by a much more successful period dropping the player part and just being the manager, the former Manchester City captain—last seen in these parts belting in a screamer that won the Citizens the title over Liverpool in 2019—went on to manage Burnley. And manage the Clarets he did, leading them to a 10-point trophy-winning season in the Championship.
Now, Kompany will get a crack at the big show at the helm of a Burnley team that is, on paper, the best of the promoted sides. There are names on here that will be familiar to Premier League fans: Jay Rodriguez is still kicking around, Nathan Redmond is here too, and the club just bought Sander Berge from Sheffield United. There's some exciting young guys, too, as Burnley used its Premier League money to grab 22-year-old striker Zeki Amdouni from Basel, and goalie James Trafford from Manchester City's under-21s.
Burnley won't exactly be fun to watch, but it should provide a stout lower-table challenge to most teams on most days. That plus avoiding a direct trip back down to the second division is all that Kompany and Co. will be looking to do this season, and if they manage that, then next year could see them build a foundation to stay in the Premier League for years to come. Even as a Liverpool fan hard done by that historic goal, it'll be fun to see how Kompany adapts to the hardest challenge in soccer management: surviving the Premier League.
Title Contender Index: 0.0
Relegation Candidate Index: 71.1
Chelsea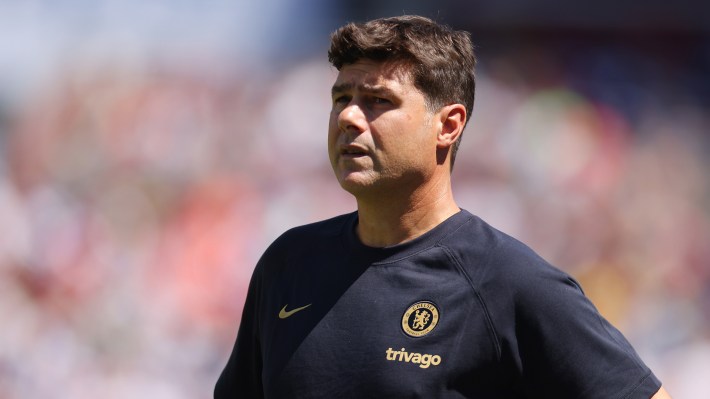 What can you say about the 2022-23 Chelsea season? It taught me it was OK to be weird.
Where does one even start with last year's Chelsea? Maybe the four managers that the club went through is a good entry point. Thomas Tuchel got canned in the first month of the season, and was replaced by Graham Potter from Brighton. Yes, the same Brighton that finished a very sturdy sixth place under Roberto De Zerbi. Potter, on the other hand, was more Potty at Chelsea, thanks to a truly horrid start to 2023: After the turn of the new year, and through his firing on April 2, Potter's Chelsea won three games. Three! When he was finally relieved of his duties, it was more of a mercy killing than anything. After four days of interim manager duties for Bruno Saltor, in came ... oh god, no ... why ... yep, it was Frank Lampard.
Somehow, Lampard did worse than Potter for the remainder of the season, winning just one match, against Bournemouth. All things considered, Chelsea was probably lucky to finish as high as 12th, even though it was the first time since 1996 that the side finished below 10th place in the league. Luckily for the Blues, they backed their way into an actual great (and not insufferable) manager for this upcoming season: Mauricio Pochettino is at the helm now, and having an adult at the wheel is most of what Chelsea needed this summer.
Of course, even that comes with a splash of bad news: Marquee summer signing Christopher Nkunku busted his MCL recently, and will miss four months. Rough start to the Pochettino era, though the club did bring in some other good players, including Nicolas Jackson from Villarreal to try to solve its striker problems, and Axel Disasi from Monaco to do the same for the backline. All in all, it has been a promising summer for Chelsea, save for Nkunku's injury and the uncertainty around Moisés Caicedo's signature (see the Brighton blurb above for the full, confusing rundown). If the Blues do end up signing the Ecuadorian, then it will only get better.
Where does that leave the club after its worst season in recent memory? Honestly, who knows? Tuchel was a good manager, if a mercurial one, when he arrived at Chelsea, and he both won a Champions League title and got fired in shambolic fashion. Pochettino is also a good manager, but he flamed out at Paris Saint-Germain—where he replaced, who else, Tuchel—and his tenure at Tottenham didn't end with anyone happy. Still, though, it can't go much worse than last year, right? Right???
Title Contender Index: 10.8
Relegation Candidate Index: 17.1
Crystal Palace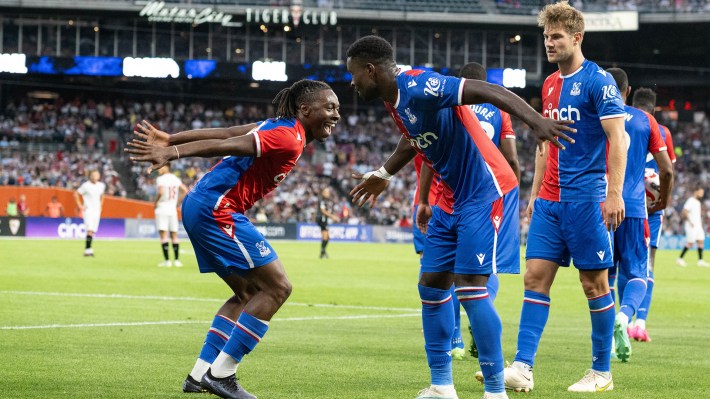 Crystal Palace will finish somewhere around 11th to 13th. It is written, and so it shall be.
Title Contender Index: 0.0
Relegation Candidate Index: 50.0
Everton
Oh, Everton. Somehow, some way, the Toffees have survived two straight relegation battles by the skin of their teeth. They will likely be down there again, though I mostly have faith that a full season of Sean Dyche will have them playing the ugliest soccer possible that nevertheless keeps them just above the fray for most of the year. Dele Alli is back and already injured again, but that's not fun for everyone, particularly after he spoke openly about childhood trauma this summer. Here's hoping he gets back on the field and back to something resembling his coolest peak.
Also, Dominic Calvert-Lewin is also injured right now. Really, things don't look great at Everton, but that's been par for the course over the last few years. This will likely not be a fun time in the final season at Goodison Park before the team moves to a new stadium after 132 years.
I asked Defector's resident Everton pervert Tom Ley what his hopes for this season were. He said the following:
"Everything will be fine so long as everyone sticks to the plan."
Well said.
Title Contender Index: 0.9
Relegation Candidate Index: 75.7
Fulham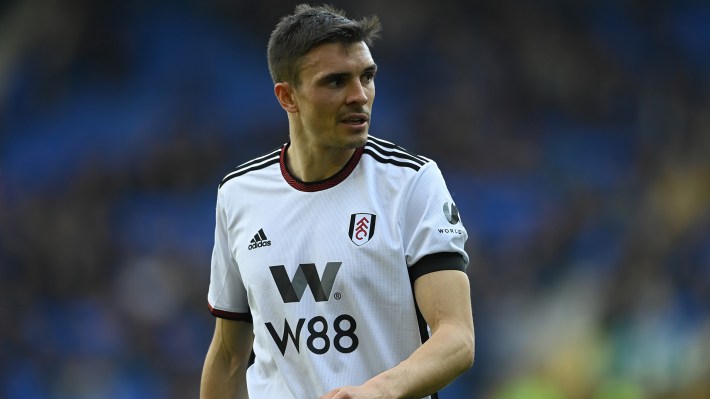 Was Fulham's successful return to the Premier League a mirage, or are the Cottagers of south-west London for real? It's hard to say after just one season, but Fulham kicked off the season last year with a 2-2 draw against Liverpool and never let up on the promise they showed there. Under Marco Silva, who finally seems to have found a happy home in the Premier League, the team played positive soccer that belied its status as a recently promoted side.
There are question marks heading into this potentially make-or-break season, though. Though Silva rejected advances from Saudi Arabia, Aleksandar Mitrovic does appear to be on his way out, and Fulham will miss his goals, even with the addition of former Wolverhampton star Raúl Jiménez. The Mexican striker hasn't been quite the same since he cracked his skull three years ago, but if he re-finds some of his form, he could be a worthy successor to Mitrovic's spot.
Elsewhere, Fulham will rely once again on midfielder João Palhinha, the team's best player last season. A pre-season injury will slow down Palhinha's momentum a tad, but he should be back in full health sooner than later. When he was around last season, the 28-year-old Portuguese standout provided a calming presence amongst the chaos of Fulham's gameplan, and they'll need him again to help control games now that Fulham is no longer a plucky upstart. Relegation wouldn't be a shock, because this is what happens to teams still fresh from the Championship, but neither would another run to the mid-table or, perhaps, even further up near the European slots.
Title Contender Index: 0.1
Relegation Candidate Index: 65.3
Liverpool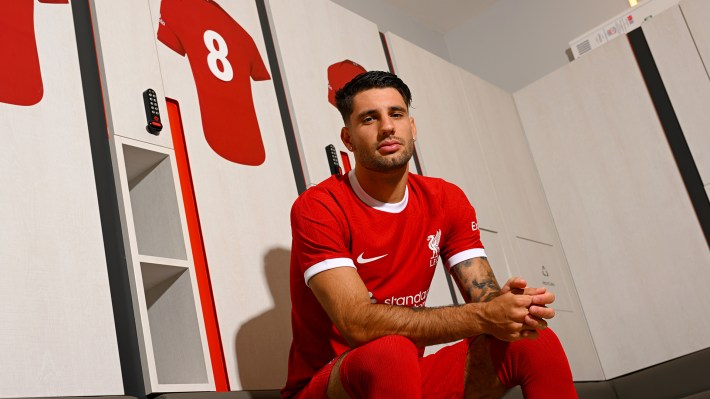 After a slow start to last season, in which the side lost to Manchester United and Arsenal (fine!) but also to Nottingham Forest and Leeds United (less fine!), Liverpool picked up steam in the back half of the 2022-23 campaign. Unfortunately, that steam was not enough to carry the Pool Boys into anything but the worst non-relegation spot in the Premier League table: fifth place, and a spot in the Europa League, rather than the big boy Champions League. It was the first time in seven years that the club had been shunted off to the travel-heavy second-tier of continental soccer.
Even without the promise of Champions League soccer waiting in the wings, as well as the financial windfall that comes from that competition, Liverpool was still active in the transfer market. Much-needed attacking reinforcement Dominik Szoboszlai moved over from RB Leipzig for €70 million, while World Cup standout Alexis Mac Allister hopped over from Brighton for €42 million. And then, on Thursday, reports came out that the club was set to sign Moisés Caicedo, also from Brighton, for an English record €127 million.
Of course, as established above, Caicedo has seemingly turned down Liverpool, at least for now, in favor of Chelsea. Whether the Ecuadorian does end up in London, or whether Chelsea fails to agree to terms with Brighton and Caicedo assents to the Liverpool move, remains to be seen, but the result of this saga might dictate how the Reds' season goes.
How this happened so quickly and then seemingly fell apart just as fast will be a story for the coming days or weeks. Chelsea's entrance into the saga jacked up the price to English record numbers, and Caicedo's insistence on only signing with them might do more to knock Liverpool out of the race than any financials could have. If Caicedo does have a change of heart, Liverpool will be thrilled with its midfield heading into the season, but if not, there are other targets, such as Romeo Lavia of Southampton, who could come in instead.
One thing that is for certain is that Liverpool needed this midfield refresh, and it can credit, at least in part, the double Saudi Arabian swoop for Fabinho and previous captain Jordan Henderson for a combined €60 million for helping foot the Caicedo bill, if the deal ends up going through, or to spend freely on other options, if not. (Henderson's departure to Saudi Arabia is a disappointment for a player who always said the right things, though he will not be as missed on the field as Fabinho.) Heading into the offseason, the midfield was the biggest problem area, and no one can say that Liverpool didn't target that part of the field with fire and fury and a lot of money.
Though there are still holes to be plugged (another center back would be good, for starters, as would wingback depth), Liverpool has too much talent, and too much Mohamed Salah and Virgil van Dijk and Alisson, to really threaten to be anything but a great side who will likely prioritize the Premier League over its various cup obligations. A top-four finish after last year's debacle there should be in the cards, though pushing for a title would likely require that this new look midfield meshes immediately, though if Caicedo does join, he'll have experience playing next to Mac Allister. At worst, though, gone are the days of a slow and plodding midfield consisting of Henderson and James Milner and, like, Curtis Jones. The new blood there should provide more oomph going forward, and the Reds should be at least less miserable to watch, particularly against lower-quality sides that frustrated them last season.
Title Contender Index: 69.0
Relegation Candidate Index: 0.69
Luton Town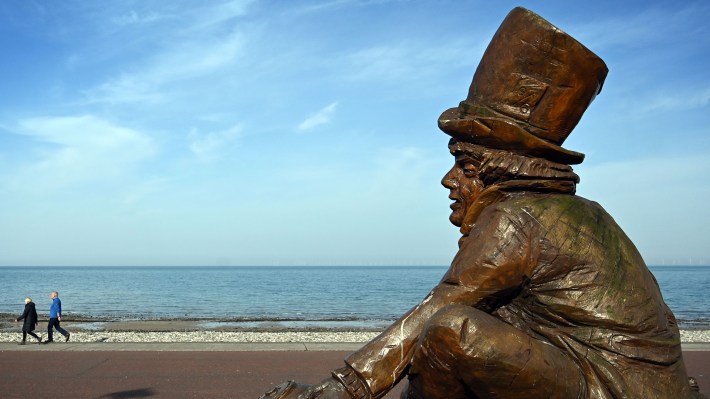 Title Contender Index: 0.0
Relegation Candidate Index: 99.9
Manchester City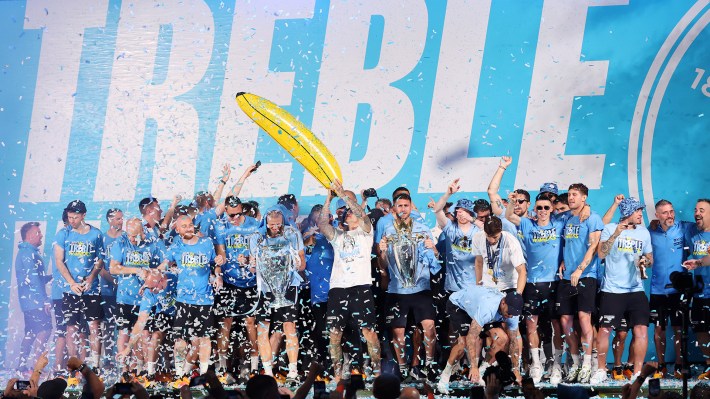 All's well that ended well for Manchester City last year. Despite allowing Arsenal its golden opportunity, the City juggernaut kicked into life in February. Following a loss to Tottenham on Feb. 5, City won a ludicrous and, it turned out, mostly necessary 14 of its next 15 matches, with the only blemish a 1-1 draw to Nottingham Forest, of all teams. That run was more than enough to catch and pass Arsenal, given that it included two comfortable wins over the Gunners, and City captured its third title in a row, its fifth title of the Pep Guardiola era, and seventh since the Abu Dhabi takeover in 2008. Also, City finally reached its personal mountaintop, beating Inter in the Champions League final to finally win that tournament, and to complete the second continental treble by an English side (the team also won the FA Cup last season).
So, yeah. Pretty good campaign for City, even if the club's final point tally in the Premier League—89—was below the lofty heights it had set in previous years. The introduction of Erling Haaland to the frontline went about as expected: the Norwegian was an unstoppable wrecking ball of goals (36 goals domestically), giving City even more firepower than it already had. This summer, then, has been about bolstering the other parts of the roster to make a run for both a fourth consecutive Premier League title, and for a successful Champions League defense.
Out went Riyad Mahrez (to Saudi Arabia's Al-Ahli) and Ilkay Gündogan (Barcelona, on a free transfer), and in came the world-record defender purchase of Josko Gvardiol and a move for Chelsea's Mateo Kovacic, who will likely slot in at Gündogan's spot. Oh, and City is also rumored to want to buy Lucas Paquetá from West Ham for somewhere around €100 million, so there's that looming over everyone else in the Premier League.
There's no interesting way to say this: Manchester City enters a new Premier League season once again as the overwhelming favorites to win it all. City hasn't finished outside of the top two domestically since 2017, and the only reason to believe that won't stand true once again is if you believe in the power of complacency. Now that City has achieved its ultimate goals of a Champions League title and a treble, it is certainly possible that the squad lets off the gas for a year, and lets Arsenal, or Manchester United, or Liverpool, or someone else win the league.
But it's doubtful. This is Manchester City, after all. Haaland is only going to get better, Gvardiol should help make the team's defense even stouter, and though the loss of Gündogan hurts the side, Kovacic is an extremely good replacement. Under Guardiola, City is unstoppable, and even in a quiet summer, by their standards, the side has likely improved from last season. At the very least, it's still more than good enough to win the league, so that's where I'll slot them.
Title Contender Index: 90.9
Relegation Candidate Index: 0.000000000001
Manchester United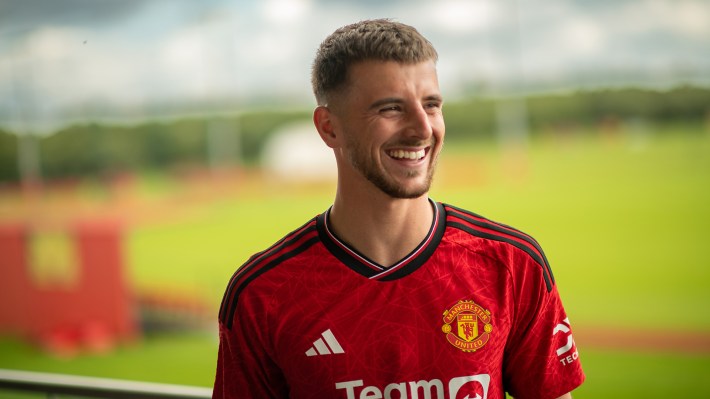 Manchester United is probably the biggest wild card in the Premier League this season. Really, that's been the case ever since Alex Ferguson left, but now there is reason for hope at Old Trafford. The Red Devils were in the battle for fourth place for most of the season last year, duking it out with Newcastle, Brighton, Liverpool, and even Aston Villa for a bit there. However, thanks to a good run of form to end the season, United finished third, securing Champions League soccer. Mission accomplished.
This summer, the team seized on that success by bringing in three high-profile and potentially destiny-altering transfers. I am not the biggest Mason Mount fan in the world, but United snagging him from Chelsea for €64 million will bolster a midfield that still relied on old mainstays like Fred and Scott McTominay last season. A trio of Mount, Bruno Fernandes, and Casemiro can be exactly what this team needs. In perhaps a bigger upgrade, the long-running David de Gea chronicles in Manchester finally came to end, as United replaced its—let's be nice—quirky goalie with Inter Milan's André Onana, who should be an instant improvement between the sticks and with the ball at his feet. Finally, United swung for the fences with a big money move for Atalanta's Rasmus Hojlund, who is both raw at 20 years of age and extremely talented for being so young.
With all these new toys, manager Erik ten Hag finally has a team that could realistically push for a title. More realistically, though, United should solidify itself as either the third- or fourth-best team in England, which is ... exactly where it was last year. This is the problem with the Premier League: Even an objectively good summer for a team that finished third last season doesn't change much of the status quo. It's likely United will be in a battle for top four again with Newcastle and Liverpool, and perhaps one of the other teams makes enough of a jump to scrap in there as well. Meanwhile, City and Arsenal both also improved with big money signings this summer, and should remain ahead of United barring any catastrophes in North London or the blue side of Manchester.
So this is United's fate for now. It will likely be good and fun to watch, and if Hojlund delivers from the word go, United might even become great. It's also possible that Hojlund understandably takes time to adapt, Mount and Fernandes prove to be incompatible, and the defense doesn't improve even with the likely subtraction of Harry Maguire. All is in play for United, but anything other than another top four finish, even if it is another season-long grueling battle for said finish, will be a failure for the Premier League's all-time winningest club.
Title Contender Index: 50.1
Relegation Candidate Index: 2.9
Newcastle United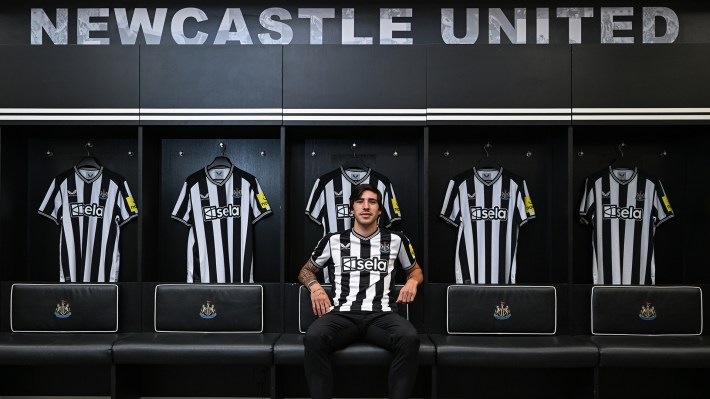 Newcastle United is a team of two conflicting narratives. On the one hand, this is one of England's proudest clubs, with a rabid fanbase and quite a history. On the other, this is the latest state-owned mega-rich club, a sign of what's wrong with modern soccer. Perhaps, though, there is a third narrative that needs to be at play in conjunction with those: This is a very good soccer club that over-performed all the way into the final Champions League qualification slot.
Yes, that charge from relegation candidates in 2021-22 to the biggest tournament in Europe was fueled with Saudi Arabian petro-dollars, but the players still have to perform. Perform they did, as Newcastle saw players have career years up and down the field en route to fourth place.
The club isn't resting on its laurels, though it didn't have as active a summer transfer window as one might expect. Part of that is due to financial fair play regulations that slow down the initial progress for a team that suddenly has more money than everyone else, but the other part is that there weren't a lot of gaping holes in the side. The biggest move was also the most unlikely, as AC Milan's Sandro Tonali agreed to leave Italy for Newcastle, to the tune of a €64 million purchase. That's a bit of an overpay, but Tonali is very good and should be a great midfield partner for Bruno Guimarães.
Plundering the relegated sides, Newcastle also picked up winger Harvey Barnes from Leicester City, and then dropped almost €40 million on Southampton right back Tino Livramento. Barnes will be especially key, as fan favorite winger Allan Saint-Maximin took his incredible and incredibly fun dribbling to Saudi Arabia in a deal that, let's just say, made some people suspicious, given Newcastle's ownership.
So, there's that dark cloud over Newcastle's success once again. Whether one can put that aside and enjoy a team that Howe has turned into a well-drilled machine or not is a matter of personal choice, but what is more objectively true is that it will be hard to replicate last year's success. With Champions League and Champions League money also comes Champions League responsibilities, and if Newcastle makes a run beyond the group stage, the wear-and-tear might start to add up for a side that still hasn't used its cash reserves to build a Manchester City-esque depth.
Surely, no one at the club or in the fanbase would trade Champions League play for anything, so this is a luxurious problem to have, but a problem nonetheless. It will be up to Howe to manage his squad's rotations and to evolve the gameplan when facing the biggest sides on the continent, but the machine has been started, and there's little chance that Newcastle falters much when there's so much oil to grease the wheels.
Title Contender Index: 39.9
Relegation Candidate Index: 3.7
Nottingham Forest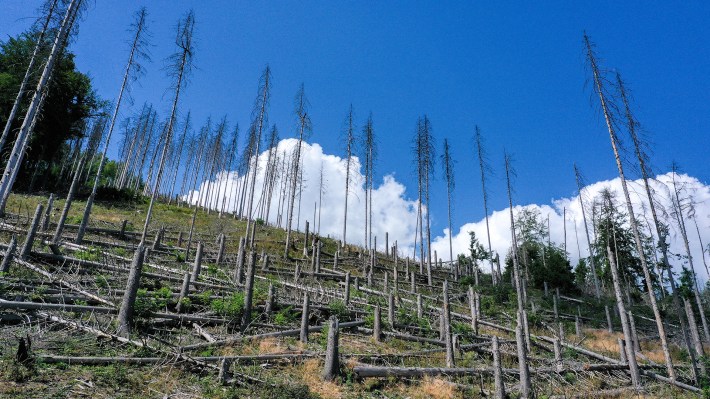 Title Contender Index: 0.1
Relegation Candidate Index: 80.8
Sheffield United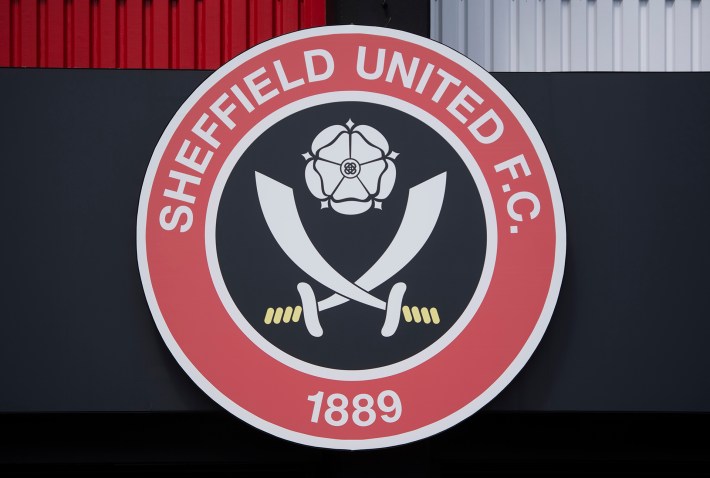 I have to admit, I don't have much to say about the Blades. They have a cool nickname. They might get yo-yo'd back down to the Championship. Their manager's name is Paul Heckingbottom, as in "Sheffield United will probably be at the hecking bottom of the table."
Title Contender Index: 0.0
Relegation Candidate Index: 71.1
Tottenham Hotspur
It's the end of an era at Tottenham: Harry Kane is, finally, on his way out, having flirted with a move within England before settling on a swap over to Bayern Munich.
Aside from making it more likely that he will win his first trophy ever with the perennial Bundesliga favorites, Kane's departure also leaves Tottenham in a strange place, given that the side was constructed to let Kane be Kane. New manager Ange Postecoglou, who comes in to replace Antonio Conte and Antonio Conte's temper, has his work cut out for him, even if he probably accepted the job knowing there was a good chance Kane would be gone.
Tottenham's moves this summer certainly don't spark confidence in that regard, however, because the team hasn't brought in a striker to slot into Kane's open spot in the center of the attack. There could be internal answers, though: Son Heung-min has played the No. 9 role before and done it well, while Richarlison would be a fine enough alternative if he hadn't just gotten injured in pre-season. There are also rumors now that Tottenham might make a last-second move for Romelu Lukaku before the big Belgian can finish his long-rumored move to Juventus. On the younger side, the club has been linked to Gent's Gift Orban, and the 21-year-old would be both a great signing for the future and a good one for the present.
Really, though, the world is Tottenham's oyster; the club just has to make sure to not pick a rotten one out of the bushel. Kane's departure is momentous, maybe even bigger than when Gareth Bale left for Real Madrid, but it doesn't have to mean that Tottenham will slide back to irrelevance once more. There might be some tough times ahead, but the marriage of Kane and Tottenham had been rocky for years now, even though his performances hardly slipped. Now, both sides can get to what comes next. For Kane, maybe that means the bigger stage and bigger success that he always seemed to want. For Tottenham, it means bridging the gap to the next great player to lead the club into a new era, one where maybe it will finally win a fucking trophy.
Title Contender Index: 5.6
Relegation Candidate Index: 11.9
West Ham United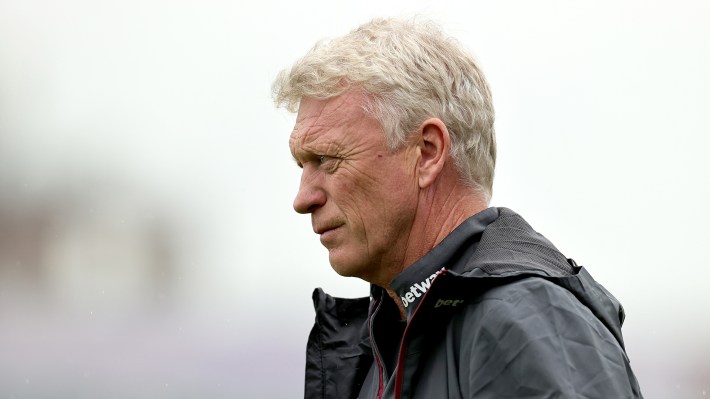 Has time run out for David Moyes, again? Probably. The Scottish manager is currently in his second stint with West Ham, having left the club after saving it from relegation in 2018, before being re-hired in 2019 to do the same. Given his success since returning to the club, which includes a sixth-place finish, a seventh-place finish, and a UEFA Conference League title (don't laugh, it's a real trophy!), one would think that West Ham would afford him all the time and space he needs, even if the team backslid to 14th in the Prem last season.
It doesn't look like that is the case, though, as reports have swirled all summer that Moyes and the club are in disagreement over transfers, specifically when it comes to new technical director Tim Steidten. The two men apparently are clashing on transfer philosophies, with Steidten wanting to find diamonds in the rough on the cheap, while Moyes wants to spend the money West Ham received for Declan Rice—and it was a lot of money—on Harry Maguire and Scott McTominay.
While it looks like Moyes will start the season with the club, it doesn't look likely that he will finish the season there. With West Ham going into the Europa League thanks to that Conference League win, the club will once again be split between domestic and continental competition, a poor formula for a team without much depth or, frankly, talent. There's a world where the physical and mental stress of competing in four competitions, including one that infamously requires a lot of mid-week travel across Europe, could damn West Ham to a poor start. Will Moyes survive such struggles? Would he even want to? The answer to both of those questions, despite this run of great success relative to West Ham's level, might be "no."
Title Contender Index: 1.1
Relegation Candidate Index: 54.3
Wolverhampton Wanderers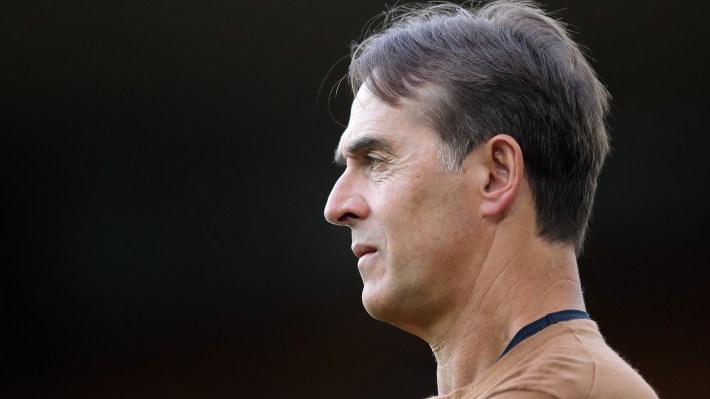 When Julien Lopetegui was brought on to save Wolves from relegation, the team was mired in last place in the Premier League after a rough first couple of months. Lopetegui had had success as Sevilla's manager over the years, though he flamed out quite spectacularly when he rose above his level to manage Real Madrid and the Spain national team. Still, a relegation fight in England seemed below his talents, and it turned out to be so, as he helped guide the team out of danger and finish a very respectable 13th.
It would seem, then, that he could likely push the side further up the table in his first full season at the helm, with a full summer under his belt. Yeah, about that:
It's never great when a club gets rid of its manager less than a week before the season opener, but that's where Wolves are right now. Out went Lopetegui, reportedly due to disagreements about the transfer budget, and in comes Gary O'Neil, who most recently managed Bournemouth out of danger in the last stretch of the season. Also following Lopetegui out the door was Rúben Neves, Wolves' best asset if not its best player, who left for Al-Hilal in Saudi Arabia for €55 million. While Wolves will miss his bangers from midfield, that is a lot of money for a player who never materialized into a true star. In his place, the club used the funds of his sale to buy forward Matheus Cunha from Atlético Madrid, who is ... fine. Sure. Will Cunha make a huge difference for Wolves this year? Probably not, but he should score some goals.
Really, though, Wolves will probably be decent this coming season. They shouldn't have too much trouble staying out of the relegation muck, but a push for anything higher than mid-table likely walked out the door with Lopetegui. There are worse fates than that for a club that made such a late switch, though, so no one will likely complain about it if Wolves simply replicate their 13th place finish this time around.
Title Contender Index: 0.7
Relegation Candidate Index: 33.3
Soccer et cetera blogger. Don't ask him to stop saying "Pool Boys," he never will.
Read More:
Stay in touch
Sign up for our free newsletter