MLB
Tim Wakefield Was A Wizard For The Working Day
10:30 AM EDT on October 5, 2023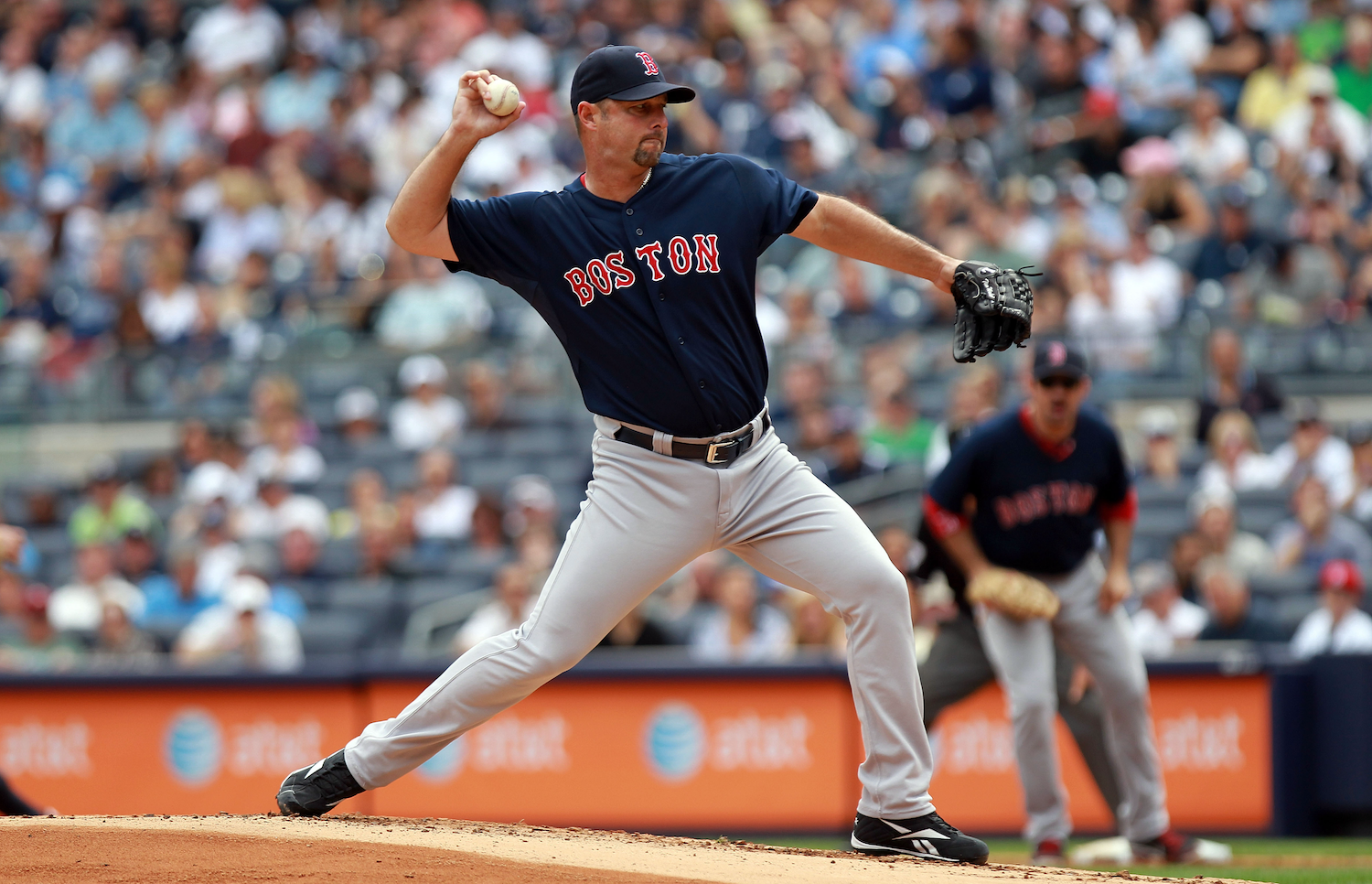 Tim Wakefield was a Guy, just a Guy. Not as a pitcher, mind you. As a pitcher he was a unique talent, the best career knuckleballer since Hoyt Wilhelm hung 'em up. He came to the Red Sox in 1995, and began his career in Boston by going 14-1, a flatly astonishing stretch of knuckleballery. By the time Wakefield retired in 2011, he had won more games for the team than any other Red Sox pitchers except for Roger Clemens and Cy Young. He ended his career with exactly 200 wins. He started. He pitched middle relief. He closed. He did whatever he was asked to do.
He also experienced the wildest swings of fortune of any Boston pitcher ever. In 2003, I was watching the seventh game of the ALCS in a hotel bar in Durham, N.C. It was a football weekend. Clemson was in town to play Duke, and the bar was filled with people with orange paw prints on their faces. Gradually, they began to get involved in the baseball game on the TV. We all watched in horror as Boston manager Grady Little sent a gassed Pedro Martinez out to face the Yankees in the eighth inning with a 5-2 lead. Derek Jeter doubled. Bernie Williams singled. Hideki Matsui doubled. The bar was now in a complete uproar. And when Little left Martinez in to face Jorge Posada, one of the assembled paw-printed beer guts had had enough.
"Take him out, ya mo-RON!"
When drunk Clemson football fans start hating on your manager, you have entered the fifth circle of Red Sox hell.
Posada, of course, doubled to tie the game. It rocked through the ninth and 10th innings. The Red Sox went down meekly in the top half of the 11th. Wakefield, who had breezed through three Yankee batters in the 10th, came back out, and Aaron Boone parked a knuckleball into the left-field seats, and another Sorrowful Mystery went onto the Red Sox rosary of misery. And it never really mattered because, in all the ways important to being a human in the world, Tim Wakefield was a guy.
He died this week at 57, of brain cancer. (In an unimaginable blow from beyond, his wife, Stacy, is also battling pancreatic cancer. They have two young children.) He was preceded in death by Curt Schilling's being an irredeemable dickhead. On his podcast, Schilling revealed the Wakefields' struggle, despite their expressed desire to keep the tragic situation private. There are enough MAGA guinea worms hereabouts that Schilling's previous offenses against the public order—soaking the taxpayers of the state of Rhode Island; his excremental political posturing; his bent view of history going back to the Crusades; retweeting the horrible views of horrible people, most recently, those of someone notoriously Holocaust-curious—still left him with something of a hard core of support.
(Schilling blocked me on Twitter because he explained to me that there was no antisemitism involved in the Crusades, and I suggested that he read more than one book on the subject.)
By submarining Wakefield, Schilling may well have drained away much of what was left of the good will he piled up in 2004. The Red Sox issued a statement, politely calling him an asshole. And for those of us who did not feel polite, Catherine Varitek, wife of former Boston catcher Jason, spoke for all of us when she said: "Fuck you Curt Schilling, that wasn't your place!"
---
Only people with no heart and little imagination do not love the knuckleball, or the people who throw it. I don't know anyone who's ever thrown a baseball who hasn't tried one out, major leaguers included. (Wade Boggs has a killer, and I kept waiting for the Red Sox to let him give it a shot.) The knuckleball has given us Hoyt Wilhelm and Phil Niekro, and one of Bob Uecker's classic lines—that the best way to catch a knuckleball is to wait until it stops rolling and then pick it up.
The knuckler's pedigree goes back to the beginning of the last century. It is entirely possible that it was invented as an out pitch by Eddie Cicotte of the Chicago White Sox. Of course, that has been rather forgotten since, during the 1919 World Series, Cicotte threw bad knuckleballs on purpose to the Cincinnati Reds. In any event, the knuckler is the only legacy from the days in which the spitter and the shine ball were both still legal.
The romance of the knuckleball lies in the fact that it is a pure child of nature. It does not spin. Nor does it reap. It rides innocently along whatever currents of air are at play between the mound and home plate; what it does, those currents make it do. It bobs and weaves. It dips and dances. It lives in a place of unpredictability that only the knuckleball knows. It is the sole occupant of its own universe. 
And it is devilishly hard to hit. Charlie Lau, one of the greatest hitting instructors, once said that there were only two ways to hit a knuckleball but, unfortunately, neither of them work. One of the important contributions of the knuckleball to Western civilization is that it is the star of Jim Bouton's Ball Four, the greatest of all baseball books, which describes a season in which Bouton, a former Yankee power pitcher, is trying to revive his career as a knuckleballer. At one point, with Bouton pitching for the Houston Astros during a late-season pennant race, Harry Walker, the Houston manager, decides to start Bouton against the Pittsburgh Pirates. (Up until then, Bouton had been used primarily in relief.) Jim Owens, the pitching coach, tells the dumbfounded Bouton, "Well, shit, if you can throw it like you did the other night, that jumps around good enough, you'd give them fits.
"The knuckleball screws up the mind."
Tim Wakefield was a wizard for the working day. His magic was in his fingertips and in those swirling currents of air. He began his professional career in 1988 as a first baseman and only picked up the knuckleball, which his father had taught him when he was seven, when a scout explained to him that he'd already topped out as an everyday player in Double-A. By 1992, he was being called up to the Pirates in the middle of a pennant race. He was 25, and went 8-1 down the stretch and beat Tom Glavine and the Braves twice in the postseason. He was named the National League Rookie Pitcher of the Year. And then, as if on a wayward gust of wind, it all went away.
He was Pittsburgh's Opening Day pitcher in 1993. He walked nine batters and got shelled. By July, he was back down in Triple-A. By 1995, the Pirates had given up, and released him. The knuckler was there, and then it wasn't. It giveth and it taketh away, and almost overnight; it is as volatile in the broader sense as it is from one pitch to the next. In an interview, Wakefield explained the complicated relationship he had with his out pitch. A knuckleball, he said, is as much a mystery to the guy throwing it as it is to the guys trying to hit or catch it.
"I have no idea where it's going, the hitter doesn't know where it's going, and the catcher doesn't know where it's going. I just try to throw it down the middle of the plate."
During his struggles in the minors, Wakefield sought the ancient wisdom from Phil Niekro, Jedi Master of the knuckleball. "Tim was so successful early, and then he just lost it," Niekro recalled. "That's when it becomes tough mentally to throw a pitch everybody knows is coming. I've told him that he's got to keep learning, he's got to eat, sleep, walk, and talk the knuckleball until it floats in his bloodstream like a spirit inside him."
---
Wakefield signed with the Red Sox in 1995 and never left. He pitched for two Boston World Series champions. In 2004, Wakefield made a sacrifice that marked him as a Guy in the clubhouse forever. It was in Game 3 of the ALCS, and Boston was in the process of being eviscerated, 19-8, by the Yankees. Wakefield volunteered to give up his prospective Game 4 start in order to pitch three-and-a-half innings to save the Red Sox bullpen, which turned out to be an important element in the team's comeback from the 3-0 hole they'd dug for themselves. In an interview 10 years later, Wakefield explained why he'd volunteered for the slaughter pen.
"We were getting killed,'' Wakefield said, looking back at Game 3. "And I was thinking about what can I do to help this situation and started discussing it with Doug Mirabelli, who was at the end of the bench with me. It was just one of those situations as a reliever, and I was taught by Phil [Niekro] and Charlie [Hough], to always have your spikes on. Because as a knuckleball pitcher, you're so versatile that you can start one day and then two days later you can come in in relief, that was the nature of how we threw the ball, it didn't tax our arms or anything.

"So I got up and I went down to Tito and I said, 'Do you need me to do anything, tonight? You need to go to the bullpen? What do you need to do?' And he hesitated for a second, and he said, 'Go ask Derek [Lowe] if he can start tomorrow. And Derek was still on the roster, but he wasn't slated to do it. He wasn't in the bullpen. He wasn't going to be one of our starters. So I went down and I asked Derek, I said 'D, um, Tito wants to know if you can start tomorrow,' and he got this big grin on his face and he said, "Yeah.'' I'm like, 'all right.' So I ran in and I got my glove and took off for the bullpen, and was at that point obviously I got called into the game, because it was really getting out of hand. And we needed [Mike] Timlin to pitch tomorrow, because that was the most important part of the bullpen, Timlin, [Alan] Embree, and Keith Foulke, the last three guys… If the starter could go six, the game was over with at that point. So I went down there and tried to eat up as many innings as possible to go out and save those three guys, because they were pretty worn out from the first three games.''
Wakefield also became one of the Red Sox' most valuable members of the community. He was a force in the Jimmy Fund, the longtime association between the franchise and the Dana-Farber Cancer Institute. In 2010, he won the Roberto Clemente Award, which MLB gives out every year to the big-leaguer who combines performance on the field with substantial community involvement. He later became one of the team's broadcasters. His Guyhood never waned.
Reportedly, after he surrendered the home run to Boone to end the 2003 ALCS, Wakefield told a teammate that he felt like "Buckner, 2003." That never became his reputation. The 2004 championship helped, of course, but mostly, it was because Tim Wakefield was a Guy. A wizard for the working day with conspicuous magic only in the tips of his fingers. A Guy who hung his career on the gentle breezes of a New England summer. But it's autumn now, and the wind grows colder and less forgiving.
Charles P. Pierce is a writer at Esquire and the author of four books, most recently 'Idiot America,' and has been a working journalist since 1976. He lives near Boston with his wife but no longer his three children.
Read More:
Stay in touch
Sign up for our free newsletter