Soccer
The USMNT Only Has One Gio Reyna
5:14 PM EST on November 19, 2023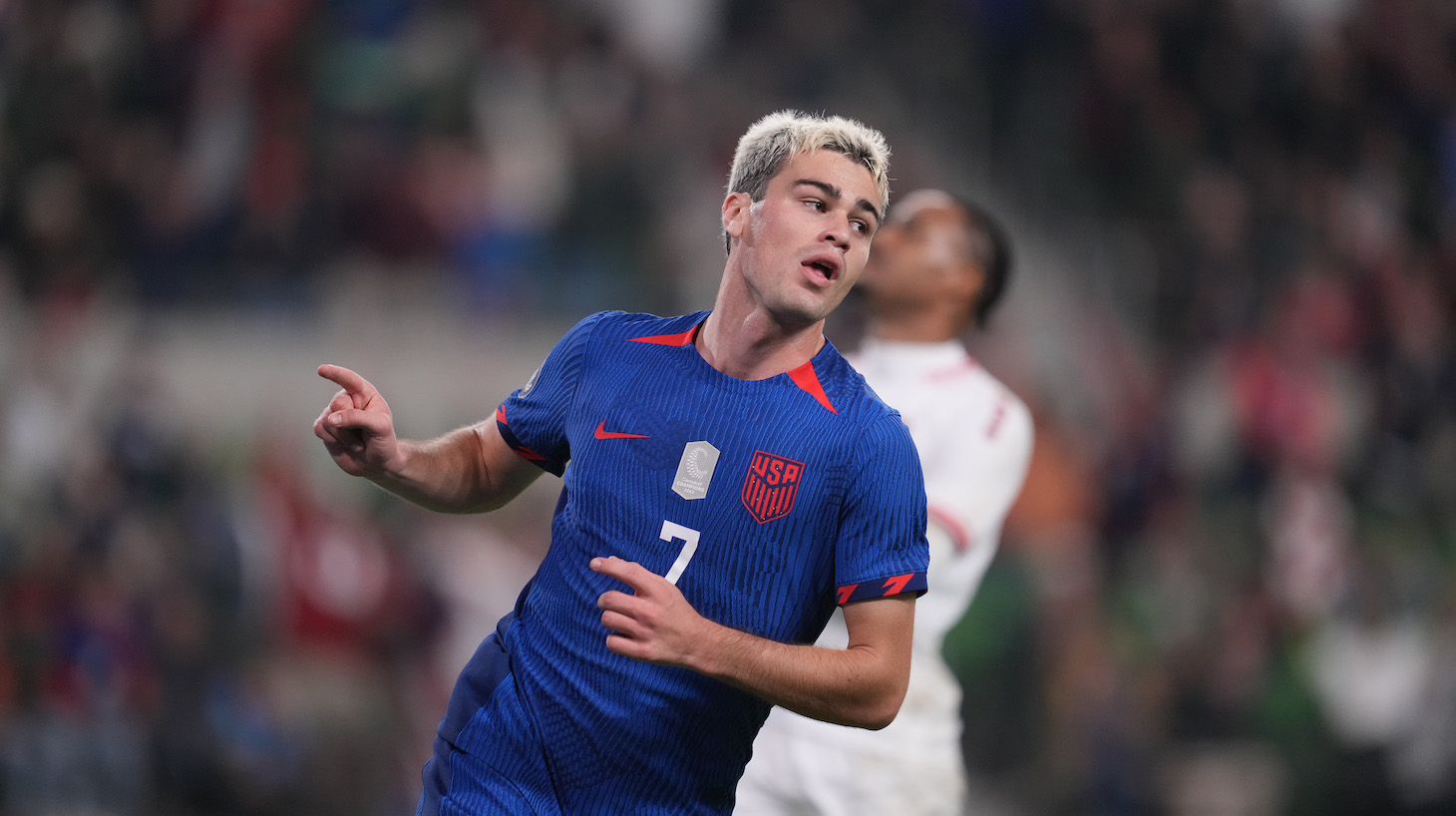 Did you watch the USMNT take on Trinidad & Tobago last Thursday? I sure didn't. I still can't bring myself to care about this Nations League thing outside of potentially juicy finals, and because of that I was unaware that the U.S. was even playing that day.
When I did remember to look up the USMNT's schedule on my phone's Sofascore app on Friday, I saw what at first looked like a comfortable 3-0 American win. In addition, Sofascore's silly but not totally useless player rating algorithm gave Gio Reyna an 8.7, indicating a good game. Intrigued, I endeavored to look into matters further.
After reading a couple match recaps, I discovered that the match's scoreline was more impressive than the actual performance. Even with a man advantage for much of the game (T&T's Noah Powder saw a second yellow card in the 37th minute), the U.S. struggled to put the Soca Warriors away. Relief in the form of a go-ahead goal didn't come until the 82nd minute, after which the floodgates finally opened. Impressive or not, the three late goals gave the Americans a commanding lead in the two-legged Nations League semifinal, which doubles as a playoff for a spot in next summer's Copa América.
I've seen my fair share of boring Berhalterball (my opinion of the manager's stewardship has never really strayed from the "meh" zone, though at this point it's probably drifting closer towards the bad side), so the mostly negative recaps soured any desire on my end to watch a match replay. Nevertheless, there was still the matter of Reyna, since a Reyna show is, to me, always worth the price of admission.
Rather than sit through what were reportedly 80-plus minutes of dull play in order to catch the three goals and, in particular, the moments of Gio's genius, I instead sought out the much more alluring alternative: an individual highlight compilation. Unfortunately, the only one I could find was a silent, grainy, twitchily edited one. Fortunately, even in those circumstances, Reyna's talent shines through.
I don't think Reyna is the USMNT's best player. That honor still belongs to Christian Pulisic, who has a decisiveness no American can match. I also don't think the 21-year-old Reyna has the highest ceiling of any USMNTer, or at least not the one with the best chances to reach the highest ceiling. I'd have to hand that one to Folarin Balogun, who probably isn't that far away from becoming one of the game's rare, regular, 20-goal-a-season strikers, and who doesn't (knock on wood) have Reyna's worrying injury record.
I do, however, believe Reyna is the only American who possesses that indefinable special something. He has the kind of talent that knocks you on your ass with its thundering subtlety. I watch that comp above and l'm in awe of the casual savviness of his movement. He slips into a pocket of space, gets the ball, opens his hip, strokes a pass that somehow simultaneously creeps and zips along, and I find myself hrrmmming, the way you do when a rollercoaster drops, for reasons I don't quite understand. He trots around, sees opportunities most of his teammates would've missed, and realizes them in a way none of the others would be capable of. I'm convinced that his mere presence inspires his teammates to try things they otherwise wouldn't in an effort to match the precedent his inventiveness sets. Look at how pretty the move is for his goal; a line-slicing pass (created by Reyna's ghostly movement), a hrmmm-inducing flick/dummy, a first-time through-ball tap, and a sumptuous clipped finish. Does any of that happen in a USMNT that doesn't feature Reyna and the possibilities he opens up?
Soccer is often called a weak-link sport, where its collective nature makes it so that a team's quality is defined more by how bad the worst player is than how good its best player is. I don't really think this is true. I think there are things a soccer team can only accomplish when it possesses a player of a certain level who can do what the others simply can't. Not only that, there are certain players of this level who by themselves raise the collective's level, making inferior players better than they would be without that player's talent there to awaken something in them. Isn't this, after all, what we mean when we call a player a difference maker?
The U.S. blessedly has a handful of legitimately very good players, ones who can hang and even thrive in matches played at the highest level. But I think the U.S. only has one player capable of lifting the entire team's level, of not just playing the game but making the game play what he wants. And when that player is in the game and on his shit, there's always a reward in watching him work.
Stay in touch
Sign up for our free newsletter