WNBA
The Superteams And The Other Teams: A Preview Of The 2023 WNBA Season
12:28 PM EDT on May 19, 2023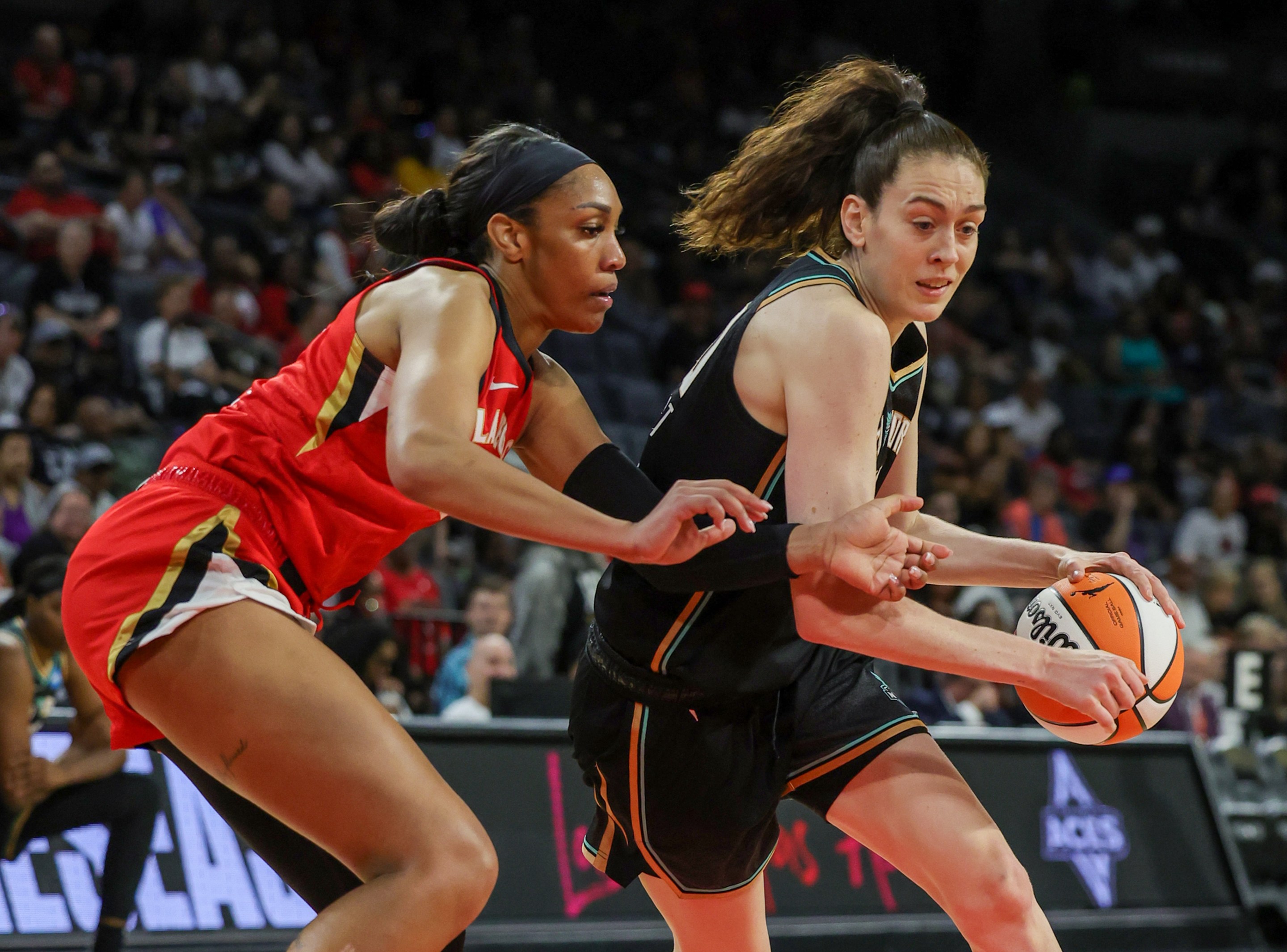 The 2023 WNBA season begins this weekend. As always, we're celebrating the occasion with some scattered thoughts on each team. The 12 teams are listed below in alphabetical order. WNBA fans, you may get right to reading those.
WNBA-curious newbies, you may also get right to reading those. But! New to the preview this year is some other stuff. Over the last few seasons, I've had readers comment or email me with some more general WNBA questions, and I've compiled the answers in a "Some Other Stuff" section below the team previews. The offseason is so over and we are so back!!!
---
ATLANTA DREAM
2022 record: 14-22
All it took was a new owner, a new front office, a new head coach, and drafting first overall, but the Dream have pulled off a nice franchise turnaround in very little time. "I can't look away from this team" can mean many things. In previous years for the Dream, it meant "…because their backcourt is engaged in food truck-adjacent fist-fighting and their oddball interim coach gives great quotes." Today it means "…because of their promising young core, led by Rookie of the Year Rhyne Howard."
There are things rookies are supposed to be bad at, just as a general rule, and Howard was good at those things last season. She rarely committed turnovers, even with heavy usage; she excelled off the ball; she was active on defense; and she shot threes well. Still, the Dream finished with the second-lowest offensive rating in the league, and they'll need her to take another step as a scorer this year. (Ideally, she gets downhill more.) Becky Hammon might have been the season's buzziest player-turned-coach, but defense-minded Tanisha Wright proved to be a great fit for this young roster.
---
CHICAGO SKY
2022 record: 26-10
This section of the preview will come in the form of emails obtained via Freedom Of Information Act request to the office of former Chicago mayor and enthusiastic Sky fan Lori Lightfoot.
October 18, 2021: Lightfoot receives the Chicago Sky championship parade agenda.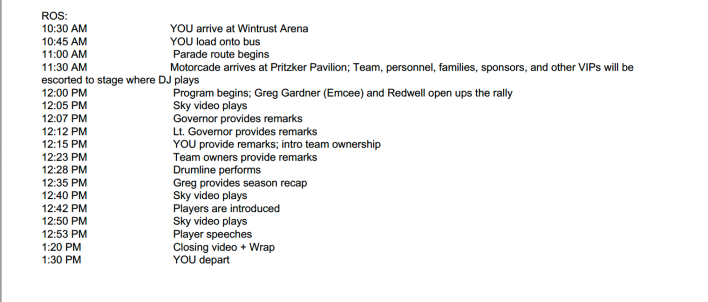 May 17, 2022: Lightfoot sends 10 City Hall staffers an email directing them to make WNBA All-Star Game celebrations "appropriately festive and inclusive."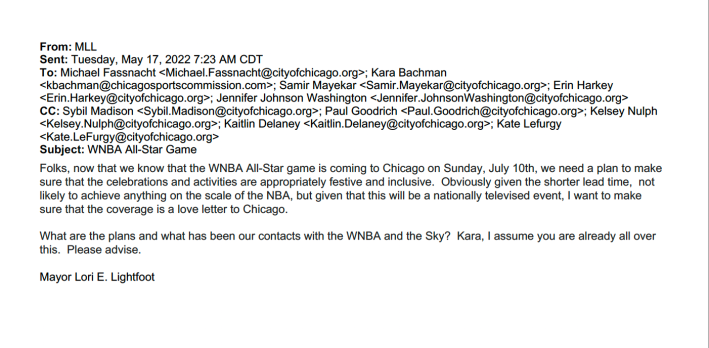 June 27, 2022: Lightfoot carefully proofreads a WNBA All-Star Game event invitation and points out a typo. (Later, when someone follows up to say that the league wanted it to be printed that way, Lightfoot replies, ominously, "I will call you.")

July 9, 2022: Lightfoot requests that her social media team recognize Allie Quigley's victory in the WNBA All-Star Weekend three-point contest. The next day she will also request "congrats to Kelsey Plum on winning the MVP, Team Wilson on winning and congrats to Sue Bird and Sylvia Folwes [sic] in their last All-Star games."

September 8, 2022: Lightfoot receives a Chicago Tribune alert to a story headlined "Chicago Sky's title defense ends as the Connecticut Sun score the final 18 points of Game 5 to rally for a 72-63 win."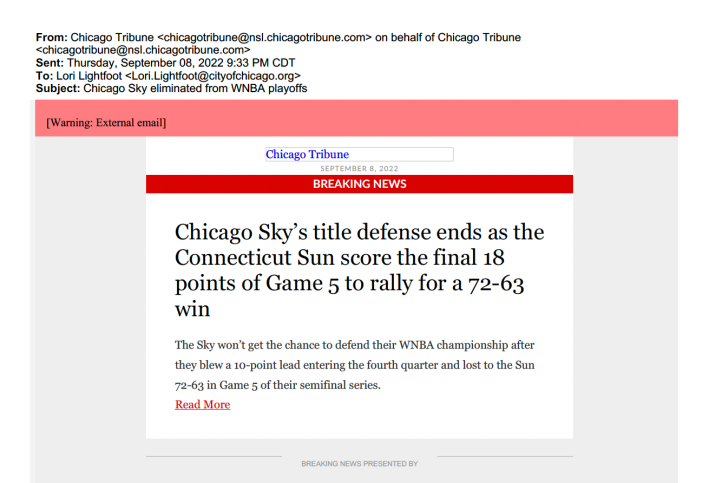 January 28, 2023: Lightfoot responds, "I am in mourning," to news that Candace Parker is leaving the Sky to sign with the Aces in free agency.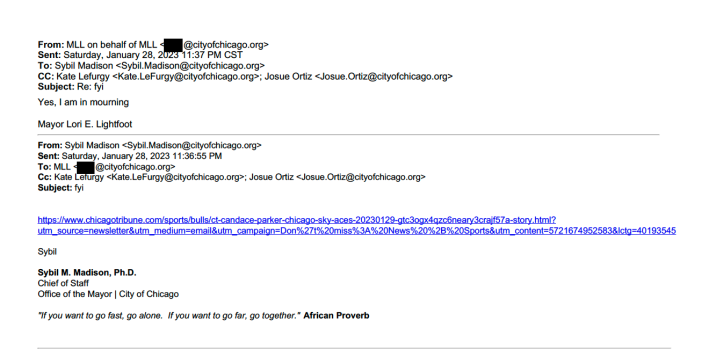 January 29, 2023: Lightfoot—in a rare instance of being correct about something—predicts on the same email thread that Courtney Vandersloot will also leave the Sky in free agency. (Vandersloot announces her decision two days later, and Lightfoot's reaction in an email is "I am heartbroken.")

February 28, 2023: Lightfoot loses her re-election bid.
At least they won their championship. At least Kahleah Copper is cool. At least Kalyn Kahler has 18 friends to commiserate with. That's all I've got.
---
CONNECTICUT SUN
2022 record: 25-11
The 2022 season helped expose the Sun's central tension: There was a best player on the team (unicorn big Jonquel Jones) and an embodiment of the team (scrappy wing Alyssa Thomas) and they were two different people and maybe that is kind of an awkward way for a team to be. This offseason, Jones requested a trade to New York, where she'll be part of a loaded starting rotation. The Sun preview always goes something like "I'm not sure whether they can survive without [injured/traded player]" and inevitably they do survive without [injured/traded player] and as they make their deep playoff run their social media posts are all "See what happens when you #disrespeCT us" and then everyone groans like, OK, get a new shtick, even though honestly we were kind of disrespecting them. But this does feel like the end of that era, or at least like the end of a Sun team whose system just hummed along crashing the glass every year. A new team philosophy is why I'm confident of that. Curt Miller is out as head coach and off to Los Angeles, and new head coach Stephanie White has promised a retooled offense with more spacing. 
---
DALLAS WINGS
2022 record: 18-18
Making 10 first-round picks in the last four drafts (11, when you count trading for Stephanie Soares's draft rights on draft night this year) sounds like typical GM-brained behavior. But this particular GM and his particular brain—hmmm. What is going on up there? The pick I've liked best is last year's first-rounder, Veronica Burton, one of the few people on Earth to ever have Caitlin Clark in hell. A smart and disruptive defender since her days at Northwestern, Burton stepped in for the injured Arike Ogunbowale down the stretch in 2022 and looked like she could be that "does all the little things" three-and-D player every team covets. Also, she didn't miss a single free throw last year, on 32 attempts! Your cranky dad will love her!
Re: all the other picks, hmmm. Earlier this week, the Wings cut Charli Collier, the player they drafted first overall in 2021 but rarely gave minutes. Big-name cuts always prompt calls for league expansion, but I wonder if the expansion issue muddles another issue, namely that most WNBA teams don't scout well, don't draft well, don't develop players well, and don't build coherent teams. The size of the league certainly doesn't help, but too many young WNBA players are set up to fail by the teams drafting them. A smart team hangs on to good players rather than trading them away for a million picks it will spend on sub-par defenders who will be benched and then cut. Dallas is not a smart team.
---
INDIANA FEVER
2022 record: 5-31
A new era has dawned. For the first time in Defector history, the Indiana Fever section of the preview is sincere. The words in it will be words other than "guhhhhh" and "ughhhhhhh" and "moving along." This is not to say the team will be good, exactly, and they probably won't. Let's keep our expectations in check for the worst defensive and worst offensive team in the WNBA last year. But after years of missing out on top prospects, the Fever won the draft lottery at a time worth winning it. They selected 6-foot-5 center Aliyah Boston, one of the best defensive prospects in recent memory and someone whose offensive skill—obscured as it was by the triple-teams sent her way every possession in college—shouldn't be overlooked. Welcome, Aliyah, to the sweet, sweet defensive three-second rule. You're going to love it. I almost never use NBA comps to explain WNBA players, but she's the Big Fundamental—a crazy-strong balletic genius who makes basketball look like muscle memory. She and second-year starter NaLyssa Smith should form an entertaining frontcourt this season.
---
LAS VEGAS ACES
2022 record: 26-10
A funny thing happened right after I wrote this post on certain WNBA owners very legally and righteously investing in their franchises: The league began investigating the Aces for cap circumvention. The alleged scheme involved the team making under-the-table payments to Aces players and free agents. (This scandal arose from a different scandal. After being traded from Vegas to L.A. in the offseason, Dearica Hamby said in an Instagram post that she had been treated in an "unprofessional and unethical way" by the Aces organization when she told them she was pregnant with her second child. Hamby's statement mentioned being "promised things to entice me to sign my contract extension that were not followed through on.") The cap-circumvention investigation wrapped up this week, and the Aces will forfeit their 2025 first-round draft pick for violating league rules on impermissible player benefits. Hamby never specified who in the organization had mistreated her, but the investigation answered that question: Head coach Becky Hammon will be suspended for two games.
The investigation didn't turn up evidence of secret payments in this last free agency period, so the contracts of offseason additions Candace Parker and Alysha Clark won't be torn up. Parker plays whatever role is required of her; she can't be a bad fit anywhere. And Clark sneakily made life difficult for the Aces in the regular season last year, as a lockdown defender on the Mystics. They both stabilize what could be a volatile Aces defense last year. This is a championship team that only got better and deeper. I'm trying to come up with some reasons they might not win a title—like, mew mew mew they required Chelsea Gray's most insane playoff heater in the history of professional sports to win last year—but all I've got is A'ja Wilson retires and Kelsey Plum gets hit by a Boring Company tunnel car.
---
LOS ANGELES SPARKS:
2022 record: 13-23
We did it. It took many years and a Liz Cambage–led coup (after which she also peaced out), but Derek Fisher is no longer part of the Los Angeles Sparks organization. And the great news is he left the team with—oh god.
It's a little funny—if it wasn't intentional—that the most shooting-desperate team in the WNBA last year hired the most shooting-agnostic coach. To Curt Miller's credit, a couple months ago the Sparks did seem poised to improve upon their league-worst three-point percentage. They re-signed Lexie Brown, a 40-percent three-point shooter. They signed Steph Talbot in free agency. But Talbot tore her ACL in February and Katie Lou Samuelson, another great shooter on their roster, will miss the whole season on maternity leave. The Sparks are once again shooting-desperate, and Miller will need to work his crummy spacing magic for this team to get anywhere. Someone else re-signed with the Sparks: Nneka Ogwumike, on a one-year deal. She's officially the most patient person in the entire world! What is she still doing here? How can she stand to play for the team wasting the last years of her prime? Even Candace Parker couldn't take it anymore! Even Chelsea Gray had had enough! But Nneka remains. She should be studied by one of those trauma resilience researchers.
---
MINNESOTA LYNX:
2022 record: 14-22
The Lynx dynasty is done. Sylvia Fowles turned off the lights. In the future Hall of Famer's final season she remained the best true center in the league, but the team struggled early in 2022 and missed the playoffs for the first time since 2010. It's up to Napheesa Collier, returning from maternity leave, and rookie Diamond Miller to turn the lights back on now. As is the case with a lot of teams (!) this year, expect a new-look offense, one with a little more speed and positionless hooping. The pro-ready Miller plays like one of those inflatable car dealership dancers, capable of finishing even when her limbs are unusually contorted. She will draw one million fouls in the process. The Lynx may not win many games this year. They're currently 134,634,356 weeks into tryouts for a starting point guard, and when a team loses the greatest defensive player in WNBA history, expect its defense to get worse. But the best kind of bad team probably looks a lot like this one. In Collier and Miller, the Lynx have a pair of long, skilled players who can defend multiple positions. Think of the lineup possibilities! Think of the experimentation! Think of all the creative ways the Lynx can lose 28 games!
---
NEW YORK LIBERTY:
2022 record: 16-20
See? See what happens when you have a little faith, trust the process, patiently build a young core, let them learn and grow and develop and gain playoff experience together ... and then acquire three MVP-level players in one offseason for virtually no cost? The Liberty became instant contenders this winter when they traded for Jonquel Jones and signed Breanna Stewart and Courtney Vandersloot in free agency. You gotta hand it to the front office—that was some real innovation in the team-building space. They should make a Moneyball about this.
The Liberty may be New York's only championship basketball hope, but give them some time to really get going this season. The three veteran stars arrive in New York having each spent their WNBA careers with only one team, and the Liberty's owner could tell you some stories about how tricky it is to actualize the on-paper superteam. The Libs finished ninth in offensive rating last year, something I suspect will not happen again. Last year's team lived and died by streaky shooting, and acquiring two players known for their efficiency and another player known for getting her teammates easy looks would appear to solve that problem completely. The Liberty won just one playoff game in 2022 before getting blown out in the next two. But that game was a fun glimpse at the young core and the unmatched depth they give this superteam. If Marine Johannès can keep doing sick passes, if Sabrina Ionescu can follow up last year's All-Star season with another, if Betnijah Laney is healthy, if it is really true that Han Xu GREW and is now 6-foot-11, watch out.
---
PHOENIX MERCURY
2022 record: 15-21
I had to double-check that record. The Mercury managed to finish 15-21 in a season it seemed like everything went wrong for them. Everyone got injured. Brittney Griner missed the entire summer while being held in Russian prison. New head coach Vanessa Nygaard beefed with Skylar Diggins-Smith. Tina Charles was fed up enough to request a "divorce" from the team to ring chase elsewhere (unsuccessfully). The vibes were so horrendous that the Mercury felt a lot worse than 15-21. They got owned to hell by the Aces in the first round last year, but they did make the playoffs! They still made the playoffs! I'm an incurable optimist. Diggins-Smith will miss some portion of the 2023 season on maternity leave, and her relationship with the organization seemed rocky enough that she may not return to Phoenix at all.
But 6-foot-9 Brittney Griner is walking through that door. While she'll need some time to get back in playing shape, it's worth remembering what Griner looked like the last time she played in the WNBA. In 2021, she turned a career's worth of intriguing flashes into the best season of her career, carrying her team both in the regular season and in the playoffs. Have you ever seen her miss one of those foul-line jumpers? An unguardable post player can take a team far, and though the Mercury's 2021 Finals run seems like a very long time ago, this team doesn't look too different from that one. What's that? Who's on the bench? Moving along!
---
SEATTLE STORM
2022 record: 22-14
Well well well. Well well well well well. The consistent model franchise doesn't have its superstar players anymore. Sue Bird retired! Breanna Stewart is gone! They have to tank! Surely they won't now win the Caitlin Clark draft lottery.
In an emotional offseason for Storm fans, the Big Three was whittled down to the Big One: Jewell Loyd gets to drive the bus now. The age-old "can she be the first option?" thought experiment has graduated from the realm of thought and will finally be conducted on the basketball court. The she's-only-23(!!!!) Ezi Magbegor's thrilling quest to become the greatest Australian player in Seattle Storm history continues. After a couple years in New York, Sami Whitcomb's quest to become the greatest Australian player in Seattle Storm history resumes, though I like her chances less.
---
WASHINGTON MYSTICS
2022 record: 22-14
Not an "other team," not yet a superteam. The Mystics may not be a title favorite this year, but they're probably alone in the tier just below. I won't let Elena Delle Donne's grim injury history prevent me from getting excited about them. The Mystics won their 2019 championship with a record-breaking offense, and they've since assumed a new identity as a defense-first team with a fairly average offense. Two seasons ago, Washington's defense was one of the worst in the league and they made a swift correction last year, when they finished with the WNBA's best defensive rating. Center Shakira Austin, a revelation in her rookie season, deserves some credit for that. Expect more of the same in Washington in 2023, excellent defense on the perimeter and at the rim. Though Alysha Clark left in free agency, the Mystics somehow improved defensively by adding Brittney Sykes, last year's steals leader.
Delle Donne gives the team a certain offensive floor; she's the player you'd pick to make any shot if your life depended on it. But her load management last year made clear how much the Mystics rely on her to initiate the offense and how hopeless they can be without her in the halfcourt. Superstars are there to be relied on, sure, but Elena Delle Donne's poor back has suffered enough.
---
SOME OTHER STUFF:
What is the Commissioner's Cup? There is an Eastern Conference. There is also a Western Conference. In 2016, owing to the Western Conference Finals being spicier than the actual Finals, the WNBA changed its postseason format so that the best eight teams made the playoffs, regardless of conference. But the conferences themselves didn't go away, which was kind of weird, because now the only reason they came up was, like, to name someone "Eastern Conference Player of the Week." The Commissioner's Cup, introduced in 2021, makes conferences matter more, if still not a lot: The first home game and first road game a team plays against an in-conference opponent are "Commissioner's Cup games." The Western Conference team with the best record in those games and the Eastern Conference team with the best record in those games play each other in a special little in-season game that doesn't count toward a team's record but has some prize money on the line. That is the Commissioner's Cup.
Where can I watch these games? Where can't you watch these games? ABC/ESPN, CBS Sports, Amazon Prime, NBA TV, and a channel called ION will all show national games. The ION ones will be Friday night games and the best ESPN ones tend to be on Sunday afternoons. Also there are games streaming on Facebook and Twitter. I will never watch a basketball game on Facebook, but to each their own. WNBA League Pass is cheap, and we've been promised a better app and website this year. (The WNBA famously keeps its promises.) Of the local broadcasts, Washington's and Chicago's are the best. Chicago's play won't be any good though, so the Mystics are this year's League Pass team. Pure hoopers. Good commentary.
Is [my city] ever going to get a WNBA team? The WNBA says it plans to expand, but we're going on a few years of expansion promises with no announcements or real timeline now. The commissioner said by 2024 a couple years ago and then said in the next two to four years a couple months ago. So definitely maybe by the year 2094.
What team should I root for? Great question. The New York Liberty. They'll be good this time, I swear.
Stay in touch
Sign up for our free newsletter