NHL
The Stars Stretched The Kraken Too Thin
12:34 PM EDT on May 16, 2023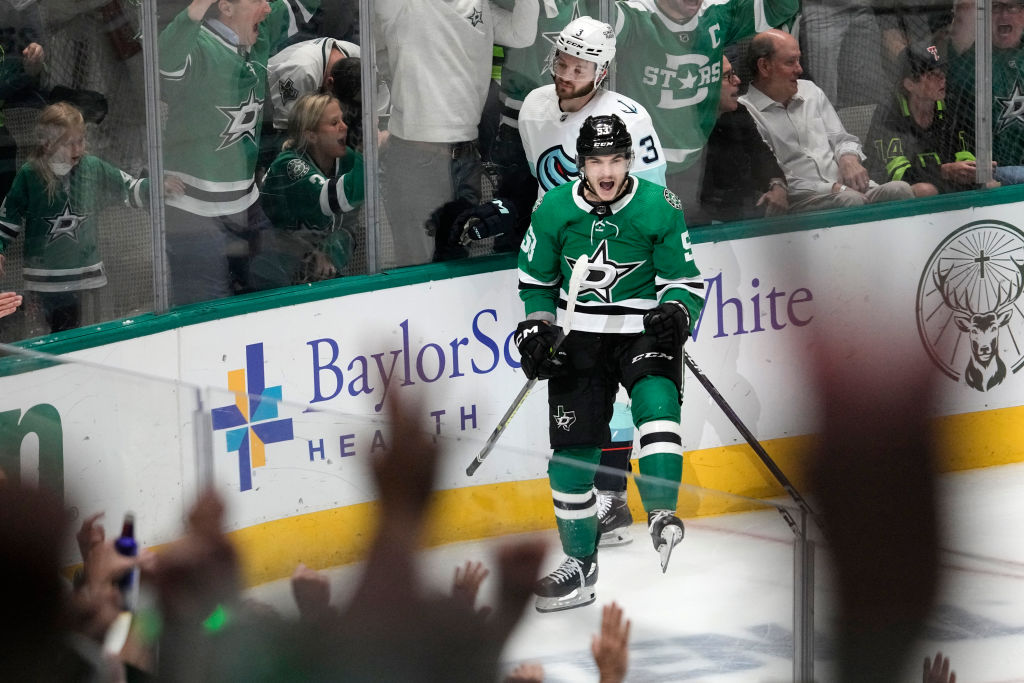 The Seattle Kraken entered Game 7 like they were very, very focused on giving a great defensive performance. In the middle of the second period, they appeared halfway to achieving that goal, with the game still scoreless amid an increasingly stressed atmosphere in Dallas. Philipp Grubauer, though he'd been so unreliable all year (and the one before), was earning redemption by making sweet saves on Stars vets, and the big bodies on defense like Adam Larsson and Jamie Oleksiak were making it their mission to get between the goal and as many opposing shots as possible.
But while Seattle looked proud to play a controlled game in their own end, the Stars earned their 2-1 win (basically a shutout, had it not been for a last-second garbage goal) by gazing beyond their own blue line. As they worked on creating chances that originated in the back half of the ice instead of contentedly absorbing pressure like their opponents, Dallas eventually found ways to break the Kraken open and leave them scrambling to cover the whole of the ice.
It wasn't easy. Grubauer was on his game, and I really thought this pretty rush by Tyler Seguin was the chance that the Stars would live to rue.
But it wasn't! As time wound down in the second, the Stars finally got a break. On a puck headed toward his own end, Dallas goalie Jake Oettinger started the action with a short delivery to Esa Lindell. The Stars defenseman sent the puck flying out of his own third, and that was the signal for Roope Hintz to get going. I blogged a year ago about the electric Finn's ability to zoom out of nowhere and into a goal-scoring opportunity, and that's exactly what he did here. Oleksiak got crossed up by a bouncing puck, and Hintz picked it and finished brilliantly.
The game stayed 1-0 for a nerve-wracking amount of time, but Dallas could let out a small exhale with seven minutes remaining thanks to a similar goal from Wyatt Johnston—the Stars' first-round pick from 2021 who's been a key contributor in his rookie year. This was some good ol' fashioned cherry-picking. With the Kraken pressing, Johnston made the bet that his Stars teammates could hang on to possession and exited his zone behind the last defenders. Evgenii Dadonov cleared the puck out for what normally would have been an icing, but since Johnston took a chance, he was in position to jump on it. He was gifted a clean shot off the boards and flipped it high off the mask of a paralyzed Grubauer.
First-year Dallas coach Pete DeBoer is now 7-0 in his career in Game 7s across four different teams, so I think he can get some credit for the way his guys played. Boosted by the home crowd, the Stars looked better conditioned, more willing to take risks, smoother in transitions, and didn't really get pinned down until Seattle went 6-on-5. It helps, too, that Oettinger is the kind of goalie who can follow bad with good, shaking off a yank in Game 6 to deliver 22 necessary saves through plenty of tension.
"I thought they were a half-step quicker in everything they did tonight," Kraken coach Dave Hakstol said.
The Stars may have struggled to get everything going at once so far in these playoffs—top scorer Jason Robertson remains notably invisible—but heading into the conference final against Vegas, they certainly have the pieces. They're a well-coached squad with no glaring weakness and with the ability and the inclination to make opponents pay for the slightest of mistakes. The Golden Knights are not a team that burns easily, but they'd better watch their backs.
Stay in touch
Sign up for our free newsletter