NHL
The Sabres Still Have Their Dream
3:34 PM EDT on April 9, 2023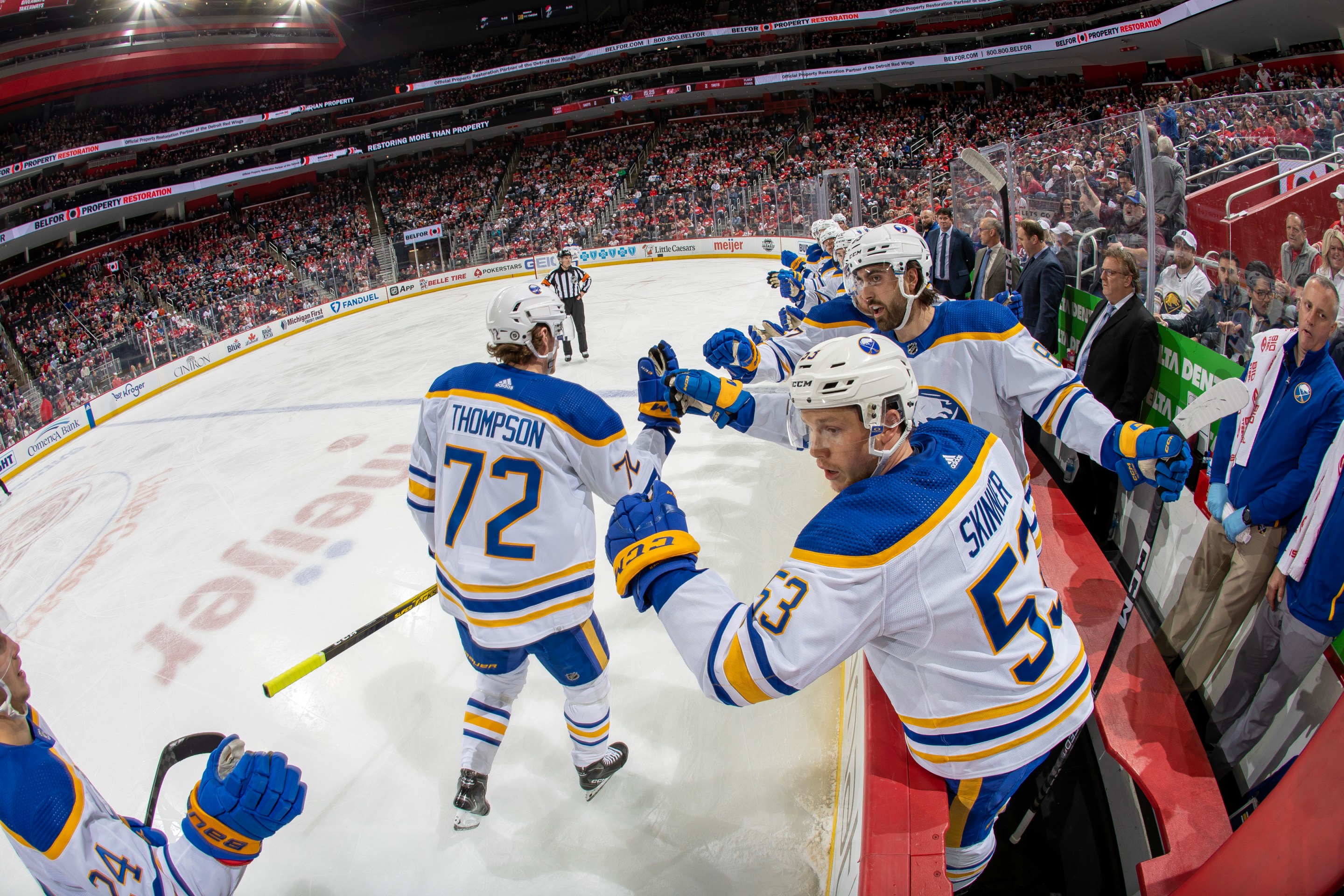 Two games in hand hold a tantalizing promise. A fan with even a modicum of imagination can place all the success they want in those unplayed contests. Just win one game, and win another game, and your rivals can do nothing to stop the gap between you and them from shrinking. Because of the optimism inherent in the future dates on the schedule, the Buffalo Sabres remain very much alive at the end of this NHL regular season.
This has been a good year for the Sabres regardless of what happens next. They haven't made the playoffs since 2011, and when they messily divorced with former franchise centerpiece Jack Eichel in 2021 it looked like they were losing their best hope to end that drought. But since Eichel's move, some gorgeous flowers have bloomed out of the cracks in the pavement. The 22-year-old Rasmus Dahlin, first overall pick in the 2018 draft, has grown into one of the league's best and hardest working two-way defensemen. The veteran Jeff Skinner is definitively back to being a consistent top scorer after a couple of slumpy seasons. Alex Tuch has proven to be a great return on the Eichel trade. Dylan Cozens and Owen Power are both boys contributing like men. And the beautiful sniper Tage Thompson is up to 46 goals in this season that's made him a superstar.
It thins out after that, especially on defense, but overall this forms an above average group of very young skaters with below average goaltending. Not only does that put the Sabres in good position for the future, it also, in a league where the median team of each conference is the last one in the postseason, puts them right on the edge of the playoff picture.
Six of the eight spots in the East are already decided, and the final two mostly project to be a three-team brawl. The Panthers, Islanders, and Penguins have each played 80 of 82 games, and they all sit side by side with either 91 or 90 points. The only other team that's mathematically still alive is Buffalo. At first glance, they look distant at 85 points. But points can lie, and in this case they omit the fact that the Sabres have only played 78 games. They have Monday, Tuesday, Thursday and Friday against the Rangers, Devils, Senators, and Blue Jackets. Win the first two, and they're back at the party. Win the next two, and it would only take a few simple slips for Buffalo to make the pass and extend their season.
It sounds like a far-fetched fantasy, and it's certainly the least likely of all possible outcomes. But the last couple of Sabres games have made it a bit easier to be inspired. Thursday night against Detroit was just out of control, with a box score longer than a drug store receipt. Tuch missed a penalty shot just four minutes in, then Thompson fired one into the net a mere 35 seconds later. But even that unconventional opening got buried under what came next. In a sometimes violent and always exciting game, the Sabres and Wings each scored six goals in an hour and exhausted anyone watching with constant momentum swings. Detroit got two in a row to respond to Thompson, Buffalo hit back with three, then the Wings got two, Buffalo got two, and the Wings replied again with two, including a last-minute equalizer from David Perron. It came down to Devon Levi, a 21-year-old highly heralded goaltender making his third career start, against Detroit captain Dylan Larkin in the shootout, and the green goalie made a nice sliding save to give the Sabres point number two.
"Every game takes on a life of its own, and that one took on a monstrous life tonight," Sabres coach Don Granato said afterward. "I'm just trying to manage everything and keep guys positive."
Saturday afternoon at home against the Hurricanes was not as breathless but just as tense. Some pretty puck movement from an offensive zone faceoff gave the Sabres an early advantage, but the Hurricanes stole the lead with a duet of rapid-fire goals before the first intermission. An impossibly accurate shot off the post by Dahlin tied it in the second, the Canes hit back, and then some mesmerizing skating from Dahlin again set up Casey Mittelstadt for a 3-3 equalizer. The young Swede factored critically into the game winner as well: He made a heroic block with his stick on his own wide-open net, which directly led to a Thompson one-timer at the other end.
"I really wanted to win this game," Dahlin said later. "I think that's the simple answer."
And you can feel how badly the rest of Buffalo wants this, too. The development of this team, after so many years spent lagging behind, is now finally exceeding expectations, and even though there's reason to be optimistic in the long term, it's going to be hard to let this fun, chaotic season give way to an antsy summer of waiting. With a miraculous leap into the playoffs, the Sabres can put off that break a little longer, earn a tangible signifier of progress, and give a city that had been feeling pretty apathetic toward its hockey team its first playoff action in 12 years. It's not even somewhat probable, but for at least a day or two longer, the Sabres can hold on to hope.
Stay in touch
Sign up for our free newsletter