MLB
The Padres Are Ready For The Fork
12:14 PM EDT on September 1, 2023
The San Diego Padres are dead. It's incredible! They have done everything that an organization is supposed to do in order to field a winner. They've spent lavishly on top free agents, they've dealt prospects from their strong farm system in trades for star players, they've pounced when lesser teams were throwing in the towel and snatched up reinforcements for their lineup and rotation. And here they sit, deader than hell. Today is the first day of September, and after a humiliating and infuriating loss Thursday to the San Francisco Giants, the Padres find themselves 22 games back in their division, 8.5 games out of the final NL wild card spot, and tied in the standings with the Washington Nationals.
The weirdness and improbability of this deserve scholarly study. The Padres have the fifth-best run differential in the National League and are 11 games below .500. For most of this season it has been possible to point to bad luck in close games, but past a certain point this starts to look like a remarkable talent for losing. The Padres have an astonishing 6–22 record in one-run games. They have played in 11 extra-innings games this season, and of these they have won zero. They dropped consecutive walk-off losses this week to the entirely puke-a-tronic St. Louis Cardinals.
This isn't even a case of their bullpen being particularly bad! By earned run average, at least, it's a respectable group; by a handful of FanGraphs metrics they appear to be somewhere between ho-hum and fine. But zeroing in on bullpen performance would miss the point: Texas's bullpen is bullcrap and the Rangers are a damn juggernaut; the Diamondbacks have a crummy bullpen and an upside-down run differential and are seven games better than the Padres in the standings. It's not the bullpen. The Padres lose as much as they do because they are good at losing. They are big losers.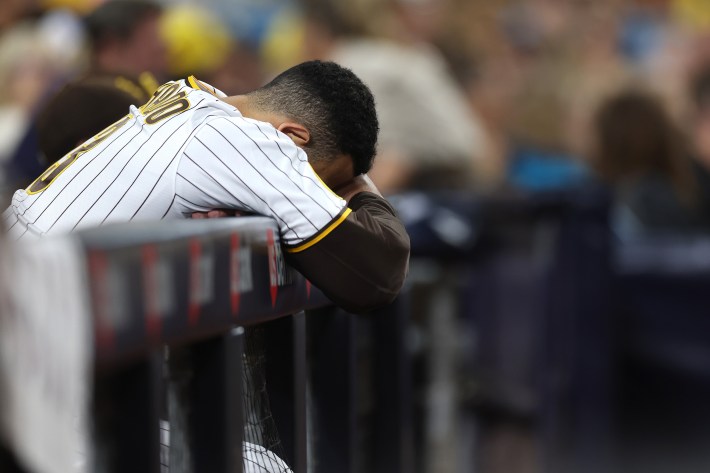 The strain of all this improbable losing is starting to have a demoralizing effect. Sunday Manny Machado beat the hell out of a dugout water cooler during a miserable loss to finish out a sweep at the hands of the Brewers. They may no longer have the morale and focus for carefully stalking an opponent, keeping them close, matching them stride for stride, only to spring a sudden, perfectly calibrated losing maneuver at some critical moment, catching the opponent and everyone watching by surprise. Thursday the Padres slipped almost immediately into Bumbling Clown Mode, finally looking less like a good and talented team that could break out at any moment and more like a bunch of hopeless goofs. Giants opener Jakob Junis held them to two baserunners and zero hits through four innings; reliever Sean Manaea, who came on in the fifth inning, gave out hits and free passes like candy but kept the punchless Padres off the board into the eighth, when he was pulled after allowing his fifth walk.
Meanwhile the Giants pulled out to a comfortable lead thanks mostly to some hilariously bad San Diego defense. Manny Machado airmailed a throw into the camera well in the first inning, advancing two runners in a frame that Padres starter Pedro Avila needed 29 pitches to escape. In the third inning, a hard grounder squirted under the glove of fill-in first baseman Matthew Batten. Four batters and three singles later, Machado threw wide of first on an infield grounder and Batten short-armed the catch stretching into the base path, allowing another run. Two pitches later, Avila's stumbling, flailing attempt to field a drag bunt was unsuccessful, pushing across another run. Before the frame came to a merciful end the Giants had put six runs on the board, all but one of them unearned, and knocked Avila out of the game on 77 pitches.
This may not have been San Diego's stupidest loss of the season, but it was a suitably gruesome one to bring to a definitive close the portion of the year when it made sense to hope that the Padres might soon get their act together. "The beginning and kind of how the first six or seven innings went is probably as bad as we've played," lamented manager Bob Melvin after the game. The Padres lost 18 games in August; their next series against a fellow sub-.500 outfit is two weeks away, by which time they may very well sit at the cusp of formal elimination from playoff contention.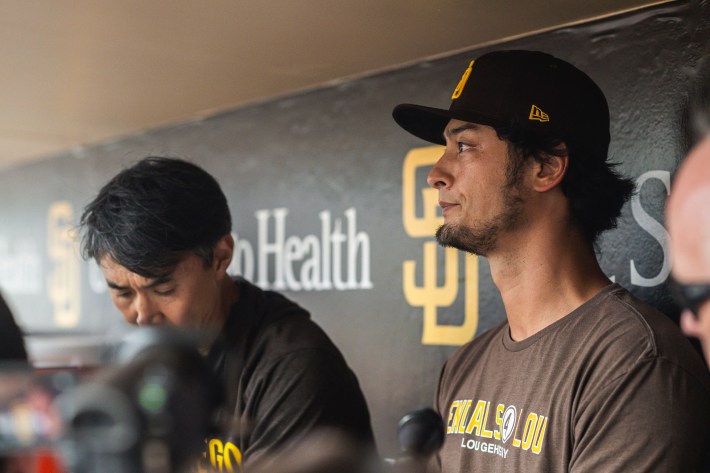 The situation is dire enough that I spent a portion of my morning looking at payroll information and pondering whether the Padres should've copied the Angels and cast a third of their active roster onto the waiver wire. Certainly if they had the back half of this hellish summer to do over again they would've joined the sellers at the trade deadline, rather than spend young players and prospects to add veteran hitters and pitchers who for the most part have not moved the needle.
It's cool that the Padres have the resources to chase a World Series, and commendable that they behave like a big market team with serious ambitions. It would suck if the discouragement of this season convinced them to take the Orioles route to success, rather than setting the market for the services of proven veterans. On the other hand, after a season like this one, I would understand completely if everyone associated with the Padres decided never to have anything to do with baseball ever again.
Stay in touch
Sign up for our free newsletter