College Basketball
The NCAA Men's Tournament Just Keeps Getting Weirder
10:12 AM EDT on March 19, 2023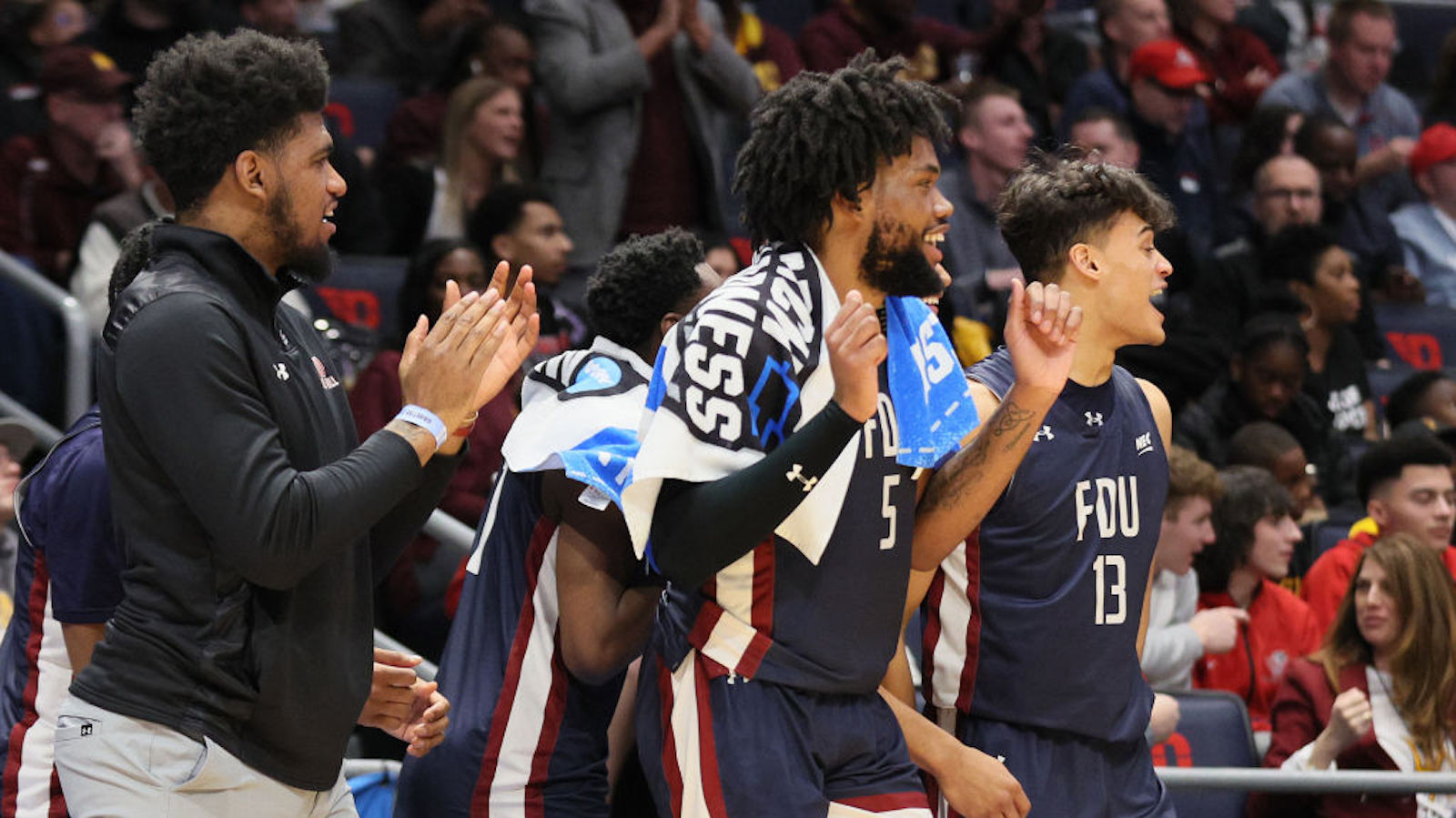 Every NCAA Tournament coheres into its own shape, and offers its own pleasures. Sometimes the joy comes from seeing Duke eat shit, or a blue-chip NBA prospect announce himself, or a plucky mid-major make a run beyond the second round, or Duke eat a double-helping of shit. We're halfway through the second round of this year's tournament, and this edition is already taking its cues from those of the recent past—things are getting weird.
It all starts with Fairleigh Dickinson University, a 16-seed which upset No. 1 Purdue on Friday night. The tournament had, for decades, gone on without a 16-seed ever beating a one-seed, but then that all changed in 2018 when UMBC beat Virginia by 20 points in the first round. It took 33 years (the tournament expanded to 64 teams in 1985) for us to see the first triumph of a 16-seed, but we only had to wait five years to see it a second time. FDU's upset was even more shocking than UMBC's, and may have very well been the biggest upset in the history of college basketball. You've probably encountered the list of reasons why by now, but it's worth running through them again:
FDU is the shortest team in the entire country, and yet somehow beat Purdue, the tallest team in the country that is anchored by a 7-foot-4 All-American center.

FDU did not even win its conference or conference tournament. Those honors belonged to Merrimack, which nevertheless had to sit out the tournament because the school is still transitioning to D-I.

KenPom had FDU ranked 299th overall before the Purdue game, and 359th in defensive efficiency (there are 363 teams).

FDU won four games last season.

If this FDU team was to travel back in time and face the 2018 UMBC team, they would go into that game as significant underdogs.

FDU plays its home games in this gym, which has also hosted athletic talents such as David Roth.
Little FDU getting on Purdue and Zach Edey's ass like Lilliputians is a strange enough outcome on its own to make this tournament a memorable one, and so too is Princeton's run to the Sweet 16. The 15th-seeded Tigers followed up their upset of No. 2 Arizona by dominating No. 7 Missouri on Saturday night. It's not just that Princeton has won two games that is surprising, but that they've looked like the clearly superior team in both victories.
A 15-seed making it past the second round used to be just about as unthinkable as a 16-seed winning even one game, but that's also a trend that has started to change. The Dunk City team from FGCU became the first 15-seed to make the Sweet 16 in 2013, and it has since happened three more times, in consecutive years. Oral Roberts got there in 2021, St. Peter's got all the way to the Elite 8 in 2022, and now Princeton has advanced to the Sweet 16 this year. Princeton has brought further innovations by joining Oral Roberts as the rare 15-seed that nobody really wants to root for.
Where all this leaves us is in the middle of a tournament where two things that have happened less than a handful of times in the history of college basketball—a 15-seed making it to the Sweet 16 and a 16-seed winning its first-round game—have happened over the course of the same long weekend. No. 8 Arkansas beating No. 1 Kansas on Saturday night barely even registers as an unexpected outcome in this context. This all comes on the heels of a 2021 Sweet 16 which featured the highest average seed (5.88) in tournament history, and a 2022 Sweet 16 which nearly matched that mark (5.31 average seed).
All are free to reach for their own pet theories explaining why the meek have suddenly inherited the tournament. Perhaps it has to do with ongoing consequences of 2020's COVID-19 cancellation, or with the fact that some of the historic power-house programs are in a down period, or that nobody can make a damn three-pointer this year. But as with all things related to the tournament, the "why" behind the results is never as interesting as the feelings they evoke. The tournament has always sold itself on the charm of upsets and the idea that anything can happen, but that inevitably ends up feeling like a bait-and-switch once the later rounds are packed with one and two seeds. That hasn't quite been the case these last few years, and at this point it really is starting to feel like anything can happen. So why not root for Princeton to make it farther than St. Peter's did, and for FDU to become the first 16 seed to win its second game, and for the two to meet in the Final Four? What else have you got to cheer for? We already got to watch Duke eat shit, and to be honest it wasn't nearly as much fun without Coach K scowling from the sideline.
Stay in touch
Sign up for our free newsletter