WNBA
The Liberty Are Going Down Without A Fight
11:14 AM EDT on October 12, 2023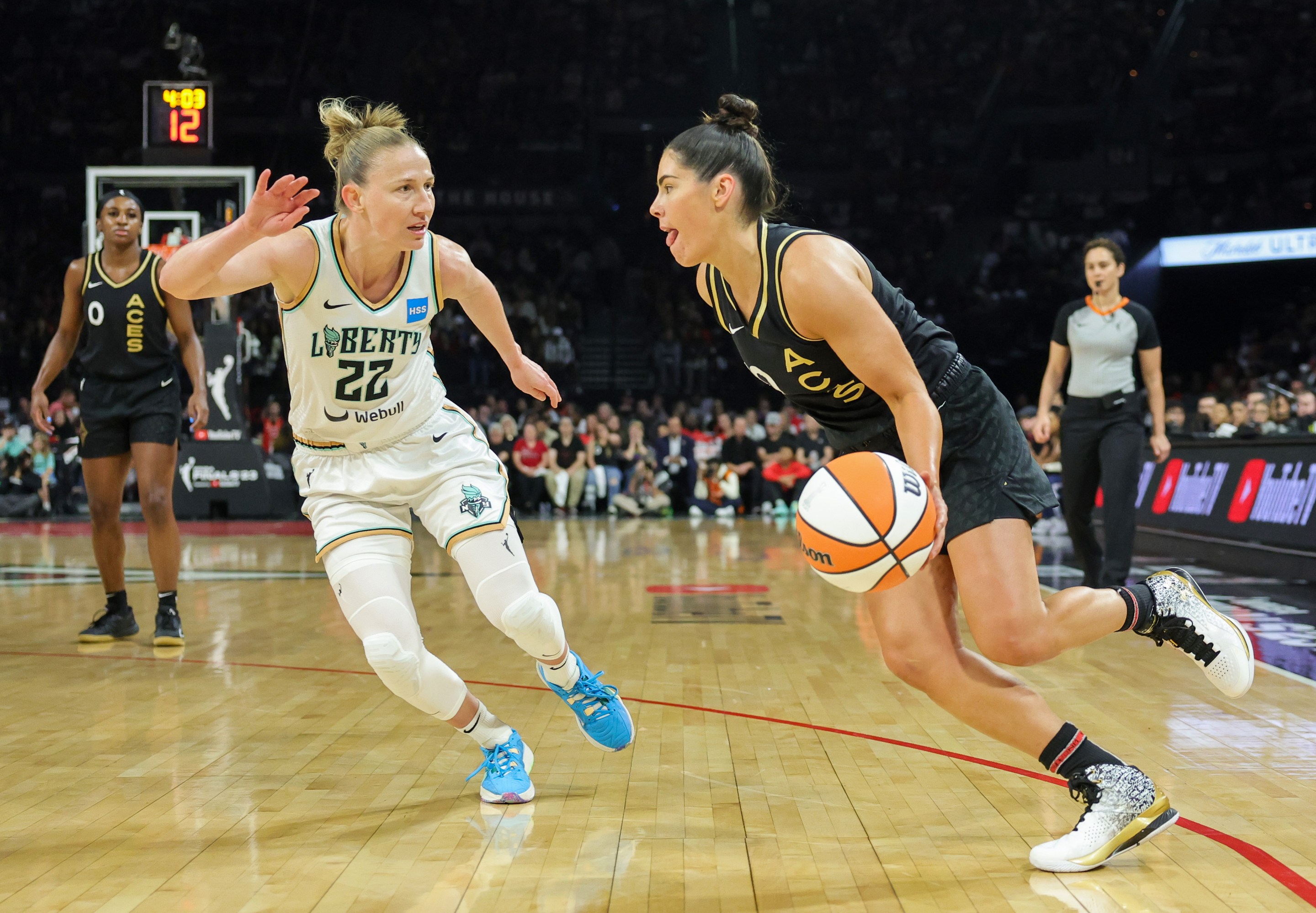 Winners keep winning, and the Aces can't lose. On Wednesday night, they jumped out to a 21-point lead in the first quarter against the Liberty, and once they started winning, they never stopped. Their 104-76 wire-to-wire win in Game 2 of the WNBA Finals put them up 2-0 in a best-of-five series. When Game 3 tips off in New York this weekend, they'll play for the sweep and for the chance to be the WNBA's first back-to-back champions in 21 years. 
It probably does a disservice to some terrific individual performances to focus on the guards. In a dominant second quarter, Jonquel Jones herself put the Liberty back in it, cutting a 19-point first-quarter deficit to just an eight-point one entering halftime. And A'ja Wilson played one of the best postseason games of her career, showing off her midrange touch and quieting Jones for most of the second half on defense. She finished with 26 points and 15 rebounds. But Game 2 felt a lot like Groundhog Day. Kelsey Plum, Chelsea Gray and Jackie Young combined for 61 points to their counterparts' 31. The Aces, running and cutting backdoor as they pleased, just couldn't miss. In that wild first quarter, the Aces shot 14-of-20 from the field and 6-of-10 from three.
Nothing came so easy for New York, though some of that was their own doing. Ten points on 2-of-10 shooting from Sabrina Ionescu isn't what her teammates expect of her, especially not in this matchup, where she managed performances of 31 and 25 points in August. But even the memory of those games makes her valuable to her team on offense, or at least a non-zero. The Aces treated Ionescu like a serious shooting threat for the entire game, and a much bigger problem for New York's offense is that the Aces didn't regard Vandersloot like anything at all. All nine of her measly points came in the fourth quarter, when the party was well over. She went 3-of-9 from the field and approached the basketball hoop like it was someone she'd accidentally walked in on in a bathroom stall, and that unease worked to gum up the whole offense when she was on the court. The Liberty's 12-0 second-quarter run happened with her on the bench. Vandersloot might be affected by an injury, though her underperformance could just be the simple fact of her age; she turns 35 in February.
The trouble for New York is that there aren't any elegant solutions to the guard mismatch that is defining this series. There is Marine Johannés, who certainly has no qualms about shooting, though she can be just as unhelpful as Vandersloot on the defensive end. It feels wrong to blame the Liberty offense when the defense gave up 104 points—no one is beating the Aces doing that—but New York's guards were stuck in a demoralizing cycle for most of the game, the kind quick and effective offense can help a team escape.
All that stuff about how winning breeds winning applies to losing, too. A basketball game is usually more than the way it begins, but a sequence caught my eye in the first two minutes and seemed so clearly to say who was going to win and who was going to lose. Breanna Stewart forced a Wilson miss, Jones came up with the rebound, and the Liberty were out in transition. Before the Aces could get set, Jones swung a pass to a wide-open Vandersloot behind the arc, but Vandersloot took a beat and just swung it right back. The possession turned into a Betnijah Laney iso, and though Vandersloot rebounded Laney's miss under the basket, she didn't have much space to do anything with it and could only kick it back out to Laney, who drove and smoked a layup. Wilson grabbed the rebound and on the Aces' next possession, the ball was kicked out to a wide-open Kiah Stokes in the corner, who took a three and made it. The last time I wrote about Stokes here it was to point out the Liberty's advantage in not having a Stokes, in not having a player whose offense you could just disrespect. It was a six-point swing that may as well have been a 50-point swing. One team was playing like winners. Stokes took the first shot of the second quarter, another open three in the corner, and hit that one, too.
Stay in touch
Sign up for our free newsletter