NHL
The Leafs Are As Nerve-Racking As Ever
1:19 PM EST on November 7, 2023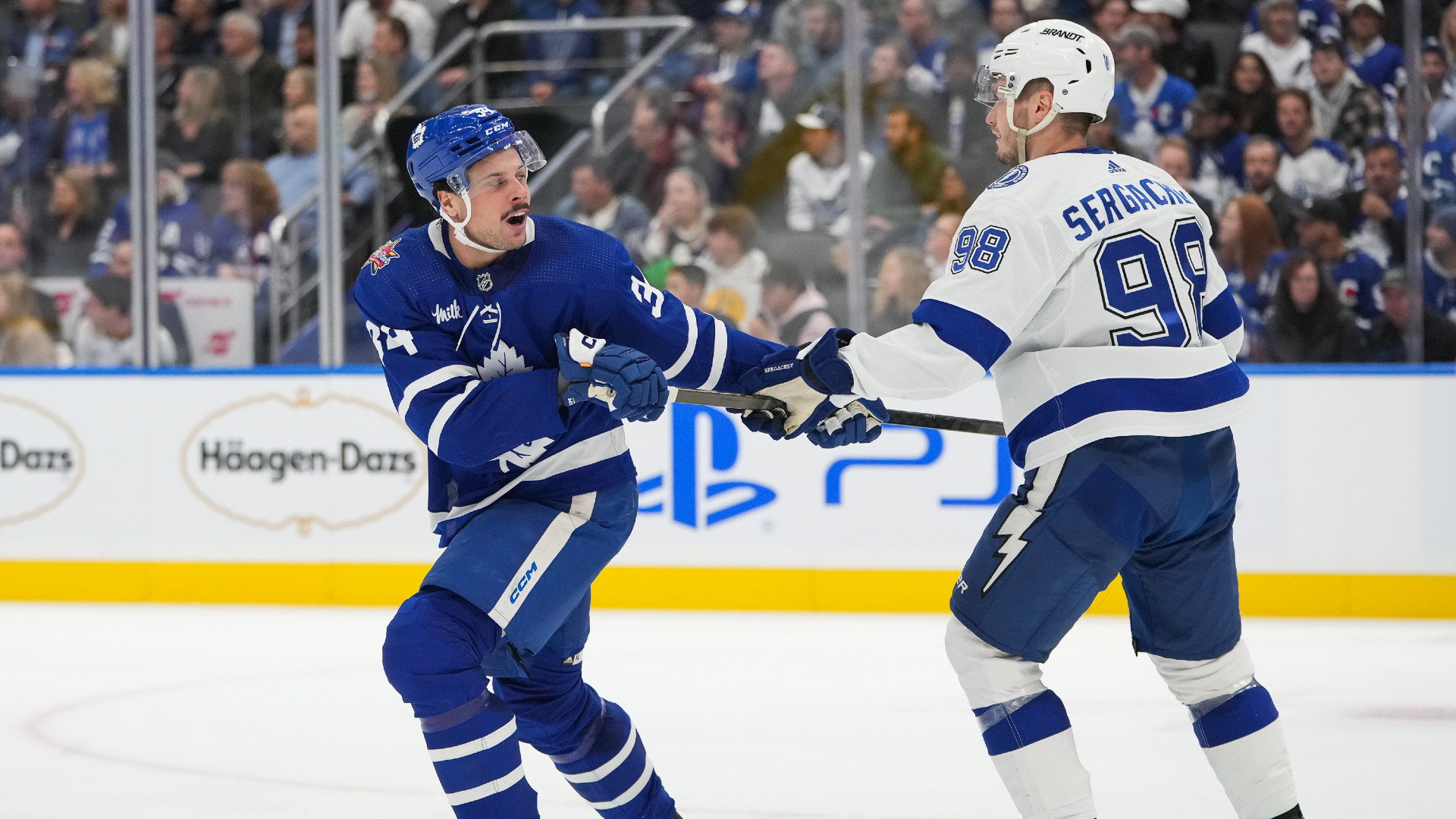 We'll start with the best these Toronto Maple Leafs can be. That certainly wasn't the first period of their game on Monday against the Lightning, where the offensive wizardry of Nikita Kucherov helped put them down 4-1. And it wasn't anywhere to be found in their previous four games, all of which they'd lost. But after Auston Matthews got them to 4-3 with a pair of goals in the second period, some of their depth forwards finally came alive. Nicholas Robertson, the 22-year-old playing his first game of the season, intercepted a potential clearance in the Tampa zone, then went give-and-go with Max Domi for a shot on goal. Jonas Johansson turned that away, but Calle Järnkrok was right up in his personal space to score the rebound and tie the game.
This was Järnkrok's first time scoring since the second game of the season, and it broke a five-game pointless streak for Domi. It also meant the Leafs then got to ice their top players while the PA was still announcing that goal. Matthews won the ensuing faceoff, the Leafs got it into the zone, and Mitch Marner broke free to meet the puck and fire home a beauty for the go-ahead, all in just eight seconds. The Leafs would lose their lead late, but another goal from Järnkrok in OT delivered an end to the losing streak.
Last year's Leafs were actually a pretty stable bunch, by their standards. Aided by a solid season in net from Ilya Samsonov, and the steadying veteran presence of Mark Giordano on defense, Toronto put together probably its best defensive season since the early days of Felix Potvin, ranking seventh in the league with 2.68 goals allowed per game (compared to ninth for their offense). That improved discipline on the back end no doubt helped them finally make it through the first round of the playoffs, especially when they held Tampa's attack to just a single goal in the 2-1 overtime win that ended the series in six.
But this edition of the Leafs, who have started 6-4-2, have been unable to maintain that much-desired stoutness, as they deal with an older unit and some deficiencies resulting from roster turnover. (John Klingberg, picked up in free agency, is not the caulk he might have been a few years ago.) With a goal differential of exactly zero, they have both allowed and scored 3.42 per game, and last night's roller-coaster ride against Tampa, as well as Saturday's 6-4 loss to the Sabres, demonstrated the core unreliability that threatens to define this team.
It's silly to make any bold declarations with 70 games remaining, especially because autumn is when a leaf does its changing, but judging from what they've put to tape so far, the Leafs are tip-toeing on the edge of what I would call ... the Oiler Zone. That's what happens to a team in the salary-cap era when it hits on some incredible offensive weapons but then doesn't have the resources or the smarts to build around them. In Toronto, those weapons are the four forwards who have double-digit points for them this year: Matthews, Marner, John Tavares, and William Nylander. That quartet alone absorbs about $40.5 million in salary, or just a little less than half the cap. Since the team still needs eight more forwards, they've had to try to squeeze talent from unlikely places.
Järnkrok looked good on Monday, but otherwise there have been few bright spots. Tyler Bertuzzi, brought aboard to try to ease the loss of Michael Bunting, hasn't yet ignited like he can, scoring just two goals with one assist on the year. David Kämpf, a critical presence on the penalty kill who just signed an extension, has been a liability, unable to create in 5-on-5 while contributing to the team's 26th-worst mark on the kill. Ryan Reaves, a very old-school signing who projects toughness and not much else, has begun his Leafs career by being on the ice for eight goals against and zero goals for. And Samsonov in net has been unable to make up the difference; he's played so poorly he's in danger of losing the No. 1 role to Joseph Woll.
Particularly as Auston Matthews scores on a McDavid-like pace, the Leafs' best combinations can still work wonders. But against the good teams, Toronto needs to win more than just their top-line minutes, and that's why Järnkrok's goal in the third was so important on Monday. When your reinforcements do their job, it means that when your stars score, they're putting you in the lead instead of desperately trying to claw back to even.
Stay in touch
Sign up for our free newsletter