NBA
The Clippers Need Some New Ideas
9:06 AM EST on November 15, 2023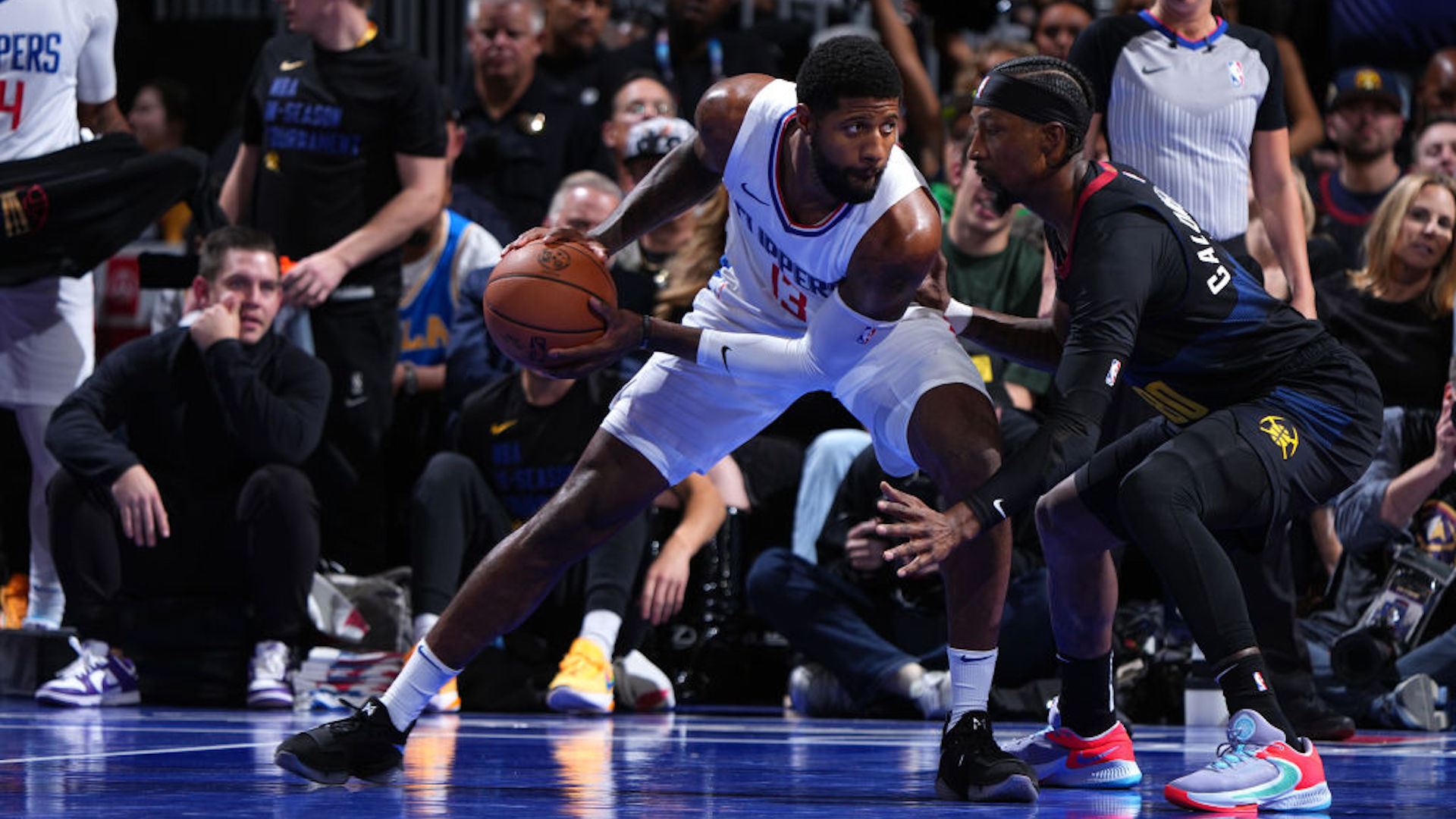 On Tuesday night against the Denver Nuggets, the Clippers played their best game since acquiring James Harden from the Philadelphia 76ers. They also lost the game in rather embarrassing fashion, which tells you all you need to know about the definition of "best" in this context.
When Harden arrived in Los Angeles, head coach Tyronn Lue repeatedly told reporters that he would need 10 games to successfully integrate Harden into the Clippers' rotation. We're now halfway to Lue's benchmark, and the Clippers are 0-5. Their net rating over that period is an abysmal -10.2, good for second-worst in the league behind the San Antonio Spurs. These guys just don't have enough size to defend and rebound against bigger teams, and they can't score—they've cracked 110 points just once in five games with Harden, and that was in a 144-126 loss to the Mavericks.
Last night the Clippers faced a Nuggets team that did not have star guard Jamal Murray and was hampered by a shockingly poor shooting night from Nikola Jokic, who still managed to score 32 while going 8-of-23 from the field. Michael Porter Jr. was no help, scoring 10 points on 4-of-11 shooting, and rookie point guard Jalen Pickett had to soak up 17 minutes off the bench in what was the first real NBA action of his career. All of this could have, should have, created an opening for the Clippers to steal a win on the road against the defending champions, and for a while it seemed like that's exactly what was going to happen. The Nuggets led by as many as 13 early, but the Clippers came back in the second half and led 99-92 with six minutes to play in the fourth quarter. After a quick dunk by the Nuggets, Harden checked into the game for Russell Westbrook. The Nuggets went on a 17-8 run the rest of the way and won the game 111-108.
"James Harden checks back into game, Clippers immediately surrender lead for good," is a fun and satisfying way to describe how the Clippers choked down their fifth-consecutive loss since assembling 2017's greatest superteam, but that summation too conveniently lets the rest of the players and coaches off the hook. Harden was fine if unspectacular, scoring 21 points on a restrained 15 shots, and as the game went on it became clear that the guy who recently declared himself an offensive system unto himself is in fact fitting snugly into the Clippers' existing system; that system just happens to be bad and gross.
Harden barely touched the ball after checking into the game with just over five minutes left to play. He found time to miss one driving layup while ceding the offense to Paul George, who had been leading the way all night. George had 31 points up to that point, and spent the last five minutes trying and failing to engineer enough isolation buckets to put the Nuggets away. He went 1-of-6 over that stretch, and his one make was a freebie layup that came after Kawhi Leonard stole an inbound pass. The rest of his shots went like this: mid-range jumper, pull-up three, pull-up three, cynical foul-baiting three, pull-up three that resulted in a game-ending wedgie.
Anyone who has watched a team armed with more than one high-usage isolation scorer will be familiar with this kind of sequence. The whole reason you get multiple perimeter players who are unguardable 1-on-1 is to bank on the fact that on any given night at least one of them will be in the zone, and that the opposing team won't have enough capable perimeter defenders to stop him from generating whatever type of shot he wants. It's a system that has worked before and will probably work at various points in the future for the Clippers; sometimes George or Leonard or Harden will hit those pull-up threes in the fourth quarter and the Clippers will win and the other team will be so mad.
But how often can Lue and his players bank on things actually working out like that? It hasn't happened yet. George is 33 years old and hurt all the time. Leonard is 32 years old and hurt all the time. Harden is 34 years old and has been a step slow since last season. All of these guys are still capable of playing like killers, as George did for most of last night's game, but he also spent the last five minutes of the game looking like a tired old guy who couldn't create any separation from his defender. Iso-ball is just a numbers game and it works so often because of its simplicity—if you put a guy with this particular set of skills in this many 1-on-1 situations throughout the course of a game he's going to yield you this many points per possession—but the equation isn't as in L.A.'s favor as they had hoped, or that it would have been with these players a decade ago.
Do the Clippers know this? George went out of his way after the game to blame the loss entirely on the referees and described the game as a moral victory; Harden offered up some excuses about still needing to play his way into game shape, and spent some time on the bench assuring a painfully fake-laughing Bones Hyland that he was getting his swagger back. OK. Whatever you guys say. Either those jumpers need to start falling, or you need to figure something else out.
Stay in touch
Sign up for our free newsletter