MLB
The Astros Were Not About To Lose A Battle Of Bullpens
12:20 PM EDT on October 12, 2023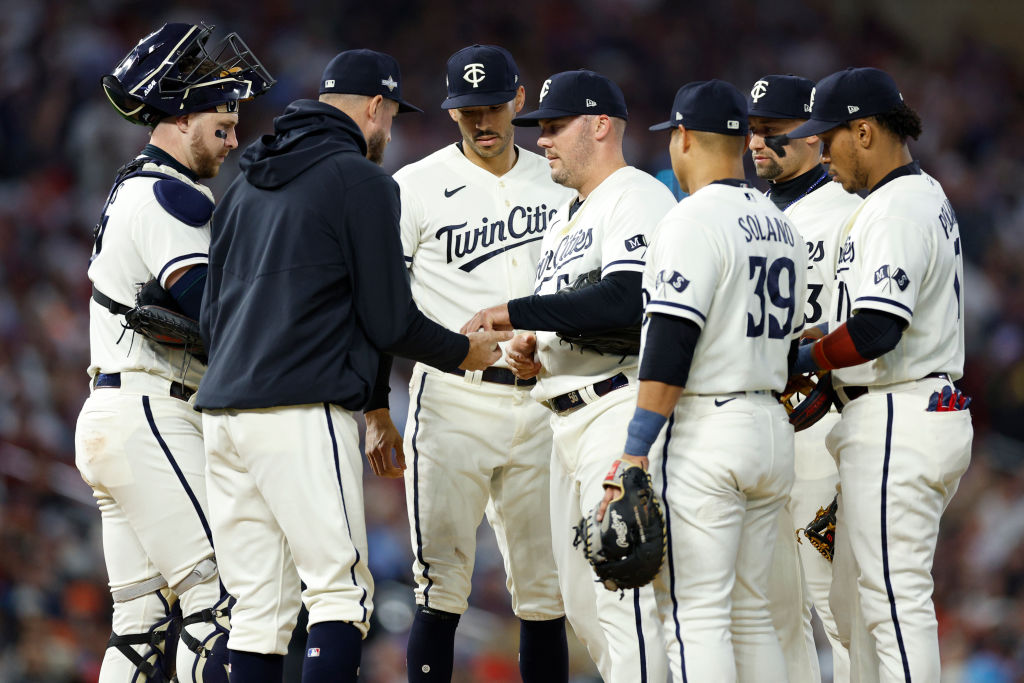 Rocco Baldelli had a plan, and he stuck to it. With a desire to keep Astros hitters from ever facing the same guy twice, a need to maximize advantages in every at-bat in a do-or-die game, and an off-day on deck, Baldelli knew from the beginning of Game 4 that his starting pitcher, Joe Ryan, was only going to make a cameo in the early innings. Ryan, who threw 161.2 innings over the course of the season, lasted two, exiting with the game tied 1-1. From there, Baldelli called upon five different arms to finish out the game. Four of them did their jobs immaculately. One bad pitch was all it took to end the Twins' year.
The unlucky reliever was Caleb Thielbar, the second guy out of the pen. Brock Stewart had been flawless in the third but didn't continue on. Baldelli made a gutsy choice to go for the lefty/lefty edge against the dangerous slugger due up, Yordan Álvarez, and ignore the fact that, the only other time Thielbar was brought out in this series, he immediately allowed a dinger to this exact hitter.
Álvarez didn't smack Thielbar quite so hard this time around, but he began the inning with a solid base hit to center. The veteran Thielbar recovered to strike out Kyle Tucker for the first out, but then José Abreu ruined everything. The suddenly aflame Houston first baseman took a fastball high and outside, then got the same pitch right on the edge of the plate. Abreu met it and flung it out to deep right-center, where it cleared the barrier and gave the visitors a 3-1 lead that would hold for the rest of the night.
With all the hazards in the Astros' lineup, this dinger could have happened at any time to any reliever Baldelli tossed out there. The fact that Minnesota's own hitters only managed a pair of solo shots didn't do them any favors, forcing their own pitchers to be practically perfect. But that was little consolation for Thielbar.
"I feel terrible about it. I know it's not all on me. That's what everyone keeps telling me," he said. "But that's how it feels right now, and it's going to take a little while to get over it."
The Astros' bullpen, meanwhile, had a little less to do and looked a little better doing it. Unlike the Minnesota relievers on Wednesday, who boasted a combined 2.2 innings of playoff experience, all from 2020, heading into this postseason, the three arms protecting the lead for Houston were all battle-tested. Hector Neris, who allowed two hits and no walks across eight appearances during last season's World Series run, bounced back from a bad Game 1 to turn Twin bats to dust. Bryan Abreu, entering in the eighth, has racked up 26 strikeouts and allowed zero runs since the start of last year's ALDS, and he delivered more of the same. Then this damn Ryan Pressly, who for the last four playoffs now has unfailingly turned out the lights for Houston, absolutely dismembered the Twins' last hopes by not allowing a single ball in play in the bottom of the ninth.
In retrospect, the Twins' bullpen plan felt like a prayer—all of these players, under the most pressure they've ever felt in their careers, forced to try to stop the defending champs from scoring any runs for seven innings. The Astros', on the other hand, was painfully familiar. These relievers were ruthless all of last fall, crushing opportunities like a trash compactor, and once again, the strategy of "hit home runs and then don't allow comebacks" remains undefeated. Eventually, probability would dictate, some team will beat them up. Pressly, in particular, just has to be due for a slip after so many spotless finishes. When that happens, it'll be ecstasy for whichever team manages the feat, because there's nothing better than cracking the invincible mystique of a daunting reliever. All the Twins were able to do, however, is feed their aura.
Stay in touch
Sign up for our free newsletter