NFL
SnyderWatch: The Fucker Is Still Here
12:58 PM EDT on March 23, 2023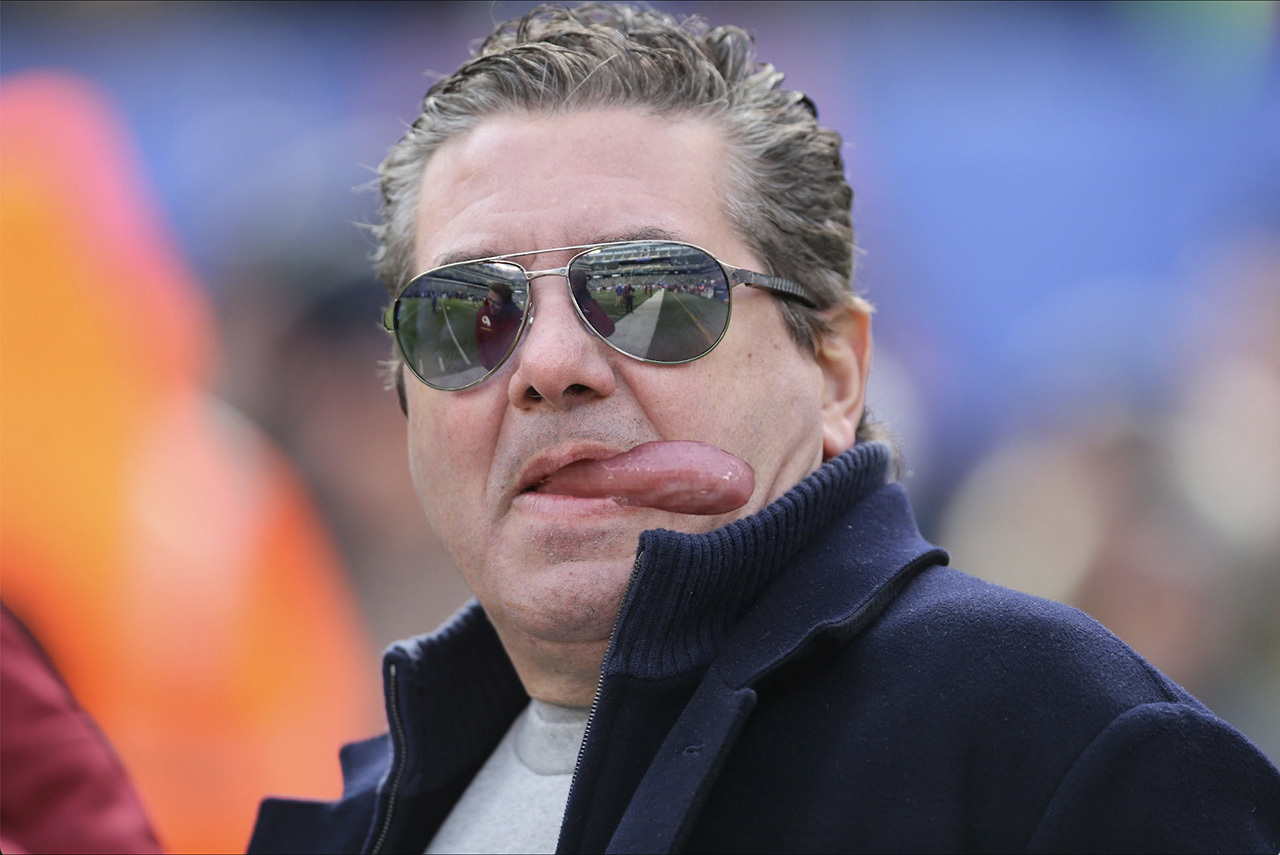 The annual NFL owners meeting will begin this Sunday in that bastion of elegance that is Phoenix, Arizona. Once together, the league owners will go about their usual business: giving Roger Goodell a raise that Jerry Jones will performatively object to, changing the rulebook by a tenth of a percentage point, and demanding that the Biltmore hotel waitstaff serve them cocktail sauce with less horseradish in it. Oh, and maybe they'll announce that Washington Commanders owner Dan Snyder has finally sold his asshole team. The past two weeks have brought us both promising and discouraging news on that front, so it's left to you and me to decide just how horny we should be at that prospect.
The best news for Snyder haters (i.e., the world entire) came exactly one week ago, when Mike Florio reported that, according to multiple sources, Snyder and his wife, Tanya, had boxed up all of their shit at the team's Ashburn, Va., headquarters back in December. They have been, essentially, absentee owners ever since. No wonder Eric Bieniemy agreed to come here. Three days after Florio's report, Ben Standig of The Athletic noticed that the team had included curiously delayed payments in its most recent contracts—including the massive extension they just gave to standout defensive tackle Daron Payne—that only make sense if all parties involved know a sale of the team is quickly forthcoming. From that report:
"Relative to their prior contract precedents, it would seem that they have intentionally delayed the first installment of their signing bonuses," the former front-office employee said. "Very plausible that it's related to the expected timeline of a sale. … I think the payout dates are fairly telling."
But wait! I'm not done teasing you just yet. I'm gonna swivel my hips and give you a seductive look over my shoulder as I reveal to you that 76ers owner Josh Harris got a SECOND billionaire named Mitchell Rales to join him in his potential bid for the team. Harris even roped Magic Johnson into his ragtag crew of billionaire underdogs. Magic, who these days looks like the world's friendliest haunted mansion proprietor, is no stranger to making Snyder feel like he's cool and special, so perhaps Harris brought him in as his closer to win a bidding war that now has another potential competitor added to the mix. From the Washington Post:
Canadian commercial real estate developer and private equity executive Steve Apostolopoulos visited the Washington Commanders' facilities recently while exploring a bid on the team, according to two people with knowledge of the visit.
All of this makes it feel like the end of Snyder's reign is all over but the paperwork. Except, of course, the paperwork is where Dan Snyder likes to inflict maximum damage, which is why the Post's reporting—done primarily by Nicki Jhabvala, Mark Maske, and the retiring Liz Clarke—goes out of its way to mention that sources aren't hopeful that a sale will be announced this weekend. No firm bid for the Commanders has been confirmed, no one still knows if Amazon techlord Jeff Bezos will be allowed to make an offer, and Snyder would still very much like to ensure that selling the team will grant him eternal immunity from ... well, from everything, basically. From future liabilities. From a league-commissioned investigation (Snyder's second) being conducted by Mary Jo White. From having to pay Payne a timely signing bonus. And from all the mean people, us included.
Given that we live on Earth and not in fucking Candy Land, it's not a certainty that Snyder will receive this form of 24-hour protection against wetness and odor, which means it's also not a certainty that Snyder will divest himself of the Commanders at all. Therefore, all you and I can do is wait.
That wait has lasted just about a quarter of a century, so you understand why Commanders fans are dying for anything resembling forward movement on this sale. Our own Ray Ratto argued earlier this week that a transfer of Commanders ownership would be essentially meaningless and whoever owns the team next will be "someone who will somehow amazingly be worse than Danny Snyder." With some due respect to Ratto, he is both stupid and wrong. There is a special breed of powerful asshole who goes out of his way to be petty and hateful every waking second. Ron DeSantis is one such man. Snyder is another. I have no doubt that both Harris and Apostolopoulos will prove to be scum. I know that Rockets owner Tilman Fertitta, who is viewed as long shot to buy the team, is scum. And everyone knows that Bezos is scum. But if you've had to live with Dan Snyder for 23 years and change, you know that there's a difference between Snyder and all of the other scum. At least other scumbags have the common courtesy to be insidious.
By contrast, Snyder's evildoing has been both so grotesque and so VISIBLE that it has, in an astonishing feat, eclipsed everything else about this team, and it has done so this entire century. No one here watches the Commanders; they watch SNYDER, because Snyder has left them with no other choice but to do so. You watch Snyder fuck people over, you wish him dead, and then he goes and fucks over someone else before you're even done throwing your coin in the fountain. My team, the Minnesota Vikings, is also owned by a literal crook, and yet Zygi Wilf is a MILLION times better than Snyder. Everyone is. Look at this dossier that my colleague Dave McKenna compiled on Snyder (and was subsequently sued over, in a frivolous lawsuit that Snyder would eventually drop). That shit proves that Snyder is the worst owner of my lifetime, and McKenna published it in 2010. It doesn't even contain the sexual harassment, or the lewd cheerleader videos, or the proposed new stadium site located on Venus, or the federal probes, or the self-dealing and possible bank fraud, or the suppression of Beth Wilkinson's initial league investigation, or the threatened blackmail, or the fake Native American charity, or Carson Wentz, or all the bad tweets.
As someone who has lived in the D.C. area for 20 years, I too have become unwittingly addicted to Snyder content. I'll read anything about what a pathetic, sniveling little fucker Snyder is. Like this post! I will write this post to get my Snyder fix, and then I'll read it many times over. It's more entertaining than watching Ron Rivera attempt to cobble together a winning record, that's for certain. It's a cruel trick to replace normal NFL fandom with whatever the fuck compulsion you call Snyder-watching, but it's just about the only momentous thing Snyder has done in his time here. Getting rid of him would objectively be the greatest moment in this franchise's history since 1991. It would mean a new stadium in D.C., a re-engaged fanbase, a front office that specializes in things other than clumsy damage control, and even maybe—just maybe—exciting football. That's why everyone here is waiting for Snyder to leave. Because it'll be worth it.
So go ahead and drag this out, Dan. You lousy fuck. Drag it out for as long as you can. You've made the rest of us far more patient than you realize.
Stay in touch
Sign up for our free newsletter