Soccer
Seamus Coleman Never Stopped
1:06 PM EDT on May 2, 2023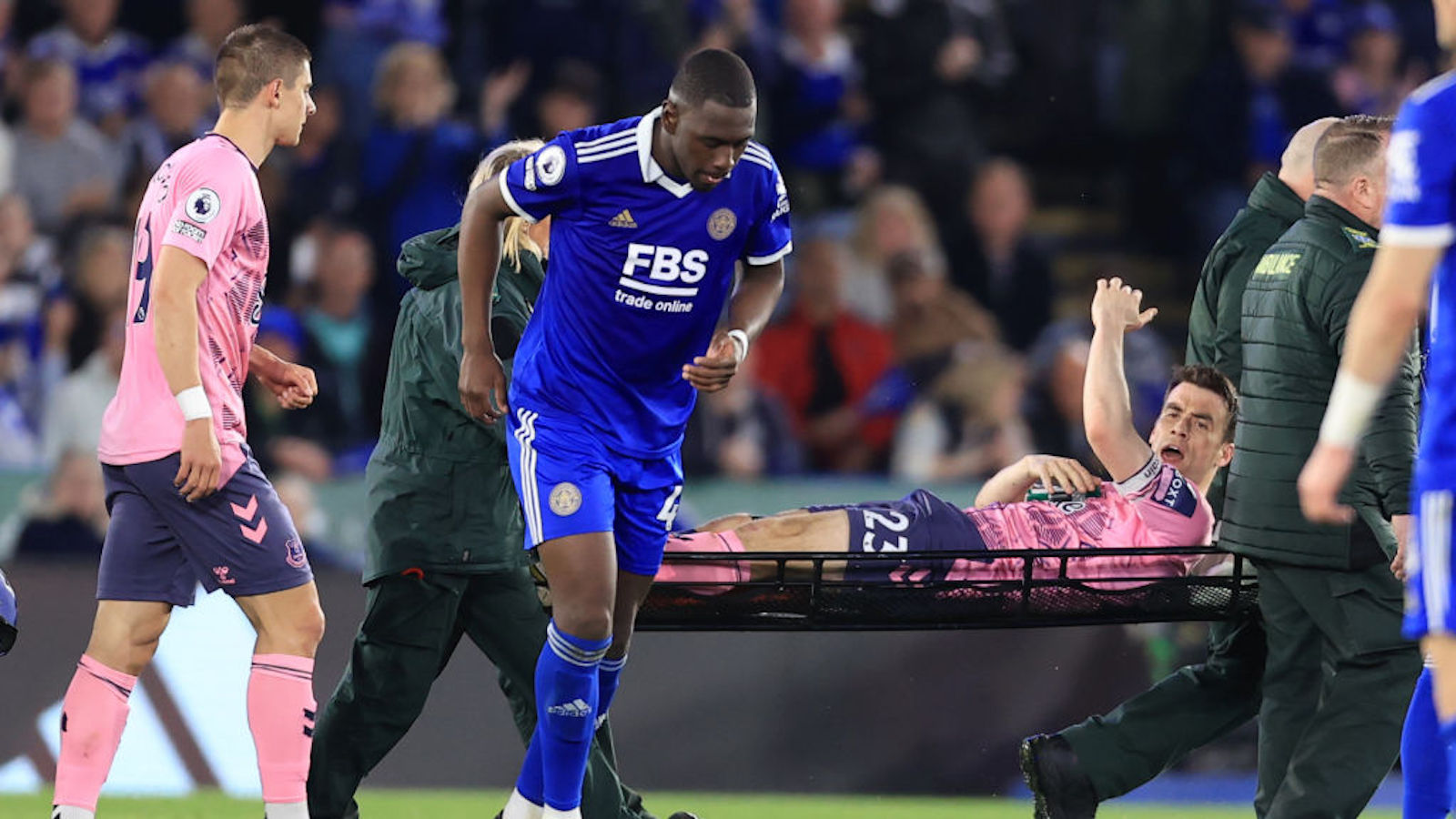 Everton's captain, Seamus Coleman, left Monday's game against Leicester City on a stretcher. He ended up there thanks to a first-half collision with Boubakary Soumaré, which bent Coleman's right leg at a horrific angle and left the 34-year-old fullback clutching at his knee while curled up on his side. As Everton's medical staff placed an air cast on Coleman's leg and loaded him onto the stretcher, one grim thought became impossible to ignore: This might be the end of his career.
Coleman is an increasingly rare type of player in the Premier League, in that everything about his career feels anachronistic. For one, there's the manner in which he arrived at Everton: He was purchased from Sligo Rovers in 2009 for £60,000, which sounds like a piece of transfer news from 1994 rather than the 21st century. After a one-year loan spell at Blackpool, Coleman seized Everton's right back position as a 21-year-old and never let go of it. He became a marauder down the right flank, chewing up grass with tireless runs from one end of the field to the other, always on the attack and always ready to thump both crosses and opponents. It was impossible to watch Coleman during his prime, a time when he and Leighton Baines had a claim on being the best fullback pairing in the league, and not marvel at the fact that he only cost as much as a luxury sedan. It wasn't long before Everton fans were chanting, "60 grand, 60 grand, Seamus Coleman" at him.
And then, somehow, Coleman never left. He has spent his entire 15-year career at Everton despite playing in an era where roster turnover is near constant and various forces routinely conspire to pull players exactly like Coleman away from clubs exactly like Everton. A mid-table club where a player in his early 20s can play every day and show off his talent is a perfect stepping stone to a bigger club, and though Everton would have certainly been reluctant to sell such an important player, the profit that would come from offloading a £60,000 investment to a rich club for a sizable transfer fee would have been difficult to resist. But Coleman wanted to stay, and Everton wanted to keep him, and so he stayed. Over the years, he became a beloved figure both on and off the field, spoken about in reverent tones by fans, players, and coaches alike. Coleman is so well liked that it wasn't much of a surprise when, at the end of last season's campaign, then-manager Frank Lampard stood up in front of everyone and called Coleman one of the best men he'd ever met, despite only having worked with him for a few months.
It's difficult for a player like Coleman to not become mythologized to the point of absurdity. Throw a stick and you'll hit an English soccer pundit desperate to seize on a (white) veteran player who has spent more than five years at his club, so that he can lauded as a true servant to the football club and a lad who understands what it means to play for the badge. Meanwhile, the rest of us are left to groan every time one of these old-timers show up on the team sheet. Why is he still starting ahead of that 22-year-old we just signed from Porto?
I'm a little ashamed to admit now that I anticipated one day feeling this sort of weariness towards Coleman. When he got his leg snapped during the spring international break in 2017 (some luck this guy has), it felt like the beginning of a speedy end. Everton was still flush with Farhad Moshiri's cash then, and harboring ambitions about breaking into the top tier of the Premier League. It was entirely reasonable to expect that, by the time his leg healed, Coleman's place in the team would be occupied by a new, exciting young talent who would keep the aging Irishman out of action. That didn't happen, though, because Everton is the biggest organizational failure in sports. Coleman was pressed right back into action the following season, and he hasn't been allowed to rest since. He's been on the field throughout Everton's long, humiliating stumble into the Premier League's dungeon.
Ever since Coleman was carried off the field yesterday, I've been thinking about what clubs and players owe to each other. It's not an exaggeration to say that Coleman has given everything he has to this team, not just in the years he dedicated to it, but the individual moments that make up a 15-year career. Coleman is one of those players who goes through every game like an exposed nerve, and he's spoken before about how his goal celebrations are embarrassing to think about in hindsight. I can see why: whenever Coleman scores, or hears the final whistle bring an end to another nerve-wracking win, he juts his jaw straight out, his eyes go black, and he looks like he's either going to scream or spend the next 15 minutes crying. It's a wild thing to see happen to a guy who is so calm and soft-spoken off the field, and I take it as evidence of how much all of this really means to him.
A player who has served his team like that deserves a warm, water-colored sendoff. Perhaps there is some alternate universe in which Everton's executives didn't fuck up every single decision they've made over the past seven years. In that universe, Coleman might be at home right now, playing with his kids and getting ready to put to bed another season in which he mostly rode the bench and served as a mentor to Everton's fresh crop of young talent. That Seamus Coleman might be feeling good about the small role he's played in turning Everton into a consistent Top 6 side, and preparing to end his career with one last start in Everton's final home game of the season, a May 28 matchup with Bournemouth that will serve as more of a party than a game.
The irony is that a sunnier timeline would have robbed me and perhaps many other Everton fans of so much of what there is to appreciate about Coleman. He's been forced to play out the end of his career in hellish conditions thanks to the incompetence of those who write his checks, but he's also played some of the best soccer of his career during these last few seasons. In 10 years, when I think of what it was like to watch Seamus Coleman play soccer, it's what he did during this dark period that will come to mind first. I'll remember his goal against Leeds, and how he won the ball that sprung 10-man Everton to a 1-0 win against Newcastle, and how his dogged wrestling with Wilfried Zaha set up last year's season-saving goal against Crystal Palace.
I don't know if Coleman will ever play for Everton again, or what division the team might be in if he does manage to return. I want to say that, if this is the end of the line for him, he deserved better than what he got, but I'm not so sure that's true. As Coleman was being carried off the field on Monday, feeling what I can only assume was an immense amount of mental and physical pain, he sat up, looked towards the Everton fans in the away end, and urged them to keep cheering. Everton was down 2-1 at the time, and a loss would have all but guaranteed their relegation from the Premier League this season. They ended up with a 2-2 draw and a little bit of hope left to cling to.
Maybe some players just aren't meant to leave the game quiet and happy. Maybe some are meant to confront everything about sports that hurts and invigorates all at once, and to just keep going.
Stay in touch
Sign up for our free newsletter