Soccer
Report: Reyna Family Gave U.S. Soccer Details About Gregg Berhalter's 1991 Domestic Violence Incident
2:41 PM EST on January 4, 2023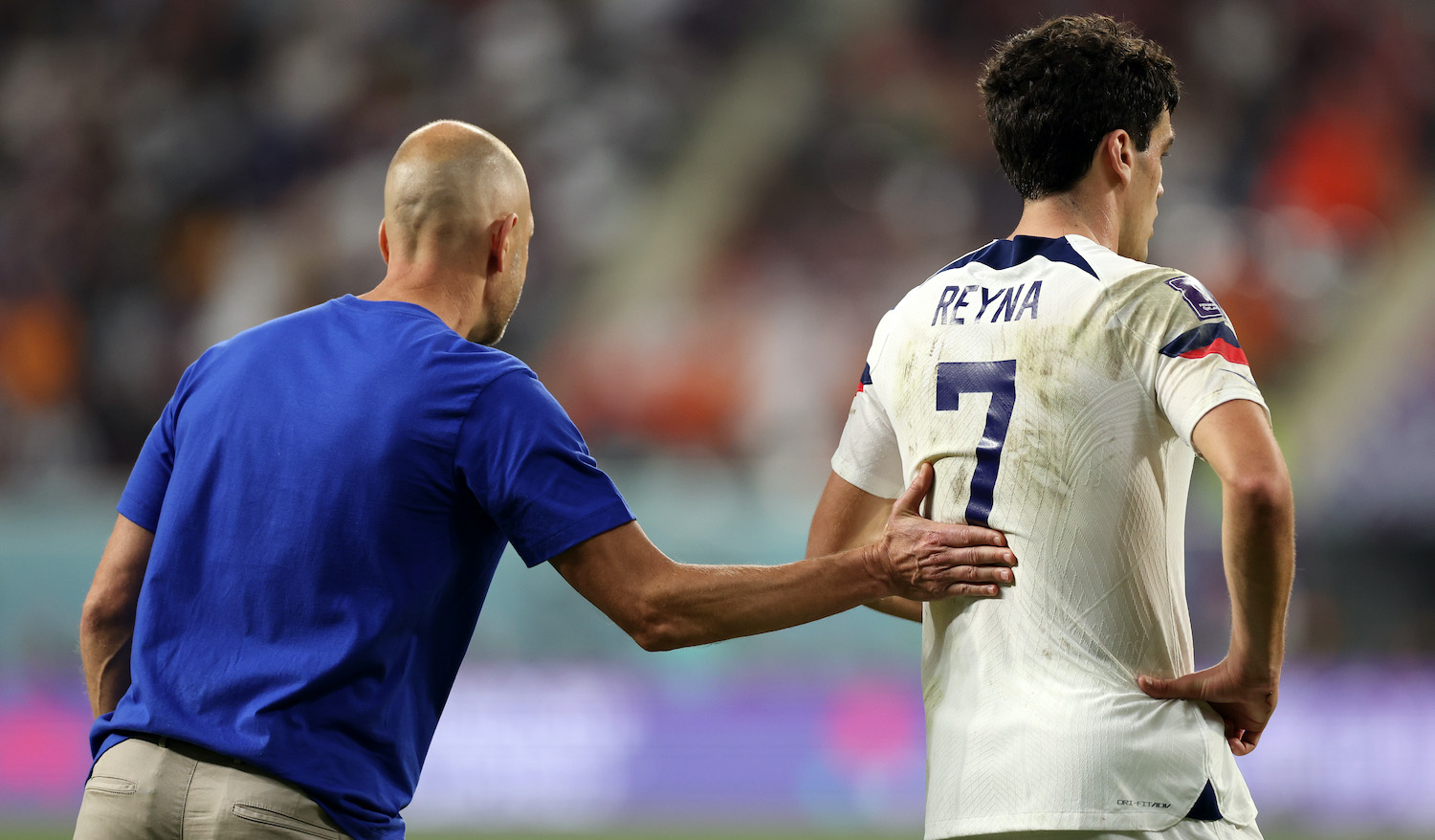 Former USWNT player Danielle Reyna and her husband, USMNT legend and Austin FC sporting director Claudio Reyna, were the pair of people who informed U.S. Soccer about USMNT coach Gregg Berhalter kicking his now-wife Rosalind in a 1991 domestic violence incident, according to a report from ESPN. Their tip-off on Dec. 11 spurred an investigation into the allegations, and on Tuesday, the Berhalters and U.S. Soccer released joint statements detailing the 1991 incident and publicizing the (ongoing) investigation.
According to statements given to The Athletic, the Reynas decided to tell U.S. Soccer about the decades-old domestic violence incident on Dec. 11, the day Berhalter spoke at the HOW Institute for Society's Summit on Moral Leadership. In a speech that he thought was off the record, Berhalter infamously revealed details about how an unnamed player almost got sent home from Qatar for failing to meet expectations. That player was obviously Gio Reyna, whose lack of playing time in Qatar didn't make any sense from the outside, and he confirmed the report shortly after Berhalter's remarks were made public. Per ESPN, Claudio began texting U.S. Soccer officials and "threatening to reveal sensitive details" about Berhalter once Gio was told he'd have a limited role at the World Cup. After Berhalter's comments went public, Danielle and Claudio called U.S. Soccer sporting director Earnie Stewart and detailed the allegations against Berhalter.
"I wanted to let him know that I was absolutely outraged and devastated that Gio had been put in such a terrible position, and that I felt very personally betrayed by the actions of someone my family had considered a friend for decades," Danielle said in a statement provided to The Athletic. "As part of that conversation, I told Earnie that I thought it was especially unfair that Gio, who had apologized for acting immaturely about his playing time, was still being dragged through the mud when Gregg had asked for and received forgiveness for doing something so much worse at the same age."
The Reynas and Berhalters have been connected to each other for decades. When Gregg was hired as USMNT manager in 2018, Claudio sung his praises, specifically for the way he would "give the team the right mentality to get results and play good soccer." Gregg and Claudio were both born in the summer of 1973 in New Jersey, and they played youth and then high school soccer together as kids. Gregg went to play college ball at Chapel Hill, where he met Rosalind and Danielle, who were roommates and teammates on the women's soccer team. Both Claudio and Gregg got their first USMNT caps in 1994, both played for the national team until 2006, and both started for the USMNT in their lone World Cup knockout round win against Mexico in 2002. Gregg has known Gio since he was a toddler, and he's spoken loftily about the Reyna lineage and how honored he is to help Gio continue it. "You're looking at something that is so familiar to you and that's such a great feeling," he said this past June of watching Gio play. "It's almost like you're putting a family member in the game. That's been really fun." This is basically as connected as two families at the highest level of U.S. Soccer can get, which makes their now-public feud that much more remarkable.
Danielle and Claudio Reyna both denied ever making any threats, demanding that Berhalter be fired, or using the allegations to blackmail the then-manager. In Danielle's statement, she also called into question the Berhalters' statement's characterization of the kicking incident that took place in 1991. "Without going into detail, the statements from yesterday significantly minimize the abuse on the night in question," she said. "Rosalind Berhalter was my roommate, teammate, and best friend, and I supported her through the trauma that followed. It took a long time for me to forgive and accept Gregg afterward, but I worked hard to give him grace, and ultimately made both of them and their kids a huge part of my family's life. I would have wanted and expected him to give the same grace to Gio. This is why the current situation is so very hurtful and hard."
The only thing holding Gio Reyna back in his career thus far has been injuries, though he finally seemed to get healthy two months before the World Cup, which is part of what made his measly 52 minutes of World Cup action so baffling. The USMNT could have used his creative passing abilities on the field, though when Reyna did play, he was not particularly effective and the U.S. was unceremoniously yawned out of the tournament by the Netherlands.
Berhalter's contract as USMNT manager expired on New Year's Eve, and while he and U.S. Soccer haven't said anything about whether or not his deal will be renewed, U.S. Soccer did announce that Anthony Hudson would be leading the team's annual January camp. Reyna will not attend, as the European season is underway and the camp is typically for North American-based players. Still, given that Reyna turned 20 one week before the USMNT's first game of the 2022 World Cup, plays for the best talent incubator in Europe, and clearly is one of the USMNT's most talented players, he's going to be part of the program for the long term unless this feud spirals even further (his younger brother Joah-Mikel is also progressing through the youth ranks). Berhalter's statement mentioned that he was "looking forward to continuing my conversations with U.S. Soccer about the future," though one wonders how much of a future he could possibly have given today's developments.
Stay in touch
Sign up for our free newsletter