College Football
Penn State Finally Gets The Rose Instead Of The Thorn
12:03 PM EST on January 3, 2023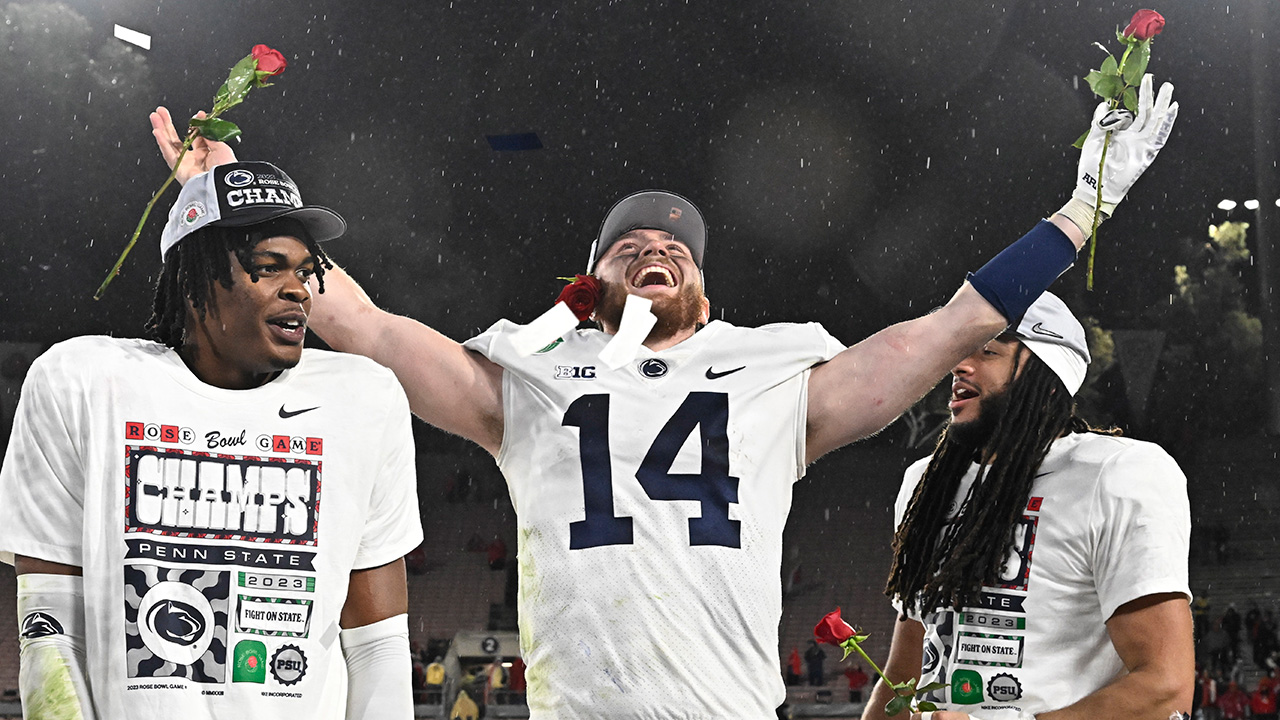 Ki-Jana Carter took a pitch from Kerry Collins and went right. A defender hammered into him. Carter stumbled, continued forward—and, suddenly, he was past everyone. Carter's 83-yard touchdown run was Penn State's first offensive play of the 1995 Rose Bowl. The game was actually pretty close until a Chuck Penzenik interception late in the third quarter swung things decisively in Penn State's direction. The Nittany Lions eventually beat Oregon, 38-20.
On Monday, 28 years and a day after their last January win in Pasadena, Penn State finally won another Rose Bowl. Just like that day in 1995, the Nittany Lions used big plays to finally pull away from Utah in the 35-21 win. Nicholas Singleton's 87-yard run broke a 14-all tie early in the third quarter. Sean Clifford, the sixth-year QB, hit KeAndre Lambert-Smith for an 88-yard touchdown early in the fourth. Clifford went 16-for-22 for 279 yards and two scores.
The game was quite fun; there were big plays and a lot of smash mouth football. Penn State managed to score two short touchdowns out of the Jurassic-era T formation. Utah scored one out of the I. Both Penn State and Utah were pretty good this season, and ended their seasons playing pretty good football. It was close for a while and may have stayed closer if Utes QB Cameron Rising hadn't been knocked out of the game in the third.
It was a satisfying end to the season for Penn State. My dad, a 1972 Penn State grad and the former single-game scoring recordholder for Penn State Delco (now PSU Brandywine), said it was "the best game of Clifford's career." (If you know any Penn State fans, you know they complain about the quarterback often, whether it's Tony Sacca or Wally Richardson or Matt McGloin or Anthony Morelli or John Sacca.) But Penn State finally winning another Rose Bowl finally got me thinking: This can't be what Penn State envisioned when it joined the Big Ten.
Joining the Big Ten made sense once Penn State's plan for an Eastern football conference failed. And the move has been a success for Penn State on balance. Non-football, non-basketball sports began playing in the conference back in 1991, and have won 121 conference titles and a number of national championships since joining. Penn State's wrestling team was always popular, much more so than men's basketball. It is now a powerhouse, winning nine national titles under coach Cael Sanderson. The school has seven women's volleyball national titles, all since joining the Big Ten. The men's basketball team still still hovers around .500 most years, but they also have Big Ten TV basketball money, which was one of the main reasons for the move. (In a 1989 AP story, then-Penn State coach Joe Paterno said the school had to play seven home football games "to make ends meet"; presumably the Big Ten TV money would make up for the fewer home games a move to a conference creates.)
But football is king at Penn State, and the program's move to the conference was supposed to be good for football. Don't take my word for it. "I think it would be good for our football," Paterno said in 1989, before the move was made official. "I can't speak for the other coaches, but as far as I'm concerned, I'm excited about it." (Big Ten members mostly didn't want the Lions in the conference. Bobby Knight even had a quip: "I've been to Penn State. And Penn State's a camping trip. There's nothing around for 100 miles.")
The fans chanting "WE ARE" at football games also appeared to be slightly against the move. One poll had 53 percent of fans opposed with 37 percent in favor. Though fans would miss some of the PSU's traditional rivals—Syracuse and Pitt would be out as regular opponents—the main issue seemed to be the worry about what would happen if Penn State made the Rose Bowl and didn't get to play for a national title. "In a year in which Penn State wins the championship, by being committed to playing the first out of the Pacific 10 Conference in the Rose Bowl, they conceivably could be denied a shot at a national championship," wrote Mike Sanders of The Gettysburg Times. (Sanders, who said nonetheless he was "70 percent" in favor of the move, wore a Penn State hat in his column photo.)
The Big Ten move was the justification for Paterno's decision to stick around and see through his stated vision of wanting to coach in the Rose Bowl; after originally floating retirement at 65, Paterno said he could stay around for "another four or five years" by the time the move was voted on in 1989. "Who knows?" he continued. "Maybe I can continue to coach another six or seven years." He coached until midway through the 2011 season, when he was fired in the wake of revelations about former PSU defensive coordinator Jerry Sandusky's long history of child sexual abuse. Paterno was 84 by then.
The hollowing-out of the Penn State football program post-Sandusky was not when the program began to struggle, however. The program's last Rose Bowl win was Mike Sanders' nightmare scenario. Nebraska also went undefeated that season, won the Orange Bowl over Miami, and was voted No. 1 in both polls above the Nittany Lions. Penn State contended for a while in the years that followed—they were No. 1 for much of 1996 and No. 2 for much of 1999—but that was about it for a while. Paterno's teams finished in the top 10 just three times in his 12 seasons in charge after 1999; they had done it five times in the 1980s and four times in the 1990s.
Penn State's football program has been pretty good again recently. James Franklin, Penn State's coach since 2014, will have his fourth top-10 finish in the polls this season. Yet the team has never really sniffed the college football playoff during that period. Being an also-ran to Michigan and/or Ohio State most years can't be what the Nittany Lions envisioned when they joined the Big Ten 30 years ago. This was just the team's fourth Rose Bowl appearance during those three decades; the Lions have also lost twice to USC. (PSU has won one other Big Ten title, in 2005, but played in the Orange Bowl that year because the Rose Bowl hosted the USC-Texas national title game.)
The forthcoming college football playoff expansion will probably get the Nittany Lions into some exciting games in the coming years. But Penn State football has high expectations, and this century it has been more thorns than roses.
Stay in touch
Sign up for our free newsletter