Capital
Oh, So It's Illegal To Email Your Son About How To Do Financial Crimes Now?
3:17 PM EDT on September 20, 2023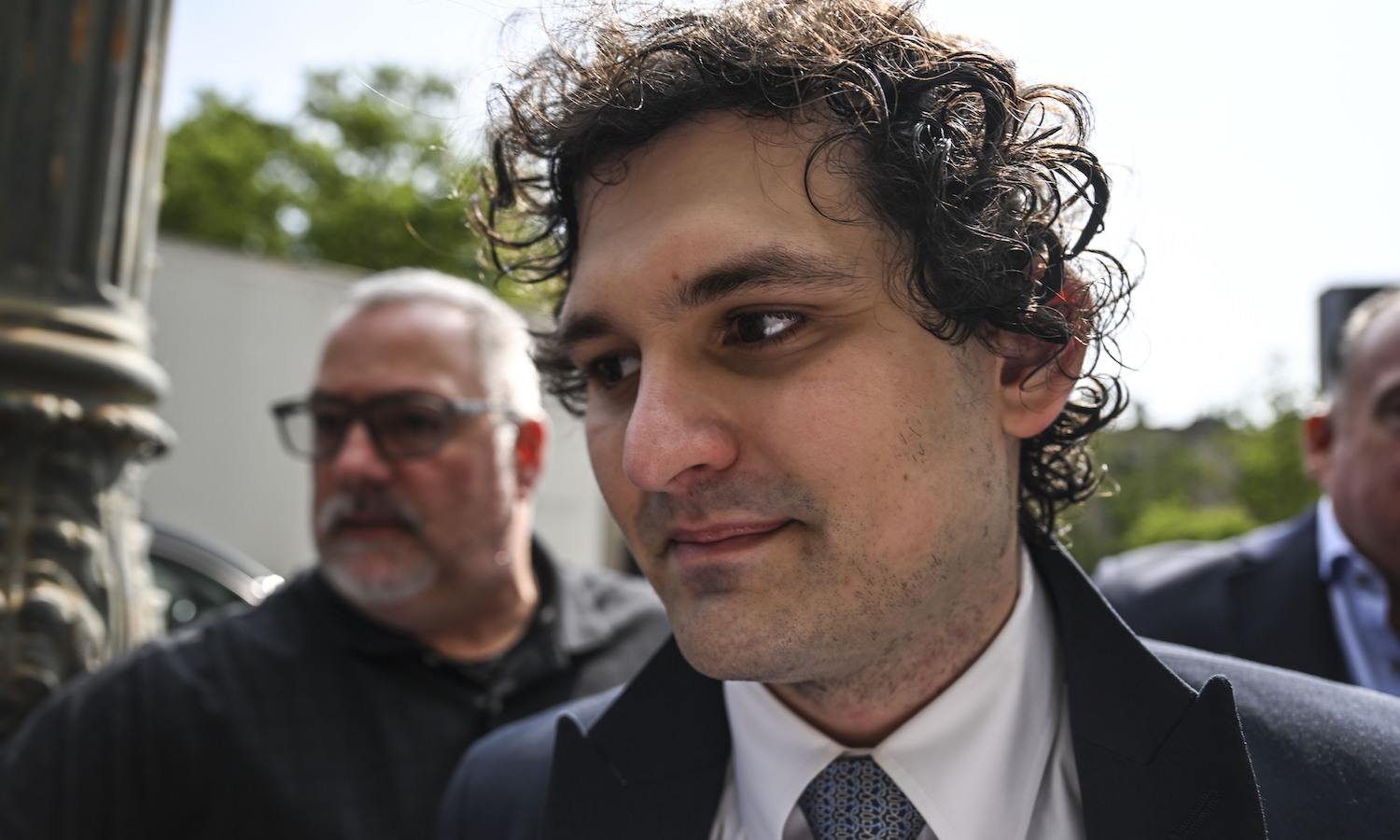 Sam Bankman-Fried, the prolific and disastrous League of Legends player turned crypto mega-mogul turned effective altruist thought leader who was arrested last December for what can fairly be termed as "getting a little Ponzi with it," is currently in federal custody awaiting the first of his many criminal trials, which is scheduled to begin on Oct. 3. His case has always been honestly pretty funny, but will presumably get funnier when that trial starts thanks to the timely introduction of two new characters: Sam's terrible parents.
Since we last checked in on him at the end of last year, Bankman-Fried's fate has mirrored that of crypto in general. On Dec. 13, the former FTX and Alameda Research head was extradited from the Bahamas back to the U.S., hours before he was scheduled to speak to Congress. He had reportedly planned to open his remarks with the line "I would like to start by formally stating, under oath: I fucked up"; instead, he was charged with wire fraud, wire fraud conspiracy, securities fraud, securities fraud conspiracy, and money laundering. The federal government then spent the next few months digging through the (over six million pages worth of) evidence and appending new charges to Bankman-Fried's already lengthy dossier, such as bank fraud, foreign bribery (for trying to offer the Chinese government $40 million to unfreeze some Alameda accounts), and the operation of an unlicensed money transmitting business.
In a pair of filings in June and July, prosecutors withdrew five of the new charges, including a campaign finance charge, on the grounds that the U.S.'s extradition treaty with the Bahamas doesn't cover that sort of thing. Bankman-Fried's legal team has highlighted several alleged oddities surrounding his extradition from the Bahamas. Prosecutors are typically not allowed to bring new charges against someone after they're extradited, and the Bankman-Fried legal team is fighting with both the feds and the Bahamanian authorities, who have to approve the new charges. The feds have asked for a 2024 trial date on the new charges.
But that's all relatively minor compared to the trial Bankman-Fried has coming up in two weeks. On August 11, the judge revoked Bankman-Fried's bail and had him jailed awaiting trial after accusing him of repeated witness tampering. Bankman-Fried's prime offenses were leaking his business and romantic partner Caroline Ellison's private writings to the New York Times and speaking to Michael Lewis. Bankman-Fried had spent the previous eight months under house arrest in Palo Alto living with his parents Joe Bankman and Barbara Fried, who both teach at Stanford Law. They have been dragged into the public eye after FTX, now under the stewardship of notorious failed company restructurer John Jay Ray III, filed a federal suit this week accusing the pair of siphoning off "millions of dollars out of the FTX Group for their own personal benefit and their chosen pet causes."
Given that FTX and Alameda functioned less as businesses that offered services to clients and more like big funnels that scarcely tried to hide their shapes, and further given the influence Fried has within the thrice oxymoronic effective altruist intelligentsia, it's not really all that surprising that Bankman-Fried also spread the wealth within his family. Ray's work unraveling the FTX and Alameda scheme has already borne similar fruit, showing us that Sam's dumb little brother Gabe floated the idea of buying the island nation of Nauru and converting it into some sort of "bunker/shelter" in case all the most virtuous and strong effective altruists needed to ride out "some event where 50-99.99% of people die," an idea that displays a remarkably weak grasp of concepts like sea level.
The alleged crimes, in this case, are pretty basic. In the suit, FTX alleges that Bankman-Fried sent his parents $10 million from Alameda's coffers and gifted them a $16.4 million home in the Bahamas. Bankman, Sam's father, was more involved in FTX's operations than Fried, flying on company jets, expensing lavish hotel rooms, and making a cameo in FTX's now-infamous 2022 Super Bowl commercial. (Bankman wears a wig and acts alongside Larry David, who he said he was way more excited to meet than Tom Brady, though he also says he is "not a star-fucker.")
Bankman was also involved in what FTX lawyers allege was the successful squashing of a serious whistleblower complaint. In Sep. 2019, a former (and now-deceased) FTX attorney sent an email to Bankman-Fried outlining basically all the crimes that are now a matter of public record; new FTX management alleges that, rather than do anything productive about that, Bankman-Fried forwarded the email to his parents and asked them to help him deal with it. Bankman allegedly did so by threatening legal action against the lawyer. (A large chunk of text pertaining to this part of the case is, frustratingly, mega-redacted.)
The complaint lays out a compelling case showing that Bankman was instrumental in guiding FTX's internal affairs, making hiring recommendations and negotiating contracts, among other organizational responsibilities. He did have an official role and salary, and the funniest part of the complaint is Bankman whining about that salary to his son, and then hitting him with the "I guess I have to tell your mother about this..." move.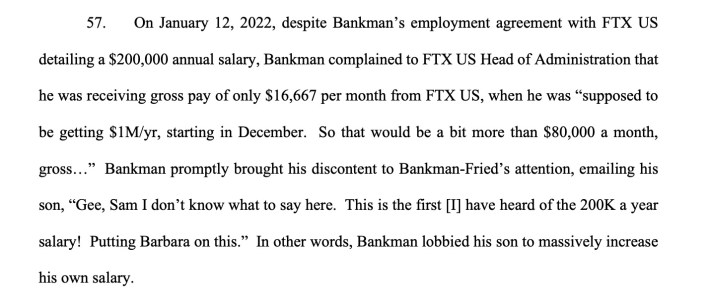 Fried's involvement was more behind the scenes, with FTX alleging that she helped FTX manage its influence-buying operations on Capitol Hill (otherwise known as campaign finance). Per the lawsuit, Fried advised her son on how to obscure his donations and showed him how to use straw donors. "Fried's constant consideration of optics and how it would affect her and her son's companies, and [Fried's PAC Mind the Gap]'s strategy of 'stealth' and maintaining a 'cone of silence,' prompted Fried to pressure certain FTX Insiders to unlawfully avoid (if not violate) federal campaign finance law," the suit says. This isn't new exactly—two of Bankman-Fried's closest advisors have already pleaded guilty to engaging in a straw donor scheme—though Bankman-Fried's mom's alleged role is quite the revelation.
There's no smoking gun here, which is somewhat disappointing. It's not surprising, though, given that this is coming out in a suit between FTX and the Bankman-Fried family, not in the case with the feds. Still, it will be pretty impossible for Bankman and Fried to argue that they weren't closely involved in operations if Bankman wasn't directing FTX employees to buy expensive rugs for him.

Stay in touch
Sign up for our free newsletter