MLB
Nothing Is Promised, Even For The Orioles
4:52 PM EDT on October 13, 2023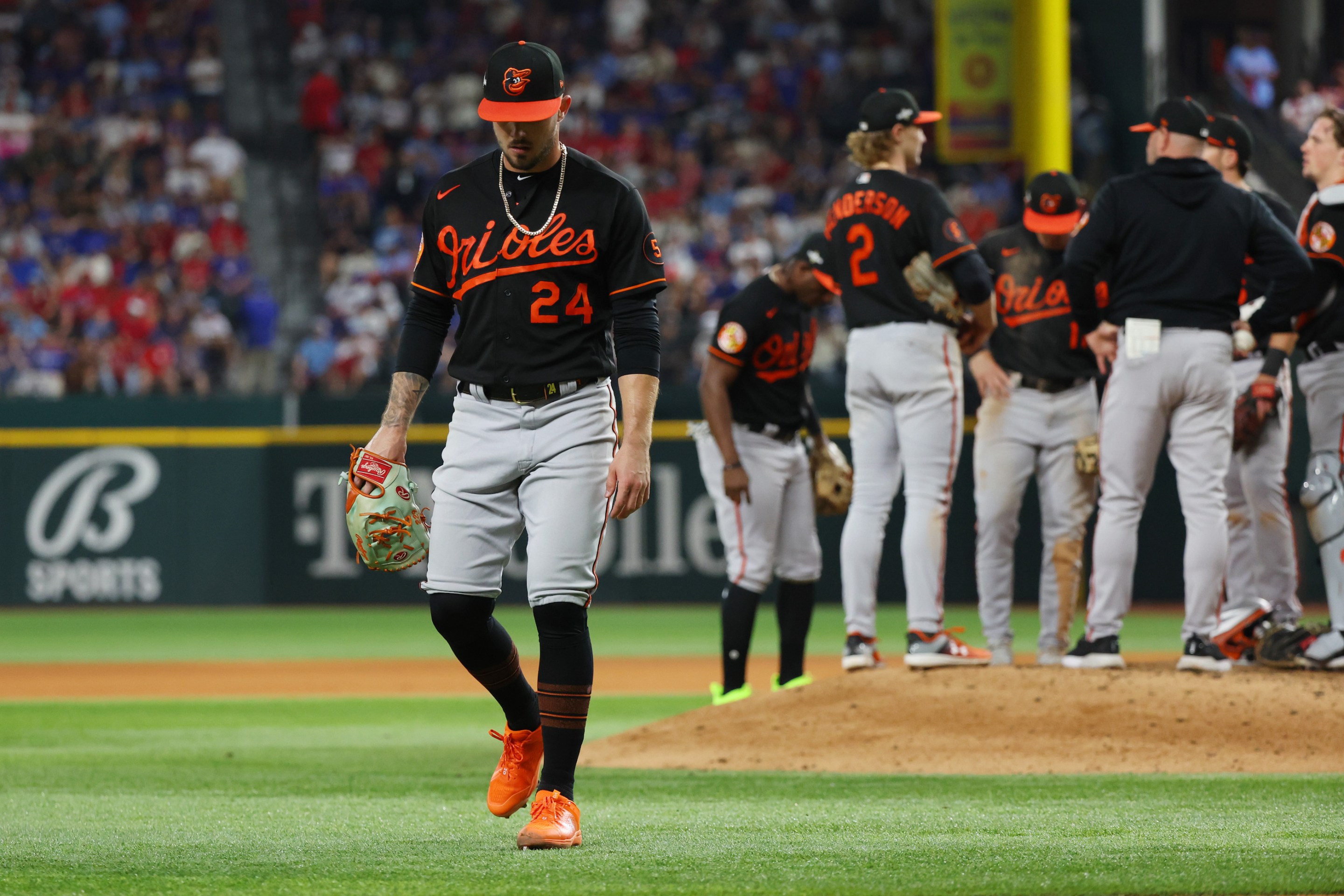 A good baseball organization will tend to be busy. There's always a lot to do, on a lot of different fronts; an effective baseball organization, which the Baltimore Orioles were before they abruptly became a good baseball team this season, will be managing a lot of inputs and rebalancing priorities and doing basic good baseball organization things like "making its players better." When a team is as brutally, stringently bad as the Orioles were during the fallow period of their rebuild, that sort of office stuff is more or less all there is to talk about.
But even when they were that bereft, there was the sense that the Orioles were working, overhauling their player development and operations processes and bringing various best practices to bear on the high draft picks that all that losing had won them. They were just either not working on improving the big league club, the one with the TV contract and the MLB ticket prices and so on, or determinedly working on not making it better. This was not very long ago at all; the 2021 Orioles lost 110 games and this year's won 101. It's one of the most dramatic two-year improvements any team has made in the long history of the sport. The process was not rushed, but once it finally started to happen it happened very quickly.
The same could be said about the Orioles' time in the postseason, which amounted to a bye and three not terribly competitive losses to the Texas Rangers in the American League Divisional Series. There's no reason to think that the Orioles won't be back, and plenty of reasons to think that they will soon be even better. For the third straight year, they are preparing to graduate the consensus top prospect in the minor leagues onto the big league roster; this time it's Jackson Holliday, who rocketed all the way up to Triple-A in his first full season in the minors and doesn't turn 20 until December. It wouldn't be anything like a surprise if he joined instant franchise cornerstone Adley Rutschman and this year's all-but-inevitable Rookie Of The Year winner Gunnar Henderson as a difference-maker from his first day with the team.
The Orioles picked Holliday first overall in last year's draft, and do not figure to be picking nearly that high anytime soon, but they've excelled enough at the other things that good organizations do—acquire and fix other teams' broken prospects, and identify and improve veterans who have been left on the curb by other organizations with hastily scrawled "I still work!" signs taped to them. Those player development successes have made the big league roster very good and very cheap—at $60 million, Baltimore's year-end payroll was significantly below Tampa Bay's—but also very crowded.
Maybe Holliday will move Henderson off shortstop, or vice versa, but also there are more promising prospects burbling up from below, several of which starred for Baltimore's title-winning Triple-A team this year and a few of whom finished the year as big-league contributors, who would find themselves squeezed or blocked as a result. This would be true even if the Orioles kicked several of these prospects into the few relatively weak spots in this year's lineup. The system is that good, and there are enough bats, in particular, close enough to the majors that it would be hard to fit them all onto a roster, let alone into a lineup.
As problems go, this is a good problem to have; basically any other organization in the sport would be happy to have "can Heston Kjerstad play first base or what?" as one of its biggest issues. But it's still a problem, and how the Orioles address it will go a long way towards both determining what kind of team they will be and clarifying the actual priorities of the people in charge of the organization. Controlling owner John Angelos is a thin-skinned and highly distractible rich kid dunce, a mid-Atlantic Kendall Roy without the pathos or colorful habits; GM Mike Elias is at least good at his job, but is high-handed and superior in the ways your better baseball executives tend to be, and fundamentally in the service of ownership in the ways all baseball executives are. Most MLB teams, good and bad, are owned and overseen by people at least a little bit like this; if Angelos is a tick more cynical/vile and Elias a couple ticks more competent on balance than their counterparts in the sport, it's still a difference of degrees as opposed to a "just put your otherwise unemployable nephew in charge of that" situation such as you might find in Colorado.
The Orioles can still be good with these people in control, of course; they just were, and the organization has enough good players close enough to the majors that they should be again even if the team continues not to pursue players with proper big-league contracts attached in trades or on the free agent marketplace. When asked whether the team plans to do that—not to shop at the top or even the middle of the free agent market, but whether it plans to raise its payroll at all—Elias gave an answer that landed somewhere between dismissive and noncommittal. "It's day one of the offseason," he told the assembled media, seemingly less as a statement of fact and more as an executive rephrasing of "leave me alone," before going on to clarify that the team had just missed on acquiring some players with longer commitments and/or higher salaries and that they would be open to exploring—I'm sorry I am getting tired typing this out, you know how the sentence ends.
There's no reason to read too much into this; Elias, like a lot of GM's, is inclined keep the rest of the world on a need-to-know basis seemingly as a matter of principle. But the Orioles have given no reason, under Angelos and Elias, not to consider the possibility that is only very slightly obscured by that non-answer—namely, that the team would be quite happy to run this last season back at something like the same cost. Because the Orioles have a number of prominent players going through arbitration, their payroll commitments would naturally go up— unless, that is, the team decides to trade away some of those contributors for packages of cheaper talent. This would be unpleasant for fans who watched survivors of the Lost In The Turd Bogs seasons like Anthony Santander and Cedric Mullins become all-stars, and who understandably might not appreciate seeing them flipped for more relief pitchers. But it would not be uncharacteristic for Elias, to say the least.
The numbers suggest that this year's Orioles overperformed by a decent margin; their Pythagorean won-loss record had them as a 94-win team, instead of the 101-win team that their actual record reflects. They're clearly very good either way, but the team has some holes to fill—closer Felix Bautista will miss all of next season after getting Tommy John surgery; the starting rotation's weaknesses kept them from really threatening the Rangers in any of their three ALDS games; this year's lineup, good as it was all season long, depended to a retrospectively untenable extent on getting better-than-expected performances from judiciously used waiver-wire types like Ryan O'Hearn and Aaron Hicks. Some of these issues can be improved from within, and some can't. But the question of how the Orioles go about doing that—not just the shape of their strategy, but the size and extent of their commitment—will reverberate beyond next year's team.
In a way that is true of virtually no other big league team, the Orioles really could become an Astros- or Dodgers-grade juggernaut. They have not moved to lock up their young stars to the Scientology-esque lifetime service contracts that the Braves have given to their young stars, but they don't really have to do that to spend the next half-decade or so as a very good team with a very ownership-friendly payroll. But even the players on-deck for pay raises in arbitration are young, and comparatively inexpensive; cornerstone stars like Rutschman and Henderson are even more so. If the Orioles dealt from their depth of minor league talent to bring in established big league talent, or just decided to start paying good free agents the kind of money that good free agents cost, they could lock in the self-sustaining mix of full-priced stars and bargain-priced young talent that is something like the state of the art in the sport. No other team has quite this many good young players, or this much room to grow payroll. The Orioles will be good next year, but it seems more meaningful that they could be anything, up to and including a team that contends for the World Series every single year. Of course, they might also decide to just keep being the Orioles.
Stay in touch
Sign up for our free newsletter