Soccer
Norway's Quest For Redemption Starts Now
1:59 PM EDT on June 26, 2023
It's almost time for the 2023 World Cup. To help get you ready, we will be providing you with precious information about every team in the tournament. You can read all of our team previews here.
---
Norway has a rich footballing history and of the best players in the world. The Gresshoppene won a major trophy just four years ago, but the story of their 2023 World Cup unfortunately has to start with the worst result in team history. Norway entered their group stage game against England at Euro 2022 on a six-game winning streak. They'd medaled at three straight Algarve Cups (even winning the 2019 edition), qualified with a perfect record, and were looking for revenge after the Three Lionesses smoked them out of the 2019 World Cup 3-0. They found the opposite of revenge.
England would, of course, go on to win Euro 2022, and the strongest early statement of intent was the horrific damage they inflicted on Norway with a brutal 8-0 win. Beth Mead was a killer in every phase of the game, and Norway did not look like they belonged. "It's pathetic," former Norway international John Arne Riise said on the BBC. "The body language, the will to fight for your country ... tactically all over the place, defensive mistakes all over the place. Defending? Horrible." They surrendered more goals in that one game than they did through their entire run to the 2019 World Cup quarterfinals. The question they face now is: How can you possibly rebuild from something that embarrassing?
Part of why the 8-0 was so shocking is that Norway have been the second-most successful women's side in European soccer history, and they entered the tournament as close to full strength as they'd been in years (see: Enemy section.) They will enter the World Cup tooled up to make a strong run, with a new manager. Martin Sjogren is out, resigning the day after Norway crashed out of the group stage at the Euros, and he's been replaced by a legend. Hege Riise is the most-capped player in Norway history, and she was awarded the Golden Ball at the 1995 World Cup after scoring the first goal of the final and helping Norway to the title. Bringing in a team legend is not without its risks, though Norway clearly has talent and what they really need is someone to galvanize them. Riise sounds like someone ready to do that.
Name Their Star
There are two, and for the sake of the Enemy section, again, we will select Caroline Graham Hansen, who is one of the best wingers in the world for her national team and Barcelona. Hansen has as much sauce on the ball as any player in the World Cup, and Barcelona have enjoyed tremendous club success since bringing her over from Wolfsburg in 2019. She's a fairly complete winger, with 39 assists and 44 league goals for Barca, and she's helped them win two Champions League titles. Norwegian players are stereotypically physical—consider the most famous player on the team that just won the men's Champions League—yet Hansen is the opposite. She's quick and wily, a dancer on a team of fighters. It only makes sense that she's a Barca player—she's so artistic with the ball. Hansen is a former tournament-level chess player, and she shies away from individual accolades and glory and pretty much only talks about the team, which is part of what makes her bombastic game pop. It reminds me of Messi a bit, and her dribbling has the same magnetism as the GOAT. Look at this banger she scored against her old team in the 2022 UCL semifinals.
The only force that's been able to slow Hansen down is the frailty of the human body. She's suffered a surprising number of injuries for someone who's produced so much at such a high level, which is part of why she's never made a Ballon d'Or shortlist. She just played 79 minutes of the Champions League final this month, so she should be good to go in New Zealand.
Tell Me About A Cool Youngster
Frida Maanum is just 23, though she's quickly establishing herself as an essential player for Arsenal and for the national team. The midfielder scored 16 goals and added five assists in all competitions for the Gunners as they won the League Cup and bowed out in a thrilling 5-4 semifinal against Wolfsburg in the Champions League. She's crafty enough to play the 10 and physical enough to slide all the way into the backline, and her versatility made her an essential player for Arsenal, as she started 32 of their 36 games. She took free kicks and corners, showing her ball-placing skills, though unlike Hansen, Maanum is also an imposing player in the middle of the field. The typical Maanum play starts with her winning the ball back in the defending third, compressing the field with a sudden, violent run around one defender and through another, then spraying a smart ball up to an attacker in space. She's a midfielder's midfielder, and she also had one of the best goals of the Champions League.
Who Is Their Enemy?
Their own damn federation, that's who! The very first ever women's Ballon d'Or was awarded to Ada Hegerberg in 2018, after she scored a Champions League record 15 goals for Lyon and helped her team win the third of what would turn out to be five straight UCL titles. Hegerberg had also already represented Norway at the 2015 World Cup and scored 38 goals for her national team, and one might think that the Norwegian federation would be thrilled at heading into a World Cup year with their best player earning such an honor. But Hegerberg stopped playing for the national team in 2017 to protest Norway Football Federation's (NFF) unequal treatment of the men's and women's teams.
Hegerberg detailed how the women's team had to play on terrible pitches, was often given mismatched and otherwise inadequate equipment, and, like the USWNT, was paid less than their less successful male counterparts. The NFF enacted equal pay measures in late 2017, but Hegerberg stuck to her guns because the issue was fundamentally a structural one.
Hegerberg says that the NFF "took a train back to the 1800s and stayed there." She would say later that she had nightmares. She grew "so tired" of being told that "'you women complain too much'" that she had to "close my mouth or speak out."

The Athletic
So she sat out for five years, a half-decade where she was one of the best five players in the world and won the Champions League with Lyon four times. Hegerberg, a striker's striker, has more than one goal per game for Lyon over the nine seasons she's been there, and losing that sort of production hampered the Norwegian national team in the short term, which makes Hegerberg's protest that much more impressive. She missed a whole World Cup in her prime, but felt strongly enough about the unequal treatment that she sat out all the same. She returned to the fold in 2022, played at the Euros, and will now finally return to the World Cup stage for the first time since she was nominated for the Best Young Player award in 2015.
National Folk Hero Who I Think Is Cool
Norse mythology has a rich history and a deep lore and everyone knows Thor and Loki and all those guys, but I am going to go with Idunn here. She is the goddess of spring and youth, but more importantly, of apples. There are even collectible apples in God of War called Idunn's Apples. To me, that's cool. Every apple is a treat, except, perversely, the Granny Smiths and Red Deliciouses. You are kidding yourself if you think those are the best apples. Grow up.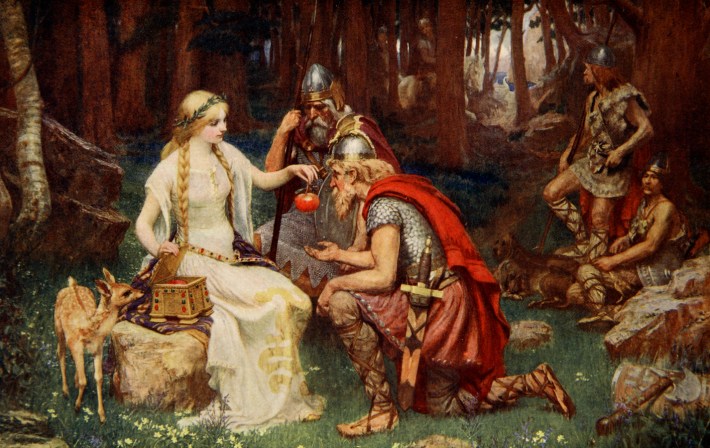 When summer turns into fall, and the harsh Nordic winter first appears coming around the bend, as the wind picks up and as the air turns harsh, it is time to make fårikål. Really, it is time for the sheep to return back from pasture and get processed into fårikål, a mutton and cabbage stew that seems delicious. Most cooking blogs use their allotted 2,000 pre-recipe words to say basically that you just season some chunks of lamb with salt and pepper and you cook everything slow so it gets extra tender. I don't really "do winter" but I can see how this would fill one with life, resisting the Knausgardian nihilism that I imagine having to encounter a temperature below 45 degrees brings on. Rendering a verdict of Big Scran here.
What Would A Successful World Cup Look Like For This Team?
They win a knockout round game. Norway's on-paper talent level is such that they should not really be content with a round-of-eight loss—Hegerberg and Hansen are two of the best players in the world, after all—but the 8-0 changes the math a little bit here.
Stay in touch
Sign up for our free newsletter