NFL
No One Self-Destructs Like The Bills
9:00 AM EST on November 14, 2023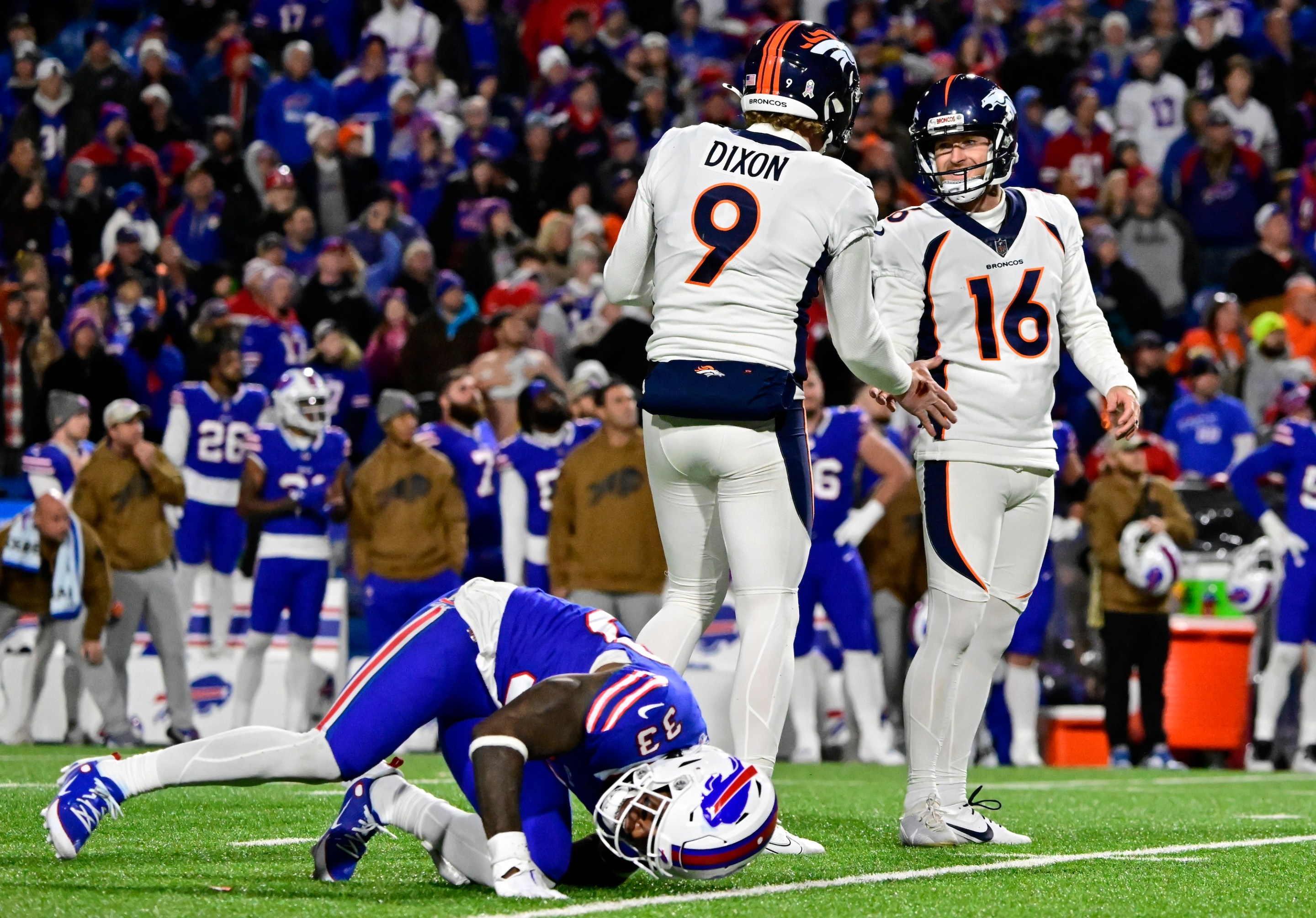 On Monday night, the Denver Broncos missed one extra point, fumbled the snap on another, fumbled near midfield, went 8-of-19 on third down, managed a paltry 4.2 yards per play, and missed a potential game-winning field goal. They also won, beating the Buffalo Bills 24-22 in one of the most rancid football games of this cursed season. Well, Denver didn't so much "win" as Buffalo took every opportunity to shoot themselves in the foot, giving the Broncos so many chances that they eventually backed into a victory.
The first two Bills possessions on the night featured the same result: a turnover. On the first play of the game, James Cook caught a four-yard pass from Josh Allen, only to promptly get the ball ripped from his hands by Ja'Quan McMillian. Turnovers have been a running story for the Bills this season, so this was a bit of a bad omen. If fate was watching this game for long enough to send out omens, though, it sure was having a laugh on the next Bills possession, as Allen threw a bit behind a wide-open Gabe Davis, hitting his receiver in the hands just awkwardly enough that the ball bounced directly to Justin Simmons.
After some mostly sound football (minus the aforementioned missed extra point after Courtland Sutton's incredible tip-toe touchdown catch), Allen threw yet another interception on Buffalo's last possession of the first half, and that one he couldn't blame on any receivers, as he simply threw a duck that Fabian Moreau gladly leaped for:
The Broncos were only able to turn Buffalo's four turnovers into six total points—this would become important a bit later—and so the score sat at 15-8 entering halftime. (A fun graphic showed that this was only the second game in NFL history to enter the break at 15-8; the previous one was in 1961, also between the Broncos and the Bills.)
On the other side of the break, the clown show continued: After the Broncos punted, and the Bills turned it over on downs, Denver had its only turnover of the night, fumbling the ball back to Buffalo, and Latavius Murray punched it in. Suddenly, despite having all of two drives worth a damn, Buffalo had tied it up at 15, and it was Denver who looked like it was going to blow a golden opportunity to win on the road against a supposedly elite team.
That looked especially true after the Bills turned the ball over for a fourth time with 1:19 left in the third: Allen and Cook got their signals mixed up on a hand-off, and Alex Singleton pounced on the loose ball; the languid Broncos offense just managed four yards and a three-and-out immediately after. It was at this point that this whole thing stopped being funny and just became kind of sad.
After scoring with about seven minutes left in the game, Broncos holder Riley Dixon bobbled the extra point snap, leaving the score 21-15. Keen observers of mathematics will realize that a touchdown could win it for Buffalo, and in their most impressive and controlled drive of the night, that's exactly what happened. The Bills eschewed the passing game entirely on what appeared to be the game-winning drive, gaining 75 yards on six rushes, including on a Cook fumble that magically bounced back into his own hands for a gain of 42.
With the Bills facing second-and-goal at the six, Allen took off on a designed scramble, reaching the end zone. One successful extra point later (nothing was a given in this game), and Buffalo took the lead. It was at this point that I began mentally preparing to write about Denver's extra point debacles, but the fun wasn't over just yet. The limp Denver offense somehow managed to move the ball slowly but surely to the Buffalo 45, and on third-and-10, Russell Wilson was able to launch a deep ball just ahead of the Bills' blitz. The pass was short, but that ended up being a gift, as Jerry Jeudy turned back to go for the ball only for Taron Johnson to run into him for pass interference.
That might have sealed it for a competent team, but this game wasn't done yet: Wil Lutz just missed the kick wide right. Game over? You know it wasn't: In an inexplicable rush to get set while Denver's FG unit came out on the field—which everyone knew was coming three kneeldowns beforehand—the Bills lined up with 12 men on defense. Oops!
That gave Lutz one more try at the game-winner, and this time he hit it right down the middle, putting the Bills and viewers out of their Monday night misery.
This Bills team is very talented, which it showed on those few drives where it didn't crap the bed entirely, but it is also very stupid. That all-rush drive especially was delightful to watch, but it was overshadowed by four dumb turnovers, which themselves were overshadowed by two boneheaded penalties. Buffalo is now 5-5, and that feels about right, because half the time, they feel like Super Bowl contenders, and the other half, they feel like competition for the Broncos. This was as big of a self-own as any team has put up this season, and it feels right that it ended with a completely preventable penalty on a missed game-winning field goal. It wasn't pretty, but it sure was entertaining, in a perverse sort of way. Now let us never speak of it again.
Stay in touch
Sign up for our free newsletter