MLS
Messi Was The Attraction, But The Philadelphia Union Were The Story
11:59 AM EDT on August 21, 2023
Walking into the stadium before the Philadelphia Union's game Leagues Cup semifinal game last Tuesday meant wading through a sea of vendors selling bootleg Lionel Messi jerseys, bootleg Messi bucket hats, and food I didn't recognize. (Presumably the food wasn't bootleg.) This all made sense—Philadelphia loves to buy and sell bootleg stuff, and the Union were playing Messi's new MLS team, Inter Miami—but usually the Union doesn't get this kind of atmosphere outside. The greatest player of all time was coming to Chester, Pennsylvania, to play. I was curious how the fans would respond. I had once been at a Phillies game where Sammy Sosa got way more cheers than the home team did. Would it happen again?
Noah Zeitlin quickly answered my question. There were lots of Messi fans there. It would not, however, be Chester MessiFest 2K23. Noah is the son of my friend Dave, whom I've known since college. The 9-year-old told me that he would be cheering for the Union. In fact, Dave and Noah had seats in The River End, where the Union supporters group stand all game and cheer and sing songs in a bit of European soccer cosplay. That's not for me, but I do get the appeal of standing with the Sons of Ben. "A free two-hour window for Noah to curse," Dave told me before the game. Man, I'd be down with that too.
Noah told me he'd been a Union fan for about five years. He plays for a soccer travel team; I told him I was cut from several club teams and mainly just played for my school. (Why did I tell a little kid that I sucked at soccer? Hard to say.) He told me he'd be rooting for the Union tonight despite Messi being in the building. "Well, he's like the GOAT and he's good," Noah said. "But today, we're just rooting against him."
In response to what was admittedly a little bit of a leading question—look, sometimes you have to do this, for instance when you're interviewing a child next to his father—Noah told me he would be a little upset if any Union fans decided to cheer for Messi tonight. "They're like bandwagon fans," Noah said. "Today, today, we're in the Sons of Ben and we can't really do that. But I wouldn't want to anyway. I just want to stay with my team."
---
The game was a rout. It was 3-0 Miami at half; they ended up scoring on all four of their shots on goal. Messi scored what Luis and I both thought was an incredible goal, though others simply derided Union goalkeeper Andre Blake for getting beat from so far out. The final score was 4-1, and Inter Miami put on a show. The fans in Messi jerseys—bought from the parking lot or not—had their chance to cheer and taunt the Union fans. But Union fans were louder, and booed Messi all night; it seemed like a fitting tribute to how good he is. I have only been to the Union a few times, but I was impressed at the fan culture the team has been able to cultivate since playing its first game in 2010.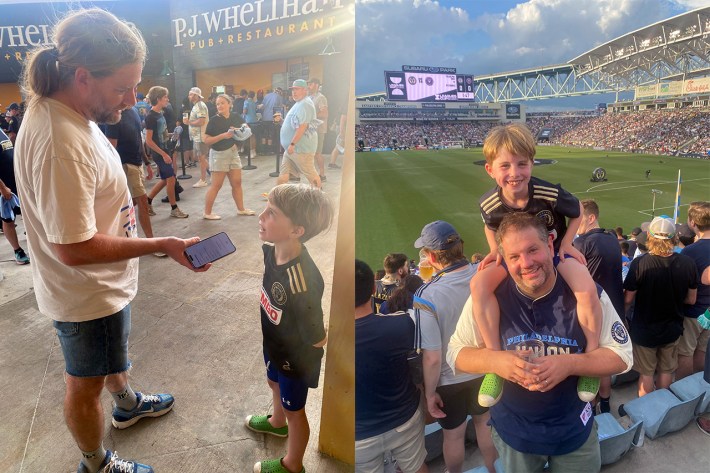 If things had gone a little differently, I could have been a Son of Ben. I like soccer, and I like being in on things on the ground floor. At Philadelphia Weekly I worked with the late Steven Wells, a UK transplant who was a firm booster of the Sons of Ben even before MLS granted a franchise to Philadelphia. But then the team built its stadium in Chester, one of Gov. Ed Rendell's legacy projects, with $87 million in public funding. Suddenly I didn't want to go to games. This was not just because they were in Chester per se, I just would have preferred them to be at the sports complex that was six subway stops away from my old place. I have watched the team over the years, cheered them on, even been to a few games. I miss JP Dellacamera calling Union games; fuck the haters. (Now's my chance to curse.) But since all MLS coverage moved to Apple TV this year, I have not even been watching. MLS has a paywall. I will probably not ever get into it.
Not everyone felt like me, however. I do not think it matters than the MLS is a lower-level league with players who couldn't get on the field in the top European leagues. Soccer is like basketball: A sport with something to enjoy at every level, from little kids to the Champions League Final. And lots of people did enjoy it, even while watching their home side get thumped. The crowd was electric. The Union have cultivated a great fanbase, one that manages to boo Lionel Messi in a way I never saw Sixers fans boo Michael Jordan in the 1990s. I guess it's different. But is it that different?
I talked to Matt De George, who has covered the Union for the Delaware County Times since the team's inception. He found the whole Messi thing a win for MLS, even if the GOAT is showing that he's still at a level above basically anyone in the league. "It's amazing that he wants to be here," De George said. "And he's shown that he wants to be here. I look at all the crowds that are here… I know that there's a lot of people that are definitely coming to the Union for the first time. There's so many great stories and great experiences in soccer. The bigger that tent can be, the better. The more people that are learning about this sport and are enjoying it, they now have this entry point to the American version of this sport."
The team has been around long enough that it has cultivated a real culture, too. As I was interviewing De George on the upper concourse, several Union alumni walked by us. "Those guys come and they bring their soccer culture and they stay here," De George said. "And in 15 to 20 years, like, these guys are going to have their kids here. They're going to be coaches. That just enriches the soccer environment in so many ways. Fifty, sixty years ago, it was German immigrants that did this. Now there's waves of Latino immigrants. To me, that's just really, really rich. It really just builds on this hybrid soccer culture that we have here." Now if only the Union could get going on what was promised to accompany the stadium's construction—a revitalization of the Chester waterfront. They're finally trying now, at least.
It was not all sunshine and rainbows on Tuesday, to be clear. This is still a professional sporting event in Philadelphia, and so the regular fanbase was not entirely happy. I talked to three season ticketholders, all whom asked to remain anonymous, all of whom complained about the heavy-handed level of security for the game. They talked about police with long rifles, armed cops on the field, and overly aggressive security. You couldn't walk around the whole stadium; the concourse behind the Sons of Ben section was blocked off and only ticketholders for that area could enter. "There's no excuse for security personnel to put their hands on a fan not causing any trouble," one told me. Security did it anyway.
I had a nice, hassle-free time, however. I even bought a Messi bucket hat on the way out of the stadium, talking the guy down from $25 to $15.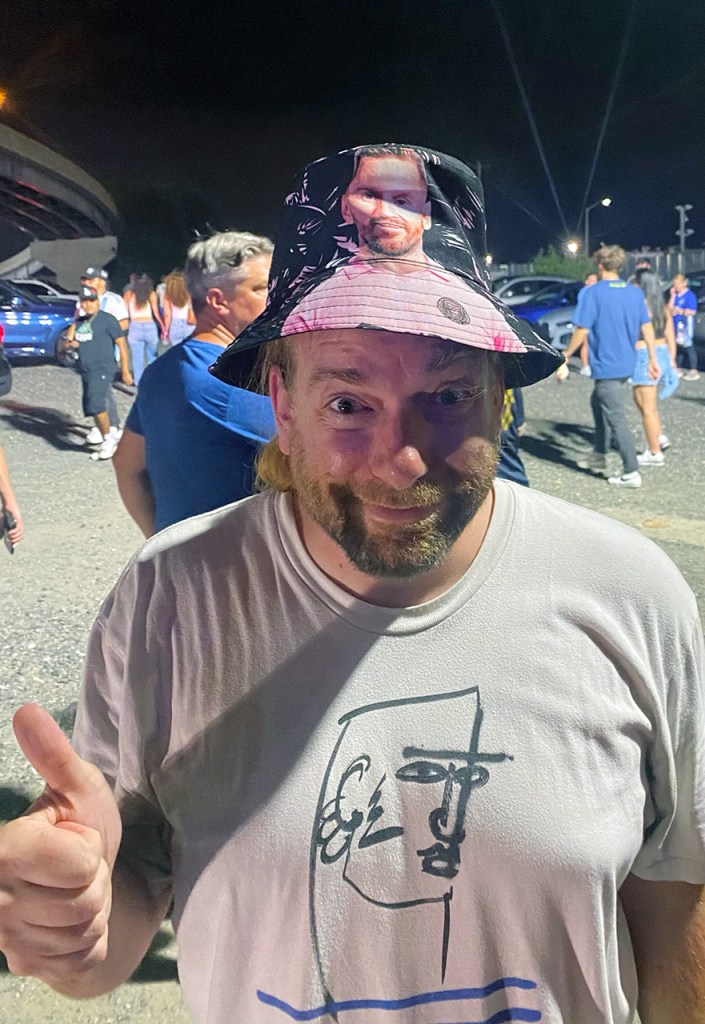 It seems Messi will be back in Chester again next season. Other stars may see all the fun he's having and join MLS for some similar good times and a big paycheck. Messi is the top attraction in MLS this year, which would be true in just about any league in the world. But he is not the only one.
Stay in touch
Sign up for our free newsletter